Are you an iOS user? Are you aware of Find My feature? This technology allows any person to share their locations. With the easy-to-use Find My app, you and anyone in your contact list who has installed the app can share each other's locations. As soon as both parties turn on location sharing, their current location will be shown on a map. The GPS capability of your smartphone allows it to track your movements and automatically updates the map so that everyone can know where other people are at all times.
Therefore, how to fake location on Find My iPhone? I'm sure many of you want to know how they can hide their location on the Find My app because they don't want their friends or family to know they are.
To answer the pressing question of how to trick Find My iPhone, we've compiled several solutions for you. So, read on and not miss anything.
Part 1. What's Find My iPhone and Why Fake Find My Location
Find My iPhone is an innovative application designed to maximize Apple devices' convenience and security. Whether you have an iPhone, iPad, iPod, Apple TV, Apple Watch or Mac computer, you can easily track your device's location remotely with this versatile tool. If users want to share their whereabouts with friends and family, they simply need to use the auxiliary app Find My Friends.
When iOS 13 was launched, Apple merged its "Find My iPhone" and "Find My Friends" apps into one app known as "Find My". This means you can quickly access all associated devices and people connected to your account without having to switch back and forth between applications. This game-changing technology allows users unprecedented control over all their connected devices in one place.
Before we learn how to fake locations on Find My iPhone, let's look at why users want to fake their locations on Find My iPhone:
To prevent your friends or family from knowing exactly where you are, as it can sometimes be seen as invading your privacy.
When you receive unexpected requests that someone is trying to access your location, you might want to fake your location.
To safeguard your original location and prevent others from using it.
There are many reasons why someone would want to conceal their whereabouts, so if that's the case for you, how to fake your location on Find My iPhone?
Part 2. How to Fake Location on Find My iPhone Without Jailbreak
How to fool Find My iPhone? If you need a break from your family or friends, it's simple to deceive them by using Find My iPhone and pretending that you are somewhere else. However, it does not imply leaving your device at home. You just have to fool Find My iPhone and let your close people believe you are somewhere else when you are not. Check out the best ways to do that.
Method 1. How to Fake Your Location on Find My iPhone via A Third-Part Location Spoofing App
How to spoof location on Find My iPhone? When I think of a reliable app to spoof your location on Find My iPhone, the first one that comes to mind is Location Changer App. This tool has been widely used by millions worldwide and is accurate when faking your location. Location Changer App is a great app that can help you change your location to any place in the world, whether it's an iOS or Android device. Plus, it allows up to 5 iOS devices to be managed, making everything easy.
With this tool, you can change your location and the various apps on your device will be updated to reflect that virtual place. Not only is it possible to deceive Find My iPhone with a false location, but it can also change locations on social media platforms like Facebook. So, if you are fed up with all the attempts to prevent other people from tracing your location, you should consider Location Changer App.
Key features:
Change GPS location in 1 click.
Joystick feature for easier simulation.
Work well on location-based apps and AR games.
Support Android & iOS devices.
Support latest iOS 16.
Steps on how to fake location on Find My iPhone using Location Changer App:
01Download Location Changer App to your computer. Once done, run it and choose the Get Started option. Next, connect your device to the computer with a working USB cord. Ensure it's unlocked.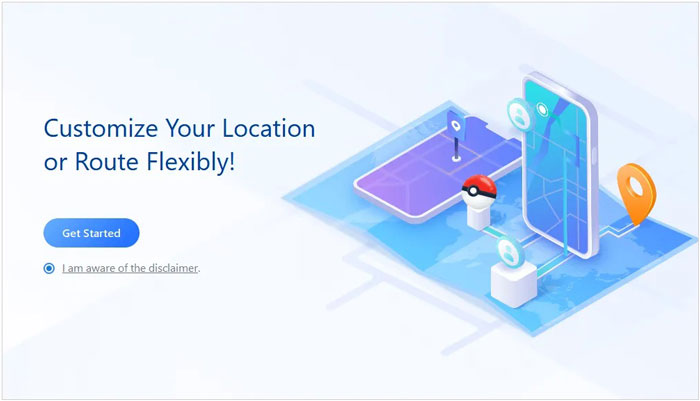 02Locate the Teleport Mode on the map. From there, you can enter an address and zoom around on the map to select your desired fake location for the Find My iPhone.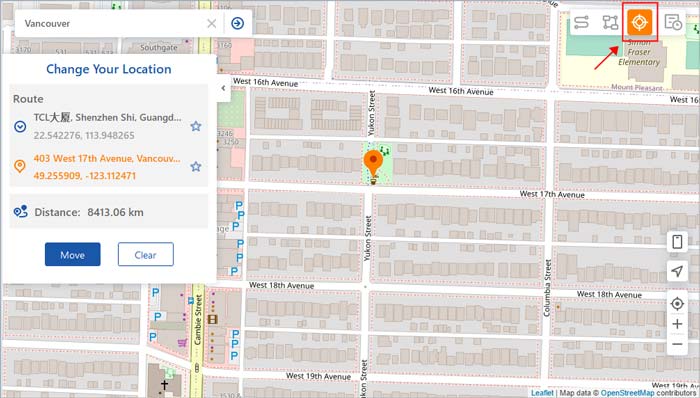 03To easily switch your location on the Find My iPhone, tap the Move icon, and you'll instantly be moved to a new location.
You can try to open up the application on your iPhone and see your current coordinates will have already been changed. It's so easy.
Learn More:
How to Change Location on Facebook Dating in 4 Secure Ways [Solved]
[2023] How to Change Work and Home Location on Google Maps
Method 2. How to Change Location on Find My iPhone via iTools
Undoubtedly, the iTools Virtual Location feature has garnered many users. It's one of the best apps that can change your location instantly. It's simple to use and you only need to download it from its official website and start faking your location.
Here are the steps on how to fake location on Find My iPhone:
Step 1. Launch the iTools app and select the Virtual Location option from its interface. Then connect the iPhone, and the map will appear. You have to enter any of your desired locations.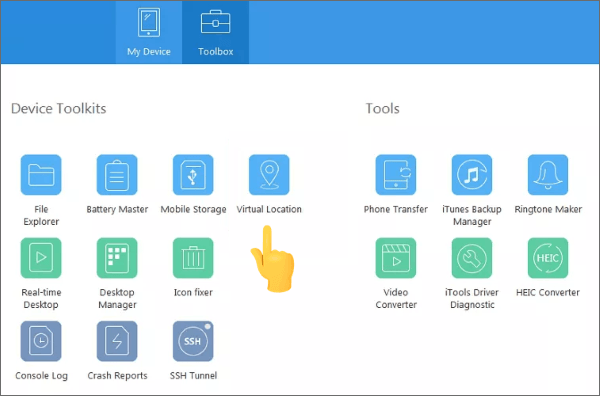 Step 2. To change your current location, simply tap on Move Here. Instantly, iTools will make the changes and be at the pace you desire. Besides, you can easily go back to your original location by tapping the center icon.
Further Reading: Top 10 iTools Virtual Location Alternatives for Android and iOS Devices
Method 3. How to Fake Location on Find My iPhone Using NordVPN
If you don't have access to a computer or laptop, we've got an alternative for you. You can use a VPN to spoof your location. NordVPN is one of the best VPNs to change your iPhone GPS. By downloading this application, spoofing your location is only a few clicks away.
Step 1. Install the application from App Store and log in for server access. Now click on the Quick Connect icon so that you can link the application you want to modify its location, like Find My iPhone. To do so, make sure that you permit this program to override the current location.
Step 2. Set up the application, and your selected spot on the map will appear with a green header.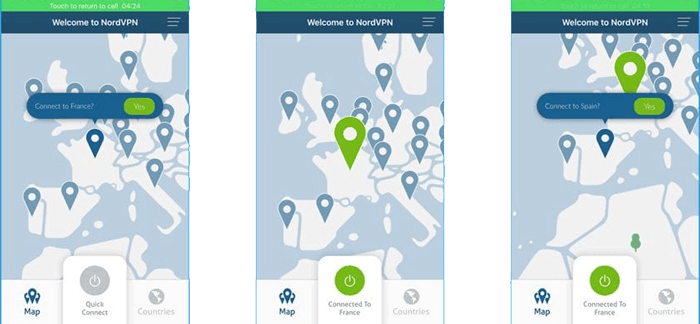 Method 4. How Fake Location on Find My iPhone Using Another Device
Also, you may use another iPhone or iPad to fake your location on the Find My iPhone. You will be able to deceive your friends without any problem. It's very easy; you just have to follow these steps:
Step 1. First, ensure that you have logged out of the Find My iPhone account on the device you intend to fake its location.
Step 2. Use the similar Apple ID you used on the device to be faked location to log into the iPhone or iPad.
Step 3. Now drop the device where you wish to be, sign into your main iPhone, and the location of the device will appear as your current location.
Part 3. How to fake location on Find my iPhone On Jailbroken Device
Don't tense if your device has already been jailbroken. We can still assist you spoof your location. FMFNotifier is a powerful app that enables users to modify their iPhone's location. This application comes with many user-friendly features that make it a great choice. Whenever your friend requests your location, you will be notified via a notification, an incredibly convenient feature.
You also have the option to change your location so no one can tell you your current location. Plus, users enjoy the added flexibility of enabling and easily disabling their spoof location through SMS messaging.
Here are the steps on how to fake location on Find My iPhone using FMFNotifier:
Step 1. Install the FMFNotifier by launching Cydia and searching for locationFaker.
Step 2. Now, select the iPhone version and launch its installation. Doing this will install the app on the phone.
Step 3. You can now change your location by turning on the location spoofer. Pick the perfect label for your page to be visible when the location changes. Alternatively, you can customize a new one to make it even more special.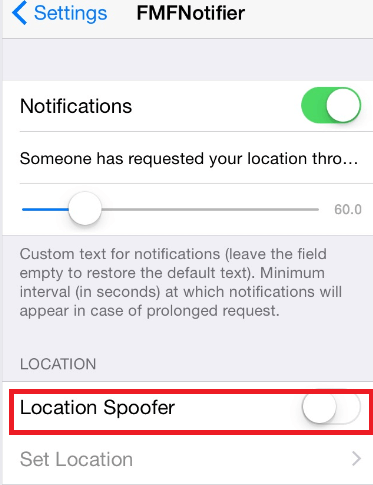 Step 4. Next, choose the location that you would like to use and lock it.
You've now successfully changed your location. So whenever someone requests or begins to follow you, you'll be quickly notified.
Bonus: How to Disable Share My Location on the Find My iPhone
Now that you know tips to change location on Find My iPhone, you must know how to switch off your location on it. Generally, people avoid doing it to not upset their family and friends. However, if you deactivate the sharing feature for safety or privacy purposes, then that would be understandable and accepted.
Step 1. Start by opening the Find My app and then choose Me. Afterward, press the Share My Location tab to show your current location.
Step 2. Head to your device's settings, turn off Location Services, and click on the Share My Location feature. When you identify this button, toggle it to the off position.
These simple steps can help you effortlessly alter your location in Find My iPhone, whether for safety reasons or just a good time. If you want to fake your whereabouts, this guide will be invaluable.
You May Like:
Why Is There No Location Found on iPhone? Fix the Issue in Reliable Ways
Why Is My Location Wrong on My iPhone? (Fixes Included)
Conclusion
Don't let your safety or privacy be compromised. Using this guide to adeptly spoof your location on Find My iPhone, regardless of whether you have a jailbroken device or not. With just a few steps, you'll soon enjoy quality time without being spied on by your family or friends. In addition, the whole process is even smooth with cutting-edge software like Location Changer App that enables you to change your location instantly. Keep them guessing and never worry about being exposed again with this robust tool.
Related Articles:
How to Change iPhone/iPad Location without Jailbreak in 4 Cost-effective Ways?
How to Find My iPhone Offline Last Known Location [2023 Updated]
[2023 Updated] How to Change Location on Tinder without Paying?
How to Fake GPS on Android without Mock Location?
How to Fake GPS with No Root on Android? [8 Trustworthy Apps]