Why there are more and more apps coming out for Android devices? Apps are optimized for android devices. More and more apps are introduced each day to combat the growing user requirements and to make user life easier. With more apps, handling various applications on your Android device has become very simple.
In this context, here are the five best Android apps which every Android device should have:
Five Great Android Apps You Need ASAP
1) Last Pass
If you struggle to remember passwords, this is the app for you. With this app, you can store your login information, including your passwords in this app. This app can even generate new and secure passwords for you. You can test their password strength by taking up their password security challenge. It has a password manager, password keeper and a vault which is secure to store your personal information like those of credit cards, which can be locked using fingerprint lock, thus making the storage of your information safe. It even has a password manager, password keeper and a vault for storing everything.
You can download Last Pass from Google Play Store >>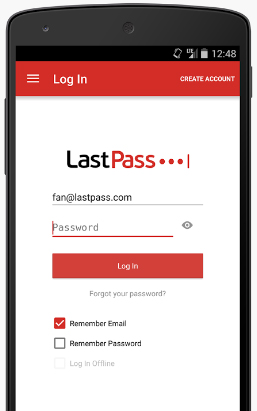 2) Nord VPN
If you are worried about privacy while connecting to a Wi-fi network, this is the app you need to install. This app provides you with online privacy and anonymity and has secure servers in over 55 countries. When you have Nord VPN enabled in your device, your connection becomes encrypted. It allows advanced security protocols. This is a paid app but completely worth your price. You can sign up for a free trial at first and see how the app is performing. You won't be disappointed.
You can download Nord VPN from Google Play Store >>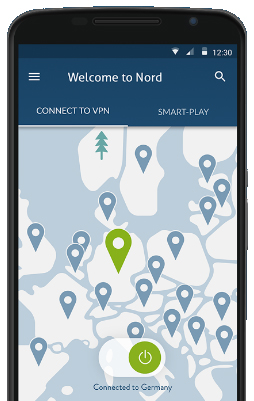 3) Pocket Cast
If you love hearing podcasts, then this award-winning app is just for you. Fully featured and easy to use, you can now listen to podcasts from your phone itself without any problems. You can even arrange for a playback queue for your favorite podcasts to play automatically and you can pause your podcasts and even decrease background noise while listening to podcasts.
You can download Pocket Cast for just $3.99 from Google Play Store >>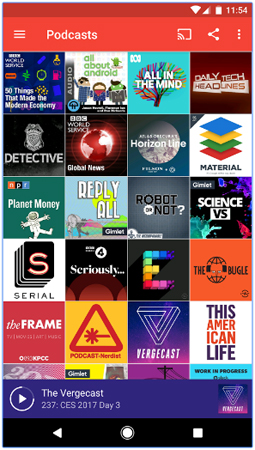 4) Netflix
This popular video website is now made for your Android device. You can start with a one-month free trial and then upgrade to the paid version. With this app you can have unlimited viewing options and you can even switch watching episodes between devices. Netflix is now one of the best mobile video streaming options available in the market. With this app, you will have unlimited access to TV episodes and movies of your choice.
You can download Netflix from Google Play Store >>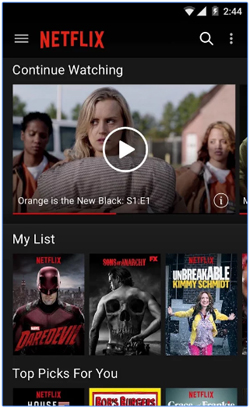 5) Pocket
With Pocket, saving articles and videos to watch or read later just got easier. Whether the articles are from Facebook or from your email, you can save anything here. Once you have saved something here, you don't need internet later when you view them. It is very easy to view and comes with personalized recommendations. These recommendations are based on your saved video and article choice, so you can catch topics on your favorite topics which you might have missed. This is a app which every Android user must have.
You can download Pocket from Google Play Store >>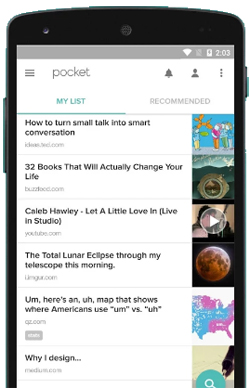 Related Articles:
Top 3 Android Notification Manager
How to Sync Android Phone to PC