Today, a variety of programs are designed to make people's life and work convenient. Now, there are a lot of users want to backup their Android phones remotely. However, this task can not be completed absolutely because not all Android phones support this behavior. Simple to say, coding in Android devices is one of the decisive factors that can determine whether the user can do the remote backup. At the same time, it also determines whether the user can use third party software to complete this action.
People Also Read:
How to Backup Android to Mac
How to Backup Android to SD Card
In this tutorial, we will introduce a senior program, which can be used to complete the Android remote backup. We will explain in detail on how to do it.
Part 1: Factors Hinder People Backup Android Phone Remotely
Part 2: One Click to Backup Android Phone Data with Android Assistant
Part 3: Easy Way to Backup Android Data with Mobile Transfer
Part 1: Factors Hinder People Backup Android Phone Remotely
There are many factors that will hinder people to backup Android phone remotely. Here we list some of them for your reference:
1. Coding of some types of Android devices doesn't support to backup remotely.
2. There is no app that can be used to backup Android remotely because the coding of Android is not determined by any company.
3. Remote backup means over the internet so it is impossible because of bandwidth consumption and also Android OS has many heavy and large features.
4. Android devices only designed to ensure the data is wiping remotely so there is no option for remote backup.
5. The Android device would be locked and cannot be found. This is one of the factor that works in some cases.
6. Android OS has been improving all the time. Maybe in the next Android OS version, Android remote backup will be realized.
7. Few people asks for Android remote backup functionality till now, maybe it is the main reason that the issue occurs.
Part 2: The Easiest Way to Backup Android Phone Data
Actually there are many application available on the market that can get the Android backup work done without any hassle. The Coolmuster Android Assistant or Coolmuster Android Assistant for Mac is one of the best programs that can transfer your whole Android phone, including apps, contacts, SMS, call logs, photos, videos, music, etc. to PC or Mac computer for backup, and even restore them to the same or other Android phone effectively. There are many other features from Android Assistant:
Key Features of Coolmuster Android Assistant:
- One click to backup and restore all the data on your Android device.
- Add, delete and import Android call logs and contacts on computer.
- Install, uninstall and backup Android apps on computer.
- Send and reply text messages from computer directly.
- Supports overall Android models, such as Samsung, HTC, LG, ZTE, HUAWEI, Sony, etc.
Step by Step Guide to Backup Android
Step 1: To backup Android phone with the Android Assistant, you need to download and install it on your computer. Launch the program and connect your Android phone to this computer with a USB cable. Follow the instructions to enable USB debugging on your phone beforehand.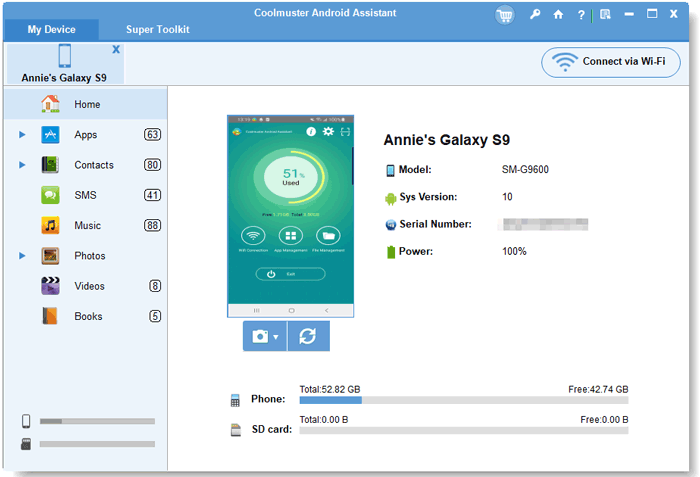 Step 2: Go to the top menu to click the tab of "Super Toolkit". Then you'll see an interface like below. Choose the option labeled "Backup" from the interface to bring out the back up dialog.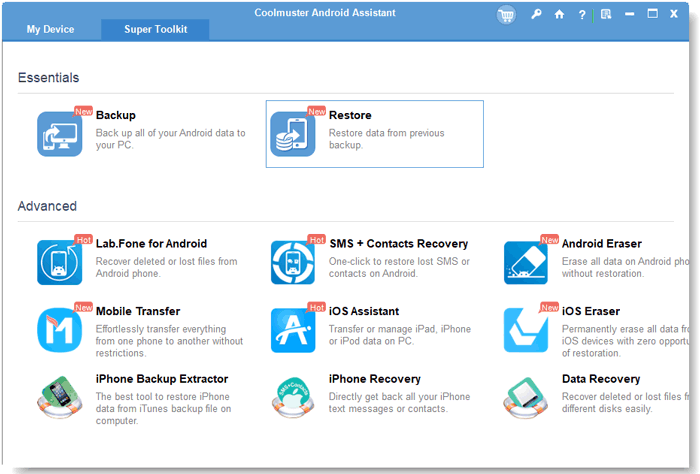 Step 3. Tick off the file types you want to backup, such as contacts, SMS, call logs, photos, videos, music, apps, etc., specify an output location and click "Back Up" to backup your Android data to computer.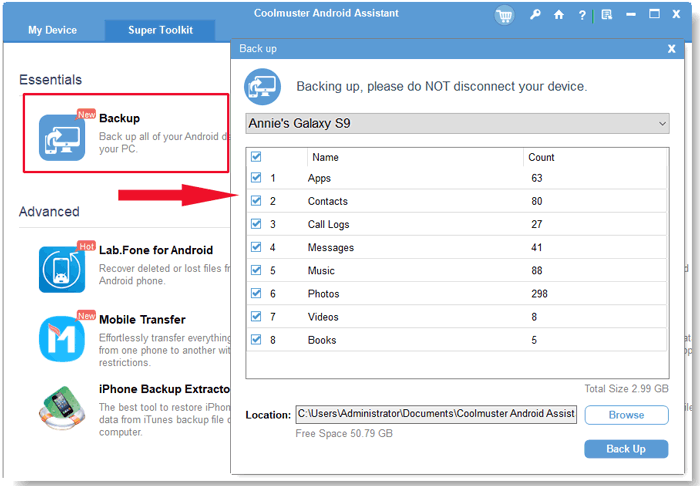 Part 3: Easy Way to Backup Android Data with Mobile Transfer
Another simple way to backup your Android phone data to PC or Mac is using Coolmuster Mobile Transfer or Coolmuster Mobile Transfer for Mac. Apart from transferring data from one phone to another phone, this application is also able to backup Android phone on computer, and restore backup file from computer to your phone. Here, we will set Mobile Transfer for Mac as example, to tell you how to backup Android on Mac.
Step 1. Download the Mobile Transfer for Mac on your computer. Install and launch it.
Step 2. Use a USB cable to connect your Android mobile phone to the same Mac. Then, the primary interface of the Mobile Transfer will be displayed as below. Several different modes are displayed in the interface.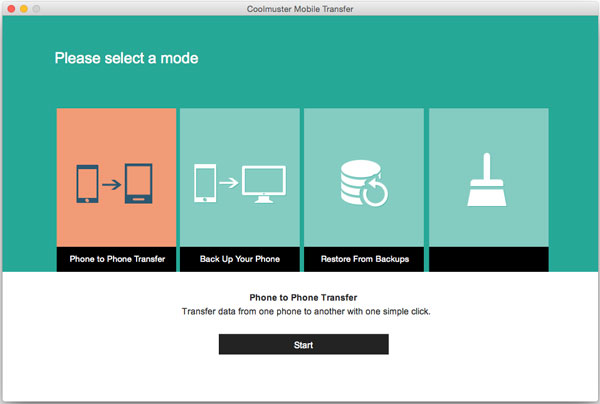 Step 3. Select the option labeled Back up Your Phone. Then, all the files on your Android phone will be scanned and displayed here in categories. Choose the files you want to backup on your computer and click "Start" button to back them up on your Mac.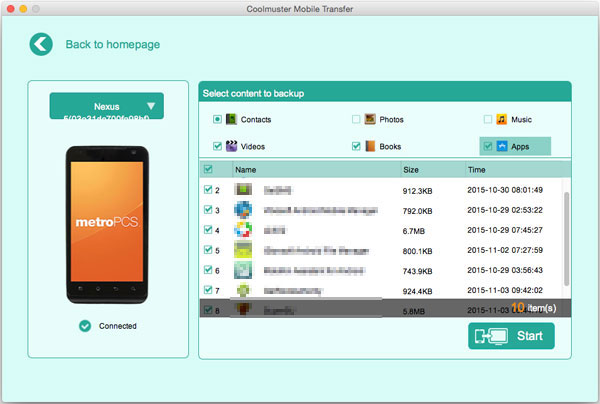 As you can see, backing up Android data on PC or Mac computer is pretty simple by using Android Assistant or Mobile Transfer. Apart from searching for a way to backup Android remotely, the two methods are really worth a try.