Why We Need to Backup & Restore Android Apps?
A lot of situations can cause loss of applications. May be because the user accidentally delete the program, or factory reset your mobile device which lead to the loss of some applications and even can not be able to recover. The application of these to be deleted, even if you download and install again, may never be saved before the application of data storage.That's why we need to backup application as well as the app data on computer and when you need, you can restore the backed up app data back to your Android device effortlessly.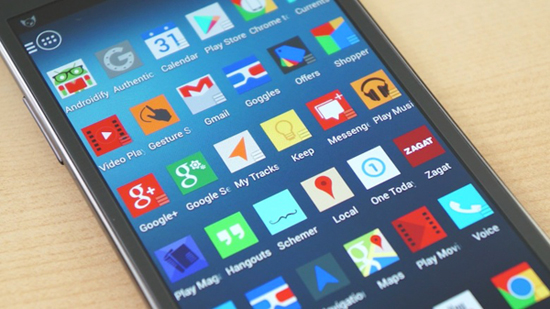 Why Mobile Apps are So Important Nowadays?
In the present world, the usage of mobile applications in mobile phone users increased significantly. No matter they are using mobile phones, tablets and other mobile devices, mobile applications are essential tools to help them gather information. This is why mobile application is so important today.
- Mobile applications can help you urgent get special event notification through your mobile devices.
- Allow you to easily get the contact information with one tap.
- Help you get any location and direction, well, whatever you want at any time when you travel.
- Specify fast, effective and reasonable date & appointments.
- Let you enjoy a variety of fresh and interesting game and entertainments.
Way 1: Backup and Restore Android Apps Selectively Step by Step
Way 2: Backup and Restore Android Apps with One Click
Backup and Restore Android Apps Selectively Step by Step
If you are an Android user, Coolmuster Android Assistant is your must-have Android manager. This Android Backup & Restore app can help you back up and restore your apps, contacts, SMS, photos, videos, music, etc. effectively. In addition to backup and restore apps, this Android app manager can also install, uninstall and import Android apps in batch. It is an easy-to-use program with a simple and interactive interface.
Free download the Android App Manager and try to use it to backup and restore apps for your Android devices:
Step 1. Connect your Android phone with your computer
To backup and restore apps on an Android phone, you will need to launch the installed Android App Manager and connect your Android phone to your desktop or laptop computer with a USB cable. Follow the instructions to enable USB debugging on your phone beforehand.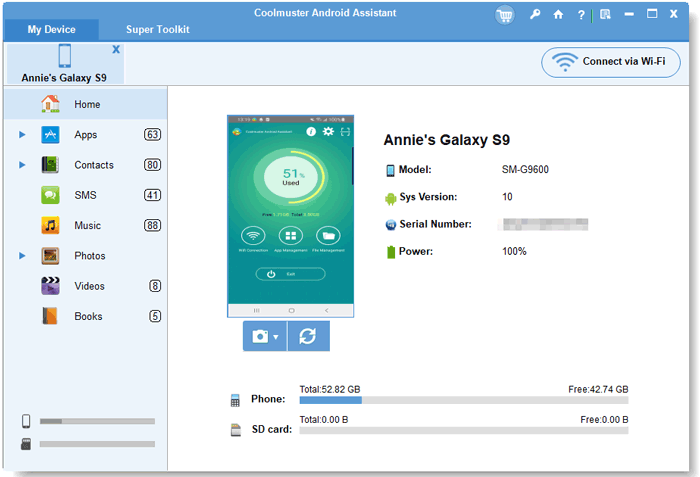 Step 2: Backup Android apps on computer
After the device has been connected to the desktop or laptop computer, the next step is to backup the app data from the phone by clicking the "Apps" option from the left side menu, selectively choosing the apps you want to backup and click on the "Export" button to transfer them to your computer.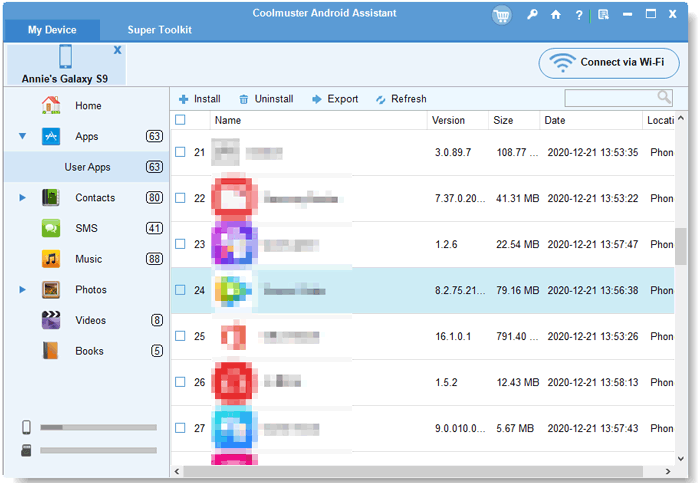 Step 3. Restore apps to Android phone
Backup files can be restored to Android phones again by connecting the Android phone to the same computer and then completing the following:
- Launch Android App Manager.
- Choose "Apps" option from the left side menu.
- Click on "Import" to get the records back.
Backup and Restore Android Apps with One Click
Android Apps Manager also provides one-click backup and restore ability to let you backup and restore Android apps. To achieve it, you only need to go to "Super Toolkit" from the top menu and then you'll see an interface like below: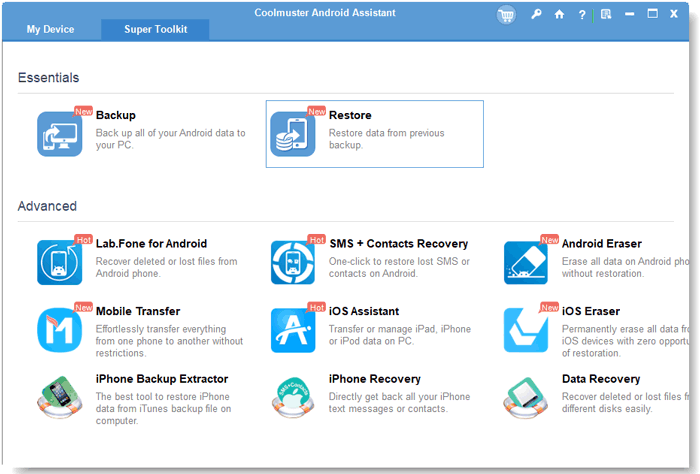 1-Click Backup Android Apps:
Choose the option labeled "Backup" from the interface to bring out the back up dialog. Tick off the name of "Apps", specify an output location and click "Back Up" to backup all apps from your Android phone to computer.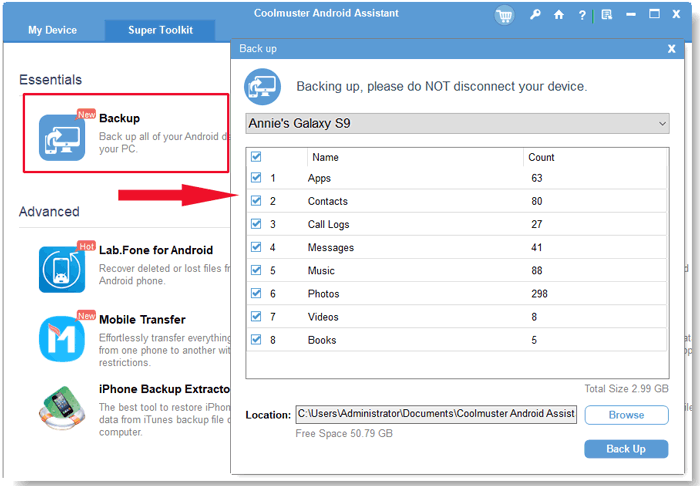 1-Click Restore Apps to Android:
Click the "Restore" option from the Super Toolkit interface. Choose the backup record that contains the apps you need, and then click on "Restore" button to start restoring your apps to the linked Android device.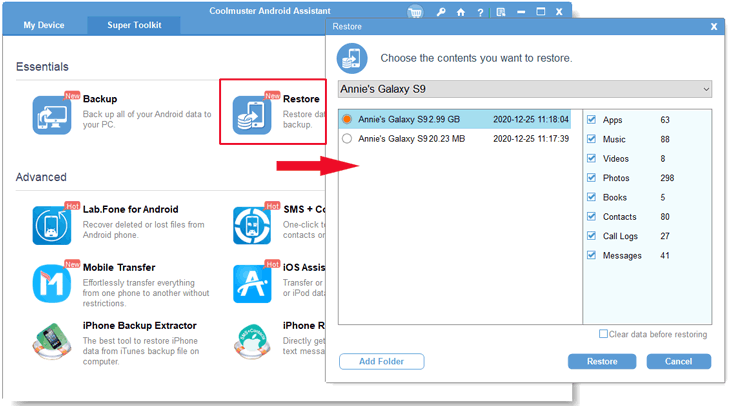 Related Articles:
How to Transfer Contacts from LG Phone to Computer?
How to Back Up Messages on iPhone in 5 Ways
How to Transfer Text Messages from Samsung Phone to Computer? [Top 6 Ways]
How to Transfer Text Messages from Samsung Phone to Computer? [Top 6 Ways]