"This started about 15 minutes ago, but while I'm using my phone, it will turn black, and then the Apple logo appears, and the phone turns on again. It's done this about eight times in the last 15 minutes, and I can only use my phone for about 2 minutes at a time. I've tried doing the hard shut down where you simultaneously hold on to the Power and Volume buttons, but the problem keeps occurring. What is happening, and how do I fix this?"
If your iPhone keeps turning on and off, you may need the thirteen practical solutions in this guide to troubleshoot it quickly. Check these methods right now!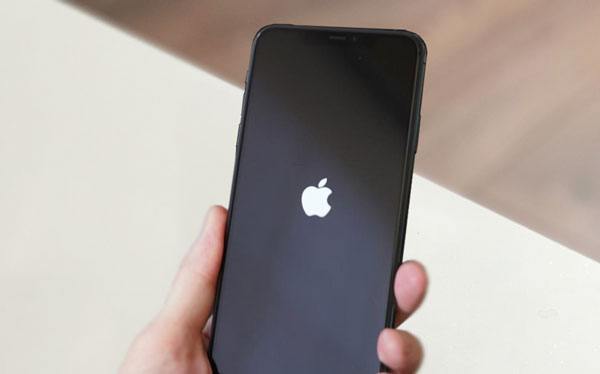 Part 1. Why Does My iPhone Keep Turning On and Off?
Part 2. How Do You Fix My iPhone that Keeps Turning On and Off?
Part 1. Why Does My iPhone Keep Turning On and Off?
Why does my iPhone keep turning off? Or why does my iPhone turn off by itself? Before going further to the specific troubleshooting methods, let's look at the possible reasons that caused your iPhone 7/8/X/11/12/12 to shut down.
Update failure. If you recently tried to update your iPhone to the latest iOS 15 but stopped halfway, your iPhone may keep shutting off and restarting.
Corrupted system files.
Insufficient storage space.
Malware or virus attack, especially you have jailbroken your iPhone and installed apps from an unknown source.
Inadequate battery.
Hardware issues. For example, the Power key malfunctions.
Malfunctioning driver.
Wrongly install the apps.
You might like: If you forget your Apple account's password but want to switch off Find My iPhone, you can follow this guide to make it.
Part 2. How Do You Fix My iPhone that Keeps Turning On and Off?
The problem iPhone keeps turning off and back on is a common issue that can be easily fixed. Here, we provide you with the thirteen feasible solutions. You can select one optimal method from below.
Solution 1. Hard Reset Your iPhone
Hard resetting the iPhone can fix most of the iPhone glitches, like iPhone shuts down randomly. You can follow the steps below to hard reset your iPhone accordingly.
For iPhone 8 and higher versions:
Quickly press and release the Volume Up button.
Quickly press and release the Volume Down button.
Press and hold the Side button for a while. Then release the Side button when the Apple logo appears on the screen.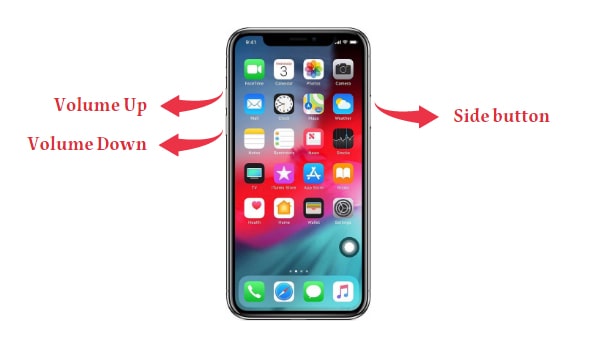 For iPhone 7/7 Plus:
Press and hold the Sleep/Wake + Volume Down buttons simultaneously.
Continue holding the buttons until the Apple logo displays on the screen.
Release all buttons.
For iPhone 6s and lower versions, and iPad with a Home button:
Press and hold the Sleep/Wake + Home buttons together.
Keep holding the buttons until you see the Apple logo on the screen.
Let go of the two buttons.
Solution 2. Update iOS Version
As you know, Apple regularly releases the new iOS version to repair system bugs and glitches. If your iPhone automatically turns off, updating the iOS version may solve the problem. For that, open Settings > General > Software Update to check if there is already a new version. If yes, click the Download and Install button to install the newer iOS version at once.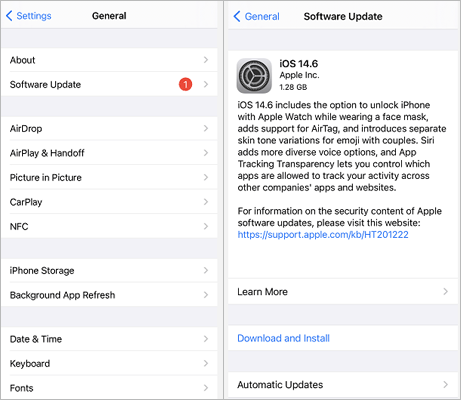 Note: If your iPhone cannot upgrade the iOS version, try to disable the Allow Notification option for each app from Settings > Notifications before updating the OS. Once finished, enable the Allow Notification of each app again.
Solution 3. Check the Battery Health
Sometimes, iPhone randomly turns off because there is a low battery. So, you can plug your iPhone into a power source to get it charged. If it shows little to no charge, something may have drained the battery. If it shows a partially or fully charged battery, you may get another problem with your iPhone.
In either case, you can charge your iPhone for an hour. When you finish charging it, check if your iPhone turns off by itself repeatedly. If it doesn't, congratulations! You're done!
Solution 4. Drain iPhone's Battery
When your iPhone randomly shuts off, there must be something wrong that needs to be repaired immediately. For that, you can drain the battery completely and let it power off. After that, connect your iPhone to a charger and get it fully charged. Then, restart your iPhone to see if the problem has disappeared.
You might like: Want to fix your iPhone as it is stuck on the loading screen? You can check this guide.
Solution 5. Uninstall Unused Apps
If your iPhone 11 keeps shutting off frequently, you may have opened many apps at the same time. Also, if you have updated your iPhone to the latest iOS 16, some apps may not be compatible with the current system. Therefore, you can delete unimportant or unstable apps from your iPhone. Later, check whether your iPhone functions normally.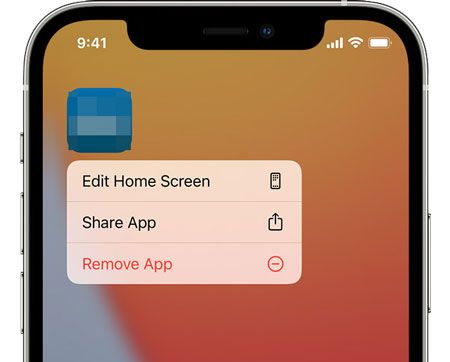 Solution 6. Free Up More Storage
As mentioned above, insufficient storage space is one reason that makes your iPhone turn on and off repeatedly. Thus, to resolve this, you can check and free up more storage on your iPhone.
Go to iPhone's Settings > General.
Tap iPhone Storage.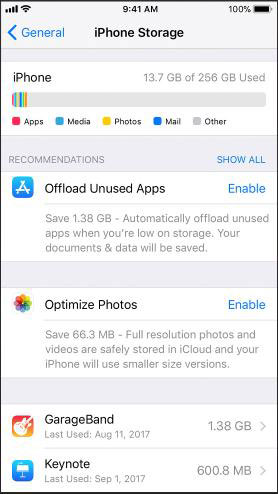 If the available storage space is less than 1GB, free up the space on your iPhone by deleting unwanted large files or syncing the important data to iCloud, iTunes, or other storage places. If the issue does not disappear after that, try other fixes below.
See also:
How to Transfer Music from iPhone to Computer Effectively? (4 Tips)
How to Transfer Contacts from iPhone to Android [Full Guide]
Solution 7. Remove SIM Card
In other cases, the wireless carrier connection may also cause the iPhone screen to turn on and off randomly. As the SIM card connects the iPhone to the wireless carrier, you can remove it to see if the problem exists or not.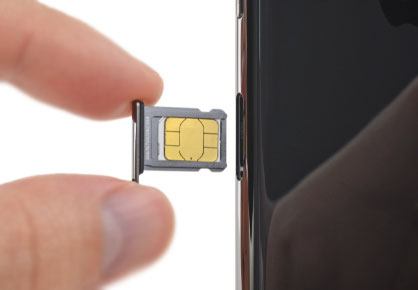 Solution 8. Update Apps
If you haven't updated your apps for a long time, the outdated apps will trigger the iPhone restarting problem. Hence, updating apps on your iPhone will solve the problem. And here's how.
Open App Store on your iPhone.
Click Updates at the bottom and press the Update button next to the app you want to update.
Click the Update All button to update all apps that need updating.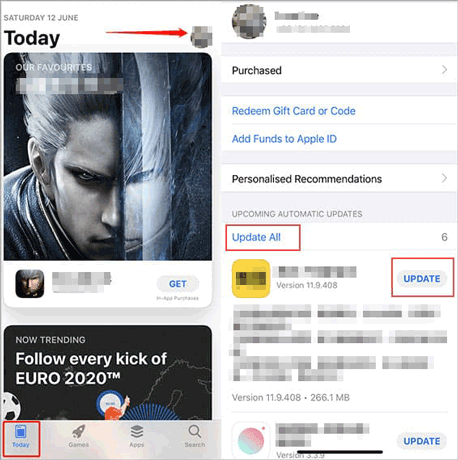 After updating apps, restart your iPhone to apply the changes and check if the problem disappears.
You might need: Does your iPad keep crashing? Why does it crash and how can you fix it? You can find the reasons and solutions in this article.
Solution 9. Reset All iPhone Settings
To do this, open Settings on your iPhone > tap General > select Reset > Hit the Reset all settings option and confirm the operation. If asked, enter the iPhone passcode to continue.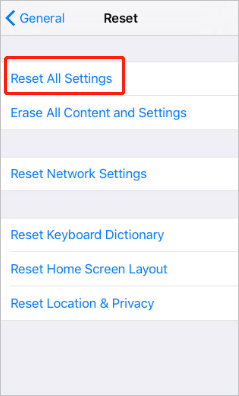 Solution 10. Factory Reset Your iPhone
Another way to resolve the "iPhone keeps turning on and off" problem is to factory reset your iPhone. As it will erase everything on your iPhone, including the system errors, settings, and contents, you'd better back up the important data on your iPhone before moving on.
Next, follow the instructions below to factory reset your iPhone quickly.
Tap the iPhone's Settings app > General > Reset.
Choose the Erase all content and settings option and confirm the operation.
If prompted, provide your password to continue.
Solution 11. Restore your iPhone in DFU Mode with iTunes
Your next option to repairing the iPhone that keeps turning on and off is to restore it via iTunes after booting it into DFU mode.
The tutorial below will help you:
Launch the latest version of iTunes on your computer and connect your iPhone to it via a USB cable.
When iTunes detects your iPhone successfully, click the device icon at the upper left corner, and select Summary.
Click the Restore iPhone option on the right panel.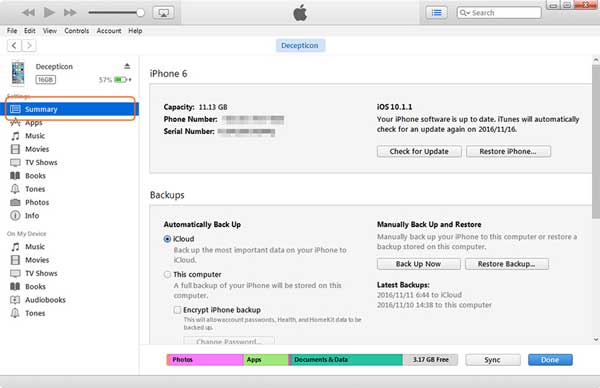 Solution 12. Repair the Issue Using Professional iPhone Repair Tool without Data Loss
iOS System Repair is an easy and effective way to fix various system issues, including iPhone keeps turning on and off. After connecting your iPhone to the computer, it can automatically detect the iPhone problem and fix it without data loss.
The key features of iOS System Repair:
* Best app to fix different iOS system issues: iPhone keeps turning on and off, iPhone stuck in a boot loop/DFU mode/Apple logo, Blue/white/red/black screen of death, etc.
* Easiest and safest ever to use.
* Cause no data loss on your iPhone after repair.
* Widely compatible with all iPhone models (iOS 16 supported), such as iPhone 14/13 Pro Max/13 Pro/13/13 mini/12 Pro Max/12 Pro/12/12 mini/SE/11 Pro Max/11 Pro/11/XS Max/XS/XR/X/8/8 Plus/7 Plus/7/6S Plus/6S/6 Plus/6/5, etc.
To fix the iPhone screen keeps turning off issue without data loss:
1. Install and open the program on your computer. Then connect your iPhone to the computer using a USB cable and select More tools > iOS System Recovery to continue.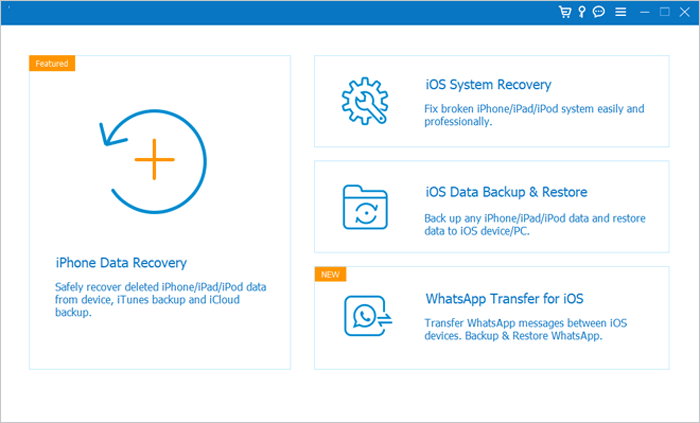 2. The software will automatically detect the iPhone problem and display it on the interface. Afterward, tap the Start button.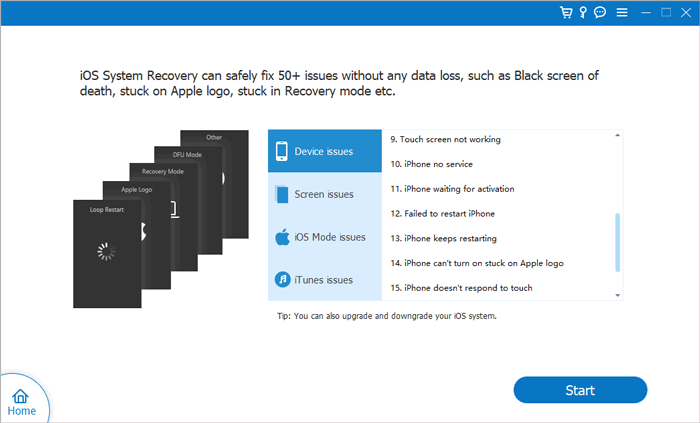 3. Confirm the iPhone information on the interface. If necessary, pick the right information from the drop-down menu to correct it. Finally, tap the Repair button to resolve the problem.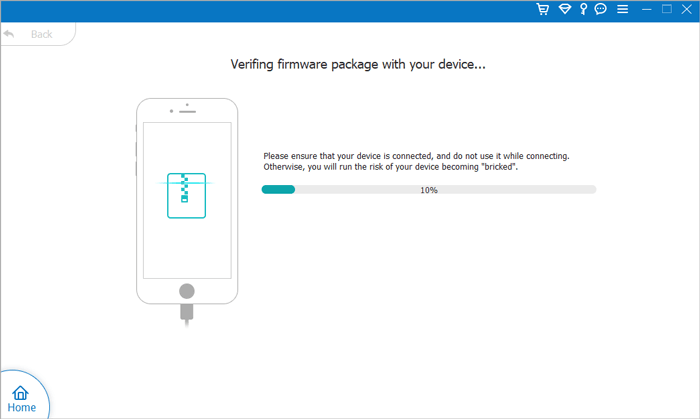 You may like:
9 Tricks to Fix iPhone White Screen of Death without Effort (Updated)
How to Fix the iPhone Stuck on Apple Logo Issue?
Solution 13. Contact Apple
Sometimes, the "iPhone keeps turning on and off" issue is due to hardware issues, like shortened circuits, damaged internal components, etc. If no way can successfully fix the problem, contact the Apple Support Team or bring your iPhone to the nearest Apple Store to get it fixed. And, don't forget to take along the product receipts if it is still under warranty.
Wrapping Up
I'm sure there is always one way to get your iPhone fixed when your iPhone keeps turning on and off automatically. With iOS System Repair, you can easily repair the issue without data loss by yourself. Of course, if you trust Apple Support, you can also take it to the nearest Apple Store. But it will cost higher if your iPhone is out of warranty.
Related Articles:
Android Phone Keeps Turning Off Randomly? 15 Fixes Here
iPhone Calendar Disappeared: How to Recover Calendar App & Events on iPhone 14/13/12/11/11 Pro/11 Pro Max
iPhone Software Update Failed: How to Update to iOS 16 Smoothly?
9 Best iPhone Repair Software to Fix All iPhone System Problems with Ease (New Review)
How to Fix the Safari Not Loading Websites in iOS 16 Issue?
What to Do If You Dropped iPhone in Water? Genuine Fixes You Cannot Miss