How good is your Android phone if you do not have free space on it to install new apps? Many Android phones have expandable memory options, but some do not. And before you know it, you will run out of memory space. And you will need to ensure that you can install your favorite apps without having to worry about memory. What do you do?
How do you store all that you love easily?
Android phones serve an important purpose in our life and we use it to store pictures, entertainment videos and music, emails and documents, messages and more, which can take up a lot of space and soon run out of free space on your Android phone. Gradually the phone and SD storage fills up leaving no space for new apps or files. Along with this come the junk files, useless cache, cookies and other unnecessary files left behind by third party apps.
Erasing files and apps becomes necessary, along with freeing up space by removing the junk files. Complete erasing is also required to protect the privacy of your phone on some occasions such as before selling your Android phones. Today we will discuss two professional ways to free up space on Android devices.
Guide to Free Up Android Space with Android Data Eraser
Use this program - Coolmuster Android Eraser to completely erase personal data from your Android before you sell it off or give it to someone. Erasing files from the phone just removes them and can be recovered by some programs. But data deleted by this powerful eraser are completely gone without the possibility of being recovered. With one click, existing and deleted files including contacts, SMS, photos, videos, music, apps and other personal information can be easily erased and gone for good!
The program offers three custom modes of data erasing - Low, medium and high. Depending on your requirements, data can be removed efficiently and quickly using Low mode. The data is treated professionally with two pass levels to delete in the medium mode. The high mode involves three modes and is the surest data elimination option which can take some time. Also, this software supports all Android devices and wipes personal and important data in one minute. It is easy to use and one of the best when it comes to data erasing.
Backup before Freeing Android Space
You should always make a backup of your phone data before erasing files or cleaning it up, so as to minimize the damages from sudden data losses due to various reasons. As a bonus, we will also tell you some useful backup tips:
* Make timely and regular backups.
* Use a computer or cloud storage to save the backup files for easy access.
* You can use your Google account to backup contacts for free.
* It is better to use a professional backup assistant for taking backups to PC.
* Do not use a public Wifi or network to sync backups as it may make your personal data vulnerable.
Steps to free up Android phone:
- Launch the Android Data Eraser and connect your Android phone to your computer with USB cable.
- Insatall MobileGo connecter on your device as asked.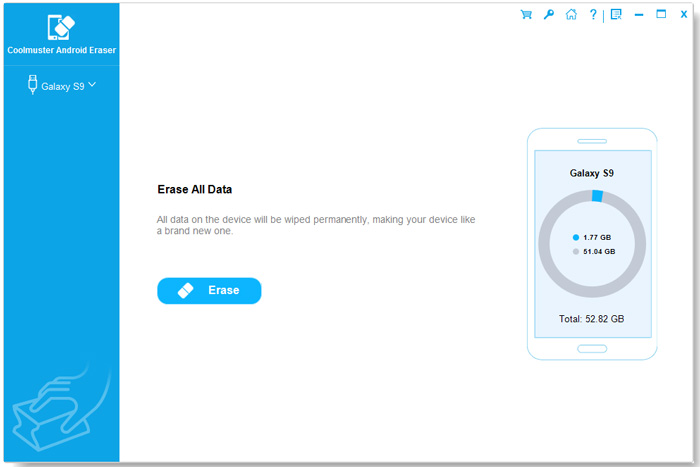 - Choose "Erase All Data" mode and click "Erase Now" option to erase your Android data.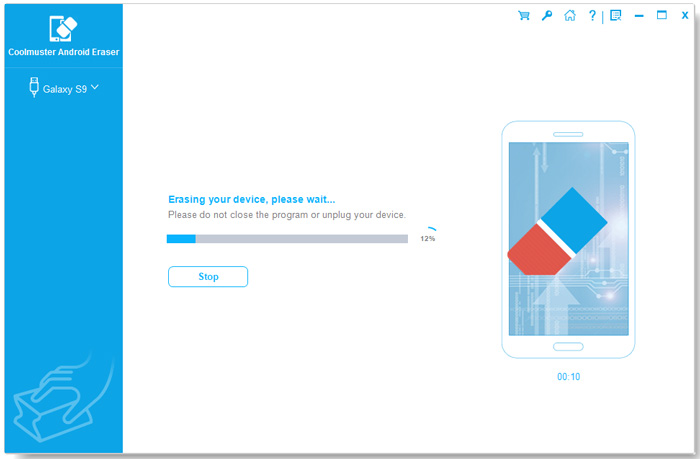 Conclusion
Remember, it is crucial to back up your important files and data before using the Coolmuster Android Eraser, as the process permanently deletes the selected information from your device. By following the backup tips mentioned earlier, you can ensure that your data is safely stored and accessible whenever needed.
Freeing up space on your Android phone is essential to optimize its performance and ensure you have enough room for new apps and files. The Android Data Eraser provides a professional and reliable solution for securely erasing personal data from your Android device.
Related Articles:
Guide on How to Delete Contacts on iOS 9
Tips to Clean up Junk Files from iPhone
Android Contacts Disappeared? Recover Lost Contacts on Android