If you are an iPhone user, you may want to pay close attention to a feature that has been released by Google. In fact, for those iPhone users that like the added benefits of special applications, you will have an opportunity to take advantage of an android keyboard that has been specially designed for you. Though Google has made it available, why would you want to install these new features on phone. This article mainly tells you how to get Android-like keyboard on iPhone 14 Pro/14/SE/13 Pro/13/12 Pro/12/11 Pro/11.
Part 1: Why People Want to Get Android Keyboard on iPhone?
Part 2: How to Get Android-like Keyboard on iPhone?
Part 1: Why People Want to Get Android Keyboard on iPhone?
Having said that, here are several great benefits that you may want to consider if you are interested in an android keyboard that is called Gboard.
1. Built in Search functionality with Predictive emojis
Gboard has a pretty slick and easy to use a function that allows the user to forward information without having to leave the conversation that they are currently in. This feature can be activated by the user's IOS stock keyboard whenever they decide to pick and choose emojis. The user can continue this process by switching back and forth between their standard iPhone keyboard and a dedicated keyboard. For instance, whenever the iphone user types in the term 'key', the key emoji will appear. Once the key emoji shows up, the user will have the option of choosing auto populate in their text fields. As a result, this search function makes it much easier for a user to find the information that they are looking for on their iPhone.
2. Customization
Gboard gives iPhone users the capability top customize their settings in virtually anyway that they choose to do so. For instance, if the iphone user would like to keep up with the local weather or find their favorite restaurants in their community, all they will need to do is enable the contact feature. Or, if they want to send a message, while also communicating with others in a different conversation, all the user will need to do in this case is enable the contact search setting.
3. GIFs
The Gifs feature is an excellent alternative to sending a full-text message to relay an idea or thought. With a Gif feature, the individual can find the perfect image to say what they need to in a picture form.
4. Gliding Keyboard
Gliding keyboard provides users with an additional option to type information. With this feature, users can say what they want to with a swipe or the gliding of their fingers.
Read More:
Best Texting Apps for Android
Best Gaming Apps of 2017
Part 2: Apps Helping You to Get Android-like Keyboard on iPhone
1. SwiftKey Keyboard
Though some software developers may tell you that there is a host of different word prediction technologies built-in to various keyboard applications, it is important to note that the Swiftkey keyboard app takes it to a different level. This is because this software allows the iphone user to use an auto correct feature that actually works. In fact, this app is designed to correct your idiosyncrasies in spelling and typing by learning from you. The swiftkey keyboard has been made to become smarter than the actual user, while also providing 2 languages that can be used at the same time. You can compose your text message by simply sliding your fingers across its keyboard.
You can download SwiftKey Keyboard here >>

2. SwiftKey Neural Alpha
SwiftKey offers more than one type of Android type keyboard for its iphone users. In fact, in its armory, they have an alternative keyboard solution that is now called Neural Alpha. The basic concept of this option is built upon the idea that it leverages neural network and its bands of data that becomes much more intelligent over time—to further enhance the predictions and corrections that it makes. Therefore, this alternative keyboard considered being a premium version of the original product that they are providing to you. With this app, people can choose an option that is considered to be more intelligent and intuitive than their standard apps.
You can download SwiftKey Neural Alpha Here >>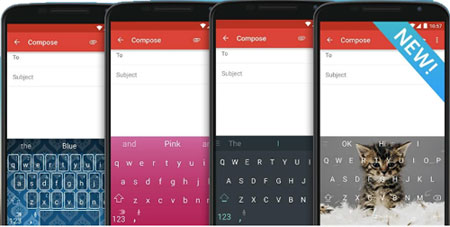 3. Hub Keyboard
Another great Android app that is coming from Microsoft's Garage Project is presently called the Hub Keyboard. With this keyboard, iphone users will have an option to gain access to shareable URLs very quickly. Specifically, those URLs that lead the user to documents that they have stored in OneDrive. For instance, for swift access, the hub keyboard gives the user the capability to scroll through several different snippets of text. Also, for users of Bing, there are quick options that can be used to find word translations, news headlines and various web searches too.
You can download Hub Keyboard here >>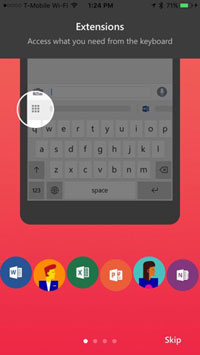 4. Fleksy
Most iphone users will probably describe Fleksy as being all about customization. With this keyboard, users gain the functionality to select extension that they use to plug into this app in order to enhance sizes and themes of things that they are working on. In fact, the user will have a chance to install their own custom theme or those that have been pre-made.
You can download Fleksy here >>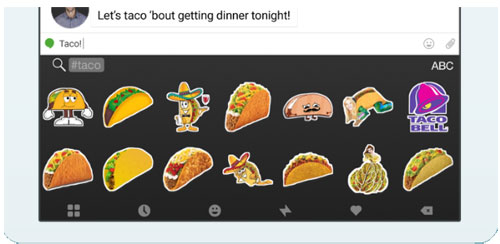 5. Swype
Swype designed is based on a number of different capabilities. More importantly, it gives the user the ability to swipe/type the information that the user wants to relay. With a letter sliding mode, the developers have also made it to get better and better at learning the users behavior. The information that user stored can also be synced between devices and the app has built in support for those who need regional dialect help.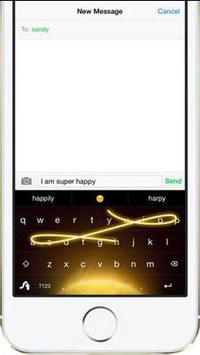 Related Articles:
Top 5 Android eBook Readers You Should Know
Transfer Contacts from Android Phone to Computer
Wonder How to Extract Photos from iPhone Easily?