Most Android mobile phone users are unhappy or unsatisfied with the standard text messaging app that comes with the phone that they purchase. The biggest thing that they tend to have complaints about is the overall lack of features included in the pre-installed messaging application. In addition, there are some Android phones that require owners of them to use the exact same messaging application to send, receive, and read messages. However, there are plenty of alternative applications that can bring more features to those who seek them, as well as completely eliminate the need to use the exact same messaging application as everyone else.
Here are some applications that are considered by many to be some of the best texting and messaging apps for Android.
TEXTRA SMS
This application is fully customizable from color themes to features such as saving photos and videos to your phone. In addition, you can also enable a feature that supplies a quick pop-up when you receive a message, which allows you to respond right away.
HELLO SMS
Considered by many to be "the Gmail of text messaging apps". Hello SMS features different tabs that you can tap on in order to quickly respond to a certain individual's message that they have sent you. It's also worth noting that after you install Hello SMS, you will be prompted to invite your friends to use the app as well, though it is not required for you to do so in order to continue using it yourself.
CHOMP SMS
Chomp SMS is another messaging application that's fully customizable. For instance, you can use any picture that you want as your background image. In addition, Chomp SMS also contains over approximately 800 different emojis. You can also adjust the different fonts to your liking.
HANDCENT SMS
Handcent SMS is different from most other free messaging applications in the sense that you can use it to not only send messages from your phone, but you can also do so from your computer. You can also completely customize themes and skins. You can also use Handcent SMS to send bulk messages, as well as back up any messages that you wish to have saved.
Coolmuster Android Assistant
In addition to these great applications, there is also another one that you should consider investing in. This application is called Coolmuster Android Assistant, which, similar to Handcent SMS, can also be used to send messages to a any cell phone either from another phone or a computer. Some of the key features of Coolmuster Android Assistant include the following:
* Using a computer to install and/or uninstall various Android applications
* Managing contacts on a computer, as well as saving exported contacts as XLS and/or CSV files
* Using a computer to restore backup contacts to any Android phone
* Using a computer to both backup and copy contacts, as well as text messages, photos, videos, etc. from any Android phone to a computer.
Read More Articles:
Send & Receive Android Text Messages from Computer
How to Save Text Messages to SD Card
Coolmuster Android Assistant is available for download for both Windows and Mac operating systems. The software is also extremely easy to install and use, especially in terms of sending text messages directly from your computer.
How to Use The Best Android Texting App to Send & Receive SMS on Computer Directly?
Step 1. Connect your Android device to computer and launch the app
Once you have downloaded and installed the software, connect your Android phone to your computer via USB. A screen will then pop up that displays general information about your phone (model, storage space, etc.) and the software should immediately recognize your device. If on the off-chance the software does NOT recognize your device, this is an indication that you will need to enable USB debugging. To do this, disconnect your device from your computer and take the following steps (all of which depend on which version of the Android operating system you have):
-- If you have Android 2.3 or earlier, select the following options on your device in order: "Settings," "Applications," "Development," "USB Debugging"
-- If you have Android 3.0 to 4.1, select the following options on your device in order: "Settings," "Developer Options," "USB Debugging"
-- If you have Android 4.2 or newer, select the following options on your device in order: "Settings," "About Phone," "Build Number" (until you are told "you are under developer mode"). Once taken back, select "Settings," "Developer Options," "USB Debugging"
Once USB debugging has been successfully enabled, tap on "Allow" when you are asked to permit program super user authorization.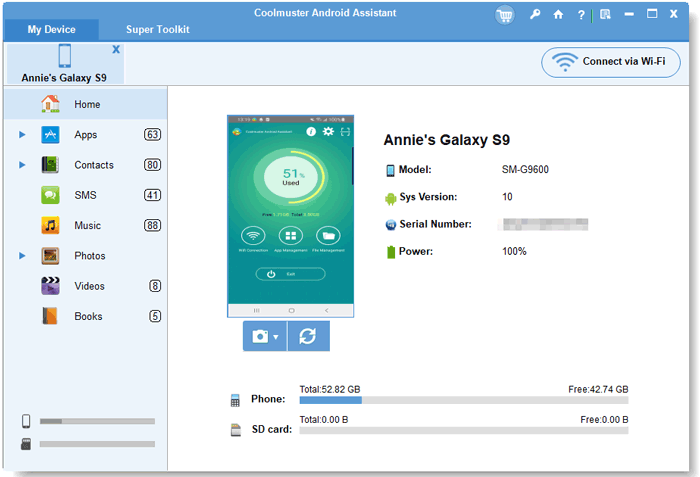 Step 2: Begin to send text messages on computer
The software will then utilize a menu at the top of the window to display the data of your Android phone. To send a text message to anyone in your contacts, click on "Contacts" then "All SMS," which is on the left-hand side. Next, simply select the person you wish to send a message to. Type it in then click "Send."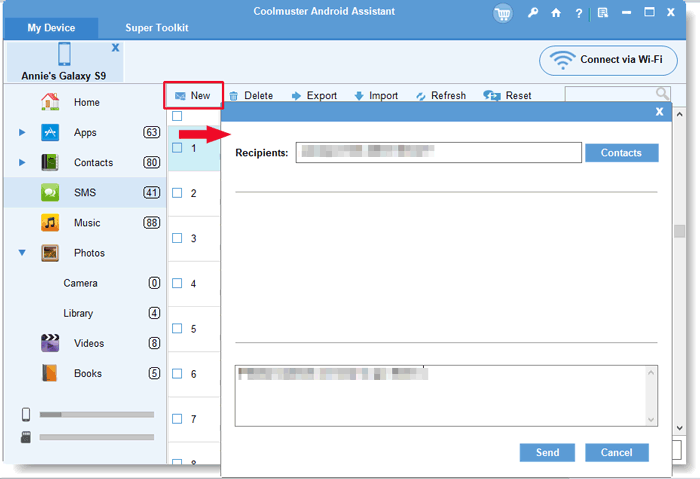 In addition to sending text messages, you can also use this software to transfer data such as photos and videos from your Android phone to your computer and vice versa, as well as adding and deleting contacts.
Related Articles:
Copy Contacts from Samsung Galaxy Note to Computer