With the advent of technology and invention of smartphones, our life has become incredibly flexible, comfortable and collaborative. Android gadgets making way for users to use numerous features and apps have become one of the most essential things in our lives. Nevertheless, if your Android phone is lost, damaged or stolen, your private documents and data will be put at risk. This can even be worse if the phone was used for corporate purposes.
Now, if you are faced with such situations, worry no more! There are several ways you can use to wipe your Android phone remotely as outlined in this article.
Part 1: How to Remotely Wipe Android Phone If It's Lost or Locked?
Part 2: How to Erase Everything on Android Phone When It's Accessible?
Part 1: How to Remotely Wipe Android Phone If It's Lost or Locked?
1. Using Find My Device App
It is essential to install Find My Device App in your Android phone if you want to wipe its data remotely. Also, you should check your Settings to confirm that the application is ON. Follow the following steps to install the application on your phone.
> Download the Find My Device app from Google Play Store.
> Go to Google Settings, then security and finally Find My Device app.
> Enable your phone's location to be accessed by the application.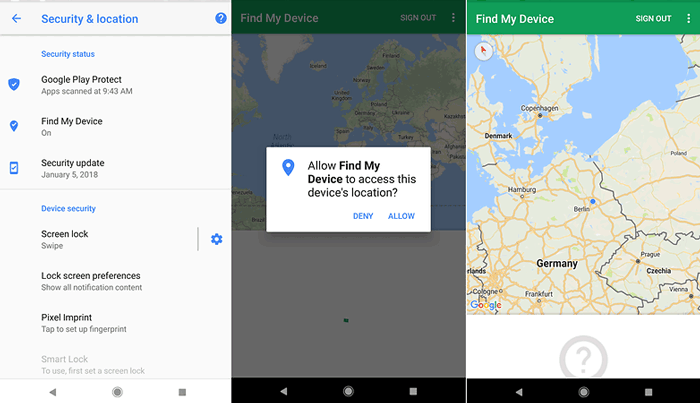 How to Find your Phone via Find My Phone App?
There are two ways that one can employ to locate a lost or stolen Android device: through Find My Device App installed on another Android phone or through the official Find My Device website.
- After login to the site or application, the app will try to locate your lost or missing phone.
- From the map, you will get a signal if the device is ON. Here, you will get three options to perform on the phone: lock it, ring it, or remotely wipe it.
- Find My Device will report the location of your lost device if it is not ON or cannot access a signal after it is switched ON or gets connected to a cellular network or Wi-Fi.
- Now, if you are sure your phone is lost, always click the remote wipe option.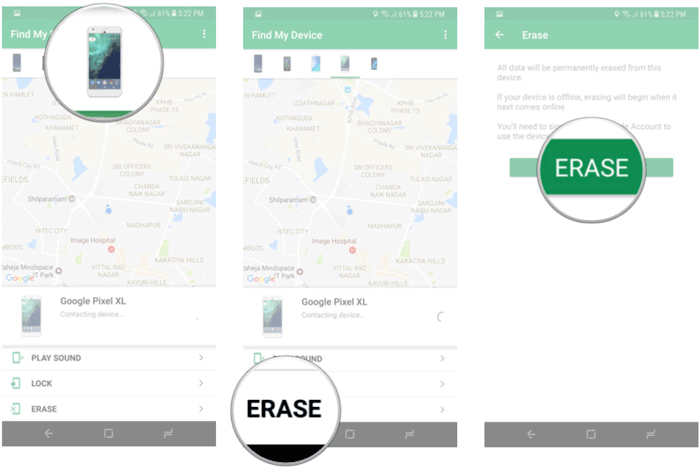 Video Tutorial:
2. Using Android Device Manager
This option allows users to lock, ring, and find the precise location of their devices. The technique involved is easy, and you will only be required to have an Android Device Manager account from the official website. Users can link their Android smartphones with related services after creating an Android Device Manager account.
When you lose your phone, you will only be required to log in to this account, and either lock your data or wipe it remotely. A remote wipe typically resets your phone to its factory Settings. However, you need to set up the Android Device Manager on your phone before wiping it remotely.
Here are the steps to set up your phone:
> Go to Settings from your phone.
> From the Settings mode, look for "Personal" Settings, and click "Google".
> Hit on the services button and then click the "Security" button
> After carrying out the steps outlined above, go to the Android Device Manager and toggle ON the "Remotely locate this phone" and then enable "Remote lock and erase".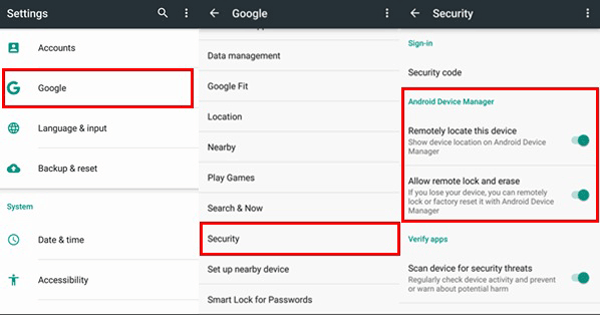 > It is essential to ensure that the location mode is turned ON in your device.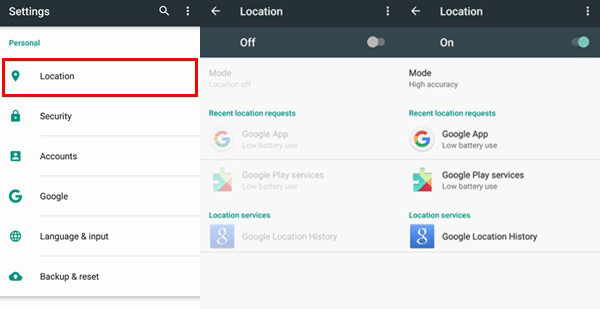 Steps to Use When Wiping Data Remotely via Android Device Manager:
> Go to the official website of Android Device Manager.
> Login using your Google Account.
> Check whether your phone is showing up or not.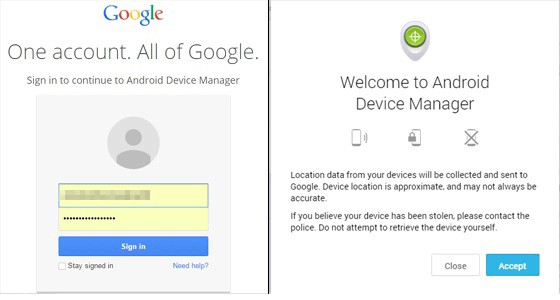 > Select the device that has been stolen or lost from the list that comes up. You might not be able to see your device if you hadn't synced it through the ADM's site.
> After selecting the phone, you will see its specific location alongside the menu at the top left corner where location details are indicated.
> You can then opt to remote your Android smartphone after finding its exact location. To do this, hit the "Wipe your Android remotely" option. Hit "agree" button on the confirmation window that pops up.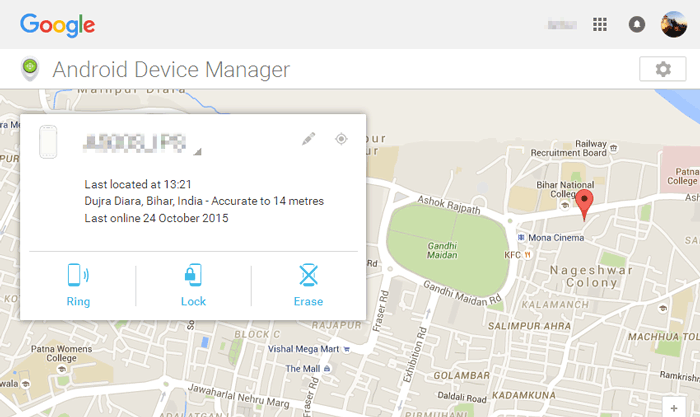 You May Want to Know: How to Wipe iPhone Remotely If It's Lost or Stolen?
How to Fix Unavailable Location Error in Android Device Manager?
It is essential to ascertain that your device is correctly connected to the internet before carrying out the following steps. After connecting it to the internet, follow these steps to solve the unavailable location problem in the Android Device Manager.
First, make sure your location is set to "High Accuracy Mode." You can do this by going to Settings, locations, mode and then select high accuracy.
> Go to Google Play Services. It is crucial to possess the current version of the program and then clear the cache memory.
> After doing this, restart your device.
> You can now check whether the unavailable error still exists or not. Afterwards, you can start the ADM.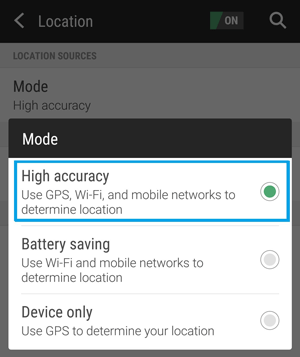 Part 2: How to Erase Everything on Android Phone When It's Accessible?
If you want to erase all data on your smartphone while it is still accessible, Coolmuster Android Eraser is the real deal. Here are the key features of the program:
> It wipes data permanently from your smartphone, including private data, deleted data as well as system Settings.
> It supports all types of Android files, including videos, SMS, music, images, applications, call logs, audios, and books, among others.
> It possesses 100% permanent deletion and prevents the possibility of recovering the deleted data.
> It boasts three levels of deleting data.
> It is compatible with numerous Android devices such as Huawei, Xiaomi, Samsung, HTC, and others. The latest Samsung Galaxy S23 Ultra/S23 are included.
Tips: You'd better back up your Android files on computer beforehand if there are some files that you don't want to lose forever.
Steps of Using Coolmuster Android Eraser:
Step 1: Connect Android phone to computer.
Download and install the application on your PC. Launch the application and connect your phone to the computer through a working USB cable. Then turn on USB debugging on your Android phone if you have not.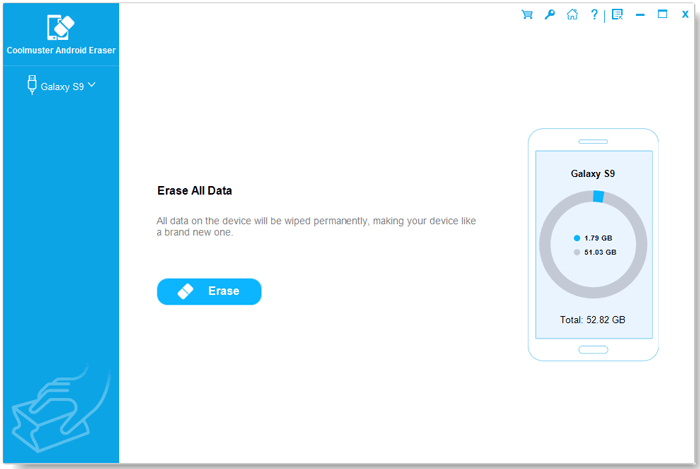 Step 2: Select and confirm your security level of erasing.
Click the "Erase" button to start the process, then you can choose your security level for erasing by clicking the menu next to security. You can either select High Level, Medium Level, or Low Level. Click the OK button after selecting the required level. In the blank box, type "delete" and confirm your selection. On the pop-up window that appears, click OK button to begin the deletion process.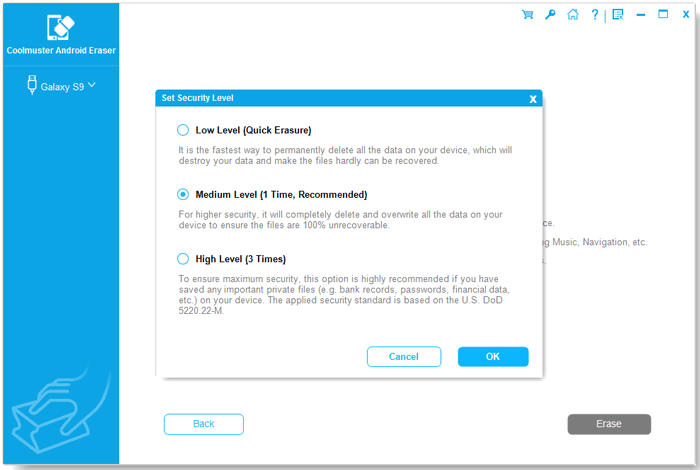 Step 3: Start to wipe Android phone.
The program will start to erase all data on your Android phone. After that, it will continue to overwrite data on your device to ensure your data security.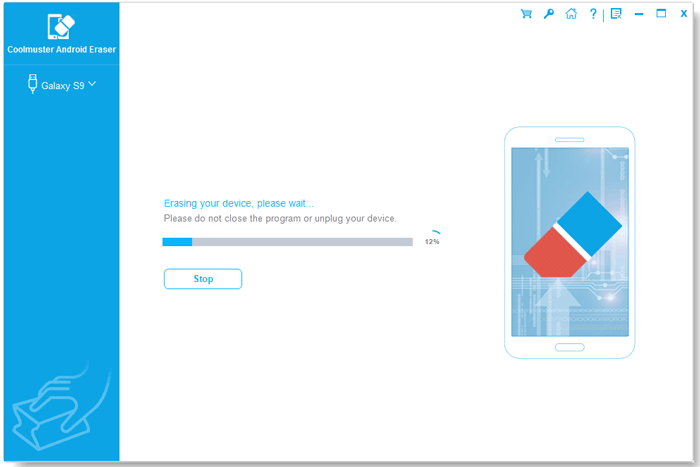 Step 4. Factory reset your Android phone.
After overwriting your Android phone, it is recommended to restore your Android phone to default factory settings, which will completely delete all system settings and system data on your device.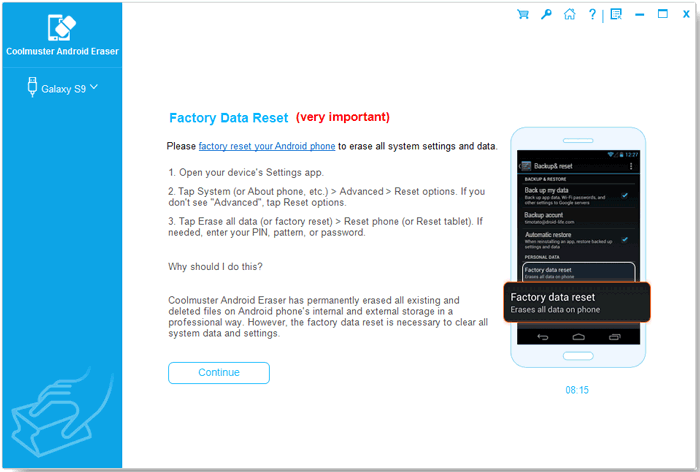 Final Words
Lastly, wiping Android data remotely is among the best inventions to ever grace the smartphone world. This method helps users when they want to safeguard their private data from incorrect persons. Nevertheless, we cannot secure data from our devices by wiping it remotely every time we lose our phones. With Coolmuster Android Eraser, you can perform complex tasks on your phone quickly and fast. Download this application now, and manage your Android data as needed.
Related Articles:
What to Do if Your iPhone, iPad or iPod is Lost or Stolen?
[Lost iPhone Data Recovery] How to Recover Data from Lost iPhone Easily?
How to Recover Deleted Documents on Android Devices?
How to Recover Lost Data/Photos/Videos from Huawei?