How to Transfer Apps between Two Samsung Galaxy Phones?
You may have the need to transfer or sync applications from one Samsung phone to another when you bought yourself a newly released Samsung Galaxy S6 to replace your old Samsung mobile phone. Or there may be some other reasons for you to share data between two Samsung phones, for example, you want to share your favorite videos, music, photos, apps and other files with your friends or families who are also using Samsung phones.
Transferring apps between your Samsung Galaxy devices is a smart measure so that you can save yourself from spending a lot of time to download and install the same applications on your new Samsung Galaxy S8/S7/S6//Note 3/2 again and agin. For that case, is there any simple and quick way to transfer selected apps between two Samsung Galaxy phones? The answer is YES of course! Just read on to learn how.
Solution 1. Transfer Apps between Two Samsung with Phones Samsung Smart Switch
Solution 2. Transfer Apps between Two Samsung Phones with Mobile Transfer
Solution 3. Transfer Apps from Samsung to Samsung with Android Assistant
1. Transfer Apps between Two Galaxy Phones with Samsung Smart Switch
Samsung Smart Switch app is specially designed for Samsung users, which lets you wirelessly transfer data from your old Galaxy device to your new Galaxy device. With it, you can easily transfer contacts, photos, messages and more from your old phone to your new Galaxy within simple clicks. Below is the tutorial on how to use it:
Step 1. Install the Samsung Smart Switch app on the two devices and then open it.
Step 2. Place the two Galaxy devices within 50 cm between each other. Then tap on the Connect button from one of them to begin the connection.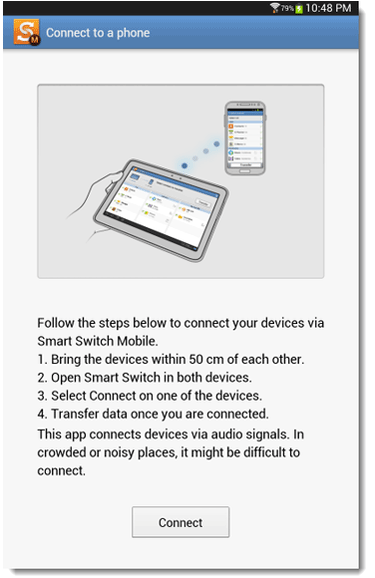 Step 3. Then you will see the below screen on each devices. Now, you can select the files you want to transfer from one Galaxy to another Galaxy phone. Finally, click on Transfer option to begin the file transfer. On the promo dialogue, remember to choose the OK option to receive contents from another device.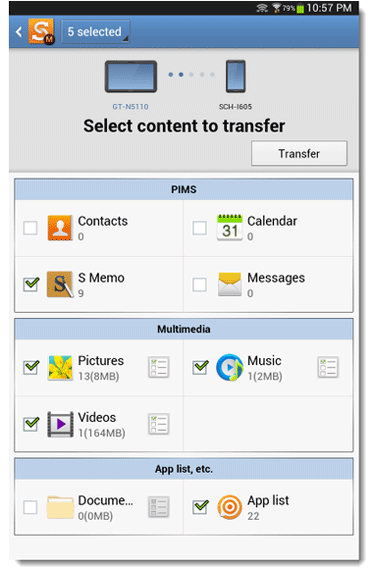 Now, you just need to wait for the file transferring process to get completed within simple clicks.
However, if you want to transfer files from one phone to another non-Galaxy device, this Samsung Smart Switch won't work, but Coolmuster Mobile Transfer or Coolmuster Android Assistant tools can make it!
2. Share Apps between Samsung Galaxy Phones with Mobile Transfer
To easily transfer the apps from Samsung to Samsung, it is kindly recommended to ask for help with the help of a professional too - Coolmuster Mobile Transfer. It is an ideal Samsung file transfer tool, which enables you to transfer not only apps, but also contacts, text messages, call logs, songs, movies, photos and many more from one Samsung phone to another easily and quickly with just a few mouse clicks.
The software is fully compatible with phones with different OS, including iPhone, Android, Symbian and Blackberry that you just never need to worry about the compatibility issue. Now, read the tutorial as below to get the tips on switching apps between two Samsung Galaxy S/Note.
Before that, you can tap on the following button to download the Windows or Mac version of Coolmuster Mobile Transfer on your computer.
Can't Miss:
How to Transfer Text Messages between Samsung and iPhone
How to Transfer or Copy Files from Android to Samsung
Step 1. Install and launch the Samsung Apps Transfer
After correctly install the Phone to Phone data transfer program, you can launch it on your computer and then the program interface will pop up. Choose Phone to Phone Transfer to and click the "Start" button to go into the target window.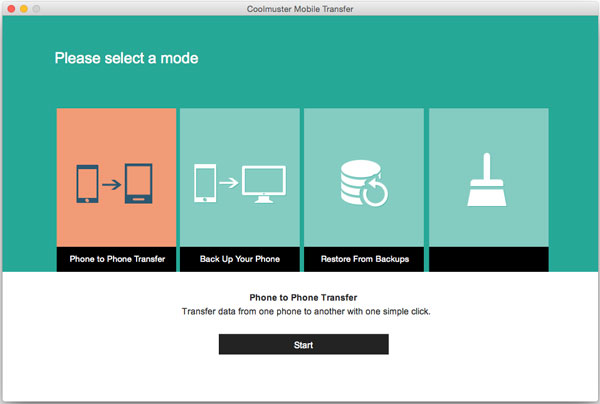 Step 2. Connect both Samsung Galaxy phones to PC
Then, connect both of your Samsung Galaxy phones to your computer through two USB cables. After the transfer program detects your phones successfully, you can see them displayed on the window, one is on the left and the nother on the right.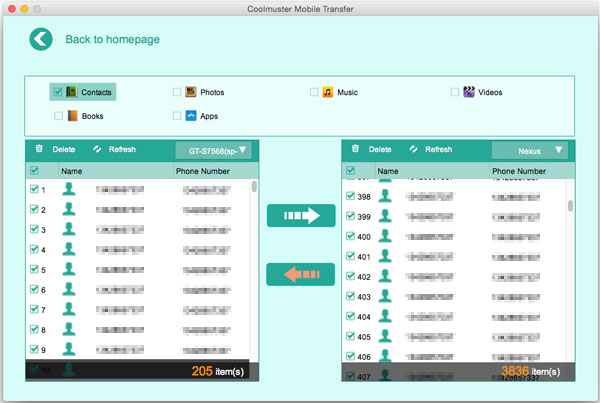 Step 3. Transfer apps between Samsung Galaxy phones
Now, you can see all the data that can be transferred is displayed on the program. What you need to do is just check the option of "App" and click on the transferring arrow to transfer them to your new Samsung Galaxy phone.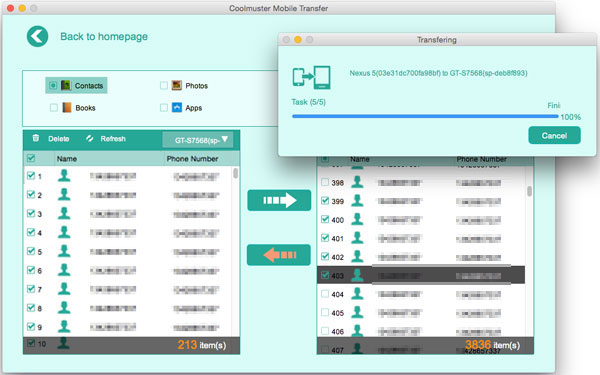 Make sure both of the Samsung mobiles are connected to the computer during the apps transferring process. When the transfer finishes, you can click "OK" button and eject the phones.
3. Transfer Apps from Samsung to Samsung with Android Assistant
Thanks to another wonderful tool - Coolmuster Android Assistant, you can have more selections to make the apps transfer easily as well as quickly. Just three simple steps will move all the apps you need between different Samsung Galaxy devices in a short time.
Don't worry, there is no any compatibility issues will happen after the transfer. Besides apps, Android Assistant also supports to transfer contacts, SMS, photos, videos, music and more from Android to Android, Android to computer, or computer to Android. Now, read the part below and get the tips on transferring apps between Samsung Galaxy phones.
You can click the following button to download the Windows or Mac version on your computer first.
Step 1. Launch the tool on your computer and connect two Samsung Galaxy phones to PC via USB cables.
Step 2 . Click the old Samsung phone icon, choose "Apps" tab, then select the apps you need to transfer and click "Export" to move them to your computer.
Step 3 . Click on the new Samsung phone icon, select "Apps" tab from the left panel, click "Import" button from the top menu and transfer the exported apps into the new Samsung phone.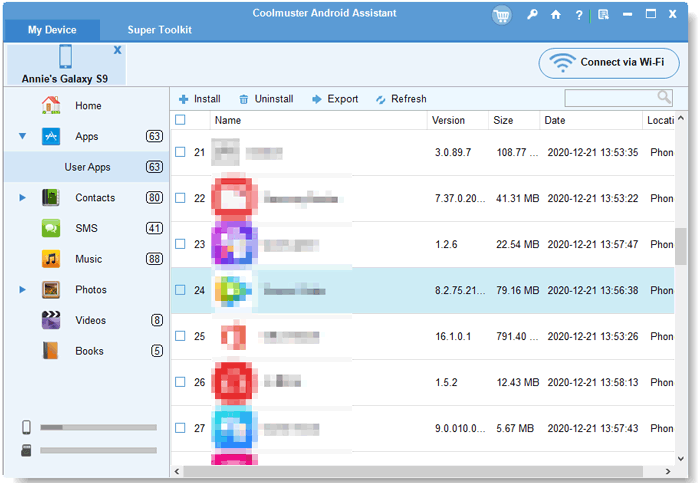 Related Articles:
Copy Files between Computer and HTC Phone