Samsung remote control applications have grown in popularity due to simplifying the way one opts to regulate television, home theater receiver, media player, heater, air conditioner, and other home appliances. The market is saturated with this type of app, but only the following have proven to be worthwhile. These are effective innovative applications that were structured in a simple way so that you can get the hang of them right from the start. This is not surprising, as they were created by top experts in the field that have become well-known for going the extra mile to ensure they develop first-class apps that aid consumers in more ways than one.
People Also Read:
How to Manage Photos on Samsung Galaxy S9
How to Edit Samsung Contacts on PC
Part 1: Top 5 Apps to Control Samsung Devices Remotely
1. AnyMote Smart Universal Remote + Wi-Fi Smart Home Control
Any device that sends infrared remote commands is covered with this application. It allows you to customize it by rearranging buttons, changing positions, icons, text, colors, and more. In order to execute several commands with just a single touch, it permits you to create macros. You can also take advantage of tasker integration, voice commands via Google Now, air gestures, floating remotes, among other features. It is a well-rounded application that has everything you needs to simplify your life in great measure.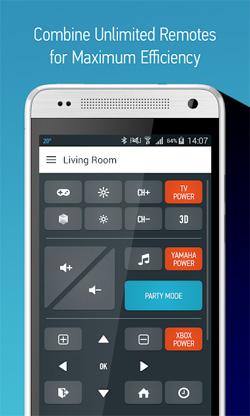 2. Mi Remote Application
Tens of thousands of people around the globe have downloaded this application that keeps given a lot to talk about due to its superb function. Many consumers who have left reviews for it have referred to it as the most simple to use Samsung remote control app. Indeed, it is as simple as they get. Nonetheless, do not underestimate what it can do. It supports a variety of different appliances, including television, set top box, projector, air conditioner, camera, A/V receiver, among many others. With this app, the options are endless.
You can download Mi Remote Application from Google Play Store >>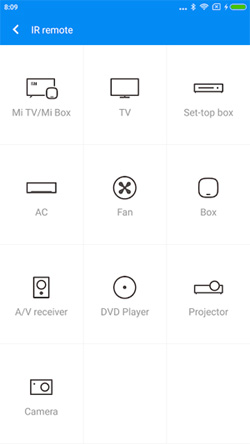 3. Peel Application
This solution is one of the most popular on the market, because it can be utilized though IR or over local network. If your device has IR blaster, you will have a high compatibility. Peel application is even able to control smart home devices, hence why it keeps augmenting in popularity every day. It comes along a variety of different features so that you can make most out of your entertainment, including a personalized TV guide. It is the type of app that can have you entertained for hours, making you feel that time went by too fast. You have been warned!
4. SURE Universal Smart TV Remote Control App
This is not only a universal remote control solution that can keep your home entertainment and smart home device under one roof; it also allows you to cast video and music content to smart TVs. The configuration only takes a few minutes. It is one of the easiest applications that keep garnering positive reviews. It provides a variety of different features to make the most out of your devices, including file copy with shared network. This means that you can copy a file from mobile device to local network and vice versa. Another helpful feature is the one that allows you to stream videos and photos from phone to a smart television. It might sound like a lot of work, which might be with other applications, but this is far from being the case with SURE app. If for any reason you encounter an issue, there is always first-class customer support ready to assist to help you get back on track.
You can download SURE Universal Smart TV Remote Control App from Google Play Store >>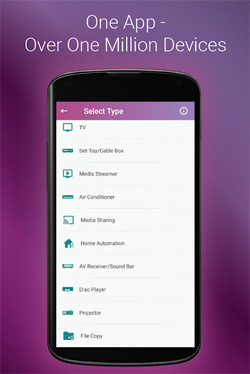 5. Unified TV App
This is another favorite Samsung remote control app that has been causing quite a buzz ever since it was introduced to the public. It allows you to install shortcuts, prevent device from sleeping, control vibration, control NFC actions, among others. It even has automatic IR-blaster detection. With this app, you can have all your remotes on it. It was created by experts in Sweden who wanted to bring onto the market an application that differed from others in different aspects, and they surely did not fail in doing so. Once you download it and see its platform, you will come to the conclusion that it is indeed one-of-a-kind.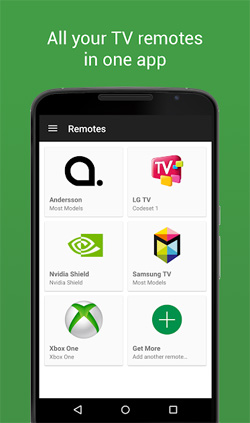 Part 2: How to Manage Samsung Phone when The Phone is at Hand?
When you have your Samsung mobile device at hand, you can manage and control it on your computer by using the Coolmuster Android Assistant, which is regarded as the best Android data manager to manage your Samsung Galaxy S23/S22/S21 on PC or Mac freely. It can deal with your Android media, contacts, SMS, call logs and everything else on your computer once you connected your Android phone to the computer via USB or WiFi.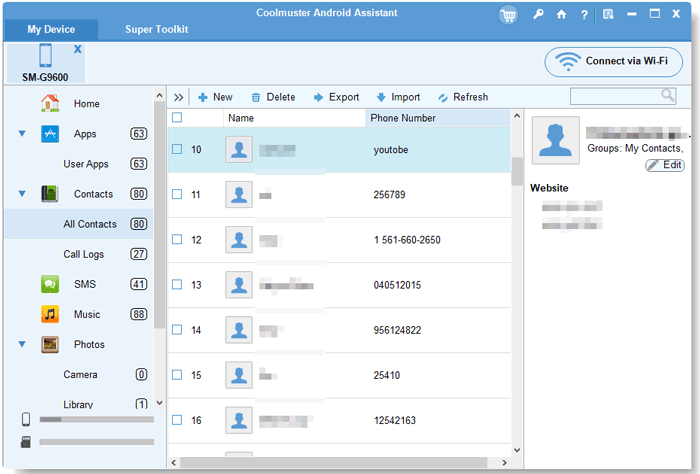 Following are the steps you need to take in order to manage your Samsung device:
Step 1 - Install and launch Coolmuster Android Assistant.
Step 2 - In the main window of the Android Assistant, you will see a menu on the left side. Choose the file types that you want to manage.
Step 3- Now, you can add, import, delete, export and edit these Android data on your computer.
Making the Adequate Samsung Remote Control App Selection
These Samsung remote control applications are not created equal; therefore, there is one available for every preference. Every single one of them comes accompanied by different features. You will notice that some come accompanied by more elements than others. Indeed, their platforms vary meaningfully. It is up to you to decide which one you like the most. If you can, download them all so you can test them and thus make the adequate selection.
Related Articles:
Top 3 Android Notification Manager
How to Sync Android Phone to PC
Five Great Apps You Need for Your Android Device