HTC white screen of death is a common faced problem when HTC users using their smartphones. The problem can occur when you turn on the device. It just cannot be switch on normally but shows you a white screen or the HTC logo. Most people feel confused and desperate because the screen is frozen totally and there are no options to navigate further. Users just be unable to switch on it, let alone access the data stored in it.
Therefore, it is essential to figure out why white screen of death error occurs on your HTC phone and what are the best solutions to fix the error. In the following part of this article, you can learn more about the causes of HTC white screen of death and we also provide you with 3 possible solutions to rescue your HTC phone out of from the white screen of death.
Part 1: What Might Cause HTC White Screen of Death Problem
Part 2: 3 Solutions to solve HTC White Screen of Death Error
Part 1: What Might Cause HTC White Screen of Death Problem
Many HTC users think the white screen of death could be a hardware error and blame the phone manufacturer. Well, actually it is wrong. HTC white screen of death isn't caused by hardware damage, it is because of a software glitch which privets the phone from booting. Sometimes, your HTC phones may be trapped in a startup and shutdown cycle. That is to say, when you turn of your HTC phone, it can automatically start up. However, the phone won't be completely restart and stuck in the startup process, and then the white screen of death situation occur.
There are many other reasons that can cause HTC white screen of death. We cannot show these reasons totally here because none of them can be listed as a sure. For example, even an unintentional software update carry out in the background can be a possible reason. But it is not the most important. What we are concerned most is how to fix the issue, right?
Keep on reading and you will get 3 of the most efficient solutions to solve the HTC white screen of death problem.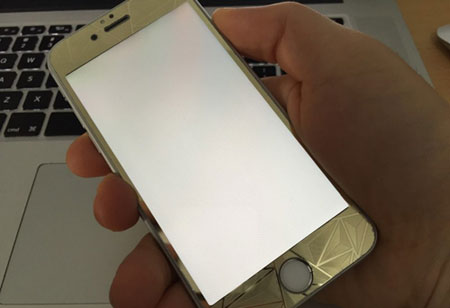 You May Want to Know: How to Solve Android Stuck on Boot Screen
Part 2: 3 Solutions to solve HTC White Screen of Death Error
Solution 1: Restart your HTC phone
Restarting your HTC phone is an effective way to solve you out even though it sounds very simple. All you need to do is:
1. Keep pressing the power button of your HTC phone for about 30 seconds or more until your phone recognize the power off command.
2. When your phone is completely off, turn it back on by pressing the power button again for about 10-12 seconds until the device can boot normally.
If unfortunately your HTC phone can't be switched on, you can try the instruction below:
1. Take the battery out of the HTC phone.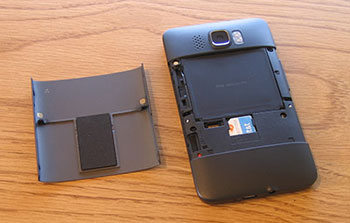 2. Let the battery charge drain out to almost nil.
3. Plug the battery in your HTC phone, and charge, and try to turn on your HTC phone again.
This way would solve your problem. If not, don't worry, read on.
Solution 2: Take out memory card from HTC phone and mount it on later
The internal storage space of an Android phone is limited, HTC phones are no exceptions. Therefore, most HTC phone users insert an external memory card to enlarge the storage space. If you have a memory card in your HTC device, you can follow the instructions below to fix HTC white screen of death:
1. First of all, turn off your HTC phone and take out the memory card from it.
2. Turn on your HTC phone again and wait to see if it can start up normally.
3. If your HTC phone reboots al the way, you can insert the memory card into the phone again.

Solution 3: Factory Reset HTC phone as a solution
The last way to solve the HTC stuck at white screen of death is reset your HTC phone to factory settings, you can try to enter your Android phone to recovery mode and then follow the steps below to factory reset it:
1. Booting your HTC phone into recovery mode by following the instructions in the screenshot below.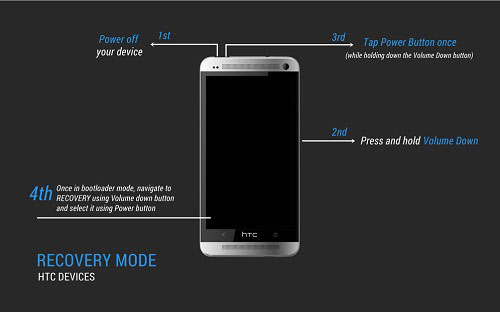 2. Use the volume keys to choose the option of "Recovery" and use power button to select it.
3. After the process of recovery is end, long press the power button to restart your phone.
4. Once you are at Recover Mode, you can select the Factory reset option from the list of option. Then, wait for the HTC phone to reset all settings and all data will be deleted from your HTC phone.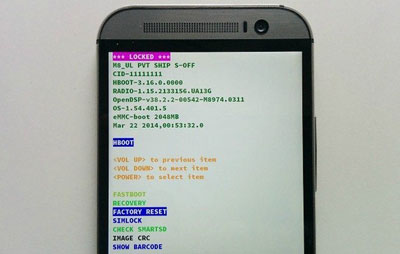 Note: Since factory reset your HTC phone will erase all data and settings on your phone, we suggest you backup your HTC phone before you factory reset it. Here is a guide shows you how to back up and restore HTC phone. so that you will not worry about losing important after you fixed your HTC stuck at white screen of death problem.
Conclusion
The HTC white screen of death can be resolved by restarting the phone, removing the memory card, or performing a factory reset. By following the recommended steps, users can hopefully overcome this frustrating issue and regain normal functionality on their HTC devices.
Related Articles:
How to Back Up Android Phone/Tablet to SD Card
How to Send SMS from Computer (Windows & Mac) to Mobile Phone
5 Surprisingly Easy Ways to Transfer Videos from PC to Android