How to Recover Deleted Contacts from LG Optimus/G2/Viper/Ally?
You might have encountered these situations that you have no idea how to deal with: when you have once deleted your important contacts by accident, yet you actually intended to erase other ones; when you now want to show the police the obscene pictures or harassing and the phone number as evidence that you received but have deleted for some reasons; when you have wrongly formatted your phone; when there're more contacts than your phone can contain and old contacts are wiped by the system when new ones are received; when the card storing your contacts is ruined; and when you recover the factory defaults. Given such conditions, you'll need to retrieve your contacts as soon as possible. I bet the last thing you want to see will be your important data and valuable private conversations with your loved ones being lost forever. Then you should use a professional and convenient tool to recover what means a lot to you promptly.
Erased contacts can be restored because your deletion doesn't have them wiped right away. In fact, the space occupied by the erased ones is only marked as useable. Not until new contacts are received to overwrite them will they stay there as well. Your contact information can either be stored in your SIM card or your phone's internal memory. If it's the former, as long as the card is kept intact and the deleted data haven't been overwritten, you can have them recovered. If it's the latter, make sure that you have no more new data in and it remains what it was like the moment the data were erased. Then turn to Coolmuster Lab.Fone for Android or Coolmuster Lab.Fone for Android (Mac), a powerful and useful tool for help.
This recovery software can help you retrieve your wiped contacts from your LG phone with no requirement of any specialized knowledge instantly. It's applicable to all Android mobile phones as well as is able to recover other kinds or forms of deleted data, such as text messages, call history, photos and videos other than just contacts. Moreover, it's compatible with every platform of Windows. Helpful as Android Data Recovery is, it can easily take care of your problems and will definitely get you away from worries about losing your important data. So go for it!
Below button provides you with the access to the free trial of the software. Just get the right version of the software downloaded and installed on your computer. Then, follow the step-by-step guide to see how easy it is to use Coolmuster Android Data Recovery to restore deleted contacts from LG cell phone.
Easy Steps to Retrieve Contacts Deleted from LG Mobile Phones
Step 1. Connect your LG handset to computer
In the very beginning, you should connect your LG phone to the computer with a USB cable. Once the connection is successful, you can launch the installed Coolmuster recovery software and it will automatically detect your device and show it, along with its parameter information on the program interface.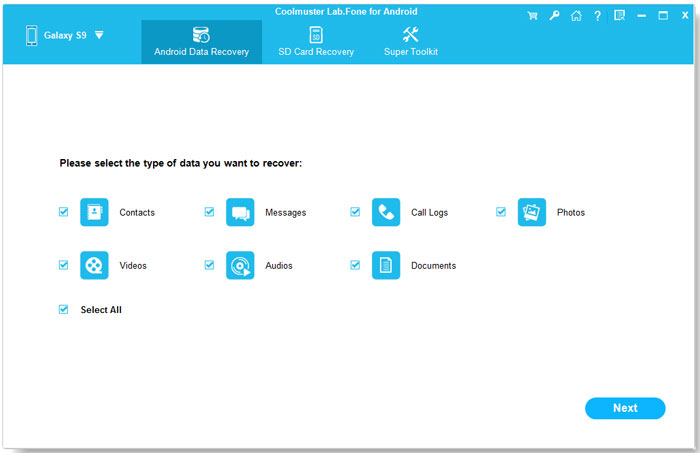 Tips: All LG phones can be supported by this software, including LG Optimus, LG G2, LG Viper, LG Ally, etc. And not only LG mobiles, the software also works on other Android devices, including Motorola, HTC, Samsung, ZTE and so on.
Step 2. Enable USB Debugging Mode on your LG phone
In the second step, we need to enable USB debugging on the connected phone. The activated USB debugging is used for synchronizing data between your device and computer. If you have already opened the USB debugging, you can move to the next step. If not, you need to follow the steps below to enable USB debugging mode on your Android phone.
For Android 2.3 or older, Go: "Settings" < Click "Applications" < Click "Development" < Check "USB debugging".
For Android 3.0 to 4.1: Enter "Settings" < Click "Developer options" < Check "USB debugging".
For Android 4.2 or newer: Enter "Settings" < Click "About Phone" < Tap "Build number" for several times until getting a note "You are under developer mode" < Back to "Settings" < Click "Developer options" < Check "USB debugging"
Step 3. Scan for the lost contacts on your phone
Once the USB debugging mode has been enabled successfully on your phone, click "Allow" on your phone to allow the program super user authorization when an Superuser Request pops up. Then, the launched program will automatically detect your phone and you can click the "Start Scan" button to let the software scan your LG phone deeply. When the scan finishes, all the contained files in your phone will be displayed in clear categories, including your lost contacts.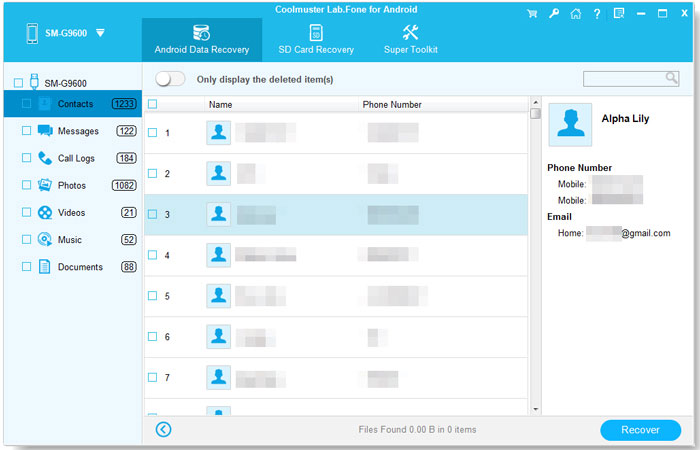 Step 4. Preview and recover the target contacts
Open the "Contact" folder and preview the contained phone numbers, as well as contact person data one by one. Check those you need to recover and then, you can click on the "Recover" button to bring out the output path choosing dialog. Just specify an output location for saving the recovered contacts and then the recovery process will begin at once.
You'd better choose another place on your computer or external storage device as the output location instead of the original LG phone where you lost them before, for safety consideration.
Some Words about LG Brand:
The symbol of LG in red and grey with letters L and G placed in a special position inside the circle are familiar to millions of people worldwide. As this smiling -face-looking logo conveys, LG aims to center on users by establishing close relationships with them. Focusing on research and development, LG has built up plenty of research institutions overseas and is actively carrying out various activities exploiting its highly sophisticated scientific equipment. LG's been striving to offer customers with distinctive product using experience, for it believes that life is not merely possessing the state-of-the-art technology, but having a brand new life experience produced by the technology.
By the way, Android SMS+Contacts Recovery is specially designed to recover lost or deleted contacts and text messages from Android phone.
Video Tutorial
Related Articles:
How to Recover Lost Contacts from Motorola Phones