How to Recover Lost Contacts from Motorola Atrix, Charm, Droid, Milestone?
Some Moto X users might have wrongly deleted contacts and need to ask for people's numbers again. Some other users also announce they have loss contacts, either for their phones are stolen or owing to some faulty operation. Apart from that, one may also have their contacts deleted when their phones are formatted, their phone memory gets cleared up, the factory settings are restored, or the card in which the contacts are saved is damaged.
In such case, a way to recover those numbers is absolutely needed, or you'll have to look for and input all of your contacts again one by one, which's terribly tiring and time-consuming.
Similar: How to Recover Deleted Contacts from Android SIM Card
Best Tool You'll Need:
Coolmuster Lab.Fone for Android or Coolmuster Lab.Fone for Android (Mac) is a convenient, efficient and useful software specially designed to help recover different kinds of deleted or missing data in mobile phones of the Android system, which surely applies to Motorola phones.
If you get in trouble as you have mistakenly deleted your contacts or the system has performed some faulty operations to them on your phone, you should definitely turn to Android Data Recovery for help straightway. This recovery software will conduct scanning deeply to your contacts and restore them without doing any damage, making them recover completely and leaving you no more bothers of having to retype them once more.
Next, we will show you how to get back your lost, deleted or corrupted contacts from Motorola phones by using Coolmuster Android Data Recovery. In the very beginning, you can get the free trial version of the software to have a try.
Can't Miss:
Best Motorola SMS Recovery Software
How to Recover Deleted Photos/Videos from Motorola Mobile Phones
Tutorial: How to Retrieve Contacts (Phone Numbers) from Motorola Mobiles?
No matter what reason makes you lose your phone number from your Motorola, you can also ask for help from the recommended software. Below is the guide you can refer to recover the contacts from Motorola:
Step 1. Connect Motorola phone to computer
Use a USB cable to connect your Motorola phone to the PC directly. Please note we are going to set Windows versiona as the example.
But the operations are also appropriate for Mac version. Once the connection is successful, you can launch the installed Motorola contact recovery software on your computer and get its main interface like below.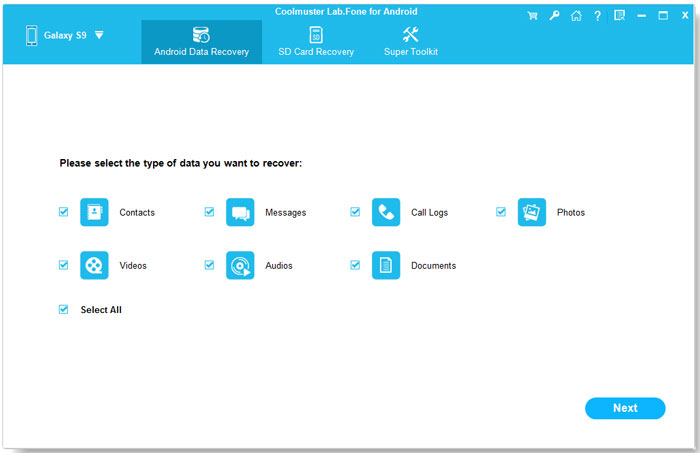 Step 2. Enable USB Debugging Mode on your phone
Next, we need to enable USB debugging on the connected phone. The activated USB debugging is used for synchronizing data between your phone and computer.
If you have already opened the USB debugging, you can move to the next step. If not, you need to enable USB debugging mode on your Android phone.
Step 3. Scan for the lost contacts on your Motorola phone
When the USB debugging mode has been enabled successfully for you Motorola phone, click "Allow" on your phone to allow the program super user authorization when an Superuser Request pops up. Then, the launched program will automatically detect your phone and scan the contained files in your phone, SD card and SIM card deeply. When the scan finishes, all the files in your phone will be displayed in clear categories, including your lost contacts.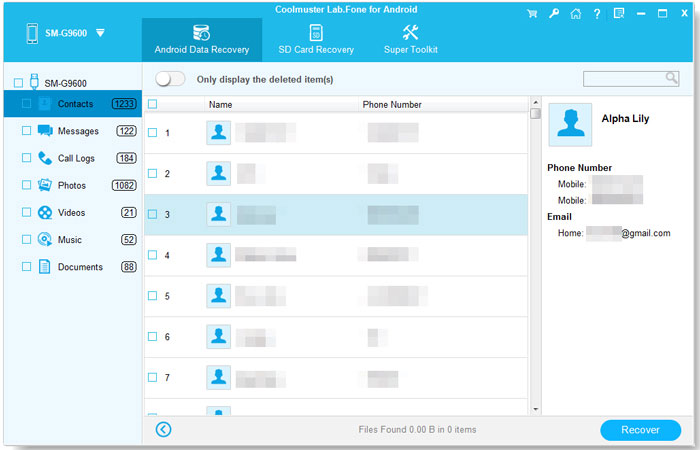 Step 4. Preview and recover the target contacts selectively
Preview the scanned out contacts one by one and check those you need to recover. Then, you can click on the "Recover" button, customize an output location and save the recovered contacts here. Done!
More Information about Motorola Phones:
As a leader in the global communications industry and one of the electronics giants in the USA, Motorola has witnessed the entire development history of mobile phones. It has been guiding the progress of the times from the invention of the radio transponder to the world's first business mobile phone, GSM digital mobile phone, two-way pager, smart phone, wireless router, as well as the famous iridium plan.
With it playing an increasingly significant role in the mobile device field, it has purchasers and users worldwide. Today it's common to see Motorola phones carried by students and people in different lines of work everywhere on various occasions.
By the way, Android SMS+Contacts Recovery is specially designed to recover lost or deleted contacts and text messages from Android phone.
Video Tutorial
Related Articles:
Copy and Save Android Phone Contacts to Excel Format (CSV or XLS)