E.g. 1. "A fortnight ago, my teacher wondered how to conduct his LG data recovery. He told me that his niece had restored factory settings of his LG phone carelessly, and the files were gone off hand. Sadly, the fact that some of the photos and contacts were related to his work annoys him so much."
E.g. 2. "Absolutely, my teacher's obnoxious accident reminded me of my own experience. Last year, my LG handset was infected with some virus and the data related to my graduate info are nowhere in sight. It was a nuisance for I hadn't backed-up my data. As the proverb goes, "A fall into a pit, a gain in your wit." I began to realize the importance of backup ahead of time."
Fortunately, we have got the data back at last. Hence, here are the questions: Should we keep our phones on after data loss? Can we retrieve files that haven't been backed up beforehand? Can we recover data to the phone directly with LG recovery tool? The following article will give you the answers, and 4 methods will cue you to find out the lost data from your LG cell phone.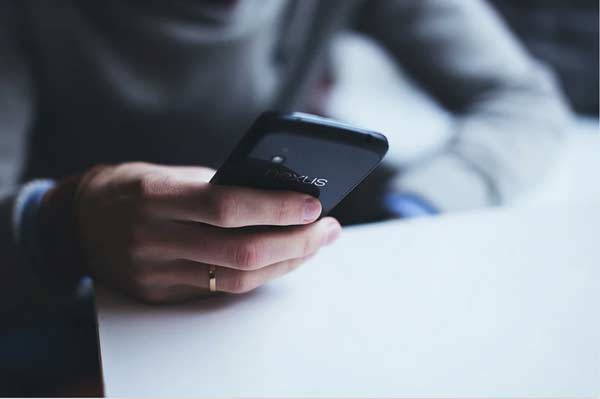 Part 1: How to Recover Deleted LG Data with Coolmuster Lab.Fone for Android
Part 2: How to Recover Deleted LG Files with Coolmuster Android SMS + Contacts Recovery
Part 3: How to Recover LG Deleted Files with Built-in LG Phone Recovery Feature
Part 4: How to Recover Deleted Files from LG with Google Backups
Part 1: How to Recover Deleted LG Data with Coolmuster Lab.Fone for Android
Once the LG data are lost, what you should you pay attention to is to keep calm and shut down the machine immediately to prevent the loss of new info. This is the answer for the first question I've just referred. Now, when it comes to LG data recovery, is there any LG recovery tool that can rescue the lost data directly (without backing them up in advance)?
Providing with trial version, as a LG data recovery program, Coolmuster Lab.Fone for Android can help you deal with LG Android data recovery problems without backup files. With this product, your files will be back soon, like contacts, SMS, photos, audios, videos, call logs, documents and more. PC with Windows 11/10/8/7) and Mac version are available. Here, essential characteristics are as follows.
Vital features of Coolmuster Lab.Fone for Android:
* Recover the LG phone data whether they are backed up or not (This is also the answer to the first question I have mentioned prior to this part).
* Run on all kinds of PC platforms and standalone free from virus and third-party program.
* Be compatible with LG, Samsung, Sony, HTC, Motorola, Huawei and most of other Android phone brands.
* Apply to LG W41 Pro/W41/W31/W11, LG V60/V50/V40/V30+/V20/V10, LG Q92 5G/Q52/Q31/Q61/Q51, etc.
* Support LG data recovery covering Android SD card, Android internal flash memory and Android SIM card.
* Offer not only LG SMS recovery but also photos, videos, notes, contacts and other data without phone modification.
* Completely safe and secure to get back all your deleted LG data simply without damaging your LG gadget or your PC.
Tap here to download it.
Guide for LG Data Recovery using Coolmuster Lab.Fone for Android
Step 1. Install and connect LG phone to PC
Choose the first module - "Android Recovery" to get into the operational interface after you install and start the App. Then connect LG gadget to PC via USB cable before you enable debugging on the cell phone (Please skip this point if the debugging has been enabled). The connection will be established soon.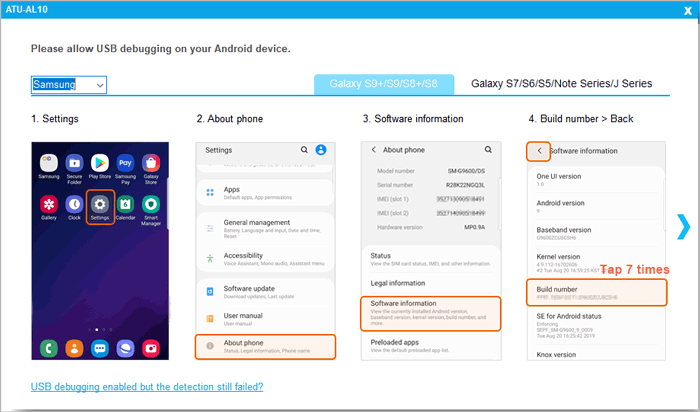 Step 2. Grant for the App and select LG data for scan
Press "Allow" button on the LG phone (Android 4.2 or above) to grant for the App as the request turns up. Then, hit "Select All", LG cell phone recovery program will detect and scan data from your phone and the SD card. Next, files names and corresponding checkbox will be displayed on the window.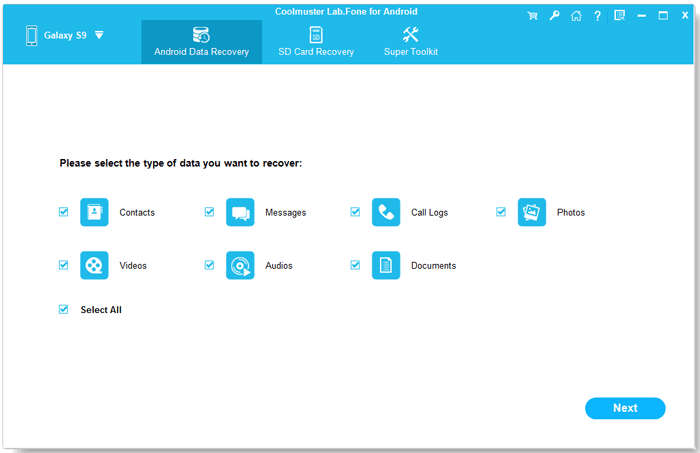 Step 3. Preview and select the data that are to be recovered
All the data like contacts, messages and others are displayed on the left of the window, of course, you need to click "Only display the deleted item(s)" button to check lost data. Choose the category or specific data and click "Recover" button to get back the data with ease.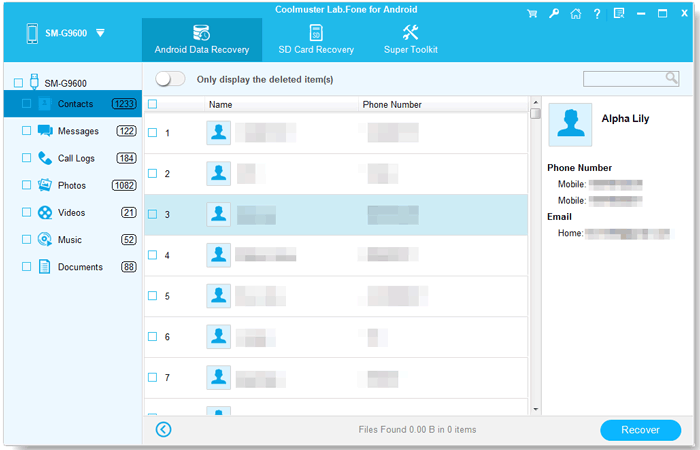 Video Tutorial:
Watch this video to learn more details on how to conduct LG data recovery with Coolmuster Lab.Fone for Android below.
Tips: If your LG phone is not rooted, you need to root LG phone in advance here. Certainly, if you want to restore data from SD card, it's no need to root the phone and you can check detailed steps to recover deleted Android data from SD card here.
Part 2: How to Recover Deleted LG Files with Coolmuster Android SMS + Contacts Recovery
As has been touched upon above, Coolmuster Lab.Fone for Android, a smart LG phone recovery software, has distinctive features and outstanding performance in LG cell phone data recovery concerning various LG recovery tools. So, if we only need to recover lost contacts and SMS, is there another software with similar functions except Coolmuster for Lab Fone for Android? That's a good question. Coolmuster Android SMS + Contacts Recovery can be another good choice for you. So, what kind of software is this?
Main traits for Coolmuster Android SMS + Contacts Recovery:
* Support almost all Android phones (including the latest version) such as Samsung, Huawei, HTC, LG, Sony, Motorola, ZTE, etc.
* Rescue the lost data due to accidental deletion, virus attack, hardware or software failure without LG backup. (Suggest you clicking it to back up in case that the data lose again.)
* Restore not only lost contacts and SMS, but also the attached info like contact name, address, job title, company and others from internal memory card and SIM card.
* Export and save the lost LG SMS and contacts to your PC with HTML or XML formats for easy reading and printing or other use.
* Protect your privacy characterized by read-only and risk-free as well as easy operation.
How do you feel? Download it to have a go?
Now, let's take a look at specification of LG recovery:
Step 1. Connect LG phone to PC
To be brief, start the program on your PC and tap "SMS + Contacts Recovery" to get an access. Then, enable USB debugging on LG phone and click "Allow" or "OK" button to get connected. (This step is very similar to the first step of the last product.)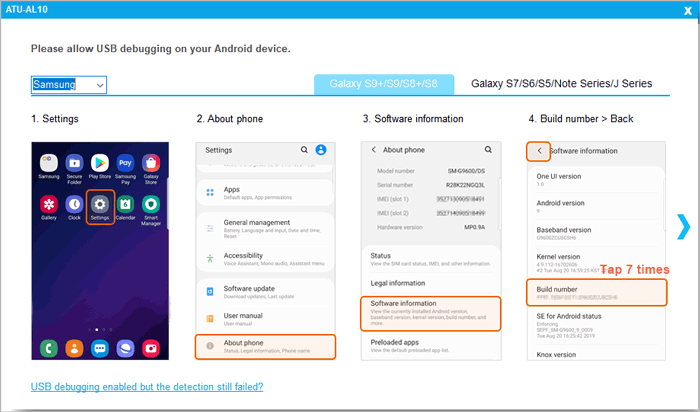 Step 2. Authorize for the App and select data for scan
When connected, the interface will prompt you to select "Contact" or "Message". After your selection, you should click "Next" to scan corresponding data. It is also necessary to root LG phone as the software needs to get the permission to visit data.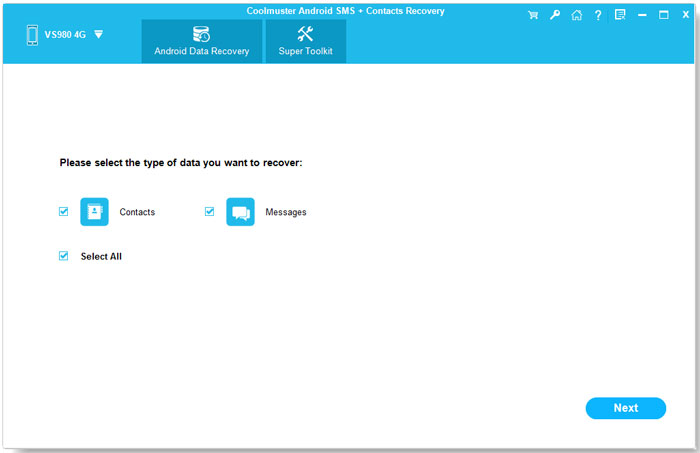 Step 3. Preview and select the needed files to recover
After the scan, open up "Contacts" or "Messages" location and preview detailed items bellow, then mark the contacts and text messages that you need to recover. Hit the "Recover" icon to save them to PC or external hard drive by choosing HTML or XML documents.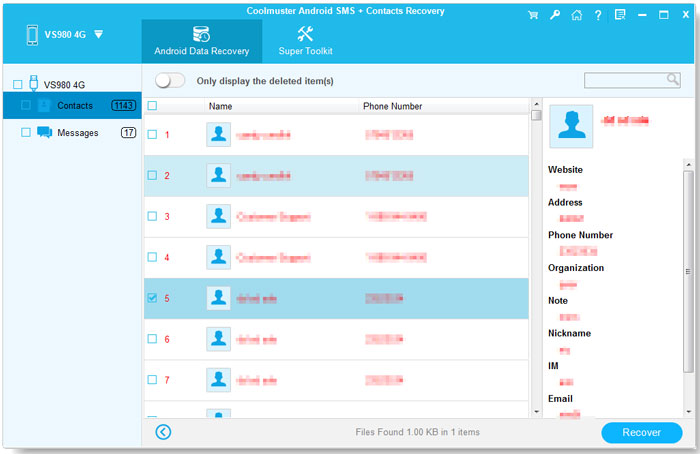 Video Tutorial:
Watch the following video to learn how to recover deleted contacts and SMS on LG phone step by step.
Tips: If you get data back on LG handset at once, you might overwrite the data and lose them forever because of the data overwriting. Thus, another storage device such as PC or a tablet can be a better choice for LG contacts recovery or message rescue.
Part 3: How to Recover LG Deleted Files with Built-in LG Phone Recovery Feature
There is no denying that LG phone has quality design and surprising functions and it comes with a restore performance called built-in LG phone recovery. However, you need to back up your phone info well in advance, otherwise you'll lose your data still. You should back up photo, contact SMS, app and so forth. After you restore factory Settings, you can retrieve the phone from its own backup files. But sometimes the process is a bit slow. In addition, after the data recovery, you need to download and install common-used Apps again.
Here are the tutorials for LG mobile recovery software:
* Step 1. Scroll down the phone to find "Settings", and go to the last option - "General" to "Backup & reset". Then tap "LG Backup", and get to "Backup & restore". Next, tap "Restore from backup" item.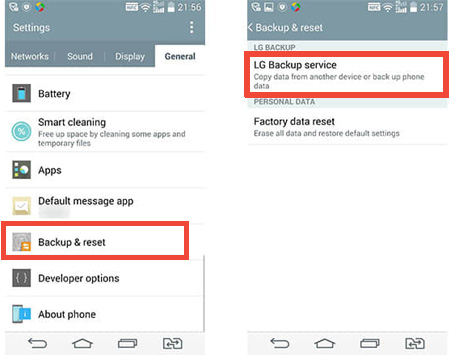 * Step 2. Click "Personal data backup" and examine the categories of the files to confirm the files which are in need of recovery from the LG Phone. Finally, click "Next" and "Ok" to go through this task.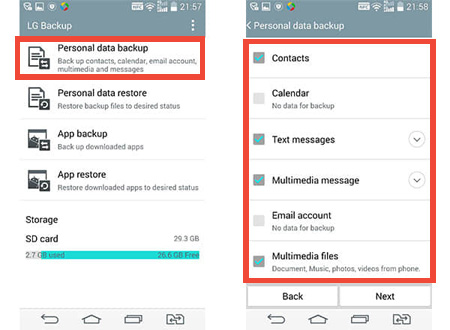 Tips: Various LG phone recovery software versions and wireless service provider may offer different operational steps, but the main steps are similar.
Part 4: How to Recover Deleted Files from LG with Google Backups
This is another LG recovery tool for LG date recovery. It has something in common with LG built-in function considering its preparation. Namely, you need to back up your LG phone data with Google Drive before you restore the files from it.
Instruction for LG Android data recovery with Google Backups:
* Step 1. Go to "Settings" to cue for "General" and "Backup and reset" option orderly. Then, enable the Google Backups function through marking the "Backup my data" and turning on "Automatic restore".
* Step 2. If you have installed Google drive on your handset, and have synchronized data to PC, please log in with username and password after hitting "Backup account" under "Backup my data" option. After that, you can see the backed-up files soon. Then you can recover them from Google Drive Trash.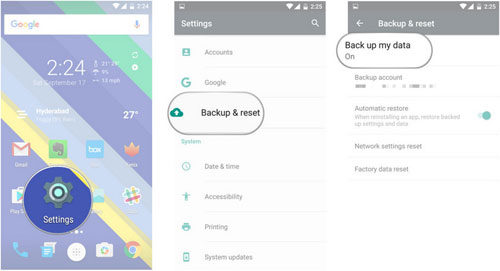 Tips: Google Drive Trash can keep the deleted files within 30 days. If the files are lost as a result of virus attack, they may not be back again with LG recovery tool.
Conclusion
On the whole, four means have been described above. Exactly, all of them can tackle your urgent matters if you have backed up or synchronized your data beforehand. Yet sometimes there's not enough time for us to back up data in time. In this case, we'll be badly in need of cost-effective program like Coolmuster Lab.Fone for Android to cope with unpleasant situations. It is very friendly for you, and especially for novice users, as it can find out the lost data intact without exposing your privacy.
In short, although some highlights have been referred to, you might as well have a comparison among their characteristics first, and then select a method to kick out your trifles. I hope this article can give you a big hand. In this connection, welcome to leave comments below the message board.
Related Articles:
How to Transfer Photos from LG Phone to Computer? [Top 2 Ways]
Android Photos Recovery - Retrieve Deleted Photos from Android
LG to Samsung Transfer: How to Transfer Data from LG to Samsung
Best Guidance on How to Conduct LG File Transfer to Computer
How to Transfer Photos from LG Phone to Computer with the Outmost Care