How to Transfer Files between LG Optimus/G2/Viper/Ally and Computer?
Attended an important meeting and use your LG mobile phones to record the whole process, or record the important business information for a recent product launches, or go to distant countries to enjoy a romantic trip and use your LG phone to record the many beautiful scenario with photos and wonderful videos, or use your cell phone to save a lot of text messages with your dear family and friends that you want to keep forever. Then, it is important to know how to get these valuable data off of your LG smartphone and transfer them to your computer, for permanent backup. When it comes to transferring files between a phone and computer, USB cable is the most commonly used medium. With the USB connection, you can easily transfer media files like photos, videos and audio files from your phone to your computer, or from computer to your phone inversely. But how to deal with the contacts and text messages because such files cannot be visible via USB cable?
Phone contacts and text messages are generally located in the internal memory space or SIM card, which can not be visible or accessible via the common USB connection. For the importance of such phone data, many people would ask whether is there any method to help recognizing and transferring not only photos, videos, music, but also contacts and SMS messages between their LG mobile phone and personal computer. Now, all can be done with Coolmuster Android Assistant or Coolmuster Android Assistant for Mac. It is specially designed for Mac users to ease the file transference and data management on overall Android based phones and tablets. It is 100% risk-free and read-only software that you can run it on your computer without any worry about data loss or system damage.
Why choose Coolmuster Android Assistant?
* Hassle-free to transfer contacts, SMS, photos, videos, music, apps, books and more between LG device and computer;
* Perform management on LG phone contacts on PC directly like contacts' editing, deleting or adding;
* Not only allows you to back up text messages from phone to computer, but also enables you to send SMS from computer desktop to any phone number easily with one click;
* Effortlessly install or uninstall phone apps on computer instead.
* Except for LG mobile like LG Optimus/G2/Viper/Ally, any brand of mobile equipped with Android system, including Samsung, HTC, Lenovo, Motorola, Sony, etc.
In order to help you quickly master the LG transfer tool, we write the following guide to show you how to transfer files between LG phone and computer in 1-2-3 simple steps. First of all, we need to download the free trial version of the software from the following buttons. Mac users choose the Mac version and Windows users should choose the Windows version:
Process of Copying Photos/Videos/Messages/Contacts between LG and PC
Step 1. Launch this program after installation
Run the installed LG transfer software on your computer and use a USB cable to connect your LG mobile phone to the computer. Once the connection is successful, the program will detect it automatically. And if it is the first time to run this software, you may need to enable USB debugging on your device at first. If you have done it already, you can directly skip to the next step.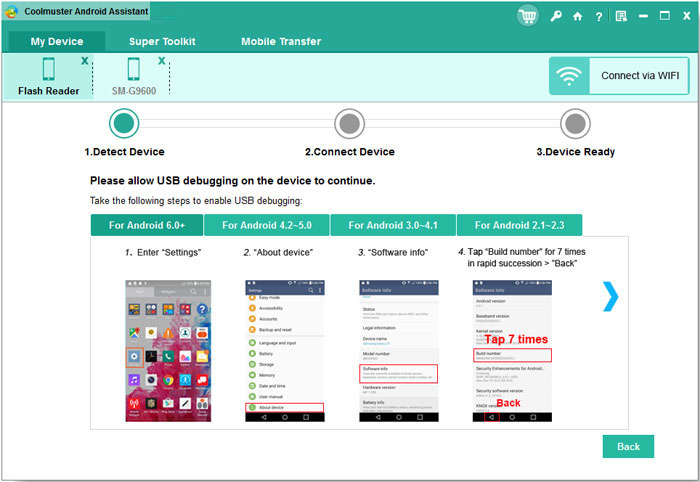 Follow the below instruction to enable USB debugging:
1) For Android 2.3 or earlier: Enter "Settings" < Click "Applications" < Click "Development" < Check "USB debugging".
2) For Android 3.0 to 4.1: Enter "Settings" < Click "Developer options" < Check "USB debugging".
3) For Android 4.2 or newer: Enter "Settings" < Click "About Phone" < Tap "Build number" for several times until getting a note "You are under developer mode" < Back to "Settings" < Click "Developer options" < Check "USB debugging".
Once the USB debugging is enabled, go back to your phone to tap the "Allow" option. Then, the parameter information of your phone, including phone model, system version and storage space size will be shown in the main interface like below.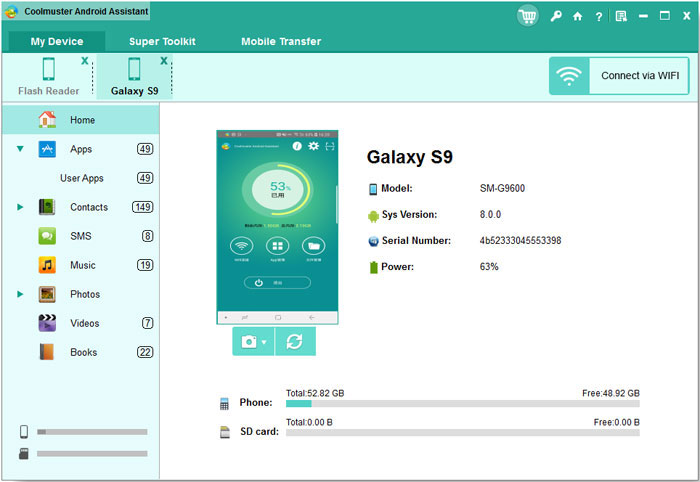 Step 2: Choose the files for transferring
From the top menu, you can see all the files in your LG phone are shown in categories, including Photo, Video, Music, Book, Contact, App, etc. Click the file icons from the top and you will enter the corresponding window to see the contained files in details in the right-side window. Mark the files you want to transfer to your computer and click the button of "Export". Or, you can click "Import" button to copy files from computer to your LG phone.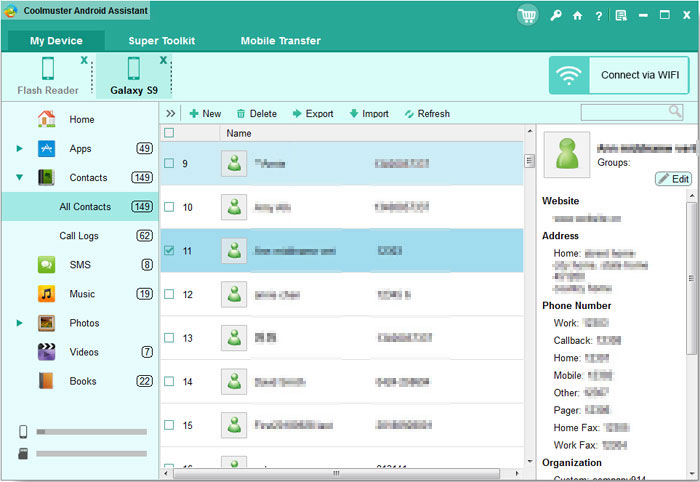 Step 3. Start to transfer selected files at once
By clicking the "Export" button, a "Path" choosing dialog will appear, from which you can specify an output location for saving the exported files. And by clicking the "Import" button, you will be popped up with a file browsing window to select the files you want to transfer to your LG. Click the "Ok" button and the transfer process will begin at once.
That's all!
Related Articles:
How to Transfer Contacts & Text Messages from Meizu to Computer
3 Simple Steps to Transfer Photos Between Samsung and Computer