Conducting an LG phone photo transfer is quite a simple process when it is executed properly. Unfortunately, not every LG transfer pictures to computer solution provides the same outcome. The majority of solutions are not free of errors, that's why you should be very selective on the one you choose to undertake an LG transfer pictures to computer task.
The following are the top helpful ways that can help you achieve this type of transfer. You want to ensure that no corruption of any kind takes place with your photos; thus, go ahead and take note!
Way 1: How to Transfer Photos from LG Phone to computer via LG Phone Photo Transfer
Way 2: How to Transfer Pictures from LG Phone to Computer with File Explorer
Way 1: How to Transfer Photos from LG Phone to Computer via LG Phone Photo Transfer
Connecting your LG device to computer to transfer photos, without having software at hand, it is an often selected solution; even so, it is not an ideal one because several errors could take place, which can jeopardize different aspects of your photos and files in general. The only way you can execute this type of action, without having to worry about errors, is by opting for software.
Software to conduct a LG phone photos to computer transfer has been proven to be ideal, but you should not just select any software that crosses your path. Only choose the best of the best—one that has actually been proven to be the best by actual consumers around the globe. Currently, Coolmuster Android Assistant is the top software to select for anybody questioning "How to transfer pictures from LG phone to computer?" It has garnered positive reviews left and right because it does not run around the bush and thus gets straight to transferring just as you would expect from a highly-rated program.
To use Coolmuster Android Assistant in order to discover how to transfer photos from LG G Stylo to PC, or any other LG version to PC, you need to only implement three steps. Indeed, it is quite an easy platform, one of the main reasons why it keeps being downloaded by multitudes on a daily basis.
With Coolmuster Android Assistant, you can either selectively transfer photos from LG phone to computer, or back up all photos from LG phone to computer with one click. Check the following steps now.
Steps to Implement:
1. If you have not downloaded Coolmuster Android Assistant, it is time to do so! Unlike other solutions on the market that are allegedly geared toward the transferring of photo files, this particular program will not take long at all to download. Once it is ready to go, launch it and move on to the second step.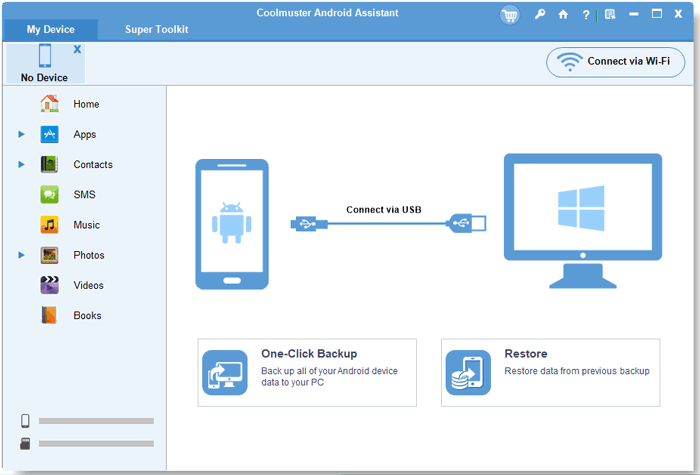 2. Grab a USB cable and connect device to PC with it. Once you do this, you will learn how to transfer photos from LG G3 to computer or any other LG phone version, in a matter of seconds.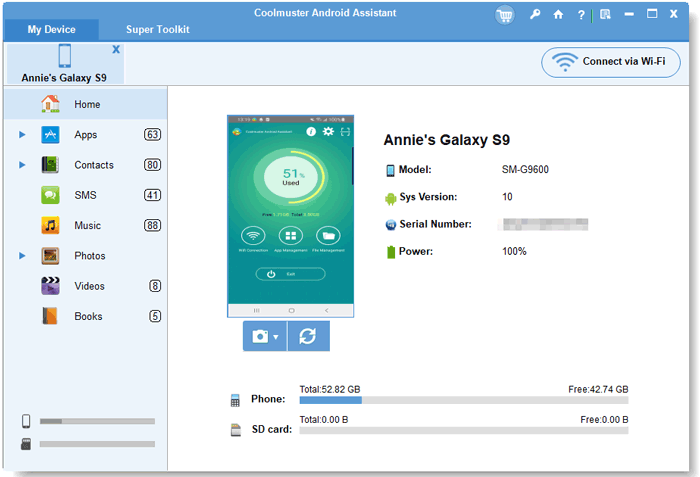 3. Look at the left menu, click on the "Photos" folder that contains those photos you want to transfer to your computer. After you have finished selecting, click on 'Export'.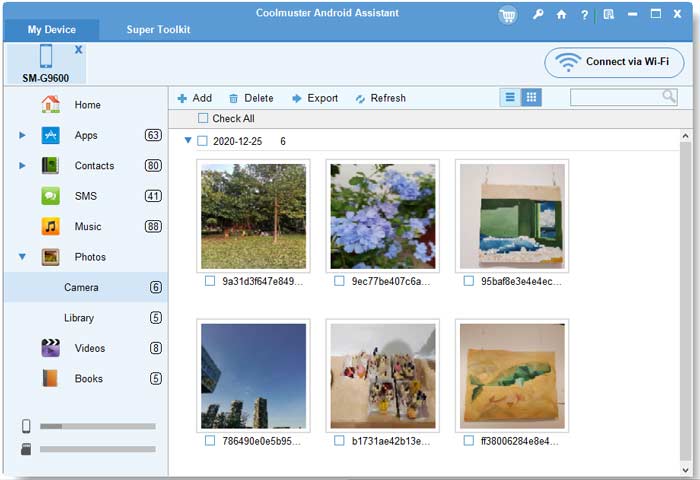 Alternatively, if you want to back up all pictures from LG device to computer with one simple click, just go to "Super Toolkit" > "Backup" > "Photos" > "Back Up" to back up all photos from LG phone to computer right away.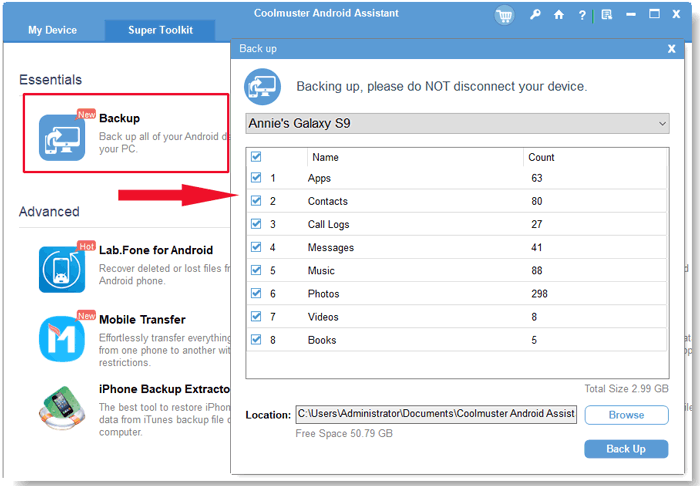 After this step, you will comprehend as to how to transfer photos from LG to computer with Coolmuster Android Assistant, without being afraid that an error will present itself before, during, or after the transfer. This software conducts everything properly. If it did not, it would certainly not be regarded as the best of the best by thousands of people that keep reaping its benefits. Just FYI, not only does it transfer photos, it can also transfer almost any other file, without errors.
Tips: This Coolmuster Android Assistant supports almost all Android phones and tablets from Android 2.0 to Android 9.0 or later. For LG phones, it works for LG G8s/G8/G7/G6+/G6/G5/G4, LG V40/V30+/V20/V10, LG Q8/Q7/Q7+/Q6, LG K10/K8, LG U/Google/XPower/Optimus/Env3/Cosmos/Dare/Rumor, etc.
Read more:
LG Backup and Restore: How to Back Up and Restore LG Phone
How to Fix 'LG Bridge Cannot Connect'? [A Complete Guide]
Way 2: How to Transfer Pictures from LG Phone to Computer with File Explorer
If you want to find out how to transfer photos from LG phone to laptop, without having to resort to software due to being extremely in a hurry, then this is the method to take into consideration when you find yourself in this type of situation. It does not guarantee a transfer free of errors every time, but it is safer than other methods.
Steps to Implement:
1. To start off, connect your LG phone to PC and then select 'Media Transfer Option'.
2. If AutoPlay prompt appears, select 'Open folder to view files'. Also, you can choose to launch Windows Explorer to open device and thus also find out this way how to upload photos from LG phone utilizing this method.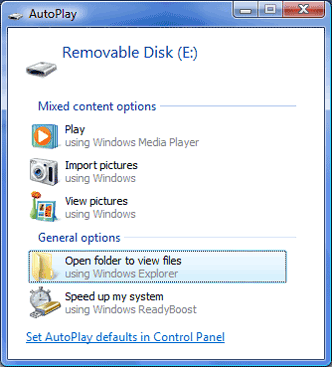 3. Browse your device's storage to visit location from where each photo should be transferred.
4. Select photos and copy them. Now, visit location where your photos should be transferred and then go ahead and paste them there by dragging and dropping. You are finished!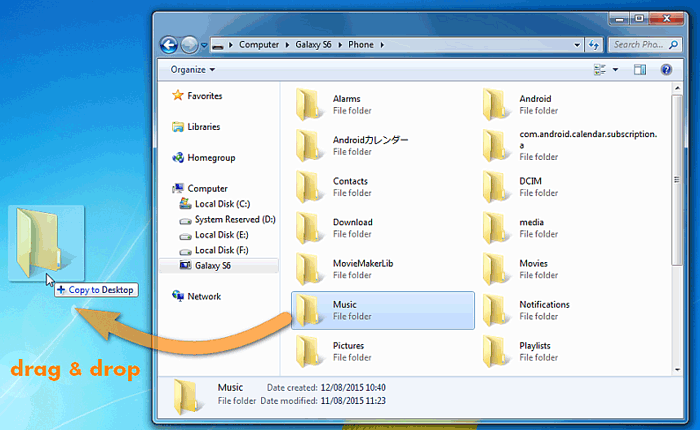 Treat Each Photo with the Outmost Care
Photos reflect memories that have been captured and thus are priceless, which is why they should be treated with the outmost care. You can only do this with top software, such as Coolmuster Android Assistant, but if for whatever reason you cannot, take the second suggested method into account. Remember that opting to take a different route could cause your photos to become corrupted. Prevent this from happening to you!
Related Articles:
Top 8 Ways on How to Transfer Photos from Android to PC
How to Transfer Data from Lenovo to LG?
How to Transfer Contacts from HTC/LG Phones to Computer?
How to Transfer Files between LG Optimus/G2/Viper/Ally and Computer?
How to Switch Data from LG Phone to iPhone 14/13/12/X/8/7/6?