In the digital age, our smartphones have become the custodians of our cherished memories, storing countless photos and capturing moments of joy, adventure, and milestones. However, the unsettling experience of discovering that photos have disappeared from an Android phone can be both frustrating and distressing. This phenomenon is not uncommon, and users often find themselves grappling with the mystery of missing memories. In this article, we will explore the potential causes behind disappearing photos on Android devices and provide practical solutions to recover and prevent such incidents.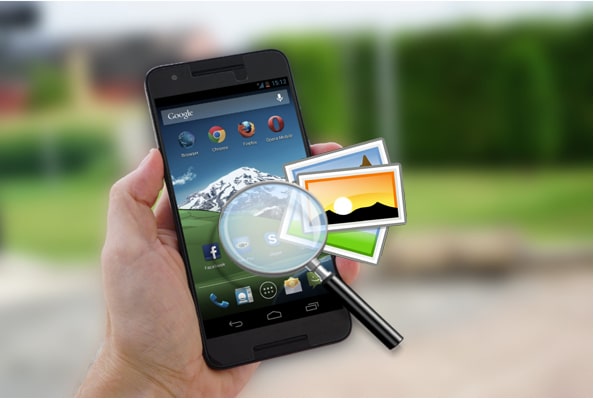 Part 1. Why My Photos Disappeared from Gallery Android?
There are some causes of why my photos disappeared on my phone:
Accidental Deletion: One of the most common reasons for missing photos is accidental deletion. Users may unintentionally delete photos while browsing through their gallery or attempting to free up storage space.
Cloud Sync Issues: Many Android users rely on cloud services like Google Photos to automatically back up their images. Sync issues between the device and the cloud can result in photos appearing to vanish.
Software Glitches: Android devices run on complex software, and glitches or bugs can occasionally lead to the disappearance of photos.
SD Card Problems: If your Android phone uses an SD card for storage, issues with the card can lead to missing photos.
Malware and Viruses: Malicious software can pose a threat to your data, including photos.
Part 2. How to Find Missing Photos on Android
Now that we've uncovered the reasons for photos disappearing from Android phones, let's delve into practical solutions to resolve this issue and ensure your memories remain intact.
Solution 1. Check Trash or Recently Deleted Folder
As mentioned earlier, deleted photos may still be recoverable from the trash or recently deleted folder in your gallery app. Restore them to your main photo library if you find them there. Here are the steps to solve why my photos disappeared from the Samsung gallery:
Step 1. Open the Gallery app on your Android device. Select "Albums".
Step 2. Click "Recently deleted". If you find the disappeared photo, hold it and then tap "Restore".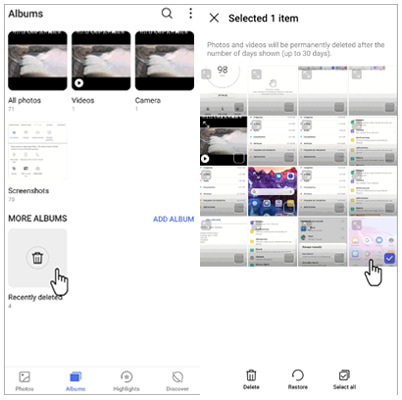 Solution 2. Examine SD Card
Where did my pictures go on my Android? If your phone uses an SD card, remove and reinsert it to ensure a secure connection.
Read More:
Android Contacts Disappeared? Learn How to Recover Lost Contacts on Android
How to Fix Text Messages from One Person Disappeared Android?
Solution 3. Clear Gallery Cache
Sometimes, the problem "Why have my photos disappeared from my gallery?" may be caused by some issues with the app configurations. We can manually fix it by clearing app data to reset the app configuration. Below is a simple guide to solve the problem. Note that the detailed steps may vary according to different Android versions or devices.
Step 1. Open Settings on Android. Tap "Apps" > "Manage apps".
Step 2. Scroll down and select "Gallery". Force the Gallery app to stop and then tap "Clear Cache".
Step 3. Go back to the main screen of your phone and turn off all the background apps.
Step 4. Restart your Android phone, and you should see the photos again.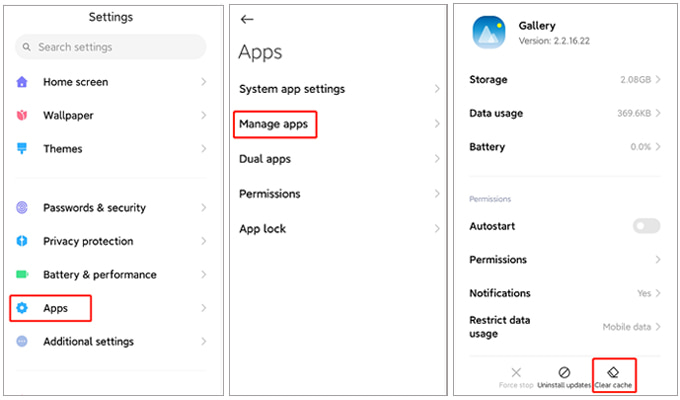 Solution 4. Check If the Album Is Hidden
I took a picture, and it disappeared. What happened to all my photos? Android devices often come equipped with features that allow users to hide specific albums for privacy or organizational purposes. Hiding albums could also contribute to the question, "Why did my pictures disappear?". To investigate this, follow these steps:
Step 1. Open your gallery app and navigate to the settings or options menu.
Step 2. Look for a "Hide or unhide albums" or a similar option. Once located, toggle the setting to reveal any hidden albums that may contain your missing photos.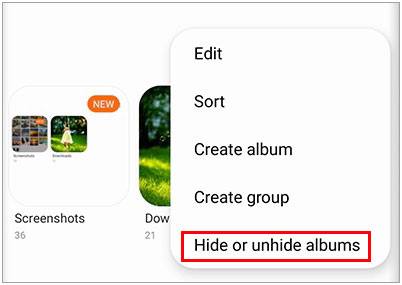 See Also:
How to Recover Deleted Photos in WhatsApp on Android and iPhone with Ease?
How to Recover Permanently Deleted Photos from Gallery Without Backup
Solution 5. Activate the Show Hidden System Files Option
At times, your Android device conceals files that aren't meant to be readily visible. These hidden files are integral to the system and typically pose no problem when left undisturbed. To view your missing photos on Android, you need to enable the Show Hidden Files option. Follow these steps to do so:
Step 1. Open the File Manager on your Android phone.
Step 2. Select the "More" options.
Step 3. Navigate to Settings, locate the "Show hidden files" option, and switch it on.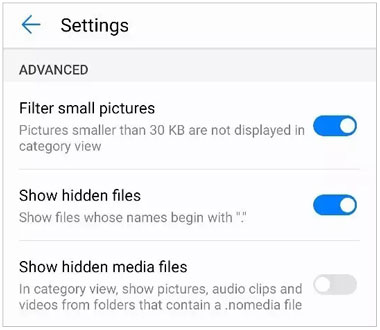 Solution 6. Delete the .Nomedia Files
Another manual fix for the issue of "Why have my photos disappeared from my Samsung?" is to delete the .nomedia folder. If your photos are stored in the .nomedia folder, they will not be scanned by the Gallery app. So, deleting or renaming it could solve the problem. But this may not apply to some phones. If you can not find the .nomedia folder on your phone, then this method doesn't work for you.
Step 1. Head to the File Manager on your Android.
Step 2. Search for the .nomedia file.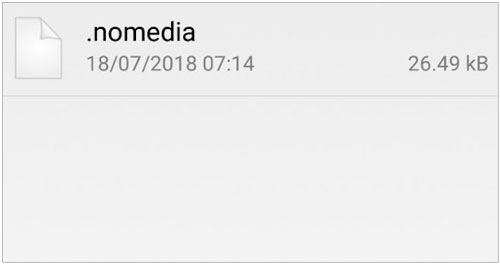 Step 3. Rename this file to any other name you like, or simply delete it.
Step 4. Restart your Android phone and see if you can find the disappeared photos.
May Like:
How to Fix Shared Album Not Showing Up: Easy and Effective Methods
Android Recycle Bin - Where and How to Find Deleted Items on Android Phone?
Solution 7. Check Google Photos
Google Photos is one of the most frequently used cloud storage services for Android users to back up photos or videos. If you have enabled the backup feature of Google Photos, the photos you delete will stay in the trash for 60 days. Here, let's see how to check the trash on Google Photos when Android photos disappear from the gallery. You can take similar steps to get photos back via other cloud services like Google Drive and Dropbox, which also have this feature.
Here's how to find missing photos on Android:
Step 1. Launch the Google Photos app on your Android phone and click the "Menu" icon at the top-left.
Step 2. Select the "Trash" option.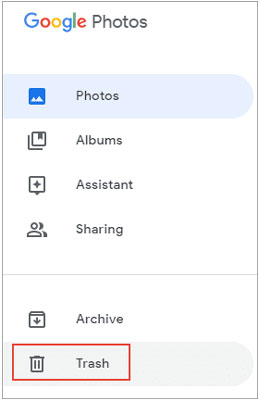 Step 3. Browse for your deleted photos, select the photos you want to recover, and then tap "Restore".
Can't Miss:
How to Recover Permanently Deleted Photos from Samsung? [Top 5 Ways]
Troubleshooting Guide: Samsung Contacts Disappeared? Here's What to Do
Solution 8. Use a Professional Tool - Coolmuster Lab.Fone for Android
If the methods mentioned earlier fail to resolve the issue of "all my camera roll pictures disappeared", it's time to turn to professional tools. Coolmuster Lab.Fone for Android is a solid choice in such situations. Coolmuster Lab.Fone for Android is a professional Android data recovery tool designed to assist users in recovering lost or deleted data from their Android devices. This includes a wide range of data such as photos, messages, contacts, call logs, and more. Whether data loss occurs due to accidental deletion, system crashes, factory resets, or other reasons, this tool provides robust recovery capabilities.
Key Features:
High success rate of data recovery for Android, recovering photos with the original format quality.
Recover various types of data like photos, videos, audio files, messages, contacts, call logs, and more.
Selectively recover specific types of files based on their needs.
Retrieve data from both the internal memory card and external SD card of your Android phone.
Support a variety of Android devices, including but not limited to smartphones and tablets.
Here's how to find missing photos on Android:
01Install and launch the software on your computer, then access the "Android Recovery" module. Subsequently, connect your Android phone to the computer using a USB cable.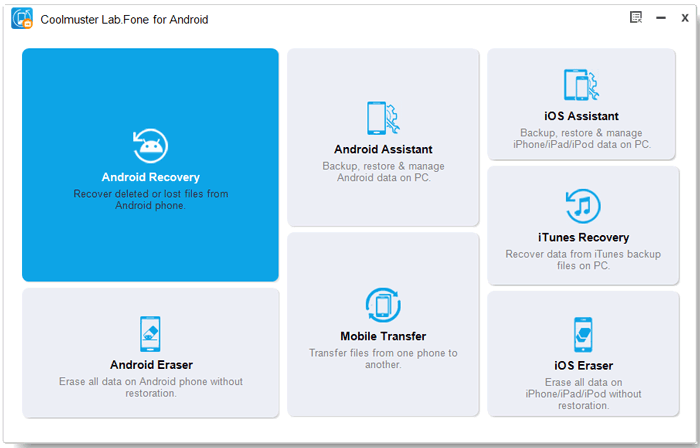 02Upon completion, you may arrive at this interface, where you can select "Photos" and click "Next" to proceed.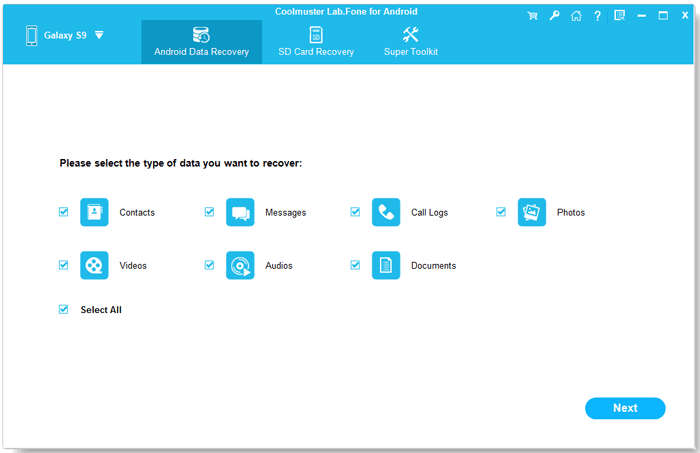 03After choosing either "Quick Scan" or "Deep Scan" mode to scan your files, click "Continue" to scan data on an Android phone.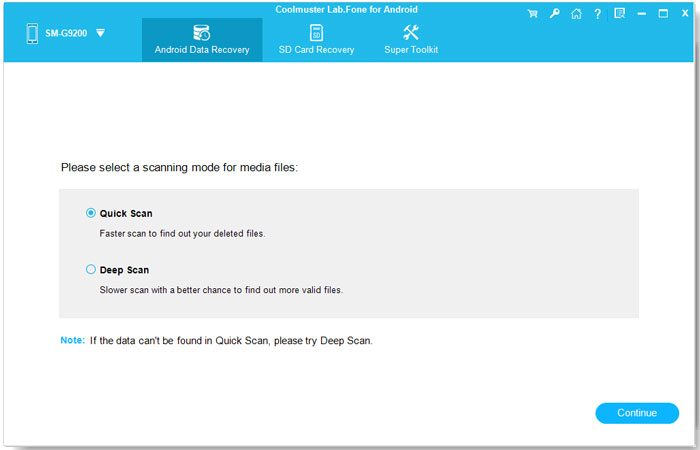 04Now, you can see your disappeared photos on Android. Choose the photos you want to recover, and simply click the "Recover" button to begin the restoration process.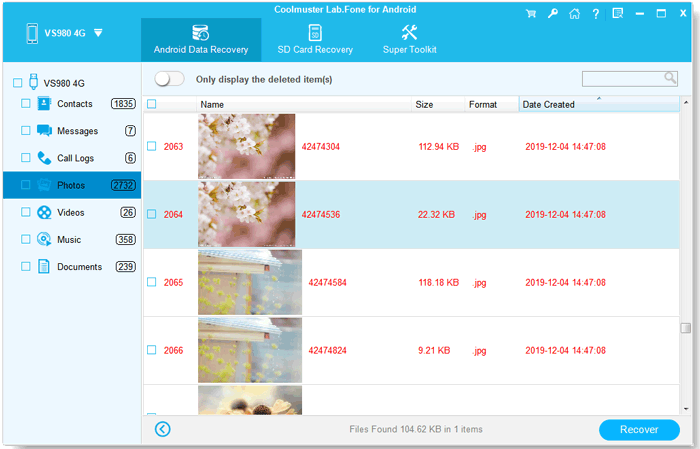 Conclusion
While the disappearance of photos from an Android phone can be disconcerting, there are often logical explanations and solutions to recover the lost images, such as checking trash, clearing the gallery cache, activating the show hidden system files option, or deleting the .nomedia files. Among the plethora of options, one stands out - Coolmuster Lab.Fone for Android. This powerful data recovery tool seamlessly navigates through the intricacies of Android devices, providing a comprehensive and secure means to recover your cherished memories.
Related Articles:
[Complete Guide] Photos Disappeared from iPhone? Here Are 9 Solutions
Top 11 Ways to Fix and Recover Photos Disappeared from iPhone after Update
iOS 16 Duplicate Photos Not Showing? 10 Quick Fixes to Resolve
How to Recover Deleted Photos after Deleting from Recently Deleted Album on iPhone?
How to Recover Data from Water Damaged Android Phone in Every Way