Using your phone often and for a long time makes it a house of many unwanted files and photos saved in the device which makes it runs slower than ever and also interferes with the space for new things. Deleting videos and photos from a phone frees most of the space in the device and also makes the device to run faster.
Possible Problems When Mass Deleting Unwanted Photos from Android:
If the device shows any problem, it is a good time to clean it up to ensure that all the unwanted data should be moved out. This is not an easy task given that there would be a lot of files that needs to be removed and also would involve a lot of time. You would have to take a lot of time to mass delete the data.
- If you want to back up the data first, you would have to use Bluetooth. It really can take hours to transfer data with bluetooth.
- If you want to store the data in your computer, you would have to use a USB cable and data transfer takes hours as well.
- If you want to transfer the data from one device to another, it would take a lot of time.
The good news is making it an easier task in not a difficult thing. Cleaning the phone or managing the phone device can be done with a software like Coolmuster really easily.
Coolmuster Android Assistant - How Can It Help?
Using Coolmuster Android Assistant that can make the phone look like a brand new device. This software is designed to help the phone users keep the phone in running condition with added safety to the data that there is. With this professional tool, it is just a piece of cake to move all the extra clutter from the mobile device to a PC without much hassle. This means that one does not have to go through the taxing job of looking for files and cleaning the device for extra space that you need. More importantly, this software is quite easy to use, all you need to do is to follow the below three easy steps:
- Step 1. Open the installed software and then get your Android phone connected to the computer via the USB cord.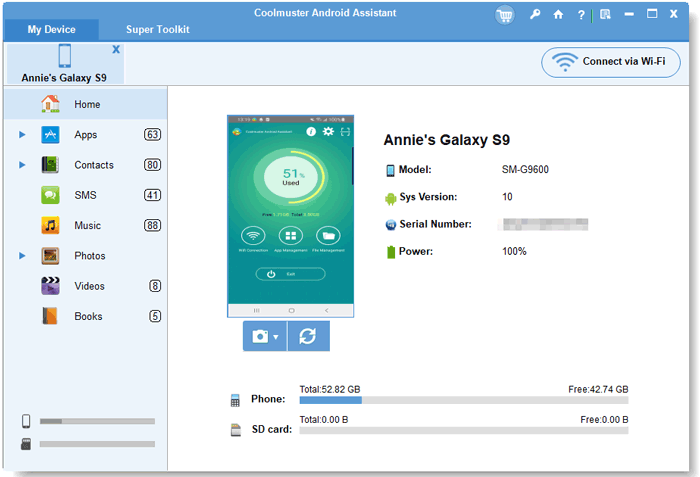 - Step 2. You can then see the main interface where all file folders are arranged on the left panel. Now, you are free to enter each tabs to preview more detailed information.
- Step 3. Now, you can choose the photos you want to delete from your Android phones by ticking them out. After that, you can click on Delete option to mass delete the unwanted photos from your Android device in one click.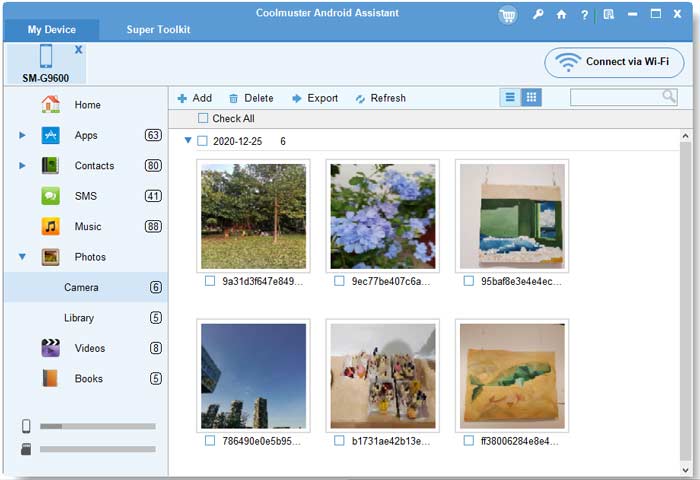 The Other Benefits:
This powerful software takes care of more than just videos and photos it takes care of contacts other files and media. Coolmuster Android Assistant also allows an online help that would provide detail support to the ones who are looking for – how to use the Coolmuster Android Assistant. It is like having a guide letting out the steps for the users. Coolmuster online help has separate categories so that the users can choose from what they are looking for saving a lot of their time.
Having Coolmuster software can make the device as good as new. You can retrieve data that you have deleted or permanently delete the data so that nobody else could recover it. The data inside the phone which is erased is unlikely to be recovered by anyone who will now hold the device - so if you want to sell your phone, Coolmuster is one app that you want to try. It is a great way to turn the mobile phone or any other such device in a clean slate. If you are thinking it will be a hassle using it, don't worry, it can all be done just with a click of a button!
Related Articles:
How to Delete Everything from Android Phones
One Click to Clear Junk Files from Android
Transfer Contacts from One Apple ID to Another without Trouble