Have you ever lost contacts on your Samsung phone? Have you ever met the 'Samsung contacts disappeared' issue? If so, then you understand how unbearable it can be. Contacts are one of the most important files available on our devices. They contain details of people we can communicate with.
However, you can lose these contacts either by accidentally deleting them or if you reset your phone. Although it is common to lose contacts on phones, it can still be a big blow to you if you don't usually back up your device. This article will help you fix the 'Samsung contacts disappeared' issue and recover your contacts, whether you had a backup or not. So, keep reading.
Part 1. Why Contacts Disappeared from Samsung
Contacts disappeared from Samsung Galaxy S5? Galaxy S6 contacts disappeared? Many Samsung users have expressed their concern about Samsung contacts disappeared after the update. They are unsure of the cause and how to recover them. Generally, contacts getting lost can be attributed to the following factors:
* Delete the contacts accidentally.
* Corrupt software updates on your phone.
* Factory resetting your phone which deletes all the contact from your phone.
* Viruses are available on the phone.
* Hardware problems.
* System or software conflicts from third-party apps.
The above are the causes of Samsung contacts disappeared. Whatever the cause, you can easily recover the lost contacts. Moreover, you can fix the problem for good and put your worries at bay.
You May Like:
How to Recover Data from Broken or Dead Samsung Galaxy S/Note?
2 Ways to Recover Deleted Text Messages from Android SIM Card
Part 2. How to Fix Samsung Contacts Disappeared After the Update
If you experience contact loss after updating your phone system, do not worry because there are viable solutions to recover your contacts.
2.1 Ensure the Contacts Sync Is Enabled
Activating your Google account will enable you to back up your phone contacts; when you find them disappeared, you can easily recover them. Therefore, to fix the Samsung contacts not showing the issue, ensure you've enabled the Contacts sync option. Here are the steps:
Step 1. Head to the Settings application on the Samsung device and hit the Account option and Google account.
Step 2. Click on the Account sync and check to see if the contacts sync is turned on. If it is not, you should switch it off.
2.2 Reset Application Preferences
At times, contact applications begin to malfunction because of software updates. So, you should also try to reset the app preferences to solve the problem. Here are the steps:
Step 1. Launch the Settings application on the phone.
Step 2. Click on the More tab at the top, then tap Reset App Preferences.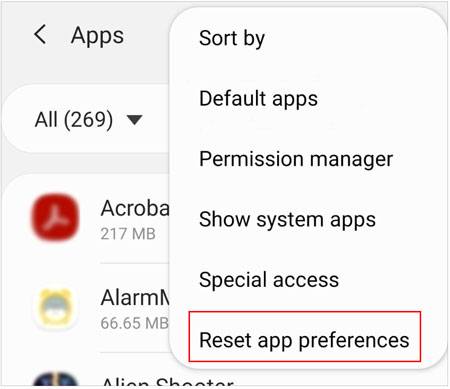 Learn More:
How to Retrieve Deleted Texts on Samsung [Easy & Effective]
4 Ways to Retrieve Deleted Call Logs on Samsung
2.3 Change the Display Settings
If you notice that your contacts have disappeared from the Phone app on your Android device, it doesn't mean you have permanently lost them. You may have unintentionally set your phone to display only specific contacts. For example, you can configure your phone to show contacts exclusively from a SIM card. Then all your contacts are on the phone or Google accounts. Your phone will display no contacts.
Therefore, if you encounter a situation where your contacts seem to have vanished from your Samsung phone, it is advisable to first check the settings within your Contacts app. Ensure you have selected the appropriate settings to display all your contacts and not just a specific subset. Here's how to set the Contacts to display on your phone:
Step 1. Open the Contacts application on the Samsung phone.
Step 2. Click on the menu at the upper corner of your screen and open the side menu.
Step 3. Choose the Settings option and press Contacts to show. Lastly, ensure you set the Display All Contacts option.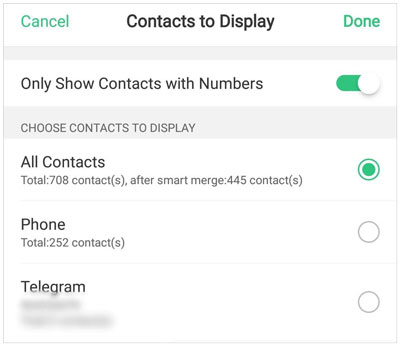 Part 3. How to Recover Lost Samsung Contacts
There are multiple effective methods available to recover deleted contacts from your Samsung device. We will guide you through these methods to help get back your contacts.
Way 1. How to Recover Deleted Contacts from Samsung via Coolmuster Lab.Fone for Android
To retrieve contacts that were mistakenly deleted, a reliable tool to use is the Coolmuster Lab.Fone for Android. It is a user-friendly and secure data recovery software that helps to retrieve lost or deleted contacts from SIM cards or the internal memory of any Android phone without backup. Lab.Fone can also recover other data such as messages, videos, call logs, music documents, and photos. This tool can successfully recover lost contacts on Samsung devices in a few clicks. The issue of the Samsung contacts disappeared can be handled with ease using Coolmuster Lab.Fone for Android in almost all Samsung devices,such as Samsung Galaxy S21/22/23, Galaxy A52/53/54, Galaxy Z Flip3/4, Galaxy Z Fold2/3/4.
Key Features:
User can preview all the deleted contacts and selectively recover them.
Enable the user to recover from the SD card without rooting the device.
Higher rates of success when recovering the files.
Recover the deleted call logs, messages, contacts, videos, music, photos, and documents from the internal memory and SD card of an Android device and transfer them to a computer.
Support almost all types and versions of Android devices, such as Samsung, Motorola, HTC, LG, Google Pixels, etc.
Here's how to recover your Samsung contacts:
01Download the correct version of Lab.Fone for Android and launch it. Then click the Android Recovery module. Using your USB cable, connect the Samsung device to the PC and follow the prompts on the screen to ensure it gets recognized. Also, ensure the USB debugging is enabled.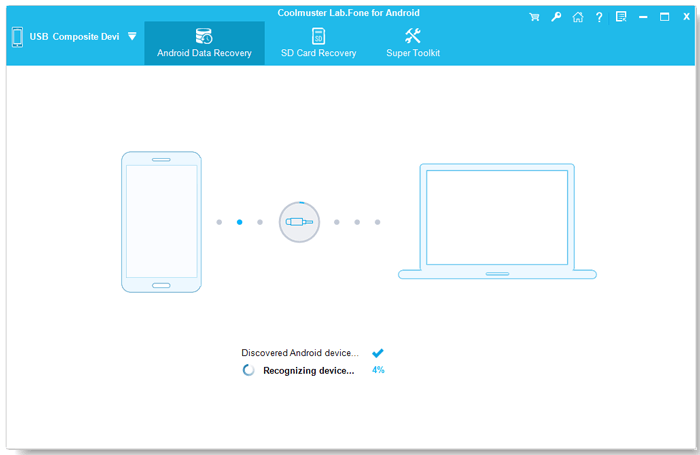 02After the device is detected successfully, you will see all files available on the device on the main interface. Choose the Contacts option and hit Next. After the tools scan the files, all the deleted and existing files will be displayed on the screen.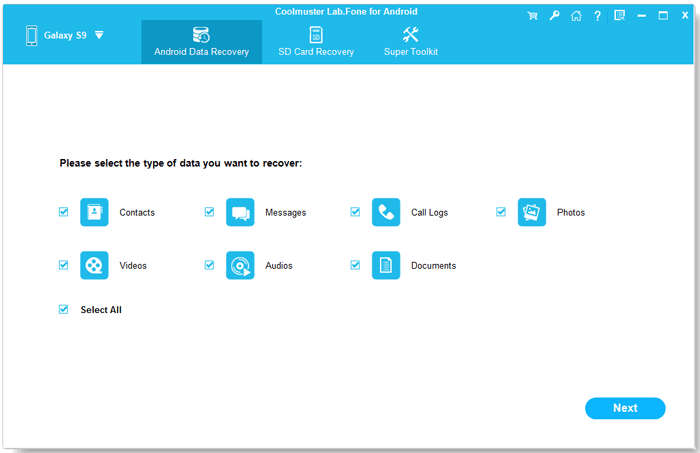 03Preview the contacts files from the list and choose those you want to restore. After you select them, hit the Recover tab.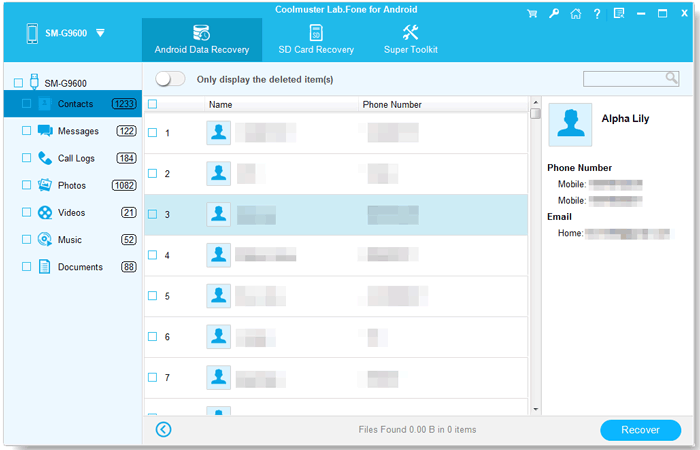 Further Reading:
How to Recover Data without USB Debugging when the Android Screen Is Irresponsive?
How to Recover Deleted Photos from Galaxy [4 Tested Ways]
Way 2. How to Recover Disappeared Contacts with Samsung Cloud
All Samsung devices come with a feature called Samsung Cloud that helps with online backups. It aids in storing various files such as messages, contacts, call logs, and other phone data. Since it offers an extra storage capacity of 5GB, you can freely back up your contacts to the cloud.
If you have previously synced your contact numbers to Samsung Cloud for backups, retrieving your contacts becomes a straightforward process. By accessing your Samsung account settings, you can choose the Contacts option and initiate the restore process.
Step 1. Click on Settings from the apps drawer on the phone.
Step 2. Hit the Samsung Cloud then press the Restore Data option.
Step 3. Choose Contacts, then press Restore.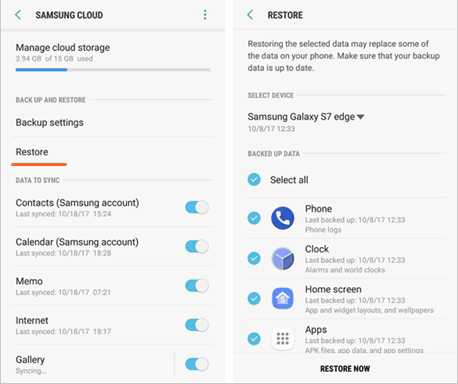 Also Read:
Samsung Phone Hang at Startup Screen? Check 11 Solutions Here
[Odin Mode Android] How to Get Out of Odin Mode on Samsung Devices?
Way 3. How to Restore Samsung Lost Contacts from SD Card
If you have saved the contacts to an SD card and wish to recover lost phone numbers, you can easily import them back into your Samsung device. The following example illustrates restoring disappeared contacts from an SD card on a Samsung S10, but the steps are generally similar on other Samsung Galaxy phone series. Please ensure that the SD card is properly inserted into your phone, and then follow the steps below:
Step 1. Click on the Contacts application on your Samsung phone, then click on the Menu tab, then select Manage Contacts.
Step 2. Choose the Import/Export contacts option and click Import. Press Done and wait for the chosen vCard data to be imported to your phone.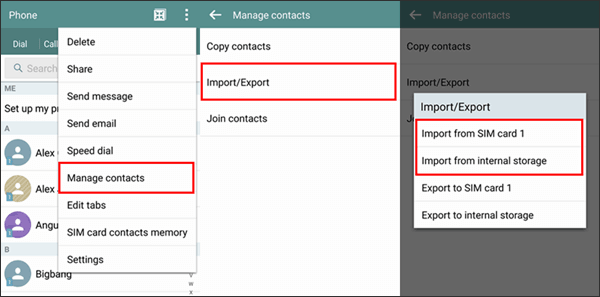 Recovering deleted contact in Samsung devices can be done easily with a reliable, professional tool. However, losing contact is something that anyone should avoid. Do a regular data backup to ensure your data isn't lost forever. This will help you secure all your contacts and crucial files in cloud storage or a computer.
Click here to know how to back up Samsung data.
Wrapping Up
Hopefully, you can now solve the problem of Samsung contacts that disappeared. Besides, you will recover your Samsung contacts that disappeared. Coolmuster Lab.Fone for Android is the appropriate and reliable tool when you need a Samsung data recovery tool.
Related Articles:
Samsung Phone Keeps Restarting? Swiftly Find Out Reasons and Solve It
How to Recover Files from Samsung Galaxy Recycle Bin or Phone Directly? (Solved)
How to Recover Deleted Photos in Redmi Phone? (6 Ways Available)
9 Ways to Fix Android Tablet White Screen of Death in 2023
3 Practical Ways to Retrieve Contacts from SIM Card
How to Retrieve Deleted Messages on Huawei Phone? [Solved with 4 Ways]