There is no enough time to go about your daily activities; work and leisure. Due to the ever escalating economic hardships, most people are finding an alternative to reading their favorite novels. This is through Android audiobooks app, downloaded from Google Play. They help in:
- Loading and listening to audiobooks while going about activities like jogging, commuting or working at your desk.
- Letting you navigate intuitively in your personal library.
- Allowing users to speed up through pages. If you want to concentrate, you have the option of slowing down.
- Organizing your books logically and neatly.
- Showing users the book's ratings, reviews and cover art.
Here is a look at the best 5 Android Audiobook Apps today.
Part 1: Top 5 Audiobook Apps for Android
1. Audiobooks from Audible
Developed and designed by Audible Inc. this free app is compatible with smartphones, computers and tablets. It has been in the market for a while and features world's renowned narrators like Stephen Fry, Jim Dale and Brian Cox among many others. Its features include:
Chapter navigation, sleep mode, bookmarking and button free mode.
Whisper sync for Voice switch synonymous with many Kindles device.
Shares your reading experience on Facebook and Twitter.
Supports Wi-Fi allowing users to download books hence creating a library in their devices.
Listens to books online and offline.
You can download Audiobooks from Audible from Google Play Store >>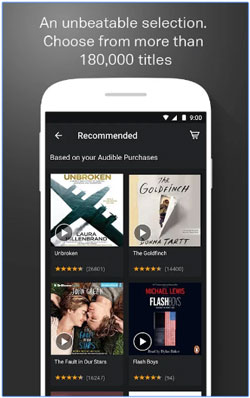 2. Audio Books by Audiobooks
Developed and designed by Audiobooks.com, this app gives users an improved performance and effortless listening capability. Supports any genre of novels and comes with a free audio book after downloading it for free. It features the following;
Unlimited access to Audiobook.com library.
Unlimited listening capability over your tablets, computer or smartphone.
Full length audio to religious books, meditation and prayer books.
Weekly updates on bestsellers, new releases and ratings of books.
Free streaming allowing users to instantly access libraries without taking up device's storage space.
You can download Audio Books by Audiobooks from Google Play Store >>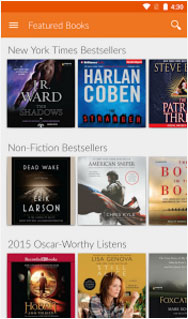 3. LibriVox Audio Books Free
LibriVox Audio Books provides users with unlimited access to more than 15,000 free audio books. For those in the US, there is an additional 50,000 professional audiobooks for purchase. It features the following;
Access to the LibriVox collection of books, thousands of old time radio drama and poems.
Streaming and download of audiobooks over the internet.
Listing of new recordings and bestselling books in worldwide.
Playback and sleep timer capability.
You can download LibriVox Audio Books Free from Google Play Store >>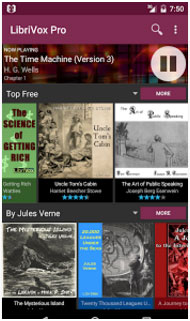 4. Overdrive
This Android app allows users to borrow audiobooks and stream video on your device. Its features include;
Place holds, creates wish lists and return tiles on behalf of the user.
Valid accounts for library participants.
Access to over 30,000 libraries worldwide.
Sync libraries and bookmarks audiobooks across mobile devices.
You can download Overdrive from Google Play Store >>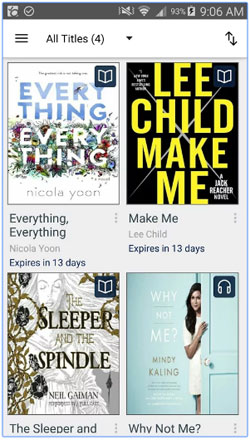 5. Adventure Audiobook Collection
This app is suitable for who like reading adventure novels or books, for example The Odyssey and King Solomon's Mines. It suits young adults and children, as they can easily stream, play and download the audio books. Its features includes;
Supports Wi-Fi connection information.
Allows users to download or stream great adventure books.
Chapter navigation and sleep mode capability.
You can download Adventure Audiobook Collection from Google Play Store >>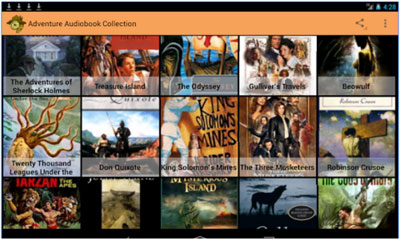 Part 2: How to Manage Android Audiobook Apps on Computer?
Nowadays, computer manufacturers are also making efforts to have their products compatible with operating systems that work on smartphones. Applications such as Coolmuster Android Assistant come in handy in dealing with a number of functions that most personal computers cannot perform by their own. This Android managing software helps in supporting Android apps, media, contacts and SMS transferring and management on computers and is compatible with Mac OS X 10.7-10.10 and Windows 11/10/8/7.
However, when it comes to managing Android audiobooks apps on your computer, one needs to follow this simple step on the Coolmuster Android Assistant. Select the "App" icon, on the left side menu. Here, all the apps in your smartphone are displayed. Users are at liberty to install, uninstall, export applications freely using the Coolmuster Android Assistant.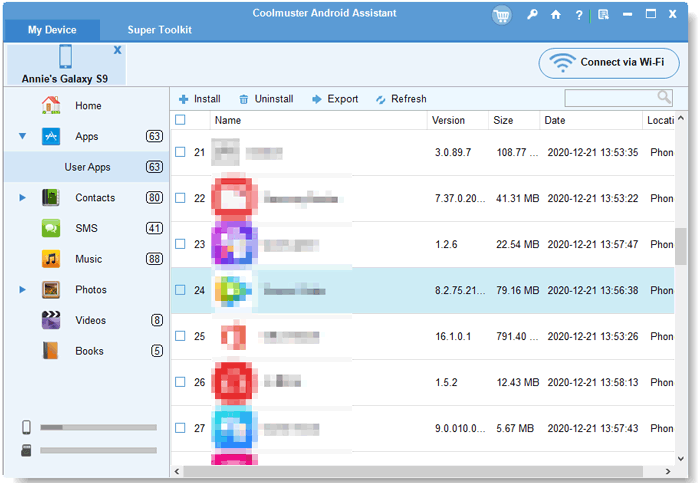 Related Articles:
Top 3 Android Notification Manager
How to Sync Android Phone to PC
6 Powerful Android Lock Screen Removal Software