How to Transfer SMS from Sony Ericsson Xperia to Computer?
These days, functions of cellphones become more and more diversified, giving people more and more joys and conveniences. But some basic functions have never lost their attractions. For example, many people chose to buy high end cellphone products such as Sony Ericsson Xperia, but they have not abandoned their habit of using text messages related functions. This is because texts are with very strong ability to express. Even if a text message was received or sent years ago, the vivid memory it took originally has never faded. What's more, the longer ago a text message was made, the more valuable it is now. So it must be very sad and heart-breaking to lose such messages. To better keep some important messages, people wish to transfer them to a computer.
Why we can't transfer text messages via USB connection?
The transmission of text messages from Sony Ericsson Xperia to computer is not so easy. This is because the text messages are not stored in the external memory card of the phone, but in the phone memory or in the SIM card. We can easily transfer things stored in an external memory card to a computer by using a USB cable as an intermediary. However, it will not work if we do the same to transfer our text messages of a Sony Ericsson Xperia to a computer. To realize that, we need something that can be used to transfer contents of the phone memory or the SIM card to a computer.
Coolmuster Android Assistant or Coolmuster Android Assistant for Mac is a newly invented software that is capable of realizing the transmission of text messages from cellphones to computers. It not only can transfer text messages or things like contacts from a Sony Ericsson Xperia/satio/arc/w995/vivia/c902/c510 to a computer, but also is going to make transmission between other cellphones and computers and so on. What's more, when you need to transfer these text messages back, to your cellphone, your Android Assistant will also fulfill your need. Isn't this wonderful? As I know it, many of the people who claim that they are holding a key tool transferring text messages are using this software.
When using this software, you do not have to do many things. The transmission will be so simple and easy that no one will complain that they do not know how to use it. Several simple steps will be enough. The designing team is still working to improve the performance of the software day by day. And users will easily update their software for free. Download the free trial version of it from the below buttons.
Similar articles:
Sync Photos/Videos between Sony Ericsson and Computer
Transfer Contacts from Sony Ericsson to Computer
Easy Steps to Save Sony Ericsson Xperia Text Messages to PC
Step 1. Connect Your Sony Ericsson Xperia to Computer
Here we will take Windows version as an example. After installing and launching the SMS transfer tool, connect your Sony phone to the computer via a USB cord and once the connection is successful, your phone will be detected by this program automatically. If it is the first time to run this software, you will be required to enable USB debugging on your phone at first. If your phone can be detected by the program, you can skip to the next step.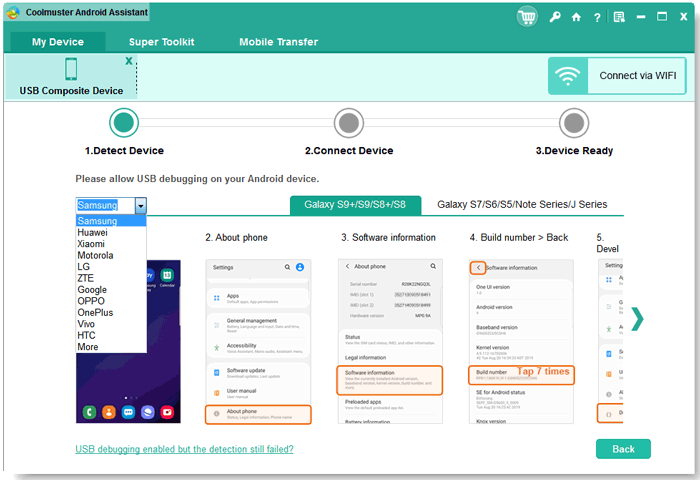 Follow the below instruction to enable USB debugging:
1) For Android 2.3 or earlier: Enter "Settings" < Click "Applications" < Click "Development" < Check "USB debugging".
2) For Android 3.0 to 4.1: Enter "Settings" < Click "Developer options" < Check "USB debugging".
3) For Android 4.2 or newer: Enter "Settings" < Click "About Phone" < Tap "Build number" for several times until getting a note "You are under developer mode" < Back to "Settings" < Click "Developer options" < Check "USB debugging".
When the USB debugging is enabled, click "Allow" on your phone to allow the program super user authorization when an Superuser Request pops up. Then, the parameter information of your Motorola device, including phone model, system version and storage space size will be shown in the main interface like below.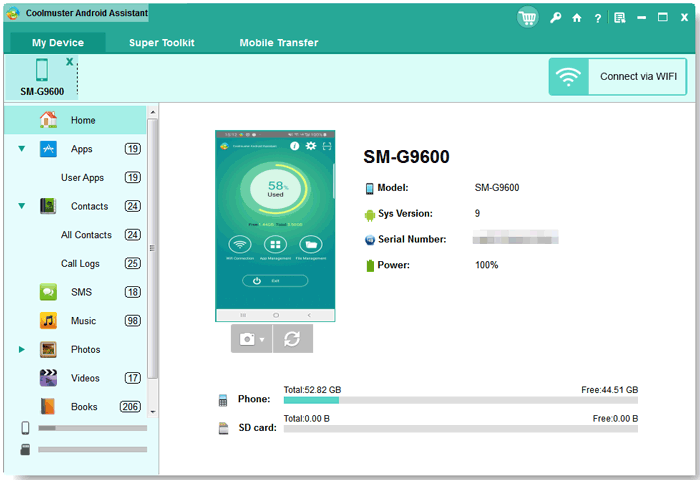 Note: Coolmuster Android Assistant is not only compatible with Sony Ericsson Xperia, but also works on other Sony phones, as well as Samsung, HTC, LG, Motorola, ZTE, etc. In a word, almost all Android devices.
Step 2: Enter the SMS window
When your Sony Ericsson Xperia is successfully detected by the program, all the files in the phone will be displayed on the top menu in categories. Click the "Contacts" icon from the top and click on the "All SMS" option from the left panel, you will see all the text messages in your Sony phone will show in list on the right. Mark the text message conversations you want to save to the computer and click the button of "Export".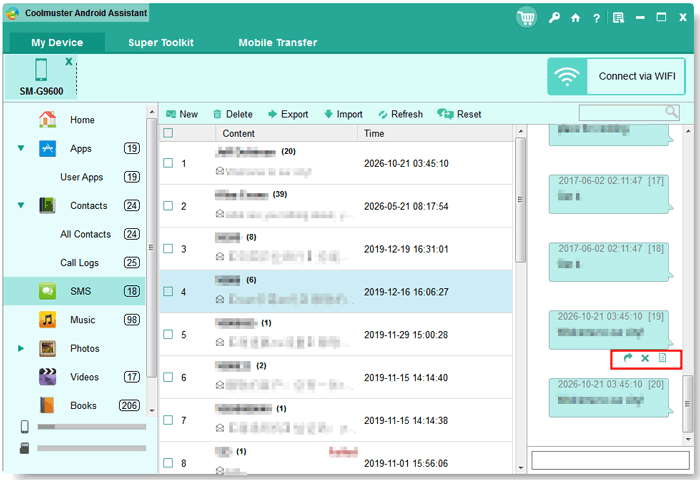 Step 3. Start to export the selected SMS
After that, a "Path" dialog will appear, asking you to choose an output location to save the exported text messages. Just choose a place on your computer and then click the "Ok" button to begin the transfer process. Wait for a short time, all the selected text message conversations will be exported to the specific location.
Editor says:
Looking into the future, people are still going to use their text message related functions for a long time to come. We laugh or cry while seeing some old SMSes, our minds traveling into some memorable old days. With the help of some advanced auxiliary softwares, our life will become much more exiting. If you have any other good idea in this respect, you are also welcomed to share it with us!
Related Articles:
Transfer Contacts from HTC/LG Phones to Computer