Why need to copy iTunes library to USB drive?
It is not uncommon for people to store all kinds of different music, videos, movies and ringtones in their iTunes library. In some cases, people may have their own special artists that they listen to on a regular basis. Or, they may have a specific genre of music or group of videos that they collect. Either way, an iTunes library can be very beneficial for a number of different reasons.
With an iTunes library, people are given the capability to create their own playlists of songs that they want to access whenever they decide to. Along with the playlists, they may also record comments and other useful information that they want to review from time to time. So, the iTunes library can become a very vital part of a user's music and video lifestyle over a significant amount of time. That being said, this is one of the top reasons why a user may want to copy their own iTunes library to a USB drive. The USB drive will give the user capability that they need to store all of the songs that they like, their personal playlists and comments that they have made about each.
In addition to giving the user the opportunity to store all of their songs and personal playlists on their USB driver, users will also have a chance to create a back-up file of the information that they keep so that nothing will be lost if some of the files are deleted accidentally or on purpose. With this back-up file, the user will always have access to the playlist that they have built and the comments that they have made. On the other hand, without this information being backed up to a USB, all of the song ratings, comments and the playlists will be completely lost.
Related: Transfer Playlists from iTunes to iPhone
Quick Fix: How to Copy iTunes Library to USB Drive
It is also important to note that there is more than one methods of transferring these files to a USB. These methods can be found online in a step by step process that is simple to follow. Specifically, based on the method that is being used. For instance, here are 2 common methods that can be used.
Method 1: Transfer iTunes Library to USB Drive with 3rd-Party Program
The first method is very simple and convenient to follow. The primary goal and objective with this method is trying the files from iTunes to a USB. This process can be accomplished with Coolmuster iOS Assistant (Windows/Mac) software. It can be described as a very simple way of managing iPhone music and other media on the user's computer with ease.
Here are the steps that can assist with making the transfer:
1. Download and install the right version of this software on a Mac or Windows computer.
2. Once the software download and installation is complete, the next step is to open up this software and then connect the iDevice (iPhone, iPad, iPod to the computer via a USB cable.
3. When this step is complete, it will begin to extract the iTunes library so that it can be loaded on the user's iDevice.
4. Click on iTunes library so that the library will be automatically transferred to the USB.
Also Read:
How to Add Videos to iTunes Library
Method 2: Transfer iTunes Library to USB Drive with iTunes
1. User will need to plug in their USB to their computer.
2. Once the USB has been plugged in, the user will open the iTunes folder on their computer so that they can find their playlists.
3. Choose the Advanced tab to continue the process and look under "iTunes Media Folder Location" to see the current location, select and copy that path.
4. Navigate to ~/Music/iTunes/ folder, then copy the "iTunes Media" folder onto the USB drive.
5. Go back to iTunes and hit the "Change" option under "iTunes Media folder location" to specify the USB drive as the new location.
6. Navigate to the drive and select the newly copied "iTunes Media" folder, then choose "Open".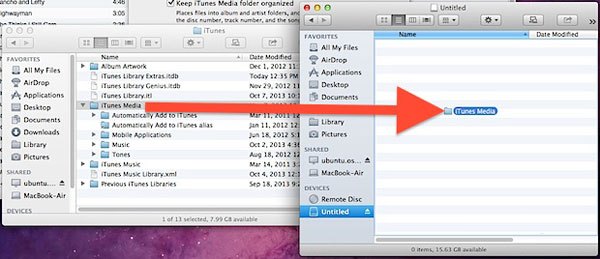 Here, you should know that copying an iTunes library to the USB drive means that it must be connected to the computer so as to access the media files.
Related Articles:
Guide on How to Transfer iTunes from PC to Mac