iOS 11 comes with a bunch of amazing features and Apple released the first developer beta last week. You just can't wait for the official final version of iOS 11 and download the iOS 11 beta. However, the first version, in another word, test software, in most cases, has many bugs and other issues. If you have problems with the iOS 11 beta and want to downgrade it to original iOS 10.3.2, is it possible? I can reliably inform you that - it is possible!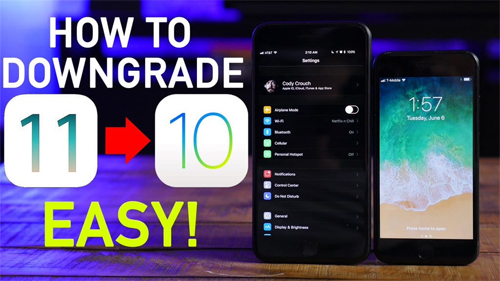 However, there are a few important points to consider before you start the downgrading:
1. If you downgrade from iOS 11 to iOS 10, you can't restore from the iCloud or iTunes backup that took with iOS 11, but only can restore from iOS 10 backup. Of course, you can use you own way to backup your iPad or iPhone, such as backing up iPhone on computer with third-party iOS backup tool.
2. Make sure you have updated your iTunes to the latest version.
3. Please be aware that the downgrading process often brings data loss problem. So, data backup is quite essential now. You can restore from a compatible backup, or recover lost data from iPhone by using iOS data recovery tool.
Steps to Downgrade iOS 11 Beta to iOS 10.3.2 Safely
Step 1: First of all, you should download the firmware file for the iOS 10.3.2. Choose the correct firmware according to your device model.
iOS firmware file for iPhone
iOS firmware file for iPad
iOS firmware file for iPod touch
Step 2: On your iOS device, you need to go to disable the feature of 'Find My iPhone'. To do that, you should go to Settings > iCloud > Find My iPhone and then toggle off the Find My iPhone switch.
Step 3: Put your iPhone or iPad into DFU mode. Here is the guide on how to let your iPhone enter DFU mode.

Step 4: Press the Alt or Option key on Mac (Shift key in Windows) and then click on the Restore iPhone… (iPad/iPod touch…) button.
Step 5: Select the IPSW file for the iOS 10.3.2 that you have downloaded earlier and click the Restore and Update button. Just follow the on-screen instructions to continue.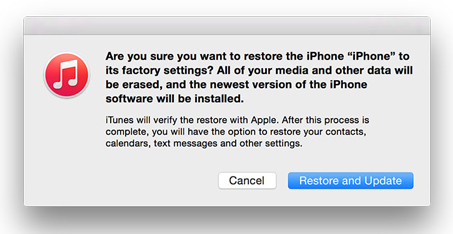 Step 6: iTunes will verify the software and install it on your iOS device. The whole installation takes about 10 minutes.
Step 7: You should see the white 'Hello' screen on your device, which means you have successfully downgrade from iOS 11 beta to iOS 10.3.2. Now, you can restore from the iOS 10.3.2 backup, either from iTunes, iCloud or computer, to start afresh.
Above are all about how to downgrade from iOS 11 beta back to iOS 10.3.2. And if you change you mind and want to update to iOS 11 beta again, you can still do that as you like.
Related Articles:
How to Easily Sync iPhone over Wifi