What is iTunes WiFi Sync?
Syncing allows you to share information with other devices. Previously, syncing your Apple device with iTunes was a tedious process that involved downloading unauthorized software on your devices. You could not sync your information with other phones and devices. So, even if you own a Mac, the process of syncing was difficult. Additionally, if you owned a device other than iOS or Mac, the process became more difficult.
Thankfully, with the release of iOS 5, Apple now allows you to sync your devices, like iPhones, iPads or iPods with iTunes on their Macs or Windows PC's wirelessly, without downloading other applications.
Part 1. How to Setup iTunes Wifi Sync?
Part 2. How to Start iTunes Syncing after Unplugging?
Part 3. What if iTunes Wifi Sync Fails?
1. User Guide to Setup iTunes Wifi Sync
Here is a look at how you can sync iTunes and Wifi with other devices easily. The process is now simple and if you can do it once, you can do it all the time.
Step 1: Connect your iOS device to your computer to sync it wirelessly. You can plug your device using the cable you got along with it. Now open iTunes.
Step 2: Select your device on the iTunes sidebar. Make sure that the "summary" tab is active. If not, click on it.
Step 3: Under the options bar, you will find an option named, "sync with this iPhone over Wifi". Check the box adjacent to this option. Now click on "apply".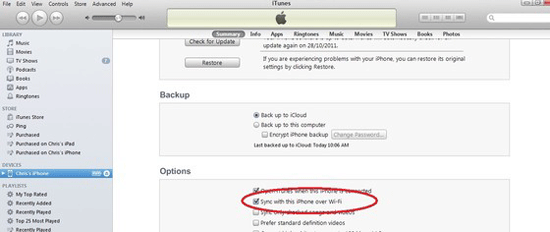 Then as soon as you plug your iPhone, iPod touch, or iPad into the power outlet, your device will appear on iTunes and start to sync over Wifi. And if you want to manually initiate data syncing, you can actually change it within your iPhone or iPad. Detailed steps are as follows;
- Go to Settings > General.
- Then choose the iTunes Wifi Sync option and then Sync Now option on the next interface.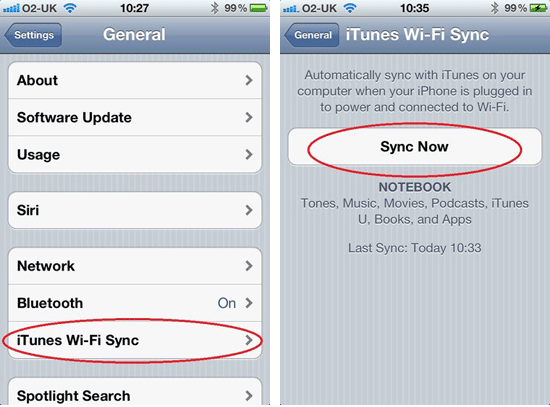 Till now, iTunes Wifi Sync process is manually started.
Know More:
* Best iTunes Library Manager to Control iTunes Data
* Full Guide on How to Easily Reset iTunes Password
2. How to Start iTunes Syncing after Unplugging
Once this is done, your device will start syncing to the desktop. After this, you can unplug your device from the desktop. You will notice that even after unplugging, your device is still synced. Now, to sync it with iTunes, you have three options.
Option 1: Automatic syncing
To sync your device with iTunes automatically or wirelessly, make sure that iTunes is running on your desktop. Plug your device to a power source. Once you do this and connect it to the Wifi, you will notice that the syncing will start automatically.
Option 2: Using Mac or Windows
To sync your iOS device with iTunes using Mac or Windows, you need to make sure that both your device, and your desktop are connected to the Wifi. Once assured, open iTunes on your desktop. Now, click on your iOS device in the sidebar. You will notice an option for syncing. Click on it and you are done.
Option 3: From your iOS device
To sync your device with iTunes using this method, you need to make sure that your device is connected to the WiFi network that your desktop is connected to. Now, tap on "settings". You will notice an option – "general". Tap on it. Then go to "iTunes Wifi sync" and tap on "sync now" to start syncing wirelessly.
Related: How to Fix iTunes Backup & Restore Problem
3. What if iTunes Wifi Sync does not Work?
If your syncing process does not work, here are some tips you can use to troubleshoot your problems.
1. Restart your desktop and iOS device.
2. Make sure that both your device, and your desktop are connected to the same Wifi network. This syncing does not happen over Ethernet to Wifi networks. You can Forget the Network and then rejoin the network once again.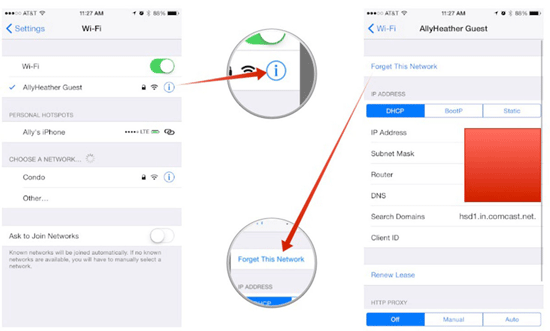 3. Check your firewall settings. In case you are using a security firewall, contact your software security for help.
4. You can contact your router manufacturer if you are using firewall on your router.
5. Update iOS and iTunes to the latest versions.
- To check whether the iOS version is of the latest version or not, you can go to Settings > General > Software Update.
- To check for the update of iTunes, you can directly go to Mac App Store. If you have one for iTunes, make sure you update.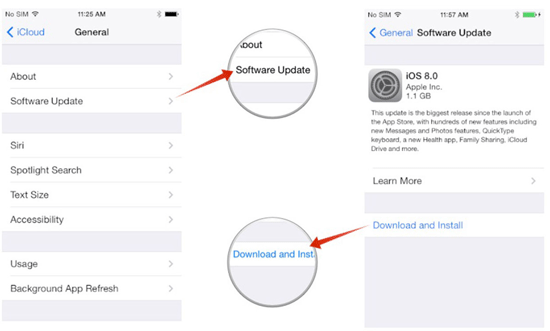 6. After trying all the fixes, iTunes Wifi sync still doesn't work, you may need to reset network settings on your device.
Summary
To conclude, wireless syncing has made this entire process much more convenient and quick, unlike the previous unauthorized and tedious methods. The syncing process will work easily most of the times, and if it doesn't - you should just follow the steps above. And if you want to totally frees yourself from troubles of iTunes wifi sync, you can actually try this Coolmuster iOS Assistant software to smoothly transfer files between iPhone/iPad/iPod and the computer without any hassle!
Related Articles:
How to Merge Duplicate Contacts on iPhone