Have you ever been in this situation where you share your photos stored on your iPhone or Android phone with your friend, but he/she always swipe left and right to check the other photos without your permission. It is quite annoying, right? But you might feel embarrassed to ask him/her to stop swiping left and right on your screen.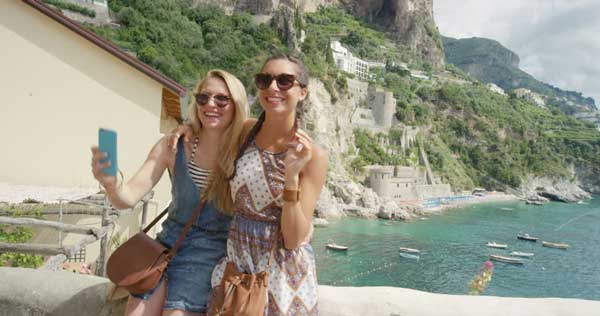 Don't worry, actually you can avoid situations like this as long as you can "freeze" the phone screen according to your will. Thus others cannot pry into your secret and you can also keep safety of your personal privacy in a wise way. Now, let's see how to freeze screen on iPhone or Android device to prevent from swiping left and right on screen.
Part 1. How to Freeze Screen on iPhone/iPad/iPod
Part 2. How to Freeze Phone Screen on Android Phone
Part 1. How to Freeze Screen on iPhone/iPad/iPod
On iPhone/iPad/iPod device, it is quite easy to "freeze" certain screen using a feature called "Guided Access" on iOS device. Guided Access allows users to stay focused on a task when using iOS device, which limits the device to a single app and makes you control a few available features only on iPhone, iPad or iPod touch. So you can turn it on and make your screen restrict to a specific photo, thus your friends will not be allowed to do more things without your permission.
Cool, right? Let's see how to set up Guided Access and limit others' operations on your iOS device.
Step 1. On your iPhone/iPad/iPod, please go to "Settings" > "General" > "Accessibility", scroll down to find and tap "Guided Access".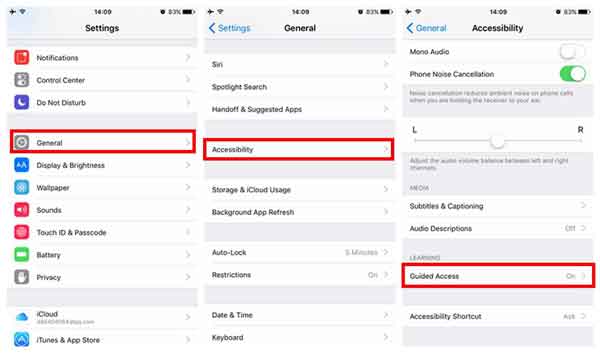 Step 2. On Guided Access page, please turn on both "Guided Access" and "Accessibility Shortcut" features. Triple-click the Home button to activate Guided Access feature.
If the Guided Access is enabled for the first time, you will be asked to set up a password, just enter it as prompted. Then you might see the interface of Guided Access on the screen.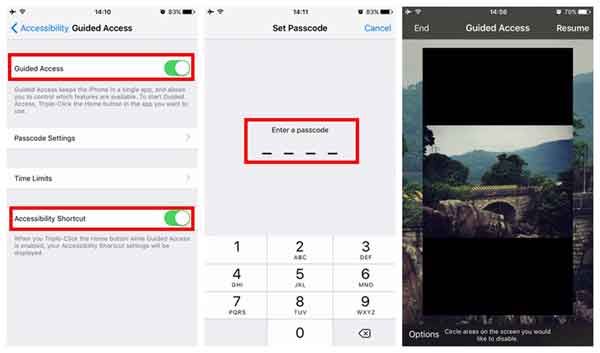 Step 3. Tap "Options" in the left corner, and switch off "Touch" feature from the Options. Tap "Resume" option in the upper right corner, and your screen will be frozen.
Step 4. To quit Guided Access, please triple-click again on the screen, enter the password and tap "End" button to exit Guided Access.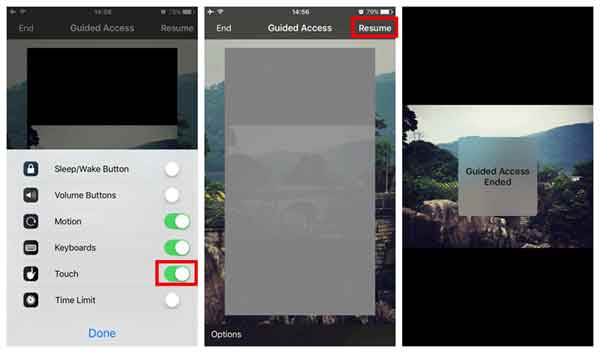 After setting up Guided Access on your iOS device, when you are going to share your photos with your friends, what you should do is to simply open the image that you want to share and triple-click on it, then your screen will be stay focused on this photo. And no matter how your friends try to swipe left and right, they can not see more pictures anymore unless you exit Guided Access with your password.
You May Like: How to Use AirPlay or Screen Mirroring on iPhone/iPad/iPod
Part 2. How to Freeze Phone Screen on Android Phone
For Android users, it is recommended to ask for help from a third-party software called Ninja Snap, which is designed to prevent from being swiped left and right for Android devices. This app can protect photos on Android being rummaged, which is also regarded as some satire to those who like to rummage about camera roll.
You can download and install this app from Google Play Store, and this app is easy to use, you can either directly show your photo with your friends in Ninja Snap, or open the photo by sharing to Ninja Snap.
Then when you show a photo to your friend and he/she is trying to swipe left and right on the screen, the next photo showing on screen will be his/her face captured by the front camera, and they will not see the other photos from your phone. Interesting, right?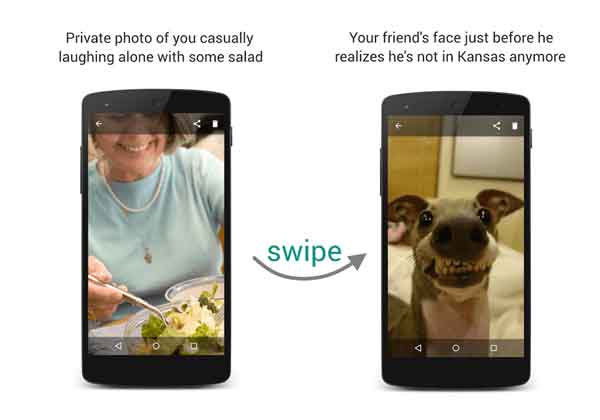 So, you don't have to worry that your friends will see your photos without your permission anymore.
Related Articles:
How to Show Battery Percentage on iPhone/iPad?
How to Create Personal Hotspot on iPhone