When you predominantly use an iPhone, iPad or Mac machine, the iCloud calendar is generally your go-to choice. However, when you want to other non-iOS devices, you need a way to integrate and synchronize your calendar among other things. Apple doesn't make it easy to make iOS features compatible with Windows or Google devices. It is still possible, but you have to spend a few minutes changing the settings.
By syncing the iCloud calendar with your devices, you can stay up to date with all the events in your life that you have added - from those important meeting to those special get togethers. Plus, it does not matter if you are using a different device than the one you added the details in the calendar to, as you can easily sync it across devices. Here is all that you need to know on how you can go about it.
Bonus: How to Sync iOS Device with iCloud
Part 1. How to Sync iCloud Calendar with Google
To sync the iCloud calendar with Google calendar, you need either a PC or Mac along with your iOS device.
Step 1: Open Settings in your iOS device. Go to Calendar > Default Calendar. Choose the Google account with which you want to synchronize your calendar. This step is essential to synchronize all future changes made using the calendar app or Siri.
Step 2: In the Settings app, tap on Accounts -> iCloud. Ensure that the ON button is activated.
Step 3: Open https://www.icloud.com on your computer and sign in with your Apple ID.
Step 4: Choose the Calendar name and click on Broadcast. Make the Calendar public and copy the URL that appears.
Step 5: Open your browser and paste the URL and change Webcal/ to http// and hit enter. You should now download a .ics file. You can now change the broadcast option and uncheck public.
Step 6: Launch your Gmail account on the web browser and go to Google Calendar. Click on the Gear symbol and select Settings > Calendars > Import calendar.
Step 7: Choose the .ics file you have downloaded previously and choose the calendar.

Now your Google calendar will be synchronized with the iCloud calendar.
Extra Bonus:
How to Sync iPhone Contacts with Gmail
How to Sync Google Calendar with iPhone
Part 2. How to Sync iCloud Calendar with Outlook
If you are using Outlook, do not worry. You can use it too. You can synchronize iCloud calendar with outlook back and forth using the following steps:
Step 1: On your iOS device, open the Settings app, tap on Accounts > iCloud. Ensure that the ON button is activated.
Step 2: Download iCloud to your Windows PC and login with your Apple ID.
Step 3: In the iCloud setup screen, click on Sync with Outlook near the top and choose Mail, Contacts, Calendars and Tasks option. In the next screen, choose whether you want to synchronize all calendars contacts and tasks or choose a few ones.
Step 4: Close the setup box when the setup is complete and restart your PC.
Step 5: Open Outlook -> Calendars. Check the iCloud calendars box and select all the calendars you wish to synchronize.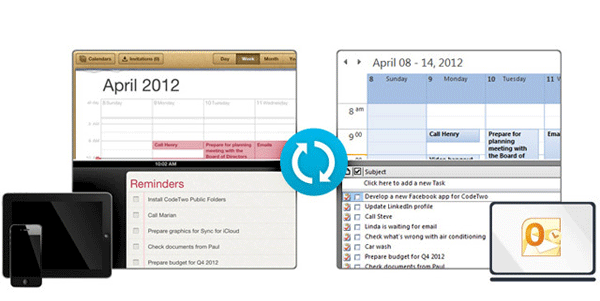 Related: Sync Outlook Calendar with iPhone
Words in The End: Solutions to Common Syncing Problems
While iCloud synchronization is not complex, you may encounter problems. With calendars, you may not see the iCloud calendar updates on Google calendar. To fix this problem, ensure that you have set your google account as default calendar on your iOS device.
To make the synchronization work, you have to login using the same iCloud account. If you have problems synching outlook, try to uninstall iCloud and reinstall it again and follow the sync steps. Syncng your iCloud calendar can be really useful in the long run and help you keep track of all the events in your day.
Related Articles:
Guide on How to Sync iCal with iPhone
Delete iCloud Account without Password