Most people prefer to use the Calendar app to add events according to days, months, and even years. Apple lets iOS users sync calendars to iCloud to easily view them on a Mac or PC. But, sometimes, for convenience purposes, you may need to print calendar from iPhone. Getting your Calendar printed on paper will make it easier to keep track of appointments at any time and place. But is printing a calendar from an iPhone possible? There are some excellent ways to achieve that.
We'll introduce you to 4 ways to print Calendar from an iPhone so that you do not miss those critical appointments you've been waiting eagerly to attend. Just follow this guide closely to learn how to print calendar from iPhone effortlessly.
Way 1. How to Print Calendar from iPhone with iOS Assistant
As one of the most reliable and powerful iPhone managers, Coolmuster iOS Assistant is the app to use when you want to transfer data from an iOS device to a computer to be printed. It supports various data types like calendars, notes, photos, etc. This tool allows you to export iPhone calendars to a computer and print them using a printer. The transfer process is swift, and in just a click, you will have your calendars on your computer ready to be printed.
The best part is that Coolmuster iOS Assistant is compatible with Mac and Windows computers, thus giving you more flexibility to easily print calendars from iPhone.
Top Features of Coolmuster iOS Assistant:
* Transfers calendar and other files after selecting them from an iPhone to a computer freely.
* 1 click data backup and restoration on your iOS device.
* Supports all generations of iPhone, including the latest iPhone 14/13/12/X.
* Supports Mac and Windows computers.
How can I transfer calendars from my iPhone to the computer for printing by using iOS Assistant? Below is a step-by-step process to do that;
01 Install the Coolmuster iOS Assistant on the computer after downloading it. Open it to display its primary interface. Connect your iPhone device to the computer with a USB cable and tap on the "Trust" option when asked to trust this computer.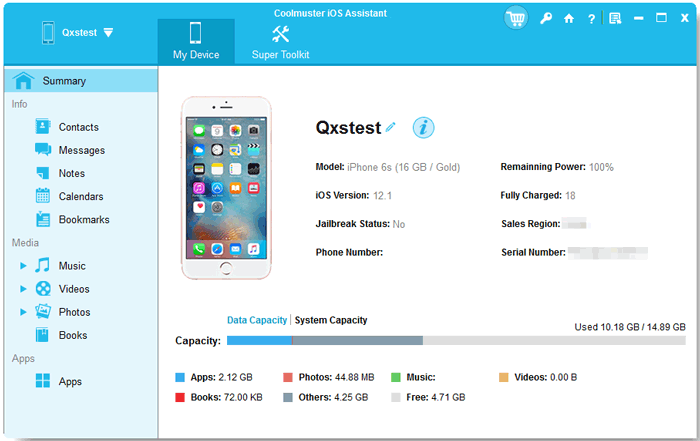 02 After the device has been detected, it'll show the calendar events and schedules in the left panel. Open the Calendars folder, preview, and choose the specific events to export to your computer. Once done, tap the "Export" tab to transfer iPhone calendar to the computer.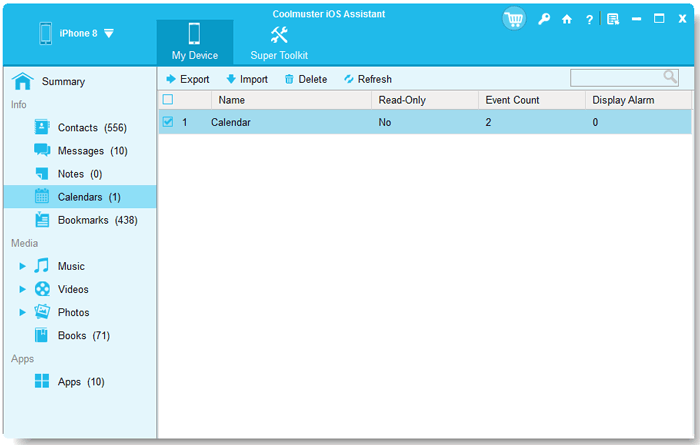 03 Check the transferred iPhone calendar to the output folder and tap the "Ctrl+P" keys to print them using a printer.
You may like:
How to Print Text Messages from iPhone? 4 Proven Methods
How to Print Photos from iPhone? [Solved]
Way 2. How to Print Calendar on iPhone Using iCloud
When you back up data to iCloud, you can still get it back. For instance, when you back up your iPhone calendar to iCloud, you may still restore it from iCloud.com. So, printing Calendars from your iPhone via iCloud won't be hard; after all, you can restore it. You just need to follow these steps to print Calendar from iPhone;
Step 1: Firstly, sync your iPhone to iCloud by heading to iPhone's "Settings" and looking for the "[your name]" option. Click on it and proceed to "iCloud ." When there, toggle on the "Calendar" option.
Step 2: Go to any web browser you prefer and open the iCloud.com site. Input the Apple ID you usually use and its password to sign in. On the iCloud panel, look for the "Calendar" application and view all of your saved events.
Step 3: Select the specific month you want to print, which is located on the right panel. Take a screenshot of all the events by pressing the "Command, Shift, and 4" keys simultaneously on your Mac computer. If you are using a Windows computer, Press the "Win and PrintScreen" keys and save it.
Step 4: Open the screenshot you've captured and tap the "Print" option from the drop-down menu. That's it! You can now get your printed Calendar.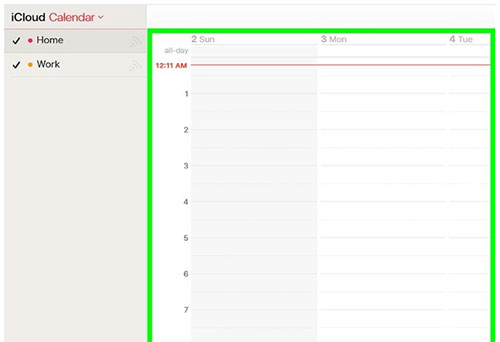 See more:
iPhone Calendar Disappeared: How to Recover Calendar App & Events on iPhone
How to Add Calendar to iPhone from Computer?
Way 3. How to Print Calendar from iPhone Using Airprint
Apple released an official feature known as Airprint that can help iPhone users seamlessly print calendars from their devices. This is a pre-installed feature within iOS Software. The best thing about the AirPrint feature is that you don't need to install specific printer drivers. No need to connect your device to the printer using wires.
The connection is fully wireless, and you can easily print your calendars whenever you want. The only thing you have to do is to ensure that the printer you'll use supports the Airprint feature. Additionally, your iPhone and printer must be connected to the same WiFi. The steps below will help you print calendars from an iPhone using AirPrint;
Step 1: Go to your iPhone and open Calendar, then click on the specific month you want to print.
Step 2: Tap the "Print" option, which you can find in the "Share" option.
Step 3: After doing that, you'll see several printer choices. Choose the "AirPrint enabled printer" option and tap "Print."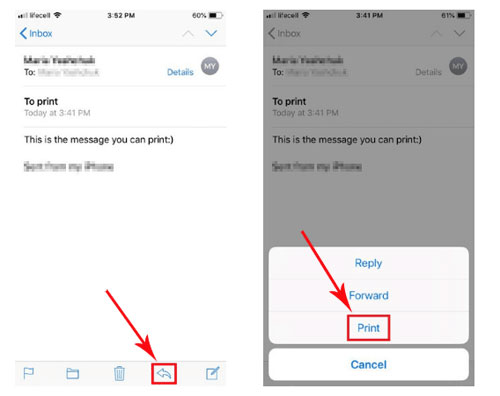 Way 4. How to Print iPhone Calendar via Print Calendar by VREApps
Printing calendars from your iPhone will help you keep them safe so that you'll still have a copy of them when they get lost. Among the many options for printing calendars, you can also print them safely using Print Calendar by VREApps. This iOS application can operate on iPhone/iPad/iPod phones and print calendars directly from the devices.
Here is how you can print your calendars from your iPhone using Print Calendar by VREApps;
Step 1: Install the Print Calendar by VREApps app on an iPhone. To do this, open the App Store on the iPhone and look for the print calendar from the Search column. Then click on the Print Calendar by VREApps app and install it on the devices.
Step 2: Open the app on your iPhone. Then click the "OK" tab after opening the app and authorize the app to access the Calendar app on your iPhone.
Step 3: Within the Calendar, choose the date range for printing. Tap on the second button at the top and choose the dates. Once done, all the events or schedules will be displayed according to the selected period.
Step 4: Tap on the "Print" icon from the upper right section of the screen. You'll see all Printer options displayed; choose your desired printer and specify the copies to be printed.
Step 5: Tap the "Print" tab to start the printing process. Wait as the process finishes.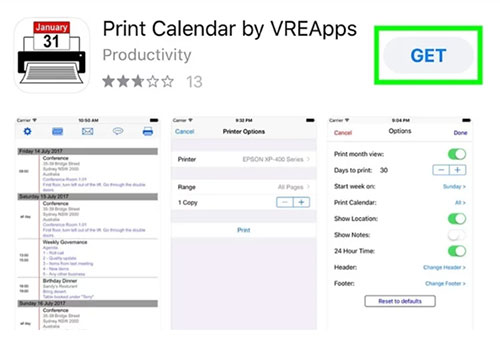 Conclusion
If you are looking for a way to print your Calendar on a specific date, or just need a reminder, check out this quick article. There's no reason for you to miss any appointment ever again. All the methods mentioned above are capable of helping you print copies of your Calendar from an iPhone. Even when you lose your phone's data, you sure have some copies at hand. It would be best if you use Coolmuster iOS Assistant as it's the most reliable tool to help you transfer calendar from an iPhone to a computer for printing. It makes the whole process effortless, simple and smooth. Why not give it a try?
Related Articles:
How to Print Text Messages from iPhone/Android for Court?
How to Print Contacts from iPhone 14/13/12/11/XR/XS/X in 5 Tested Ways?
How to Print WeChat Messages on iPhone? 3 Ways Here for You
Sync iCloud Calendar to Android Phones/Tablets
Not Enough iCloud Storage? Fix This Issue with This Full Guide