What is the need to sync iPod to Mac computer?
iPod is basically a media player that is machined to primarily store media and play them. They allow data such as videos, images and games. The necessity to connect an iPod to a Mac computer is to charge and transfer data. The data from the computer can be transferred into the iPod and can be played on the go, with the iPod. The problem of managing data with iPod can be solved by transferring it to Mac which makes managing files easier.
Problems faced during the sync of iPod with Mac computer
If you have an iPod and a Mac, you would want to use iTunes to sync all the media between the two devices. However, the going may not be as smooth as you would expect. When iTunes is used to sync iPod with Mac computers, sometimes the following problems are faced:
- iTunes may not recognize your device and it often fails to detect your iPod, setting an obstacle that stops further actions.
- After recognition of the device, sometimes iTunes fails to display the content of the required device.
- Occasionally, the problem of not being able to copy data from iPod to Mac PC occurs with the use of iTunes.
This is why you need an alternative solution that is both easy and convenient for you. While you would find plenty of third party software out there for you, you would need one that can tackle all of these things for you - just like Coolmuster does.
Solution 1: Easiest Way to Transfer Files from iPod to Mac (Recommended)
Solution 2: Transfer Files from iPod to Mac without 3rd-party Software (Less Recommended)
Easy Way on How to Sync iPod to Mac
The Coolmuster iOS Assistant software facilitates the sync up of your iPod and your Mac computer with ease. The software lets you automatically discover your devices without any difficulties. It is capable of recognizing all generations of the apple devices effortlessly. With the help of this software, you do not have to struggle for the identification of your iPod in your Mac system. Since it provides a simple and easy platform to transfer data between your iPod and Mac system, you can comfortably use your iPhone as a portable hard drive to store data. You do not have to be an expert to use this software for transferring your data as it involves an uncomplicated procedure.
Learn More:
* How to Easily Manage iPod Library
* Sync iTunes Library to iPod/iPad/iPhone
How to transfer data from an iPod to a Mac computer?
The steps to be followed for the transfer of data are simple and effective:
- Connect your iPod to the Mac computer via the USB cord.
- Make sure iTunes is not running when you do this.
- Open the software and your iPod will be immediately recognized.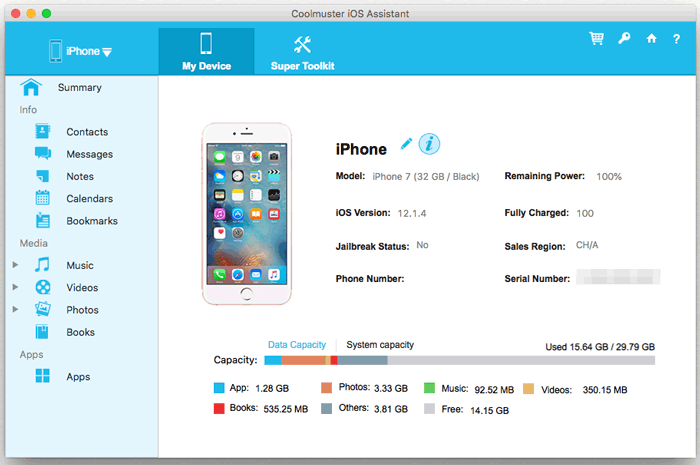 - Now the list of folders/categories like music, photos etc will be displayed on the left side of the window.
- The files inside the folders will be displayed on the right side of the window.
- Now check the files that you want to transfer and click on export and the files will exported to your Mac computer.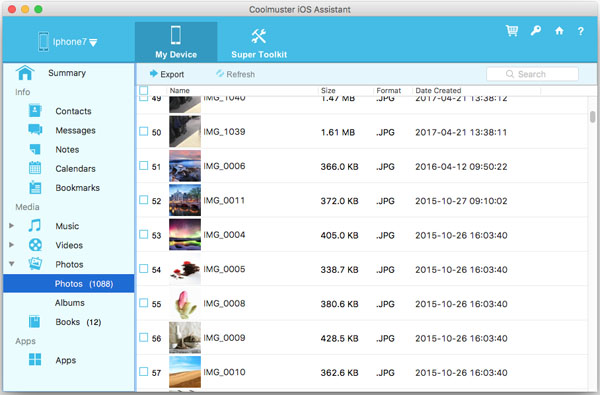 Know More About This Software:
Audiobooks which are of large sizes can also be transferred from an iPod to a Mac computer within a fraction of seconds. The speed with which the Coolmuster iPhone/iPad/iPod to Mac Transfer software facilitates file transfer and the user-friendly atmosphere makes it an effective file transfer software. The downloading of this software is simple. It is available online and there is even a free trial version of the software. After registration, You can download the full version of the software. Installation procedure includes a step by step process after which the software is ready to use. Backup all the data that you have on your devices and stay safe- Coolmuster has you covered.
You Might Also Want to Read:
Transfer Music from Mac to iPhone
How to Backup iPod without iTunes
Transfer Files from iPod to Mac without 3rd-party Software
Are you looking for way to transfer files from iPod to Mac without third-party software? Actually, you can directly sync iPod to Mac by following the below tutorial:
- Operate your Mac device and login. Then go to the applications and select utilities.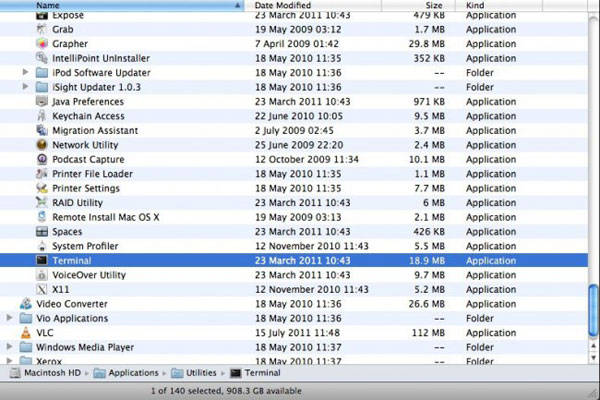 - Then Terminal will be prompted on the screen. Type the below command: defaults write com.apple.Finder AppleShowAllFiles YES. Then it will force your Mac computer to automatically detect all hidden files on your iPod device.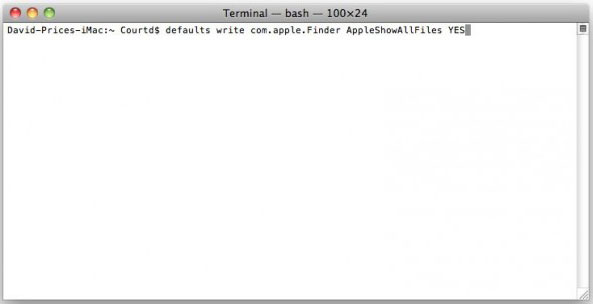 - Once the above step is completed, you will see the following promo dialogue. Hit the Relaunch option to apply new settings.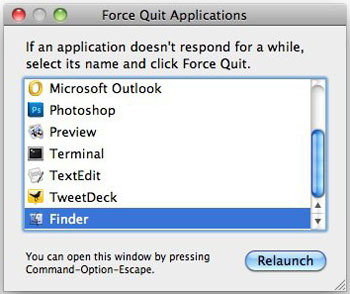 - Then go to the main interface in your Mac and navigate to the iPod device. Then enter the right tab to preview more detailed file information. While previewing, tick out the wanted files. Then copy them and paste them on your Mac computer.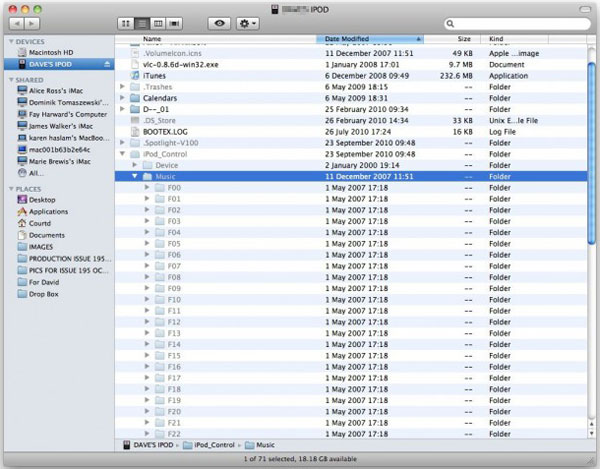 Now, you have successfully transferred files from iPod to Mac computer.
Additional Tips
But one thing you should know is that the exported files don't bear their original names, which means you can't even get name of your files. It might be a little challenging for you to pinpoint the exact files that you are looking for. So you can weigh the advantages and disadvantages of the two mentioned ways and choose the right one as needed and wanted!
Related Articles:
Import Photos from iPhone to iPhoto
How to Transfer Music from iPod to Computer without iTunes? (Easy Method)
How to Put Music on iPod without iTunes? (4 Effective Ways)
How to Transfer Music from iPod to iPod? (Must Read)
iPod Music Recovery: How to Recover Deleted Music from iPod Touch and Other Series in 4 Ways?
How to Transfer Music from iPad to iPod? (Simple & Reliable)