You have installed professional apps for your iPhone. If you lost your iPhone or it got damaged or you lost your data; you cannot retrieve it back. Yes, you cannot retrieve it back unless you have a backup of all the apps, media files, and documents. Thus, in order to be on the safer side, you should save your data from your iOS device on computers or iTunes library. Here, we have discussed the steps for transferring apps from iPhone to iTunes.
How to Transfer Apps from iPhone to iTunes? - The Standard Way
Here is a list of the things that you need to do. Ensure that you follow each step so that you do do not miss out on anything.
- Make sure, you have an Apple ID before transferring the apps. Unless you have an Apple ID, you will not be able to transfer the files.
- Now connect your iPhone with the computer. Open iTunes on your computer.
- When iTunes detects your iPhone, go to the Menu bar. From the Menu, select "Files"> "Devices"> "Transfer from device name".
- Your apps will be transferred to the iTunes on your computer.
Learn More:
* Valid Reasons Why You Need A Phone Backup
* More Useful iTunes Backup Tips You Can't Miss
Possible Problems That You May Encounter:
It is a simple procedure for transferring your apps and files from an iOS device to the computer. But still, there are some glitches. For one, you really wouldn't want to do this each time - it is a lengthy process. More, there exists some other problems as well.
- You can only transfer the data purchased or downloaded from iTunes.
- You cannot transfer your data from other sources.
- Secondly, with iOS 9.0 and above, you will not be able to Transfer purchases from your device to the iTunes.
- If you'd like to backup your apps in iTunes, you need to select "Automatic Downloads" when you are buying apps from iTunes.
iTunes Alternative to Sync iPhone Apps - The Easier Way
Well, if you are worried about the listed issues, you don't need to worry anymore. You can choose Coolmuster iOS Assistant. This software can be used to back up your apps and data from your iPhone and other devices to your computer. You can use it to transfer data from your Android phone to your iPhone easily, and backup all the data you need- so that even if you lose out on your phone, you wouldn't lose out on the memories.
Alluring Features of this Software:
> Transfer all types of files to your computer. You can transfer contacts, messages, songs, videos, photos, etc.
> It is protected from all the malware and spyware.
> You have one click solution for searching the desired files and for exporting data.
> Compatible with all the Apple devices like iPhone, iPad and iPod.
More Similar Articles:
* How to Put Music on iPhone without iTunes
* Easily Sync iTunes Library to iPhone/iPad/iPod
To name just a few, if you want to know more about this software. Why not simply download the software and give it a try by yourself? And it is quite easy to transfer apps from iPhone to iTunes within 1-2-3 steps:
- Open the installed software on your computer. Connect your iPhone to the computer using a USB cable. Double click on the desktop icon.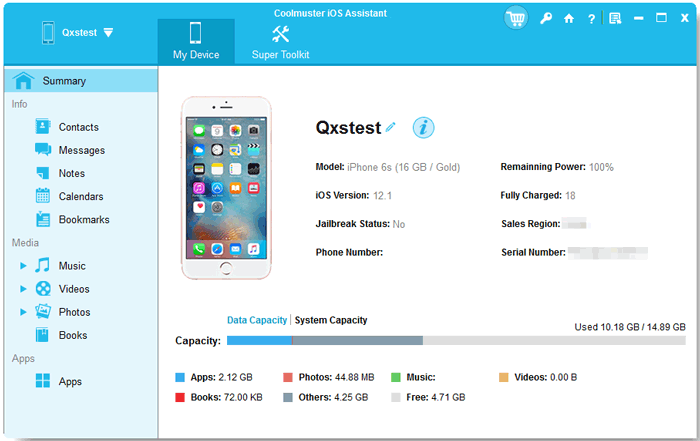 - Then the below window will appear. It will show the information about the connected iPhone. View all the files categorically on the left side of the window. Select to view the data inside the categories. The data will appear on the right side.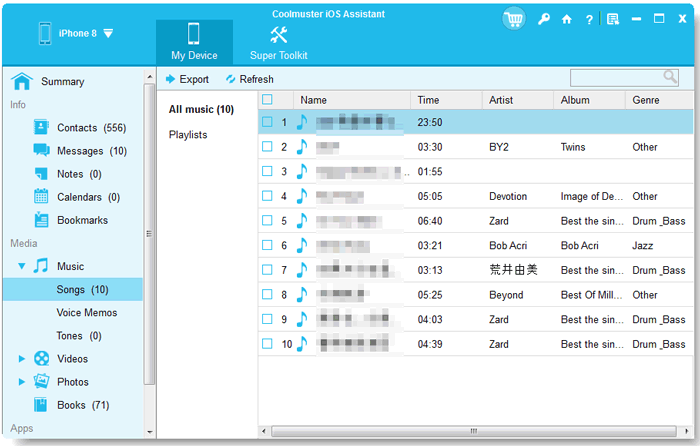 - Select the files or apps that you need to transfer. After selecting, click on the "Export" tab to transfer the data.
That is all that you need to do! And then this all-in-one software will do the rest!
Related Articles:
How to Transfer Music from Mac to iPhone