"iTunes on older MacBook Air running High Sierra 10.13.6 won't connect to my iPhone SE. Recently updated to iOS 14.3. Tried different cables and USB ports, restarted both devices, and reset security as guided. Even when I can 'trust' the laptop, nothing happens. Any help is greatly appreciated."
- Apple Support Community
Connect your iPhone to your computer via USB, but the iPhone is not recognized by iTunes? Even after several attempts, nothing happens. Don't worry. There must be some system glitches with either iTunes or your devices. You can refer to the troubleshooting methods below to fix the iTunes not recognizing iPhone error yourself.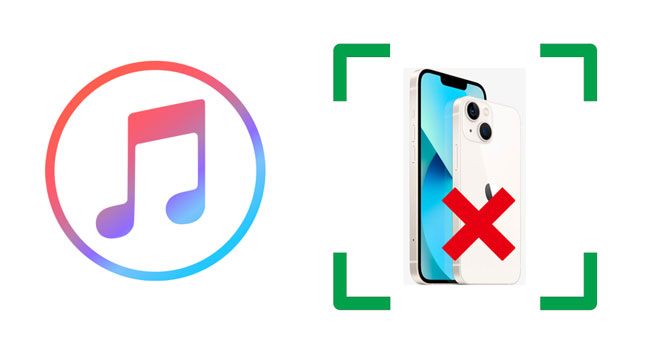 Part 1. Why Won't My iPhone Connect to iTunes?
You may wonder, "Why can't I see my iPhone on iTunes" before fixing the error. A few common reasons are responsible for iTunes not the detecting iPhone. Here, we list possible reasons below.
Defective USB port or cable.
There is greasy dirt or water beside the iPhone port.
Software errors or bugs.
You didn't grant necessary permissions.
Outdated iOS version.
Corrupted Apple drives.
Poor contact between iPhone and computer.
Obsolete Windows version.
Part 2. What to Do When iTunes Doesn't Recognize the iPhone?
It is not the world's end when iTunes won't connect to iPhone. The following easy tricks will make your iPhone recognizable immediately.
Trick 1. Ensure your iPhone Is Unlocked and on the Home Screen
Ensure that your iPhone is powered on, unlocked, and on the Home screen. Then leave it unlocked for minutes before connecting it to your computer.
Trick 2. Ensure the Latest Version of iTunes
Check whether you have the latest version of iTunes on your computer. If not, update iTunes to the latest version by opening iTunes > tapping Help > Check for Updates or opening Microsoft Store on a Windows PC > More > Downloads and updates > Get updates.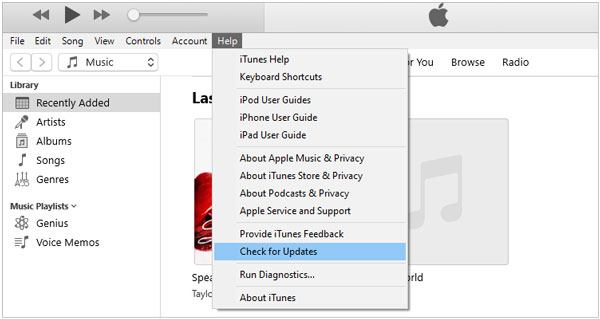 You might need: How to recover deleted messages from an iPhone without backup? Read this comprehensive guide, and master the recovery solution.
Trick 3. Ensure to Trust the Computer
When connecting your iPhone to the computer for the first time, it will require you to trust the computer on your iPhone. You must unlock your device and hit Trust at once to authorize the computer. Otherwise, iTunes won't connect to the new iPhone.
Trick 4. Try a Different USB Cable
You should replace the USB cable with a new one if it is worn out, sharply bent, or broken. But a cable can also have connection errors even if it has no obvious signs of damage and isn't MFi certified. So, try a different USB cable if you have spare ones or buy one from a reliable source.
Trick 5. Check the USB Port on iPhone and Computer
Similarly, the USB ports on your iPhone or computer may be broken. You can try a different USB port to check whether the problem is fixed.
Learn more: If you are eager to recover deleted photos from an iPad, please don't miss this effective guide.
Trick 6. Restart Your Computer and iPhone
Restarting the devices resolves many software glitches, which is especially effective if you can connect your iPhone to iTunes well but cannot right now.
1. Remove the cable between your iPhone and computer.
2. Restart your computer: Click Start at the lower-left corner > the Power icon > Restart.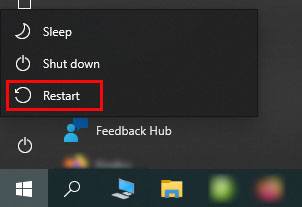 3. Restart your iPhone:
For iPhone X and later:
Press and hold the Power + one of the Volume buttons together.
Drag the power-off slider to turn it off and wait for the screen to go black.
Press and hold the Power button again until the Apple logo shows up.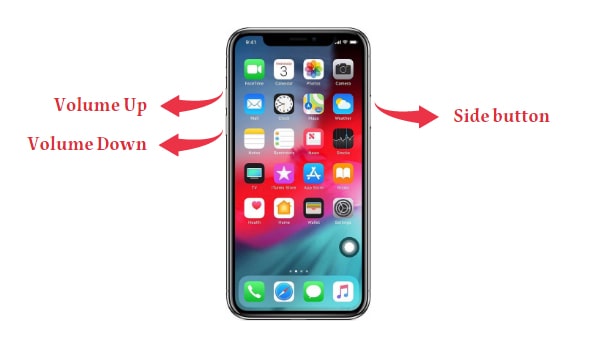 For iPhone SE/8 or earlier:
Press and hold the Power button.
Drag the slider to power it off.
Press and hold the Power button again until the Apple logo appears.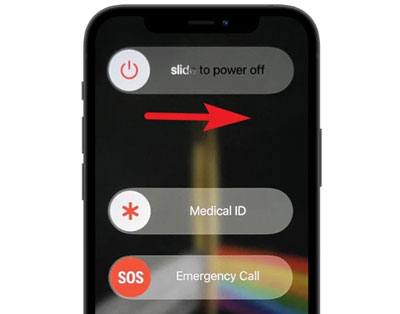 See also: Click this post, and recover deleted contacts from an iPhone in 4 easy ways.
Trick 7. Uninstall and Reinstall iTunes
Suppose iTunes is the case to cause the trouble. In that case, you can delete iTunes from your computer and reinstall it to see whether it can recognize your iPhone properly.
Launch the Control Panel from the Start menu on your Windows PC.
Click Uninstall a program > iTunes > Uninstall.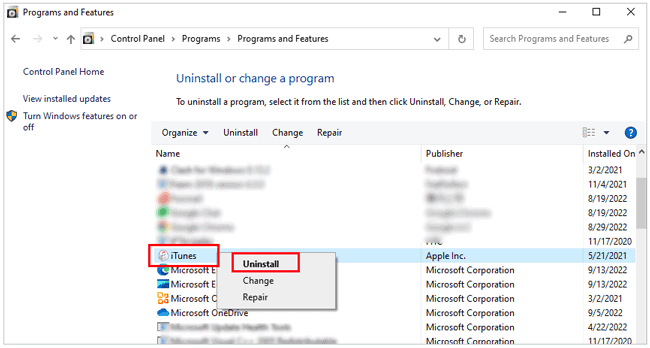 Or,
On a Mac computer, drag iTunes from Applications to Trash on the Dock.
Then, download the latest version of iTunes from the Apple website and install it on your computer.
Trick 8. Update the Computer Operating System
Update a Windows PC:
Click Start at the lower-left corner of your desktop > Settings > Update & Security.
Tap Check for Updates on the right side to check and install the latest version.
Restart your computer to apply the updates.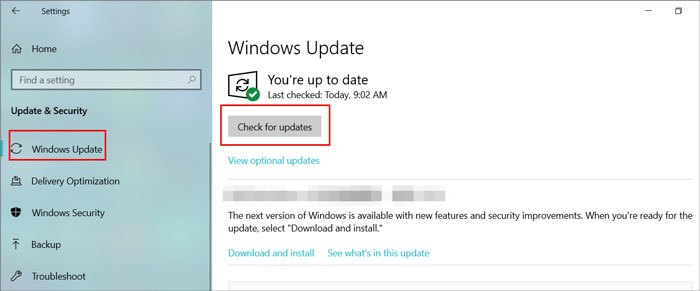 Update a Mac:
Click the Apple logo on the menu bar > About This Mac.
Tap Software Update to check and install the updates.

Guess you like: Why does an iPhone get stuck in the recovery mode? Click it to find out the reasons and fix it without effort.
Trick 9. Disable or Uninstall Security Software
The security software on your computer protects your computer from viruses or trojans. However, some may interfere the app usage and judge the good as bad, causing the "iTunes not recognizing your iPhone" error.
To resolve the problem, you can temporarily disable the antivirus software on your computer when using iTunes by clicking Turn Off, Disable, or another similar option on the taskbar.
Trick 10. Reinstall the Apple Mobile Device USB Driver
Assume you meet the "iTunes not detecting iPhone" error on a Windows PC. You can reinstall the Apple Mobile Device USB driver to fix the problem.
Here's how:
If you download iTunes from the Apple website:
Open the File Explorer window > enter %ProgramFiles%\Common Files\Apple\Mobile Device Support\Drivers in the search bar and press the Enter key.
Right-click usbaapl64.inf or usbaapl.inf > click Install.
Only install the file ending with the .inf extension. You can expand View on the top > check File name extensions to see the file extension.
Disconnect your iPhone from the computer and reboot your computer.
Connect your iPhone to the computer and run iTunes.

If you download iTunes from Microsoft Store:
Right-click Start at the bottom > Device Manager > expand the Portable Devices section.
Right-click your iPhone icon > choose Update driver > Search automatically for updated driver software.
Open iTunes to check whether it detects your iPhone aptly.
Read more: When AirDrop cannot work normally on your device, you can repair it on your own with these tricks.
Trick 11. Fix the iTunes Error with iOS System Repair (Recommended)
iOS System Repair is the best way to fix iPhone or iTunes issues without data loss on a Windows PC or Mac. It works with various common scenarios and all iPhone models, like iPhone 14/SE (3rd generation)/13 Pro Max/13 Pro/13/13 mini/12/SE/11/XS Max/XS/XR/X/8/7/6, etc.
The highlights of iOS System Repair:
Fix the iTunes not recognizing iPhone without data loss.
Safe and easy to use.
Offer Standard and Advanced modes to fulfill different needs.
Widely compatible with iOS 16 and earlier versions.
How to fix iTunes not recognizing iPhone 13/14 on Windows 11/10?
01Install and open the software on your computer. Next, connect your iPhone to the computer using a USB cable and click More tools > iOS System Recovery to continue.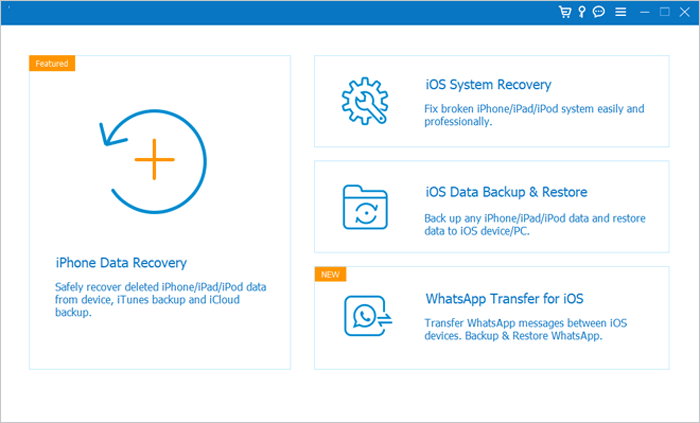 02When the program detects the error and displays it on the interface, tap Start to proceed.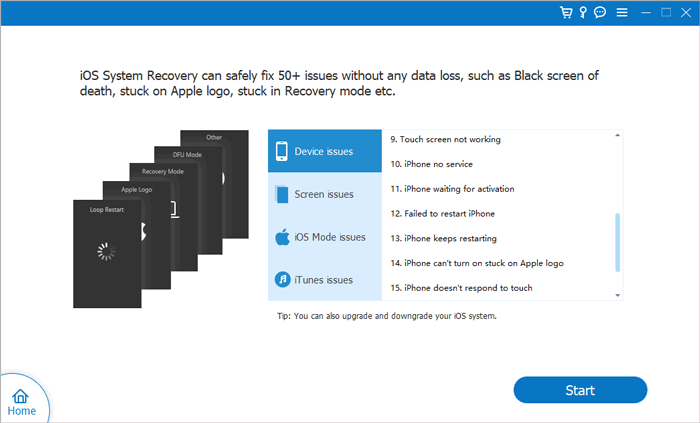 03Confirm the iPhone information. If necessary, select the correct information from the drop-down menu. Then, tap Repair to fix the iTunes not recognizing iPhone error.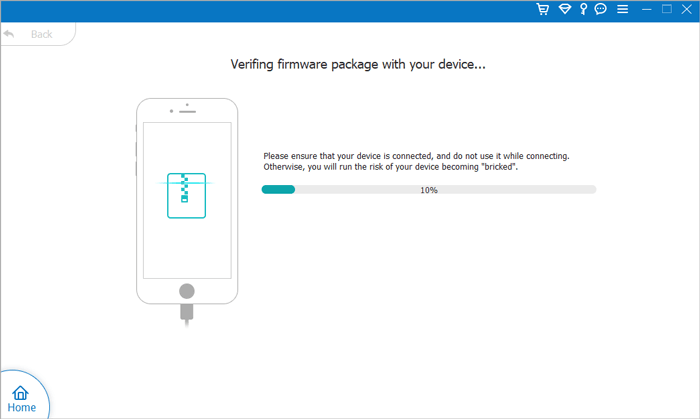 Further reading:
Full Guide on How to Fix iTunes Error 4005 or iPhone Error 4005
How to Fix iPhone Clicking on Its Own in 11 Practical Ways?
Trick 12. Contact Apple Support
If all else fails, you may face a hardware problem on your iPhone or computer. In this case, try contacting the Apple Support team and allowing the technicians to inspect your device. You may need to make an appointment before visiting the nearest Apple Store.
Final Thoughts
We hope the above solutions work for resolving the iTunes not recognizing iPhone error. If you want to save time, go directly to the iOS System Repair in Trick 11 to fix the error without data loss, which is easy and fast and has a high success rate. Besides, you can also contact Apple Support to get it repaired if nothing else works.
If you find this tutorial helpful, please share it with more people. Thanks!
Related Articles:
How to Fix the Problem iTunes Could Not Connect to This iPhone? (6 Effective Solutions)
How to Fix iPhone Not Syncing with iTunes? (8 Fixes)
How to Fix iPhone Grey Screen of Death By Yourself? (8 Solutions Provided)
iPhone Blue Screen of Death? Here are 7 Easy Ways to Fix
How to Fix Green Lines on iPhone Screen? Proven Solutions Are Here
iPhone Stuck in Boot Loop? How to Fix Boot Loop on iPhone in Ten Methods?