How to Transfer Photos from Mac to iPhone XS Max/XS/XR/X/8

With Apple dominating most of our hardware, we are soon to be completely ruled by iTunes-run devices. Having devices (laptop and cellphone) of diverse compatibilities is often a reason for quite a few complications and makes undemanding jobs such as file sharing a very tedious one. Only an Apple user knows the struggles to transfer files to and from a laptop of different brand.
This is one of the major reason why iPhone users tend to use Macbook. A day-to-day file transfer results, from Macbook to iPhone, primarily because users prefer carrying their personal photos in a handy device (iPhone or iPad) than have it on a Macbook which is tough to carry. Secondly, all of the daily-use apps such as Instagram and WhatsApp are used via iPhone, apart from photo editing apps such as Prisma, and iCloud Photo Library.
Solution 1. Sync Photos to iPhone from Mac via 3rd-Party Program
Solution 2. Sync Photos to iPhone from Mac via iTunes
Solution 3. Sync Photos from Mac to iPhone via Airdrop
Solution 4. Transfer Photos from Mac to iPhone via iCloud
Solution 5. Transfer Photos from Mac to iPhone via Photos for Mac
Easy Way: Use 3rd-Party Program to Sync Photos to iPhone
It is always a worrisome thing for people when they accidentally delete important files from their apple devices. This iOS Photo Transfer frees people off this tension and fulfils their needs, which helps you freely share data of various kinds between your iOS devices and PC/Mac computer within just one click.
Below are the major features of this software:
> Every kind of transfer is possible easily and it is compatible with all the generations of iOS devices. Transfer anything from your apps to contacts, media, call logs, data and more - essentially all stuff that you've in your old phone to your new one.
> It comes with two view modes: Selectable thumbnail and list view modes. Do you want a small icon interface that makes it easier to find a selected document or a detailed interface with every data? Your choice!
> Every file will be sorted into panels and folders which makes searching for a particular file easy.
> It is also easier to manage your files now, since you can rename and modify these folders as you like. Every detail about a data will be at your fingertips.
Here is how to transfer photos with this software:
Step 1. Download and install the right version of the software on your computer. Connect your iPhone to PC via a USB cable.
Note: Here we take the software in Windows version for example, and you might get the same operations as the Mac version.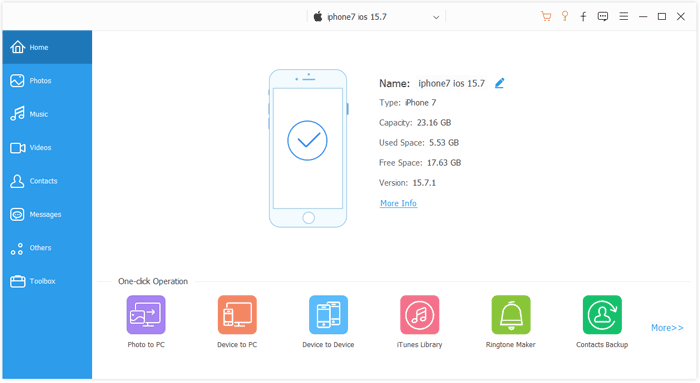 Step 2. Run the program and click the "Photos" option on the left where you can preview the photos on your device. Then click "Add" option on the top to select the pictures from your Mac and import them to your iPhone.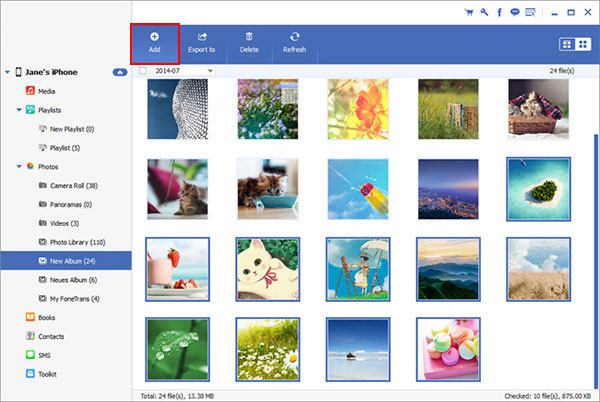 Also Read:
How to Sync iPad with Mac Computer
Easily Add Contacts from Mac to iPhone
Optional method 1: Transfer Photos from Mac to iPhone via iTunes
Alternatively, step by step method to transfer photos from Mac to iPhone is below. The process is both complex and time consuming, making the iPhone/iPad/iPod to Computer Transfer software the better choice among the two.
- First connect your iPad or iPhone to your Mac.
- Then open iTunes if it doesn't open automatically.
- You would see the iOS device icon in the top bar. Find the Photos tab on the bar and click on it.
- You would now come across the "Sync Photos" box.
- Choose iPhoto or Photos - two of the options that you would see in the "Copy photos from" drop-down menu.
- Click Sync to start the process. Do remember that the syncing process can take quite a while depending on the transfer size. If it's too huge, it can even take as much as an hour or more.
Your iOS device will copy over all the images you've selected, and you'll be all ready. iTunes has several demerits too,like slow performance, compulsory computer authorization, and restricted file formats supported.
Bonus: Know More about iTunes Wifi Sync
Optional method 2: Transfer Photos from Mac to iPhone via Airdrop
You can also wirelessly transfer photos and videos in bulk from your Mac to your iPhone or iPad.
- From the Finder, select the photos you'd like to transfer.
- In a new Finder window, select AirDrop from the side menu.
- Ensure that your iPhone or iPad is unlocked and awake.
- Drag your selected files to the iPhone or iPad option in AirDrop.
Depending on your Apple ID, you may need to press Accept on receiving iPhone or iPad. The disadvantage with this method is that AirDrop has too many bugs and often does not work for iOS 9.3.2.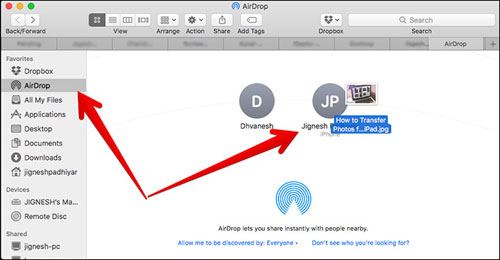 Option method 3: Transfer Photos from Mac to iPhone via iCloud
(Note: iCloud only supports certain photos types like JPG.)
- Enable iCloud Photo Library on your iPhone and then enter the iCloud.com on your computer.
- Now, click on the Photos tab to preview more.
- Click on Upload at the top right corner and select the photos that you want to upload.
- Hit the OK option to confirm your action and wait patiently for the process to get completed within a little while.
In addition, iCloud photo sharing feature with your device also enables you to easily transfer photos from Mac to iPhone within simple clicks.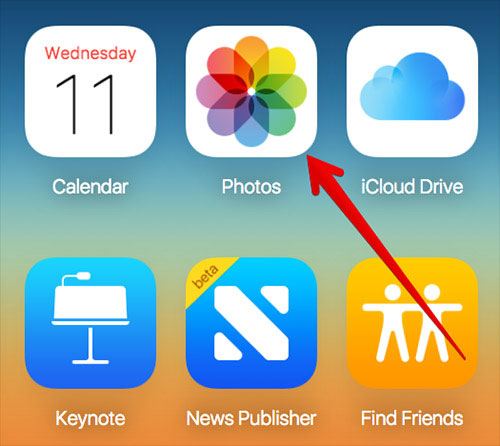 Option method 4: Sync Photos from Mac to iPhone via Photos Transfer for Mac
- Open Photos app on the Mac computer.
- Next, click on Photos menu at the top left of the screen.
- Then you need to choose Preferences.
- Select iCloud and then check the box next to iCloud Photo Library.
Now, you would have to wait until all of your photos are synced with your iOS device.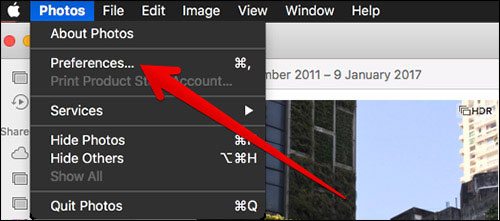 As you can see, the listed solutions have their own advantages and disadvantages. And you are free to choose either way as desired to transfer photos from Mac to iPhone within 1-2 step.
Related Articles: