In our day-to-day lives, sharing files between devices is quite common. If you want to do data backup on your computer or just want to create more space on your iPhone, knowing how to transfer file between iPhone and Mac is very important.
Saving some of your files on your Mac will help free up some space on an iPhone, which will optimize its performance in the long run. Additionally, sending your data to a Mac computer is a way of making a backup such that when the iPhone gets lost, or we accidentally delete files on our phones, we can recover them.
With the six ways provided in this article on how to transfer data from iPhone to Macbook, you can move your files without strain.
Way 1. How to Transfer Data from iPhone to Mac by Coolmuster iOS Assistant
The first option on our list for transferring files from iPhone to Mac is a professional phone-to-computer transfer software known as Coolmuster iOS Assistant. It is the most reliable software to share files from iPhone to computer and vice versa. This tool is trending thanks to its fast, quick, and easy transfer process.
If you've saved many files on your iPhone, you can use Coolmuster iOS Assistant to transfer them to the Mac for backup. The tool supports transferring videos, text messages, music, notes, bookmarks, calendars, etc., from iOS devices to Mac computers.
The tool lists all files available on the iPhone on the screen and lets you freely choose the ones you wish to export. Furthermore, importing files from a computer to an iOS device is as easy as pie with this tool. It makes the process smooth and also lets you download the files from the PC to the phone.
Top highlights of Coolmuster iOS Assistant:
Transfer files from iPhone to Mac quickly.
Support data such as contacts, notes, messages, calendars, bookmarks, etc.
Preview and select files before transfer.
Back up iOS files and restore them in just a click.
Freely add, edit or delete files saved on iOS devices from a computer.
Here's how to upload files from iPhone to Mac:
01Install the software on your Mac computer and link the device using a lightning cable. The software will detect your phone automatically, and a pop-up message will show on the screen on your computer.
02Hit the "Trust" option and press "Continue" to proceed. When the device gets detected, you'll see all files arranged in folders in the main interface.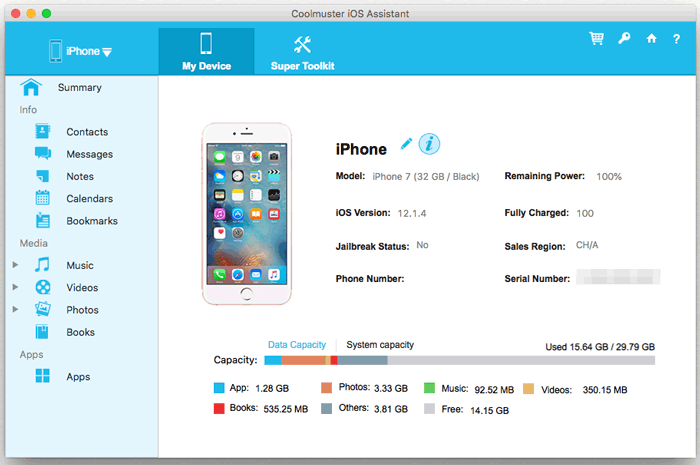 03Choose the files you want to transfer from the left panel. If you want to transfer video files, click on the "Videos" folder on the left and preview the items. Select those to transfer, click on the "Export" tab, and choose the output format.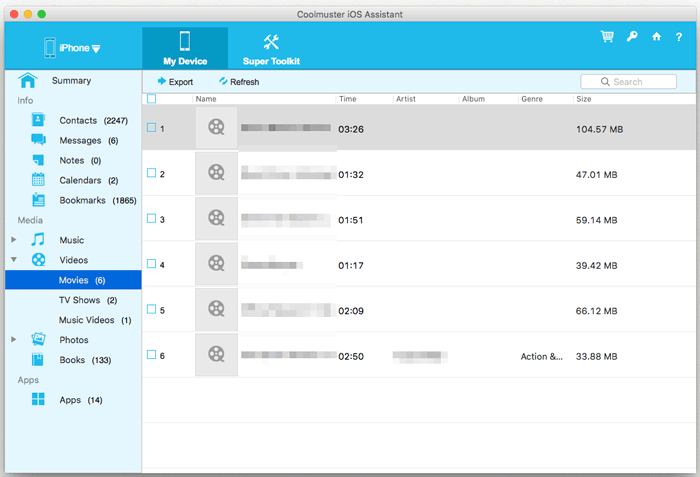 Can't Miss:
5 Ways to Sync Notes from iPhone to Mac in 2023
How to Transfer Photos from iPhone to Mac (9 Proven Ways)
Way 2. How to Transfer Files from iPhone to Mac Using Cable
Perhaps you can try transferring your data over a USB cable? This is the most common way of transferring data between computers and phones or tablets. If you have a USB cord, then you can easily move files from an iPhone to a Mac computer. Here's how to move files from iPhone to Mac:
Step 1. Connect the iPhone to the Mac using a USB cable. Make sure there's a connection established between the devices. Your iPhone should be detected on the Mac.
Step 2. Hit on the upper left section of the screen on the Mac to open the Finder window. Scroll down to see your iPhone device below the Device/Locations section. Tap on it.
Step 3. You now have to choose the files to transfer from the iPhone over to your Mac. Just head to the specific folder containing the files and drag & drop them onto your computer.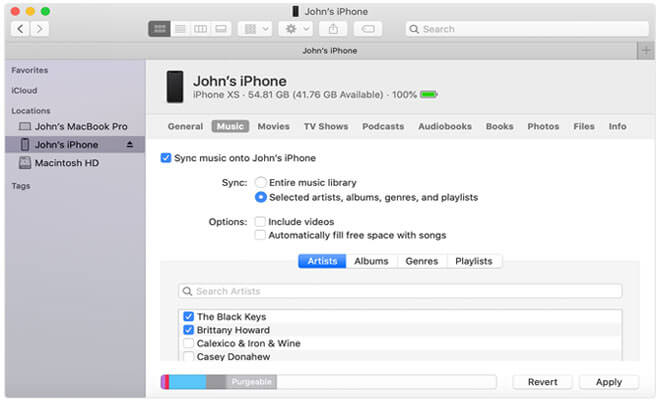 Way 3. How to Transfer Files to Mac from iPhone via AirDrop
We don't have a USB cable with us all the time. In such a case, how to transfer data from iPhone to Mac wirelessly? You still have AirDrop as a great option to move your files wirelessly. This is one advantage of Apple's ecosystem; it provides a way to wirelessly share files between its gadgets, small perks that are a great helper to Apple users. To airdrop files from iPhone to a Mac, here are the steps:
Step 1. Start by turning on your Wi-Fi connection and Bluetooth on your Mac. To use AirDrop, you need to connect both devices to the internet and ensure Bluetooth is switched on.
To turn on AirDrop on Mac, head to Finder, then tap on the "AirDrop". This will prompt you to switch on Bluetooth on Mac if it's not. Normally, your computer should have Bluetooth activated and connected to a Wi-Fi network. If the Bluetooth isn't turned on, you should enable it by hitting on a Bluetooth icon at the top.
Step 2. Next, ensure your iPhone is connected to a network. You just have to swipe up from your home screen and get to the control center, where you'll find the Wi-Fi and Bluetooth icons. Click on these icons to switch the Bluetooth and Wi-Fi on. After doing that, press on the "AirDrop" icon, then set it to be discoverable by Everyone.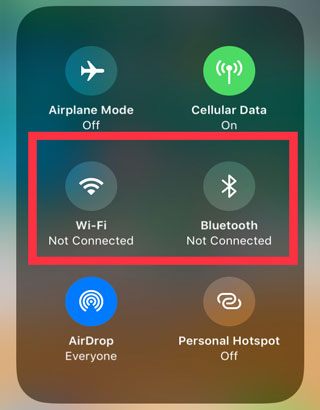 Step 3. After connecting the devices successfully, you should head to the data you want to share and hit on "Share". On iPhone, click on the "Share" tab at the top to make your Mac appear among the options. Just press on the name of your Mac computer, and all the files selected will be transferred.
Read More:
How to Sync Contacts from iPhone to Mac with Ease in 2023? (5 Smart Ways)
How to AirDrop from iPhone to PC Windows 11/10/8/7 in Six Practical Ways?
Way 4. How to Move files from iPhone to Mac through iCloud
Another easier way to share files between Apple devices is using iCloud. You can save them to iCloud or sync them directly. To sync your files to iCloud, you just need to use the Apple ID and sign into your account on various devices. You will then be able to access those data.
iCloud is a wonderful substitute for iTunes since iTunes doesn't allow you to migrate all data types. Here's how to transfer large files from iPhone to Mac:
Step 1. Turn on the syncing option in your iPhone Settings. Head to Settings and click on the "your name" option at the top. Scroll down to get to iCloud and hit on its option. From there, switch on the "iCloud Drive" option.
On the Mac, head to "Apple menu", to "System Preferences", then locate iCloud. From there, you should choose the "iCloud Drive" option.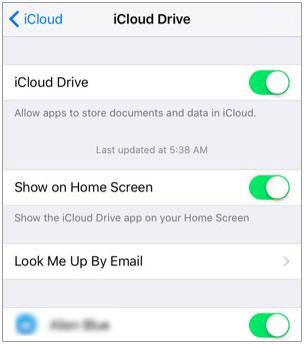 Step 2. You will access the same files you had synced to iCloud from your iPhone. These files will be available on your Mac computer after you turn on the iCloud Drive. To download the files, click the "Download Now" tab to save the files to Mac.
May Like:
How to Transfer Photos from Mac to iPhone? [6 Easy Ways]
How to Import Contacts from iPhone to Mac? (Best 4 Ways)
Way 5. How to Copy Files from iPhone to Mac with Dropbox
Apart from iCloud, many other cloud services can help when you want to save your files to the cloud. They include Google Drive, Dropbox, OneDrive, and many more. The best part is that they provide free storage space to help store your files. For instance, Dropbox provides free storage of 2 GB for the basic account. Therefore, it can be a great way to move files from iPhone to Mac. Here are the steps:
Step 1. Download the Dropbox app on iPhone and Mac and sign into the same account.
Step 2. Open the app on your iPhone and copy those files to move to a Mac computer.
Step 3. Download the files on your Mac computer after you've uploaded them to your Dropbox account.
See Also:
Best 4 Ways to Transfer Messages from iPhone to Mac. You Don't Want to Miss It!
[Solved] How to Transfer Photos from iPhone to Mac without iPhoto?
Way 6. How to Transfer files to Mac from iPhone Using iTunes
Alternatively, you can use iTunes to move files from iPhone to Mac. But you can only use this solution if your Mac computer is macOS Mojave (10.14) and below. This is because the iTunes app isn't available on the latest macOS versions. Besides, the whole file-sharing procedure must be conducted directly from Finder.
Step 1. Link the iPhone device to Mac using a lightning cable. Trust the device connected when prompted.
Step 2. Open your iTunes on a Mac computer and click your device's icon at the top.
Step 3. Select the "File Sharing" option and choose the files to transfer from the list.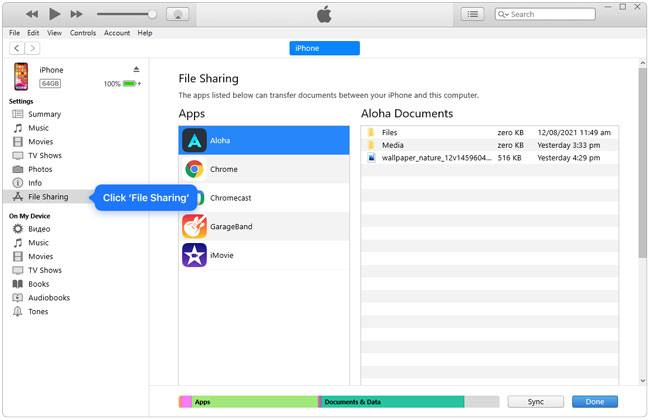 Step 4. Initiate the transfer process from iPhone to Mac.
In Summary
Among these solutions, at least one or two have piqued your interest and can help you fulfill your needs to move the files between your iPhone and Mac. Note that if you use the syncing option to transfer the files from iPhone to Mac, all the synced files will replace all existing ones on the target device.
In addition, if you use a cloud storage service, any file you delete on one device will be deleted across all other connected devices. So, we recommend using Coolmuster iOS Assistant to have all your files transferred to the Mac hassle-free. No data will be overwritten.
Related Articles:
Top 7 Methods to Transfer Files from iPhone to PC with Ease
How to Put Music on iPod without iTunes? (4 Effective Ways)
How to Back Up iPhone without Passcode [Simple Guide]
How to Transfer Music from iPhone to Mac? (Top 4 Ways)
How to Sync Contacts from Mac to iPhone with 4 Simple Ways (Must Read)