Taking photos using a smartphone is a convenient way of capturing great moments. What will happen if you are on vacation and have taken many beautiful photos using your smartphone until its SD card is full? You will have to back up your phone's photos into your computer to continue using your smartphone to capture more photos. The question will now be how to import Photos from SD card to Mac for backup purposes. However, transferring photos from your SD card to your Mac is as easy as described in this tutorial.
Part 1. Why Transfer Pictures from SD Card to Mac
An SD card is a small storage medium plugged into mobile phones to boost their storage capacities. SD cards are of various sizes and can store files such as videos, music, photos, documents, and more. SD cards get filled quickly because they have limited storage space. As a result, backing up and freeing up some of the SD card memory space is unavoidable.
Regardless of the need to move your photos from a phone to your Mac, knowing how to download pictures on a Mac from SD card is essential.
Also Read:
How to Put Music on iPod without iTunes? (4 Effective Ways)
How to Read iBooks on PC Easily? (A Complete Guide)
Part 2. How to Import Photos from SD Card to Mac
How to upload files from SD card on to MacBook Air? Transferring photos from an SD card to a Mac computer is as easy as pie. There are various ways of moving the images from the SD card to the Mac computer. Some of the simple methods include: Photos app, SD Card Reader and Google Photos. Let's explore how to import photos from SD card to Mac together.
Method 1. How to Transfer Photos from SD Card to Mac Using SD Card Reader
How do I transfer files from SD card to Mac quickly? Many people like to use SD cards to store data due to their small size and ability to hold data of various types. An SD card can be plugged into your smartphone directly, but it cannot be plugged into your Mac computer directly. However, you can still connect your SD card to your Mac computer using an SD Card Reader. How to import photos from SD card to Mac using an SD card reader, follow the below steps:
Step 1. Plug in your target SD card into the SD card reader and then insert your SD card reader into the Mac computer.
Step 2. Launch the Photos application on your Mac computer. Locate the import icon, and click on your SD card's name under the import icon.
Step 3. If you can't see your SD card there, locate it in the left-upper corner of the computer screen.
Step 4. Hit the File menu, click the Import menu item, and a finder window appears. Locate your SD card using the finder window and select the image files that you would like to transfer to your Mac computer.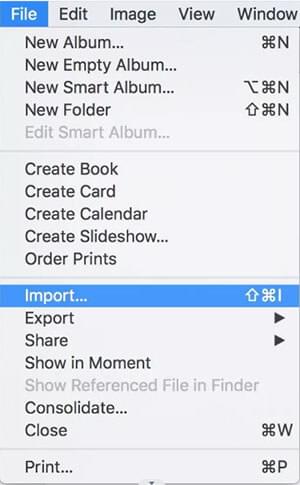 Step 5. You can now import all the available photos from the SD card by clicking on the Import All New Photos or import the selected images by clicking on the Import Selected option.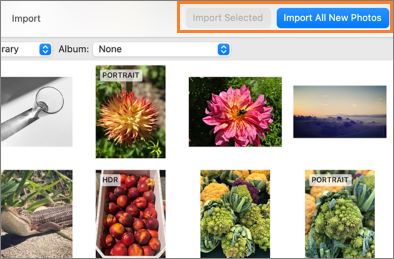 You have now transferred your photos from your SD card to the Mac computer using an SD card reader. As such, you can free up some memory space on your SD card to allow it to hold other photos.
Learn More:
How to Transfer MP4 to iPhone in a Simple and Quick Way? (5 Methods)
How to AirDrop from iPhone to PC Windows 11/10/8/7 in Six Practical Ways?
Method 2. How to Download Pictures on Mac from SD Card Using Google Photos
How to download pictures on Mac from SD card? To wirelessly import pictures to a computer from an SD card, you can use Google Photos. It syncs your videos and images effortlessly, enabling the files to be available on both devices. How to import photos from SD card to Mac using Google Photos, follow the steps below:
Step 1. Download the mobile version of Google Photos on your phone with an SD card inserted into your phone.
Step 2. Sign in to Google Photos and set it up. Then click on Menu, tap Settings, Back up & sync, and then tap on the Choose folder to back up option. Proceed to upload photos from your SD card.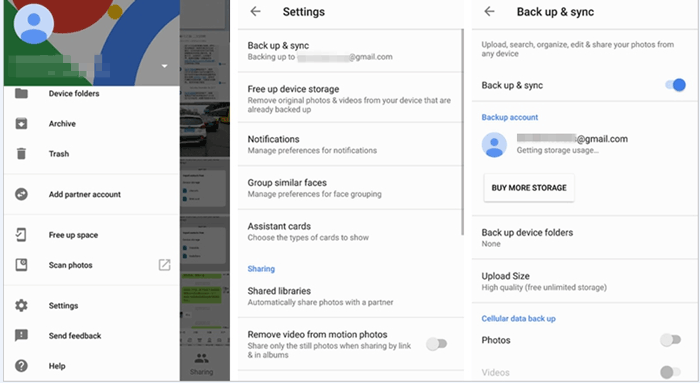 Step 3. Now go to Google Photos webpage on your computer and log into the account you created in Step 2. The uploaded pictures will appear on the screen. Check them and save them on your computer.
You May Like:
How to Transfer Music from iPhone to Computer Effectively? (4 Tips)
[3 Ways] How to Transfer iBooks from iPhone to PC
Part 3. How to Import Photos from iPhone to Mac Using A Professional Software
The most convenient way of moving your iPhone's images to a Mac computer is through the assistance of a professional tool. One of the most reliable iOS data transfer applications is Coolmuster iOS Assistant. It supports data transfer between iOS devices and Mac computers and enhances the iOS data management experience.
Coolmuster iOS Assistant helps iOS device users manage their backups and transfer data types such as contacts, calendars, notes, messages, bookmarks, videos, music, books, apps, photos, etc. Additionally, it is a must-have application for those people who want to keep their iOS device's data organized.
With the assistance of Coolmuster iOS Assistant, you can transfer all your iOS device's photos to the Mac computer or selectively move your photos of interest. The choice lies in the user's preferences and needs. However, you should not worry if your device is compatible with this professional data transfer application because it supports almost all iOS devices.
Key Features:
Allow you to preview and select photos of your choice.
Support selective export of photos and other files from your iPad/iPhone/ iPod to iTunes or a computer as a backup.
Back up and Restore iPhone in a single click, such as notes, contacts, text messages, photos, calendars, bookmarks, music, apps, videos, etc.
Support almost all generations of iPod/iPhone/iPad, including iPhone 12/13/14, Pro Max/12 Pro/12/12, etc.
Below are the simple steps on how to import photos from iPhone to Mac using Coolmuster iOS Assistant:
01Launch Coolmuster iOS Assistant on your computer after downloading and installing it. Link the iOS device to the Mac computer, and the tool will detect it automatically. Ensure that you unlock your iPhone and tap on Trust.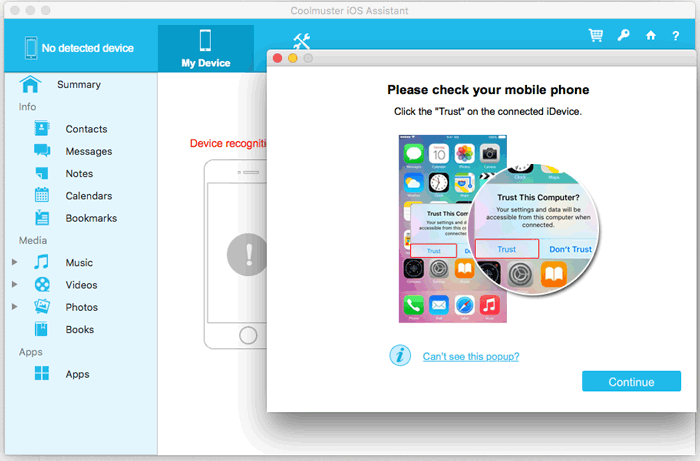 02After successfully connecting your iPhone, the main interface of Coolmuster iOS Assistant will be displayed.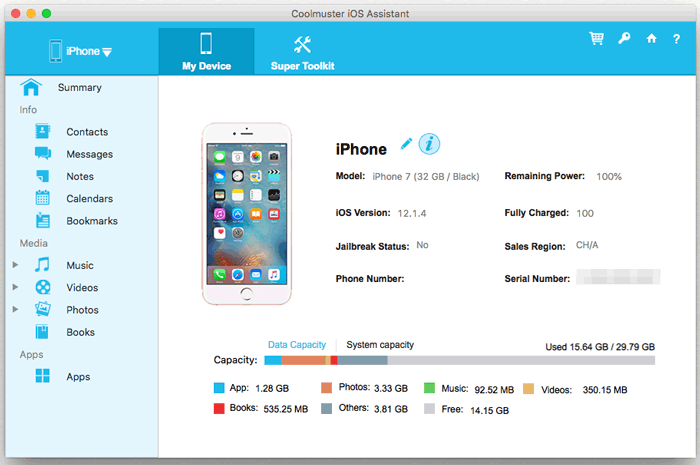 03Clicking on the Photos folder in the left corner of the interface. Tick your desired items from the right panel. On the top, Click Export to transfer the photos to Mac.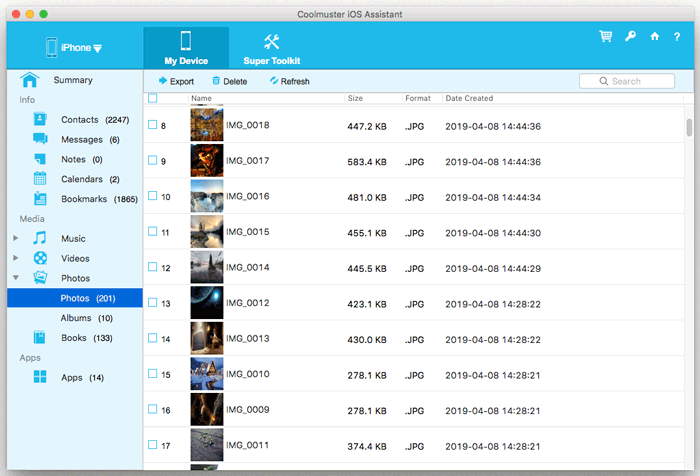 After that, you will have successfully copied your photos of interest to Mac, and you can safely free up your phone's spaces by deleting the backed-up data. Additionally, you can use your Mac's photo editing applications to edit and enrich the photos before sharing them with friends.
Conclusion
You now understand how to import photos from SD card to Mac to continue using it to take more photos while keeping the old images secure using the above mentioned methods. However, you can make the data transfer process easy and fun by using Coolmuster iOS Assistant. Coolmuster iOS Assistant has gained popularity globally due to its powerful features and user-friendly interface that makes iOS data transfer and management fun.
Related Articles:
[Fixed] How to Transfer Photo Albums from iPhone 14 to PC with Ease?
How to Transfer Music from iPhone to Mac? (Top 4 Ways)
How to Transfer Music from iPad to Computer? Top 3 Ways You Can't Miss
[Solved] How to Print Text Messages from iPhone/Android for Court?
Full Guide on How to Access iPhone Files on PC without iTunes