If you own an iPhone, you probably have hundreds of files you've collected on it, and with time, they'll become too many to manage. Even if you have a desktop and laptop, it's not just the sheer amount of files that can cause storage issues. If you are a person who's into digital photography and have taken many pictures on your iPhone, which you also use to watch movies or listen to music, all your files will become too many to handle. So, we have created a list of the Best iOS File Manager to help you manage your iPhone files better and smartly. Now let's dive in.
Part 1. What Makes a Good iOS File Manager?
If you're serious about managing your files and not just wanting a simple app, ensure you go for an app that can do the job right. A few features should be present in any good iPhone file manager app.
Importing features: The app should be able to import files and other documents and have many import options; the more, the better.
Managing features: A good file manager app should enable you to control and organize data the way you want. For instance, creating folders, archiving folders, and tags the color code files, etc.
Exporting features: A file manager tool you can't use freely is useless. A good app will allow you to export data and view and edit them.
You may like:
11 Best iPhone Transfer Software in 2023
Best iTunes Alternative for iPhone to Manage Data Handily and Safely
Part 2. List of the 9 Best File Manager for iPhone
While browsing the internet, you've come across many file management tools; however, not all are of the same quality. If you need a file manager that works like a charm and allows you to access your files like a pro, then here is our list of the best file managers for iOS.
Top1. Coolmuster iOS Assistant- The Best iOS File Manager
If you require a good file manager, then Coolmuster iOS Assistant is the best choice you've got. It allows you to transfer your files to a computer and manage them effectively. iOS Assistant is a great tool that helps you manage your iPhone files without breaking a sweat. You'll be able to organize your files regardless of the file type.
iOS Assistant offers practical features that help you work with your files. You can view, edit and manage iPhone files freely from a computer. Another thing, this program is compatible with almost every iOS device. Simple enough, right? It is, especially if you want a tool that can do more regarding file management. Its interface is simple with a clean design and can be used intuitively by anyone.
Key Features of Coolmuster iOS Assistant:
* Allows you to export files from iPhone to a computer or iTunes.
* Supports various data files like messages, videos, music, contacts, notes, books, and many more.
* Enables you to import data, iTunes backup and more from the computer to the iOS device.
* Automatically scans files in your phone and displays them on the main interface.
* Manage, add, edit and delete iOS data files on a computer.
* Exports files after preview and selection.
* Supports all iOS models and supports the latest iOS 16.
* Compatible with Windows 11/10/8/7/Vista/XP and Mac OS X 10.9 and later.
How to Manage Your iPhone Files Using Coolmuster iOS Assistant
01 Install the Coolmuster iOS Assistant on the computer
Install the program on the computer after downloading it. Launch to get to the primary interface.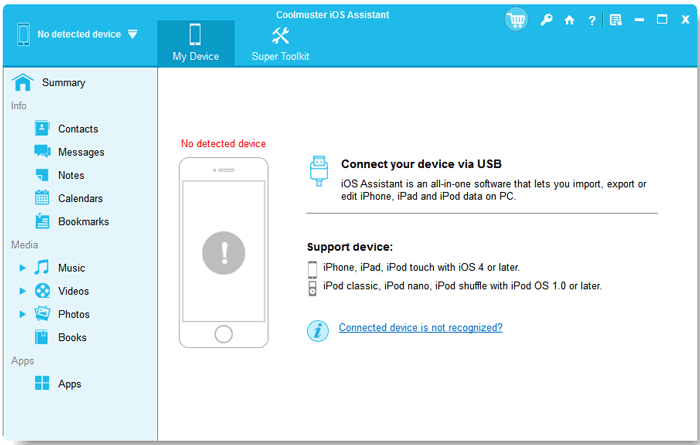 02 Make the iPhone Recognized
Connect your device using a lightning cable. After recognizing the device, click the "Trust" option when prompted to trust the computer and tap "Continue" to proceed.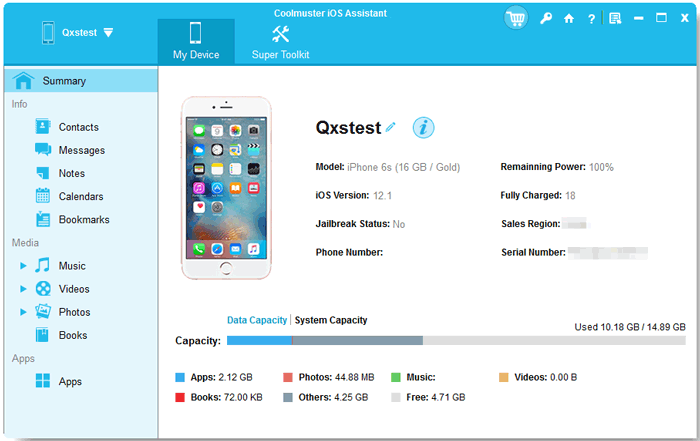 03 Manage iPhone data
Head to the files you wish to manage, then you can preview them to find more details, modify them by clicking "Edit", transfer them to computer by choosing "Export", import data from computer to iPhone by clicking "Import", remove useless data by choosing "Delete", etc.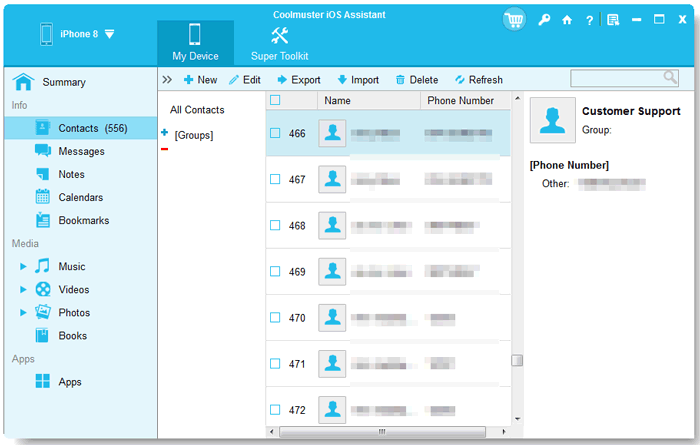 Pros:
* Simple, clean interface for easier navigation
* It can handle many data types
* 100% secure software
* Widely compatible with all iOS devices
* Operates on Mac and Windows computers
* No data loss during data transfer
* Easier to use
* Supports the latest iOS 16 version
Cons:
* The free version is limited.
Pricing:
* $25.95
See more:
Get the Best iPhone Contacts Manager from Top 14 iOS Contact Management Apps
iPhone Music Manager: Transfer, Add and Organize Your iPhone Music
Top 2. Microsoft OneDrive
OneDrive is a Microsoft product available for free on all Windows and Mac computers. If you require a file manager that can be used to manage your mobile device files, then OneDrive is the best option. It's an easy-to-use tool that offers a lot of features like editing and viewing your files simultaneously. OneDrive offers plenty of features to enhance the productivity of its users.
It provides free 5GB cloud storage to back up your iPhone. Still, you can upgrade to a 1TB subscription at $69.99 annually and back up your files the way you want. As the name implies, OneDrive is the best option for managing your files in one place. The app can help you store, share, and access files anywhere on any device. Your files will be safe and secure in the cloud.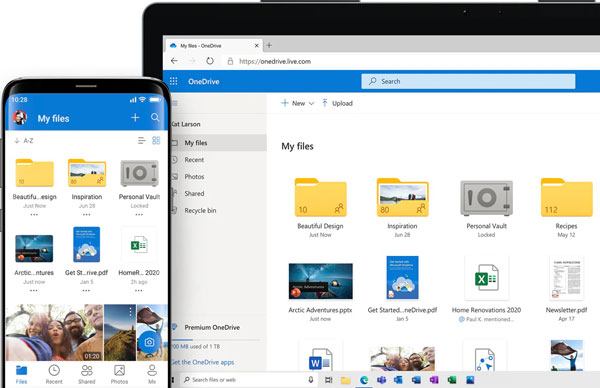 Key Features:
* The app allows you to save photos and videos from your phone to OneDrive
* You can upgrade 5GB free storage to 50GB at $9.99 and 1TB at $69.99.
* The free version and Standalone don't come with an office.
Pros:
* You can access your data anywhere and at any time.
* Stronger security
* Easier data management
* Offers free 5GB storage to keep your files
Cons:
* Inadvertent sharing of useful information
Price
* It's free with in-app purchases starting at $9.99
Top 3. My FileManager
It's a file manager tool that is fully packed with search engines, a download manager, a web browser and passcode lock, and much more to enable you to manage iOS data in Night mode. It enables you to organize files on your device seamlessly, with it being straightforward, clear, and simple. My FileManager gives you all the options needed for data backup and management.
These tools support many file formats like .doc, .ppt, .html, and many more. You can use this tool to control your iOS device files the way you want. You can move, zip, or unzip and copy files.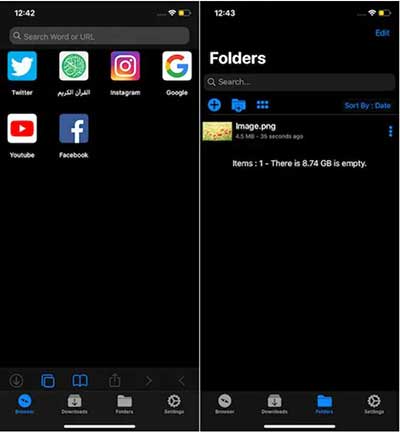 Key Features:
* Night mode feature
* Features a four-digit password lock
* Supports Face ID and Touch ID.
* Supports file formats like .doc, .ppt etc
* Move, copy, edit and delete data files
* Supports iOS 14 and Widgets
* Bug fixes
Pros:
* Offers security for your files with a four-digit passcode.
* You can either use Face ID or Touch ID to protect your files.
* You can copy, move, edit or delete files.
* Supports iOS 14
Cons:
* It's not free
Price:
* It costs $9.99
Top 4. File Manager & Browser
This software offers many versatile features as compared to its rivals. Once you download it on your iDevice, you will start saving and editing your documents offline. Besides, you can view any media content, organize it, and share it with anyone. Additionally, File Manager & Browser play video and audio content from the app. It also supports multitasking with the background mode. This means you can use it while doing other tasks seamlessly.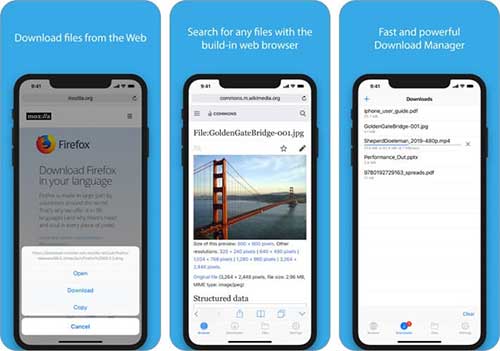 Key Features:
* Integrated PDF Reader
* Compatible with Dropbox
* Organize and share files
* Offline data editing
Pros:
* Simple and easier to organize your files
* Doesn't cost you anything
* Easily organize your files
Cons:
* Many ads
Price:
* It's free
Top 5. Total Files
Are you having a hard time managing your iPhone files? If yes, then Total Files might be a great choice for you. Total Files allows you to organize your data securely with its features. The user-friendly interface enables you to see your files in one place. Additionally, it allows you to manage your media and documents with ease. You can even edit, transfer and delete media files with this tool.
Total Files is highly known due to how it supports cloud services, such as Google Drive, Dropbox, OneDrive, iCloud, etc. As a result, you can access your files from anywhere. In addition, it has Spotlight indexing, where you can access any file without necessarily opening the app. This means you can get access to data quickly.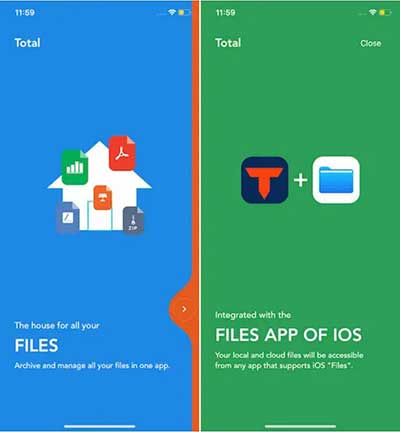 Key Features:
* PDF editor
* Cloud Services Supported Google Drive, Dropbox, OneDrive, etc
* You can use a PIN to secure your important files
* Offers on-the-go file managing app for iOS users
Pros:
* Offers a stunning user interface that is simple and easy to use by any user.
* PDF reader allows you to edit files in PDF format
* Allows you to add security to your files.
* It comes free, but you can upgrade to a full version at $4.99
Cons:
* The free version comes with many unwanted ads.
Price:
* It's free with a full version upgrade of $4.99
Top 6. FileMaster
FileMaster is the best multipurpose tool that acts as a file manager, audio & video player, document viewer, etc. It can do all the tasks that a document viewer can do, but it also allows editing. This means you can edit a document, finish it off on any device, and save it. Do you want to store your files? Open FileMaster and create folders for later use to store pictures, music, and documents.
As for security, rest assured that your files are very secure from all prying eyes, as you can create a master password for local access and another for remote access. Even when someone tries to crack the passcode, they can't succeed.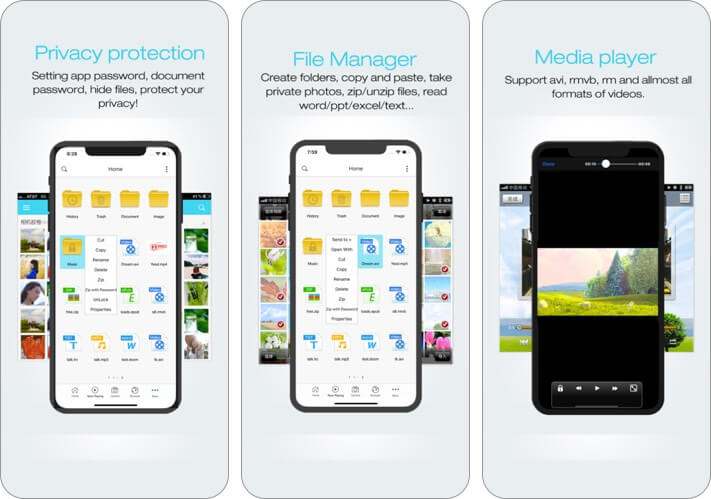 Key Features:
* File manager.
* Audio & video player.
* Document Viewer.
* Master passcode for local and remote access.
* It acts as a document viewer.
Pros:
* It's free with no ads.
* Provides top security as it allows you to set a password for remote and local access.
* Easier to use.
Cons:
* Most advanced features are in its paid version.
Price:
* It's free with an upgrade cost of $2.99 to get a full version.
Top 7. FE File Explorer
This powerful app can help you manage iPhone and iPad files without difficulty. The application helps you view, copy, rename, move and delete files from the iDevice. It's free to download an application that has a lot of features. Furthermore, the app can access USB drives as well as SD cards. Furthermore, it also displays information like the number of files, media formats, etc.
FE File Explorer has a robust file manager that allows you to perform almost all operations you'd usually do on your device's file manager. Additionally, its navigation menu is very intuitive, as it has clear and simple options. Moreover, opening the app takes a short time, and you can use all its features without interruption.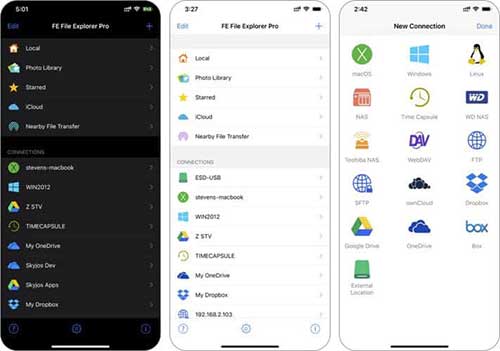 Key Features:
* Multiple selections enable you to manage files easily
* You can cut, copy or paste your files and also create, delete, search or rename them
* You can access USB drives and SD Cards.
Pros:
* It's free to download with no ads.
* Allows you to copy, rename and move files easily on your device.
* Can access external storage devices
* Intuitive Navigation
* A powerful search feature enables you to find any file with ease.
* Real-time Full-Text Search Support.
Cons:
* Sometimes the application crashes when you tap a tab.
Price:
* Free
Top 8. File Hub
When you need to share files between your iPhone, and a PC/Mac, File Hub comes in handy to meet your requirements. It shares files via WiFi transfer or Bluetooth transfer. Further, you can create folders to manipulate files or create new ones from the clipboard. Moreover, it helps include a media player and supports a passcode lock for privacy protection.
Unlike other file managers, File Hub comes in handy when you want to manage your iPhone files. Its simple user interface helps you to manage your files without any difficulties. File Hub shares data through WiFi or Bluetooth. This implies that wireless transfer, mostly with WiFi, is very fast. Besides, the app also supports a media player and passcode lock.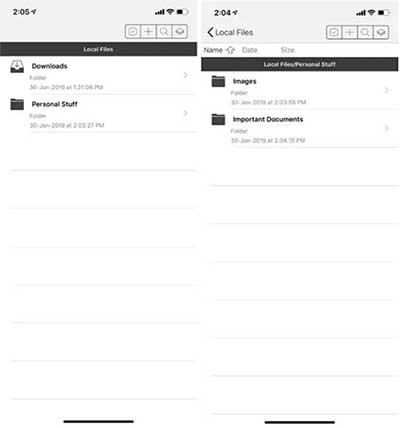 Key Features:
* Access to different types of files like text documents, images, and videos.
* It is easy to use and offers a simple layout to the user. It is highly easy to use.
Pros:
* Built-in photo viewer with enough options so you can view your photos with ease.
* Provides a simple interface for users so they can manage their files with ease.
* The navigation menu is simple and easy to use.
Cons:
* It's a paid app with in-app purchases.
* No cloud storage support as well.
* It feels very slow when moving files around in the app.
Price:
* Free
Top 9. Dropbox
Dropbox has been around since 2011, and it could be said that this application is one of the most successful cloud services. The app has become a favorite among people because how it helps them to share files, photos, videos, and documents without any problem. It also boasts seamless integration with other web apps as well as web services like Google docs, Evernote, etc.
As Dropbox does not have an app for Mac users, it works perfectly on both iOS and Android devices.
Dropbox offers a free cloud storage service. This means you can access all your files on your device and the same files are available to you when you access the Dropbox website. Furthermore, it allows you to share folders with other users and can be used as a collaboration tool.
Key Features:
It comes with a basic file management feature that allows you to manage your files easily. Additionally, it allows you to update documents quickly by right-clicking on them in order to access options like copy and paste. All these features make your documents accessible to you anytime and anywhere.
Cons:
* Only supports western languages.
* No visual search feature.
Price:
* Free, but they have a paid office variant starting at $9.99
Conclusion
All these iPhone file manager apps help you in managing files and perform tasks. They will allow you to create files, edit them, upload them anywhere for sharing with others as well as access them from anywhere you want. If you want to save a few seconds from your life, get a good file manager app like Coolmuster iOS Assistant and make your iPhone do all the hard work for you. You can now organize your files with ultimate ease, thanks to the best file manager for iPhone on the market today.
Related Articles:
iPhone "Save Image" Not Working, How to Fix?
Photos Didn't Transfer to New iPhone? Work It Out with Easy Solutions
How to Fix the iPhone Transferring Data Stuck Issue Effortlessly? 14 Quick Tricks Here
Contacts Didn't Transfer to New iPhone? 7 Flexible and Easy Fixes
3 Ways to Transfer Music from iPhone to Computer without iTunes