Best iPhone Data Erase Software 2019 You Can't Miss
If your iPhone gets lost, stolen or you want to sell it to a friend, you may need to erase your present info and ensure it is at its default factory settings. Another reason that may make you wipe your iPhone data is where it becomes sluggish due to limited storage space. With the never-ending growth of technology, it is now easier to erase data from your iDevice than it was before. After wiping data via these applications, it is typically hard to recover the deleted data.
Now, whatever the reason for erasing iPhone data it is, there is a necessity of using the best erase software to wipe the data. In this article, you will find the three best iPhone data erase software 2019.
Part 1. Top 3 Best iPhone Data Erase Software 2019
Part 2: How to Reset iPhone from Settings
Part 3: How to Remotely Erase iPhone via Find My iPhone
Part 1. Top 3 Best iPhone Data Erase Software 2019
Top 1. Coolmuster iOS Eraser
Coolmuster iOS Eraser is the best eraser app for iPhone users since its invention. It gives users the ability to erase data on their iGadgets with a single click. After completely wiping data via this tool, there is no possibility of ever retrieving that data. The main features of this program are:
* You can erase data such as private data, deleted files and system settings entirely with a single click with no possibility of retrieval.
* It can permanently erase contacts, videos, music, SMS, applications, reminders, app data, bookmarks, browsing history, calendars, notes, voice memos, and other settings.
* The application has three-tier erasing security level: high level, medium level, and low level.
* 100 % clean and secure.
* It is widely compatible with all types of iDevices and iOS operating systems, including the latest iPhone XS Max, iPhone XR, iPhone XS, iPhone X, iPhone 8 and more.
The steps to follow when erasing iPhone data or resetting iPhone via Coolmuster iOS Eraser are:
Step 1: Ensure the software recognizes your iPhone
> Download and install the program on your PC/Mac;
> Start up the software on your PC and install the latest iTunes on your computer;
> Make sure the software identifies your iDevice by connecting your iPhone via USB cable. Failed to connect your device?
Step 2: Erasing Data
Before you start the process of erasing data, it is recommended to back up your crucial data because the process is irreversible. Besides, you should avoid disconnecting your iDevice before the entire process completes.
> Click the "Erase" button on the main page;
> A prompt page will pop up if the software identifies that iTunes is running on your PC. Click "Close iTunes" on the prompt window to continue using the software.
> Make sure that the "Find My iPhone" feature is disabled.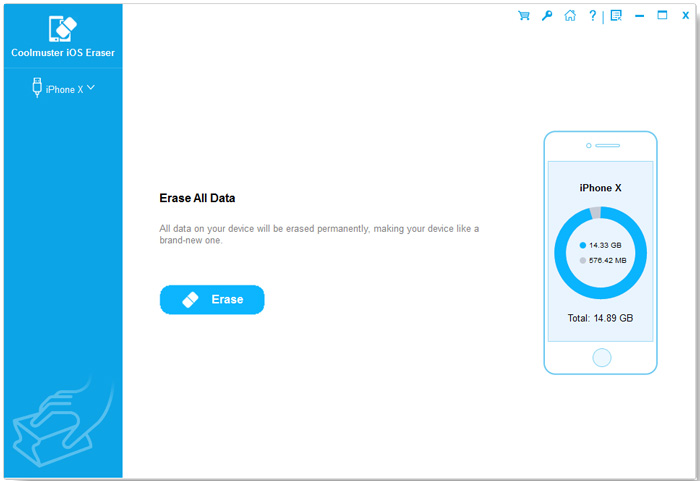 Step 3: Select your security level for deleting and confirm your selection
> Select your security level for deleting by hitting the menu next to the security level.
> Choose the security level that suits you.
> In the blank box, type "delete", and then click the "Erase" button.
> Click OK if a confirmation prompt pops up.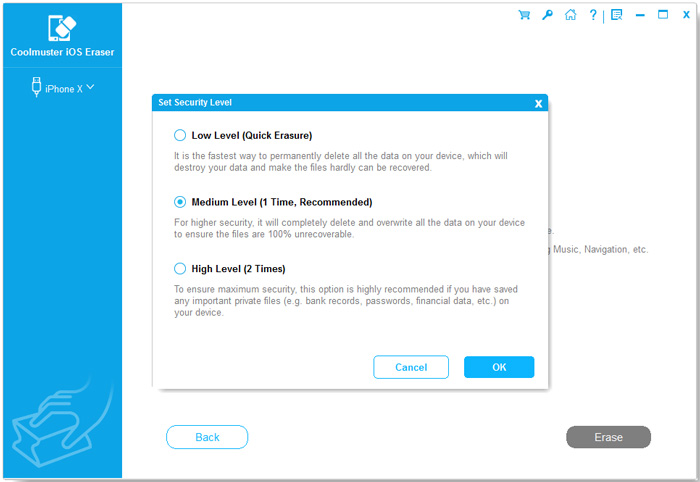 Step 4: Begin the erasing procedure
> The program will start to wipe out your data instantly after a quick scan.
> Your iPhone will then restart automatically after the erasing process is complete.
> Unlock your iDevice if it was locked as prompted after the restart, and then hit the "try again" button to reconnect your iPhone. Failed to restart your iPhone? >>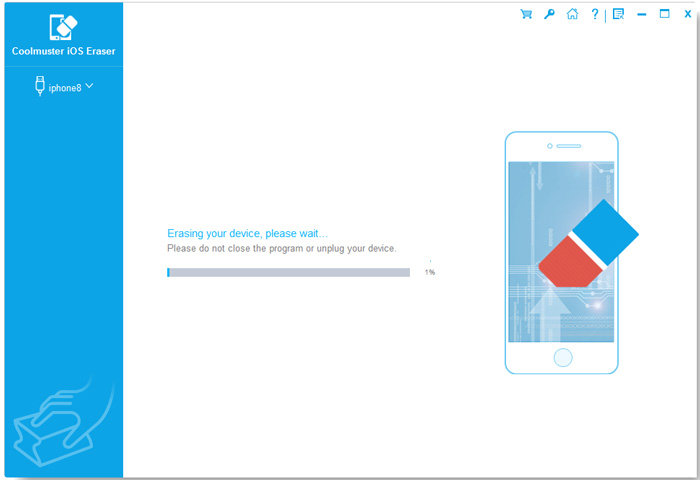 If you selected low-level, skip to the following step. On the other hand, if medium or high level was selected, the software will overwrite your phone data instantly. After this, the iDevice is wholly wiped with no possibility of recovering data.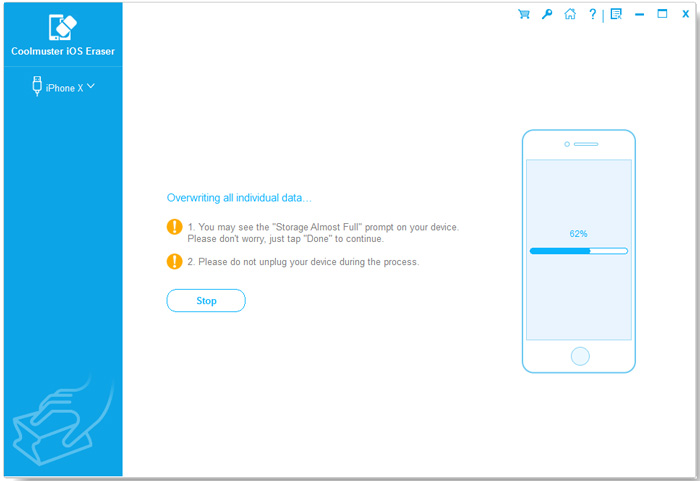 Top 2. Private Data Eraser for iOS
This tool is also among the best data eraser capable of deleting unwanted files on your iPhone. The application can erase all types of data in different formats and is proven to perform this task incredibly fast. Also, the program guarantees that deleted files have zero possibility of retrieval and this ascertains that your privacy is protected in the process.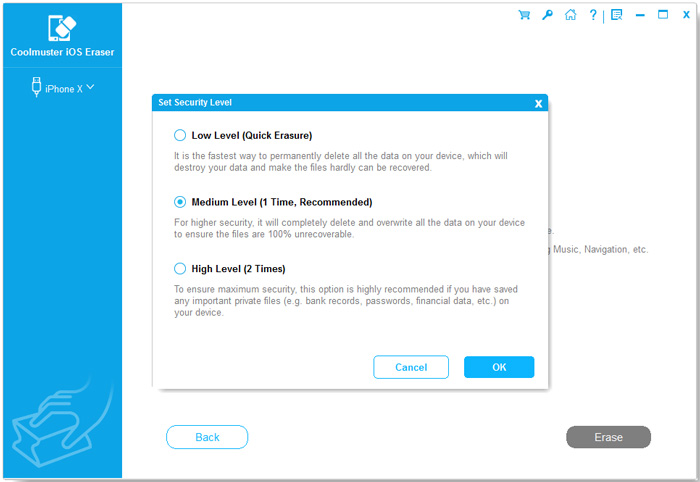 Read Also: 3 Solutions to Clean Up iPhone History or iPhone Memory
Top 3. Coolmuster iOS Cleaner
In some scenarios, you may be required to erase junk files and clear private & sensitive data on your iDevice. In such cases, you can use Coolmuster iOS Cleaner to delete junk files such as app cookies, app caches, app crash logs, app temp files, photo caches, downloaded temp files, and several other items from your iDevice. The key features of this program are:
* You can quickly and easily erase junk files from your iPhone.
* It can show you all private and junk data on your iDevice for you to assess which you want to erase before starting the process.
* It supports all existing generations of iPhones.
* It is 100% clean and secure. The tool will not damage your iPhone.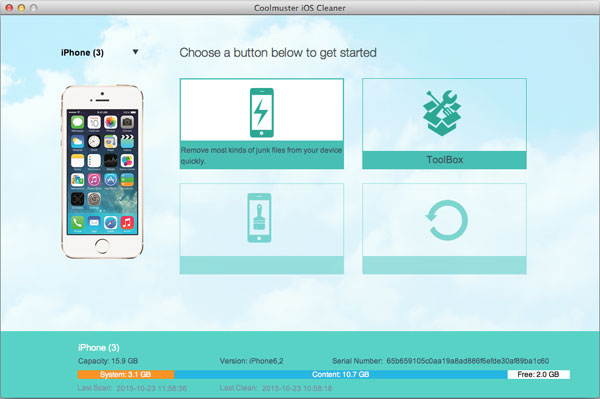 You May Like: How to Delete Undeletable Files on iPhone/iPad/iPod?
Part 2: How to Reset iPhone from Settings
Before you start to reset your iPhone, please understand what happen if you reset iPhone/iPad at first. And also, please do remember to backup your iPhone data in case of further need.
1. To reset your iDevice, go to settings, then general, reset, and then choose "Erase all content and settings".
2. You will input your security code if you have one. Afterward, select "Erase iPhone" option.
3. Enter your Apple credentials to confirm the action.

4. The iPhone is reset to default factory settings, and you can set it up again. You can choose "Set Up as New iPhone", "Restore from iCloud Backup" or "Restore from iTunes Backup".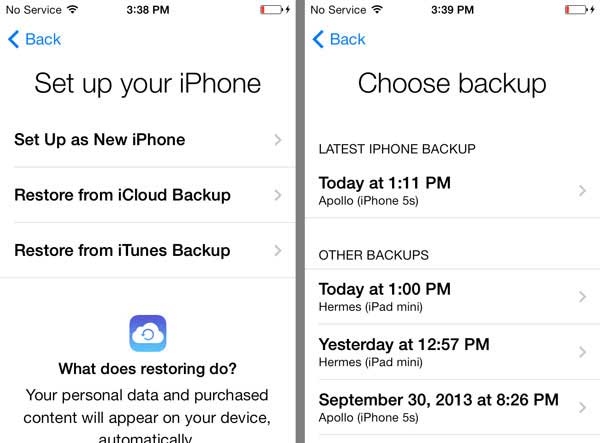 Can't Miss: 2 Methods for Resetting iPhone without iTunes
Part 3: How to Remotely Erase iPhone via Find My iPhone
If your iDevice is lost or stolen, you can erase it via Find My iPhone through iCloud.com. However, this is only possible if you had set up Find My iPhone on your iPhone before it got lost or stolen. To erase your iDevice remotely via Find My iPhone app, follow the following steps.
1. Log in to iCloud account.
2. Choose your desired iDevice after clicking all devices.
3. On the iDevice's info window, hit "Erase Device" button.
4. You may be required to enter your Apple credentials again to confirm the action.
5. If not using a trusted browser, answer the prompt questions accordingly.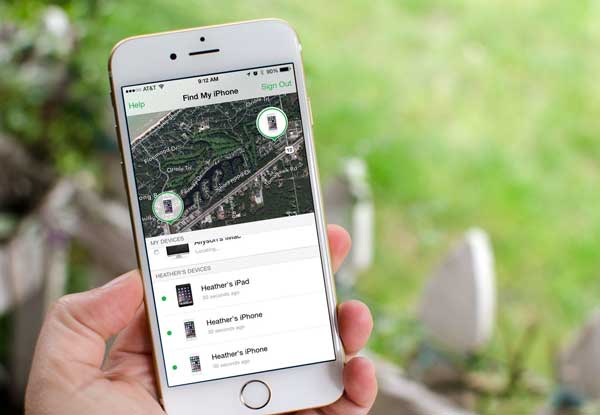 Get more info on how to erase iPhone remotely if it's lost or stolen >>
Final Thoughts
From the top 3 eraser apps denoted above, you can quickly note the difference between them regarding their functionality and features. All the apps allow you to delete data with no possibility of recovery. Coolmuster iOS eraser support all versions of the iOS operating system and all generations of iPhones. Therefore, if you are in need of a software app that erases iPhone data flawlessly, Coolmuster iOS Eraser software is the real deal.
Related Articles:
How to Permanently Erase Text Messages from iPhone
Can't Delete Photos on iPhone XS/XR/X/8/8 Plus/7? 2 Ways to Fix It
How to Remove Undeletable Files on iOS Devices
How Can I Delete Photos from iPhone But Not iCloud? [Solved]
How to Recover Lost iPhone Data with or without Backup?