Summary: This article is about to show you the best iPhone file manager and the other optional iOS file manager apps, helping you to better manage files on iPhone or iPad.
Handling hundreds of documents and files calls for effective mechanism and organized planning. Thus, it is essential to have fully equipped apps proficient enough only to bring a new dimension into the whole process. There are numerous iOS file manager applications precisely designed to allow you to organize the files in your phone per your needs.
From possessing defining functionalities to being multi-tasking, the apps are designated to offer you an ideal solution of managing files. However, not all are up to the task, and we will thus discuss the best file manager for iPhone in this article.
Part 1: The Best iPhone File Manager - Coolmuster iOS Assistant
Part 2: 5 Free iPhone File Manager Apps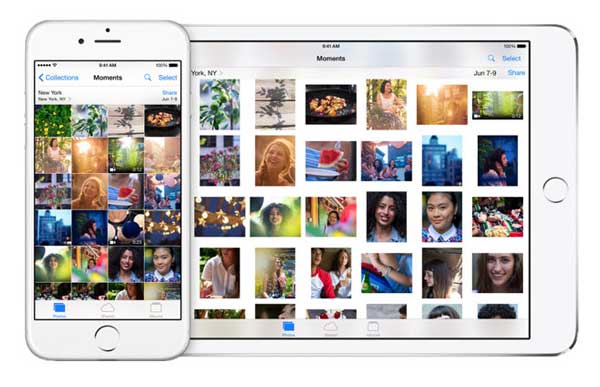 Part 1: The Best iPhone File Manager - Coolmuster iOS Assistant
When it comes to searching for the best iPhone file manager, iPhone file explorer or iPhone browse explorer, look no more because Coolmuster iOS Assistant is the best app to accomplish this task. Here are the main features of this app:
* It scans the files in your device automatically and displays them on the primary interface.
* The application allows you to export a backup of all files from iPad, iPhone or iPod to iTunes or PC.
* It supports various files such as messages, contacts, videos, music, photos, bookmarks, notes, calendars, applications, books, among others.
* It allows you to import calendars, contacts, books, iTunes backups, bookmarks, and much more from PC to iOS device.
* It incorporates straightforward 1-2-3 steps to export and import data on iOS devices.
* The app is hugely compatible with all generations of iDevices, including the latest iPhone XS Max, iPhone XS, iPhone XR, iPhone X, iPhone 8 Plus, iPhone 8, iPhone 7, iPhone 6s Plus and more.
Here is also a Mac version for your reference.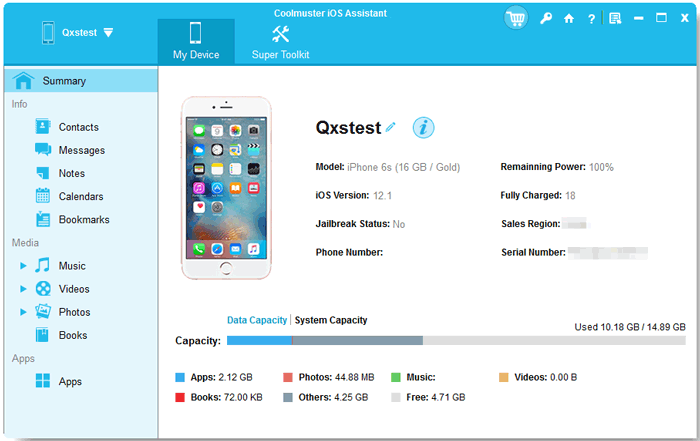 Notes: For successful connection, please install the latest iTunes version on your computer. If iDevice fails to connect, please check here.
1. Using Coolmuster iOS Assistant to Export Files from iDevice to PC
As a best iOS file manager, this application is capable of transferring anything as shown above from your iOS device to the PC. With this, follow the following steps if you want to move any files to the PC as a backup.
- Go to the files or folder that you want to transfer and then preview the more detailed file info.
- Select the documents that you want to move to the PC when previewing.
- Click the "Export" option and then select the correct file output format.
- Start the process.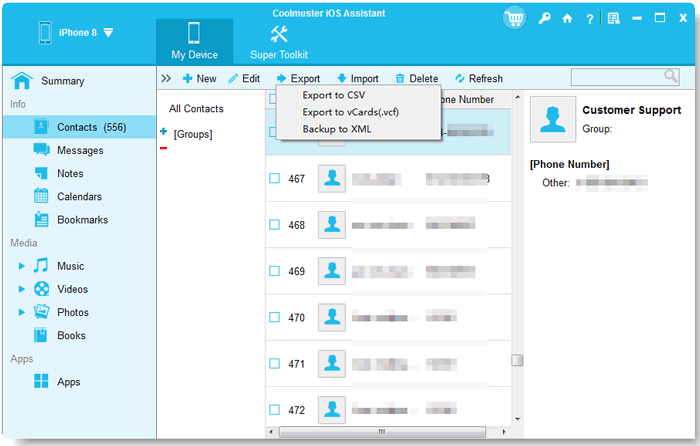 See more: Your iPhone contacts fail to sync with iCloud? Here is a helpful tutorial for your reference.
2. Using Coolmuster iOS Assistant to Import Files from PC to iDevice
In the present release, users only have the capability of importing calendars, contacts, and bookmarks to an iOS device to PC. However, much more files will be supported in the subsequent releases. Here are the steps to follow when importing files to iPod, iPad or iPhone using this iOS file manager.
- Go to the file tab of the documents that you want to import.
- Click the "Import" option and go to the files that you need to import to the iOS device.
- Click the "OK" button to start the process.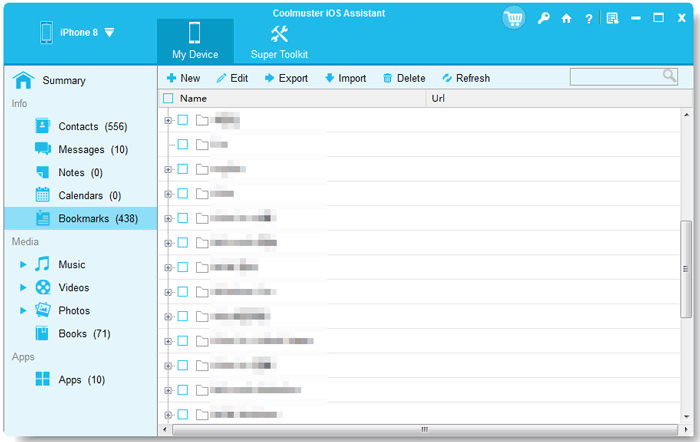 3. Uninstalling Applications from iDevices Using Coolmuster iOS Assistant.
- Launch the installed program and link your iDevice to the PC.
- Preview much more detailed file info by going to the applications tab.
- Check the applications that you want to uninstall from your iPhone.
- Tap the "Uninstall" option to continue the process. Click "OK" button to sanction your action.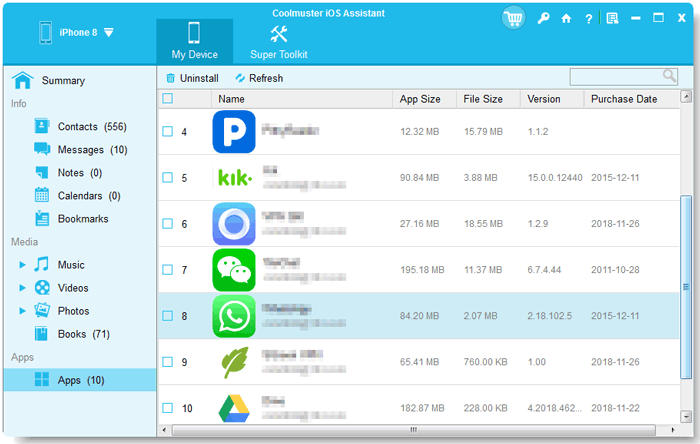 4. Backing Up iOS Data to PC or iTunes via Coolmuster iOS Assistant
- Connect your iDevice to the computer. After the program detects your iPhone, switch to the Super Toolkit section.
- On the main interface, click the "iTunes Backup & Restore" tab.
- Tap the "Backup" tab. From the drop-down menu, choose your iDevice for backup.
- Select the location to save the backup files. Normally, you can save the files on the default location or select another location by tapping the browse option.
- Tap the OK option to begin backing up iOS data.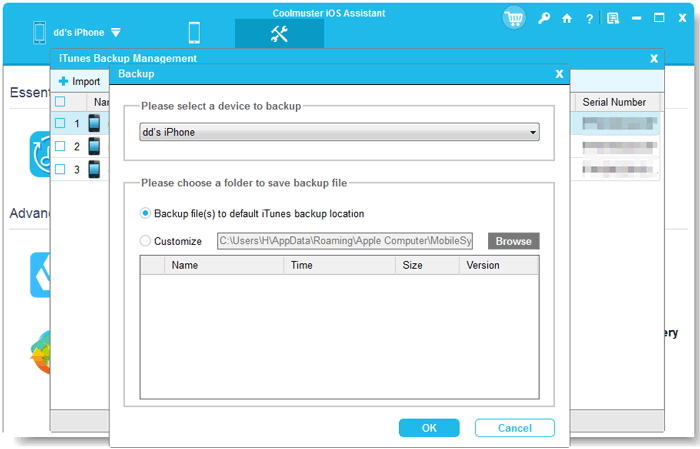 5. Restoring iTunes Backup File to iDevice via Coolmuster iOS Assistant
- Hit the Super Toolkit option, select "iTunes Backup & Restore" tab, and then click the "Restore" option for this software.
- Use the drop-down menu to select your device to restore iTunes backup.
- From the list, choose a backup file to restore into your iDevice and then hit OK option.
- After reading the notes from the pop-up windows, click the OK option to start restoring iTunes backup to iDevice.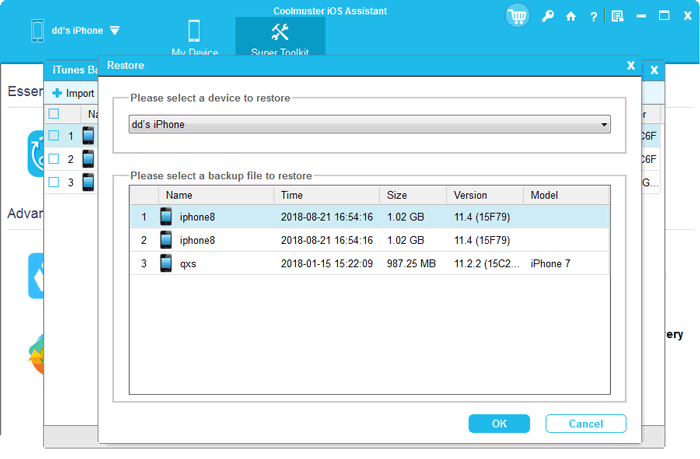 6. Importing iTunes Backup Files to iDevices through Coolmuster iOS Assistant
Coolmuster iOS Assistant is a valuable iPhone file manager app that can be used to import iTunes backup files to iOS devices by following the following steps:
- Hit "iTunes Backup & Restore" option under Super Toolkit.
- Hit the "Import" tab and select the backup files from your PC while browsing.
- Click the "OK" option to begin transferring the backup file to the iOS device.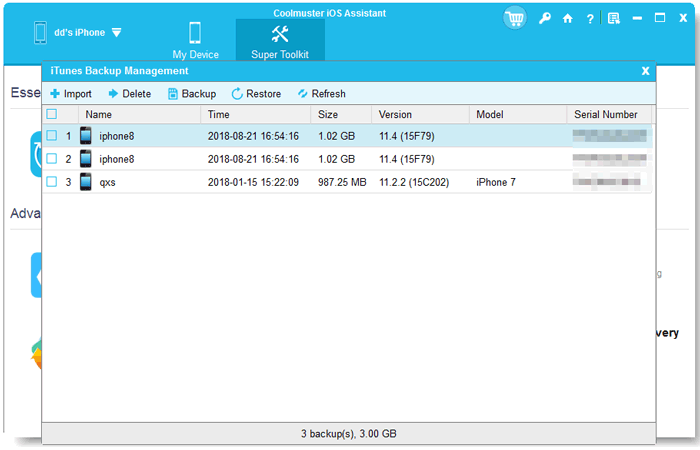 7. Deleting iTunes Backup Files for iDevice on PC
Aside from being used as an iOS file browser application, Coolmuster iOS Assistant can be used to delete iTunes backup files. Here are the steps to follow:
- Switch to Super Toolkit, and then click "iTunes Backup & Restore" tab on the program.
- The program will instantly identify and display the backup files on your PC.
- Click the "Delete" tab and then assess the unwanted backup files from the list.
- Hit "Delete" and then "OK" option to delete the backup files for iDevice instantly.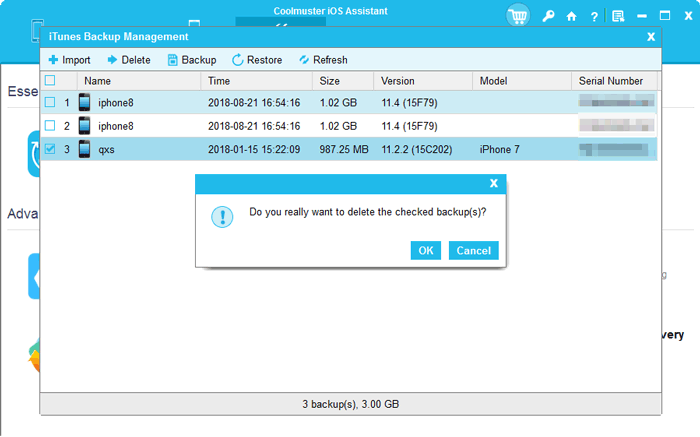 Video Tutorial:
Pros:
- It is 100% secure.
- You will get ninety days money back guarantee.
- Free technical service.
- A perfect customer service.
Cons:
- The free version lacks some features
You May Want to Know:
How to Recover Lost Data from iPhone
Is Your iPhone Storage Full? Free It Up without Delay [Solved]
Part 2: 5 Free iPhone File Manager Apps
Here, you will get the top five iOS file browser applications.
1. iTools
This is an all-in-one iPhone explorer program to manage your iPad, iPhone as well as iPod touch on your Mac and Windows PC. The application is powerful and allows you to explore and manage music, media, videos, ringtones, images and other types of files in your iOS device efficiently. The app also allows you to install, uninstall and backup applications. In addition, it enables users to access their iTunes backup files.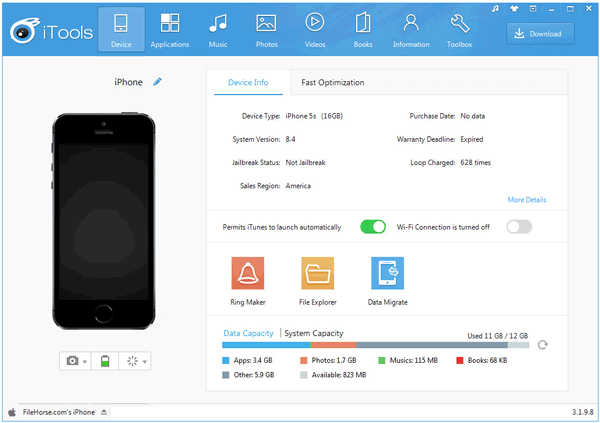 Pros:
- It is 100% free.
- It contains no plugins and ads.
- There is no installation involved.
- It has a simple yet intuitive user interface.
Cons:
- It fails to load videos and images from iPhone's camera roll during the testing phase.
2. iFunBox
This app is among the most commonly used application to manage the files in your iOS device in a simple manner just like Windows File Explorer. It allows you to manage files in your iPhone efficiently. With this program, one can easily and quickly move files to and from iPhones, batch install and uninstall applications, and also backup files.
Pros:
- You will acquire a file manager for iPhone without jailbreak by having this application.
- You can easily drag, drop, and transfer files with zero hang-ups.
Cons:
- It contains ads.
- It doesn't have the best user interface.
- It is challenging to upload an image to the iOS device as wallpaper.
3. Documents 6
With this application, you can quickly find all photos in a photo album, music files in iPod library, and other PDF files. Document 6 allows you to edit versions of your files. Besides, it gives users' connections to Google Drive, Dropbox, OneDrive and Box, and you can easily sync iPhone iPad files to these cloud services.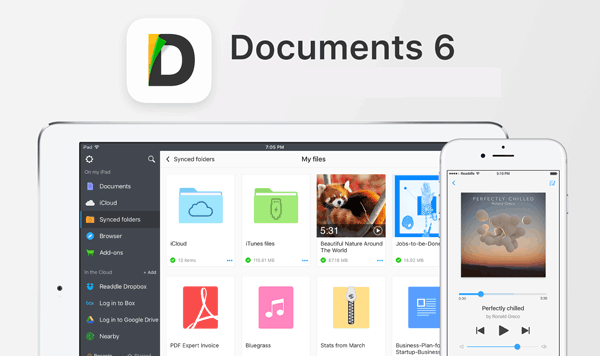 Pros:
- Aside from displaying files on iPhone and iPad, it also allows you to perform more activities on these files. For instance, you can share, upload or delete these files.
Cons:
- It does not support iCloud.
- There are no functionalities of syncing between iOS devices. It only has cloud syncing.
- It does not support all iOS data types. For instance, it does not support notes, messages, contacts, etc.
4. File Manager App
With this application, you can smartly organize your documents and files. Also, it allows you to easily locate and access the local files on your iPad or iPhone with the assistance of the inbuilt searching feature. In addition, the application helps users visit Dropbox for cloud items as well as a gallery for all images.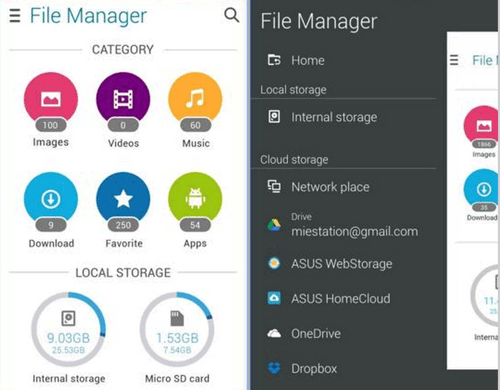 Pros:
- The searching feature allows you to go to local files smoothly.
- It supports items in Dropbox and photos in the image gallery.
Cons:
- Some features lack in the free version.
- It does not offer editing features.
5. FileApp
Just like Finder on Mac and Windows Explorer, this application allows you to store iDevice files and folders on your iPhone. From the files category, you can view, store, and manage all folders and files. Also, it allows you to share files with your PC through Wi-Fi or USB.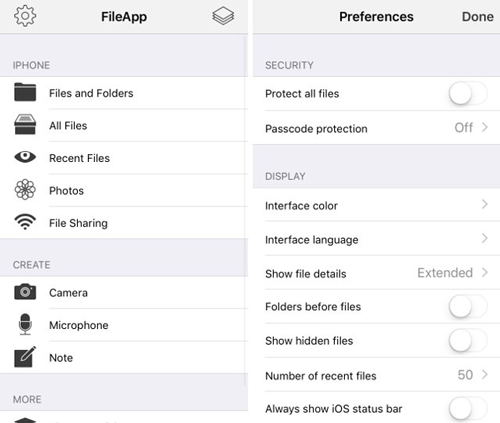 Pros:
- It has multiple editing options for your iOS device files.
- It enables you to access iOS device photos and videos.
Cons:
- It does not have direct options for images, such as renaming, deleting and transferring.
- File sharing is somehow complicated.
- It does not support all iOS data types.
Final Thoughts
It is evident that desktop apps are much more valuable in features than the iPhone file manager apps. Especially with Coolmuster iOS Assistant, you can perform anything you need with your all iOS data, syncing, importing, exporting, backing up, transferring and managing. With this, you should give it a try, and solve your issues when it comes to managing iOS device data. Besides, the other applications have not been rendered useless, and you can use them according to your requirements.
Related Articles:
How to Easily Restore New iPhone from iTunes Backup?
Top 5 Samsung Device Manager Apps You Should Know
How to Use iCloud Photo Library for iPhone, iPad, iPod and Mac?
How to Manage Photos on Photo Stream for iOS Device/Mac/PC?
Easy Way to Share iMovie Videos to iCloud