Are you looking for the best iPhone/iPad file manager? The built-in iOS file manager application has some limitations that leave its users unsatisfied. With the abundance of reliable third-party file managers, you don't have to worry. These powerful tools offer a broad range of features like supporting multiple file formats, folder creation, and more to simplify file management tasks. Read through this article to know the best file manager for iPhone & iPad.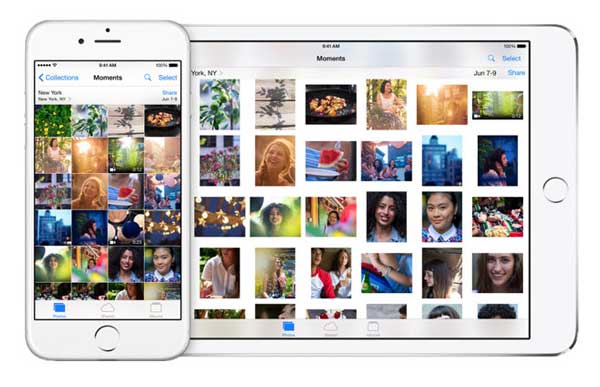 Part 1. Features of a Good iOS File Manager Application
A good file manager should be able to carry out the below functions in the right way:
Import & Export Files With Ease - A good iOS file manager application should enable users to import files from other sources easily; likewise, it should also allow you to share your files using the export feature.
Manage Files - Users should be able to edit their files, view them, add files to a folder, archive files, and perform more file management tasks using the file manager's features.
Also read:
Top 11 File Manager/Explorer/Browser for Android Phone & Tablet
iPhone Music Manager: Transfer, Add and Organize Your iPhone Music
Part 2. Best iPhone File Manager Applications
We have reviewed the best iOS file manager applications that meet the above mentioned features. Take a look:
1. Coolmuster iOS Assistant (Best File Manager For iPad/iPhone)
Don't let your important files get lost in the shuffle! With Coolmuster iOS Assistant, you can easily manage and share data between various devices, from iPhone to Windows or Mac. All it takes is just one click. Keep life simple and secure by taking control of your documents with this reliable file manager. This innovative tool eliminates the need to fuss over Wi-Fi or data usage.
Below are some of the cutting-edge features that make it different from other file managers:
Support iOS data management tasks such as deleting, editing, and adding data on your iOS device.
Enable its users to back up and restore iPad/iPod/iPhone data.
Allow its users to select, preview and transfer iOS files.
Intuitive user interface that makes iPad and iPhone data management tasks easy, even for novice computer users.
Easily transfer data between two different devices without any data loss.
Pros
It allows you to manage and share data easily.
It has an intuitive user interface for easy navigation.
It supports different file types.
It allows users to preview files before transferring them.
It's compatible with both Mac and Windows systems.
Cons
It does not support Android devices.
01Install and launch Coolmuster iOS Assistant on your computer. Use a lighting cord to connect your iPhone or iPad to the computer. Coolmuster iOS Assistant will detect a connection when you connect an iOS device to the computer. Tap the "Trust" button on your iDevice and hit the "Continue" button.
02You can now manage your iPhone's or iPad's data how you want. As you can see from the application's interface, you can add new data, export, import, delete, or even edit existing data.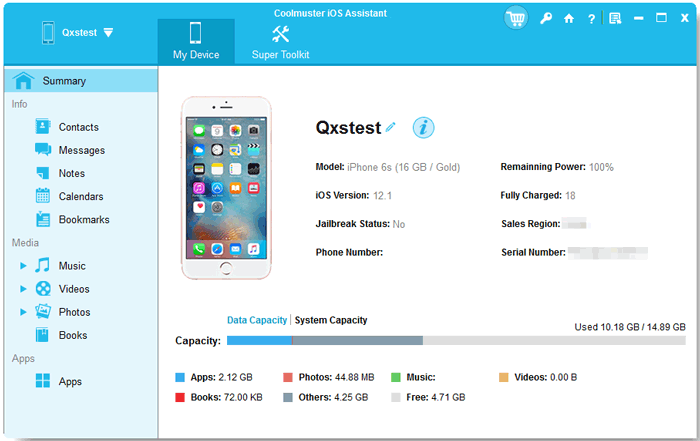 03To export your iOS Device data to a computer, click on your preferred data category, such as contacts, messages, notes, music, photos, and more, and tap on the "Export" button, choose a file output, and the exporting process will start. To import data to your iOS device from a computer, click on your preferred data type and click the "Import" button and select the files you want to import. Then hit the "Ok" button, and the importing process will begin instantly.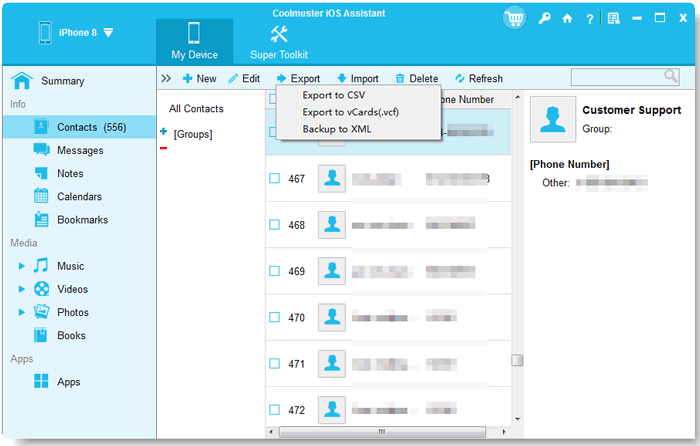 2. Documents - File Reader. Browser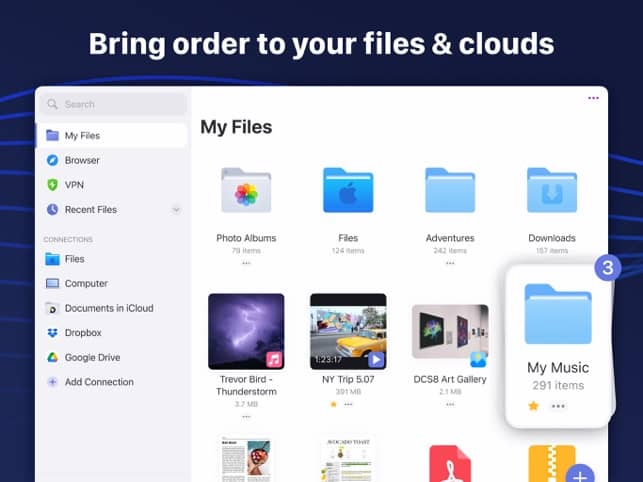 Get ready to take your file organization and management game up a notch with this amazing iOS app! The tool Documents - File Reader. Browser looks inside all the nooks & crannies of your iPhone or iPad for files, then archives them in an easily accessible way. This isn't just about convenience; you also get enhanced security features plus seamless data transfer from cloud storage services like WebDAV. Thanks to its powerful file recognition algorithm.
Key Features
Enable its users to transfer files via WebDAV and Clouds.
A reliable file organizer.
Guarantee data security due to its powerful data protection algorithm.
Support direct textual file editing.
Work with different file formats easily.
Pros
Users can access this tool from anywhere, anytime.
It has a built-in widget feature.
It helps in organizing files more effectively.
It provides a secure data transfer system.
Cons
The app consumes more battery power than most file management tools.
3. Microsoft OneDrive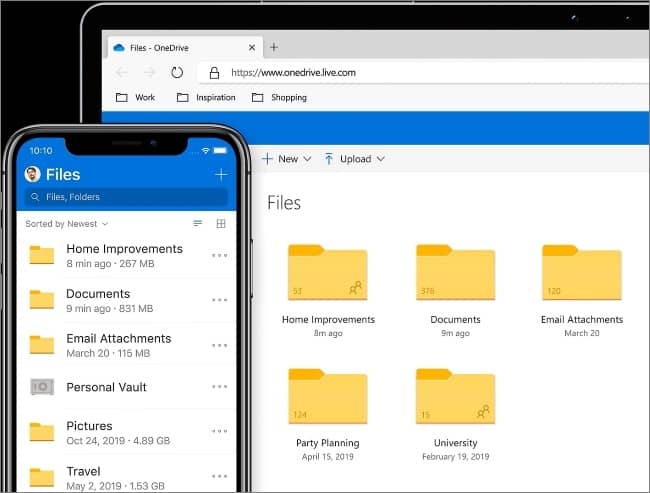 Microsoft OneDrive is the perfect app for users who want to effectively and securely manage their data. With Google Drive-level protection, you can trust that your information will be safe. It's a reliable backup system that keeps files in an easily retrievable manner!
Key Features
Include AI-powered search.
Provide end-to-end encryption.
Allow users to share files with others.
Pros
Users can easily share files with others.
OneDrive can be used across various platforms, such as Android, iOS, and Windows.
The AI-powered search helps to find photos and documents quickly.
It provides end-to-end encryption for added security and privacy.
Cons
The synchronization of files can be slow at times.
It only offers 5 GB for free storage (upgradeable up to 1TB).
In case you need:
Wondering How to Back Up iPhone to OneDrive? This One Tells
2 Ways to Restore Onedrive Backup to Android/Samsung
4. FE File Explorer: File Manager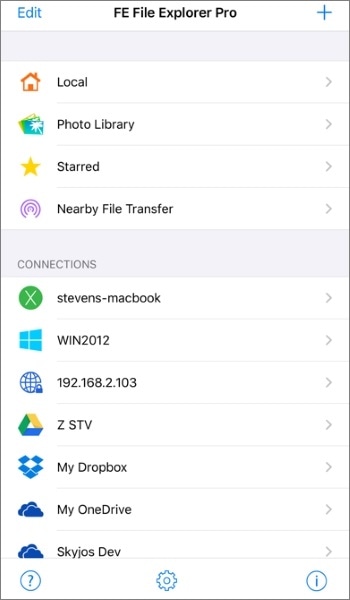 FE File Explorer is a powerful data management application that offers an impressive range of features like quick copy, save, and streaming options. It also easily detects files from FTP, WebDAV, and SFTP servers for faster data transfers! On top of this, users can enjoy the convenience of viewing documents in different file formats, such as audio or photos.
Key Features
Support different file formats and encoding.
Built-in media player for audio and video playback.
Access files from multiple FTP, SFTP, or WebDAV servers.
Have a customizable UI for better navigation.
Have an inbuilt text editor.
Pros
Users can access this tool from anywhere, anytime.
It comes with an inbuilt text editor for quick document editing.
It supports multiple server connections for faster file transfers.
Cons
The transfer speed of large files is slow.
5. Dropbox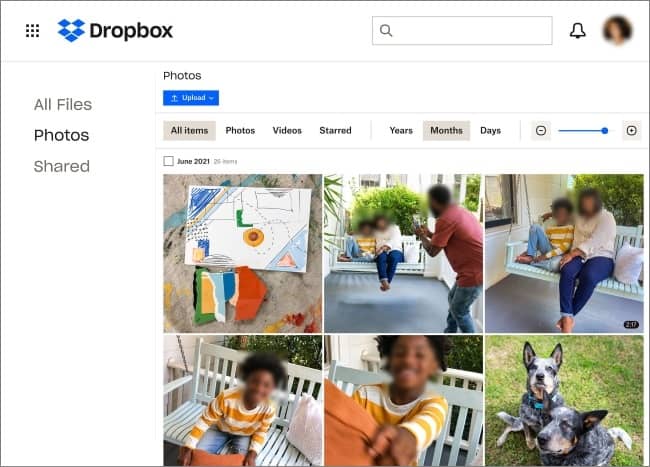 Streamline your file management work using the Dropbox application. You can access your documents and files from anywhere with an active internet connection. This iOS file manager application enables you to preview each file stored on the application and effortlessly open them using the supported third-party applications using its "Share" menu feature.
Key Features
Compatible with various platforms, such as Windows, MacOS and etc.
Easily preview files and documents stored on the application.
Support multiple cloud services (including Google Drive, OneDrive, etc.).
Securely share files with other users.
Pros
It offers a secure file-sharing system that supports multiple cloud services.
Cons
Paid subscription plans are expensive compared to other similar applications.
Read more:
How to Back Up iPhone to Google Drive? [Step-by-step]
Tips on How to Use Dropbox on Android Devices?
6. Documents by Readdle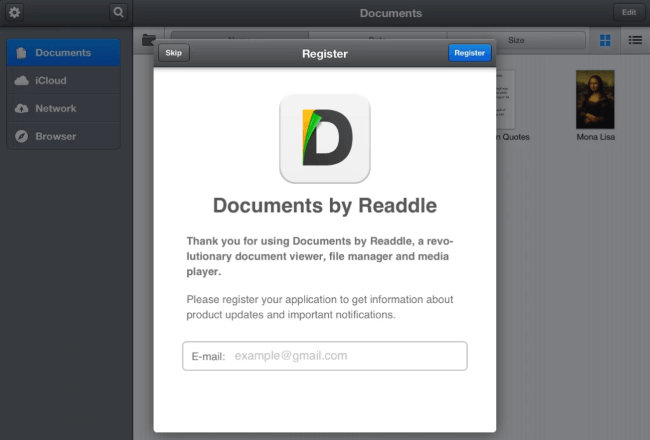 Documents by Readdle is a file manager for iOS that brings the power of productivity to your fingertips with its free iPhone and iPad data management features. This comprehensive file manager enables you to access almost all kinds of multimedia content, including eBooks, music, videos, and more. With Documents by Readdle, you can rest assured that all your valuable information is securely stored and available anytime, no matter where you are!
Key Features
Read, share, and export files in multiple formats.
Allow users to transfer files from one device to another easily.
Provide an easy way of creating PDFs from any document.
Support cloud storage such as Dropbox, Google Drive, and OneDrive.
Pros
The app is straightforward to use.
The desktop-like file management experience makes it easier for users to navigate files.
It allows users to access files from multiple cloud services for secure file sharing.
Cons
The premium version of Documents by Readdle is expensive compared to other similar apps.
7. Apple's File App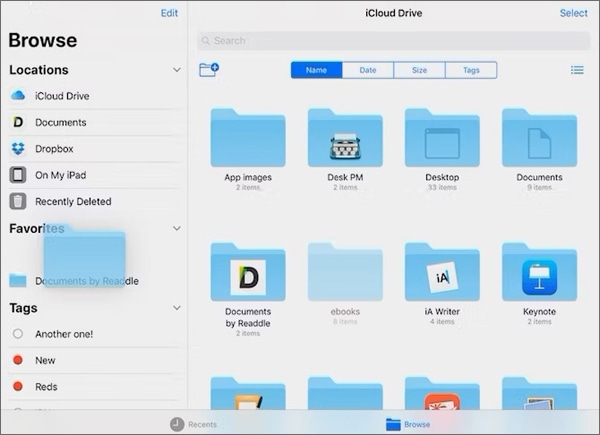 Apple's File Application since iOS 11 is an improved version of iCloud Drive that serves as a one-stop shop for organizing and managing your cloud storage. It is similar to Finder on Macs but with added features like secure sharing. While it may not have Wi-Fi transfer or web download capabilities found in other products like Dropbox, this file management application excels at its organization and powerful collaboration tools, making it indispensable when juggling multiple clouds.
Key Features
Organize and access files from multiple cloud services.
Create secure, shareable folders for users to collaborate on projects.
View documents in their native format.
Search quickly by name, type, or size of a file.
Pros
It has a user-friendly UI that is easy to use.
It offers powerful collaboration features with secure sharing capabilities.
It allows users to view documents in their native format.
Cons
It lacks Wi-Fi transfer and web download capabilities.
Searching for files should be improved with an advanced search filter.
More relevant articles:
How to Transfer Music from iPad to Computer? Top 3 Ways You Can't Miss
How to Transfer Data from iPhone to PC without iTunes [9 Methods]
8. File Master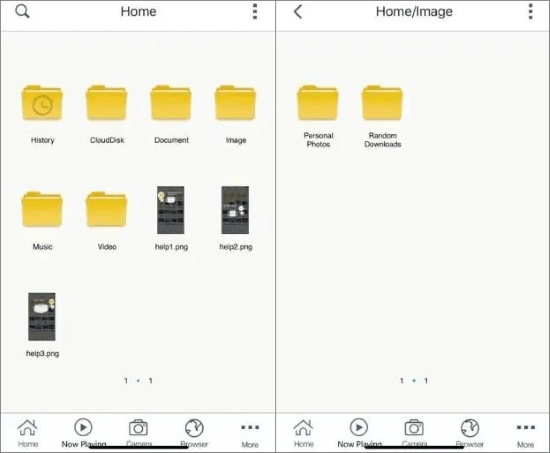 File Master is the perfect tool for organizing data on iPad and iPhones, thanks to its useful data management features. Its folder management functions and photo import capabilities are invaluable to iPhone and iPad users. However, there is a slight limitation when moving files in and out of your device. Although there are few options available, the tool is very useful in securely managing all on-device content.
Key Features
Enable simple folder creation and file organization.
Allow users to view media and document files without leaving the app.
Have a Touch ID security and a security PIN for added protection.
The option to hide files and folders from unauthorized viewing.
Create files directly from the camera or download content using the built-in browser.
Pros
The app is easy to use.
It offers secure file protection with Touch ID security and a security PIN.
Viewing media files without leaving the app makes it convenient for users.
Cons
Moving files to and from your device may take some time.
Conclusion
Managing files on your iPhone or iPad can be daunting, but you can use the above-discussed best iPhone file manager applications to simplify the process. However, using Coolmuster iOS Assistant to manage your iPhone or iPad files makes data management tasks easy and enjoyable.
Related Articles:
How to Transfer Music from iPod to iPod [Must Read]
[3 Ways] How to Transfer iBooks from iPhone to PC
[Fixed] How to Transfer Photo Albums from iPhone to PC with Ease?
How to Transfer Music from iPhone to Mac? (Top 4 Ways)
How to Copy Contacts from iPhone to SIM (4 Feasible Ways)
How Can I Transfer Files from PC to iPhone without iTunes? [5 Ways]