Getting a new phone is so exciting. Obviously, you'll start thinking about how to transfer data from your old phone to a new one. And the first data that comes to your mind will be contacts. The problem comes when you can't transfer your contacts to your new iPhone.
Most iPhone users face this problem. Even though it can be rectified, it's frustrating. Don't worry if you face such a predicament, as we've got you covered. Follow this guide to know why your contacts didn't transfer to the new iPhone and how fix the problem in easy ways. Let us get started.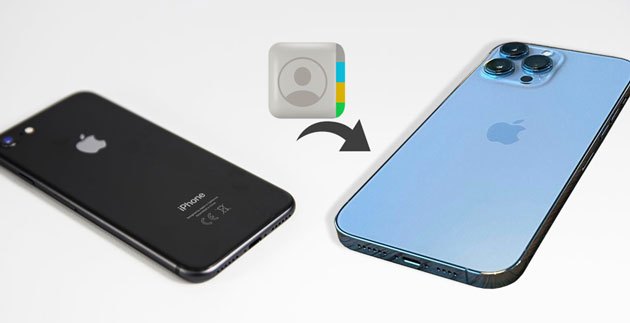 Part 1: Why Didn't My Contacts Transfer to My New iPhone?
Part 2: How to Fix If Contacts Didn't Sync to New iPhone
Part 1: Why Didn't My Contacts Transfer to My New iPhone?
"Why didn't my contacts transfer to my new iPhone? I can't wait to use my iPhone. Please help!"
Before going further, we need to know why the contacts failed to transfer to a new iPhone, which is helpful and vital to fix the issue. Here are some of the reasons:
1. You have different iCloud accounts.
If you synced your contacts from iCloud, make sure the new iPhone has the same iCloud account as the old iPhone. If not, then your contacts won't transfer to the new iPhone.
2. Contacts syncing is not enabled.
Your contacts may fail to transfer to the new iPhone if the contacts syncing option in your new iPhone is disabled. When the syncing option is turned off, the iPhone gadget won't get contacts from iCloud.
3. Network connection is poor.
The process of transferring contacts requires a stable network. So, if the network is not good, then the process won't be successful.
Further reading:
Your iPhone got stuck on the loading screen? Don't panic. You can fix it with 7 helpful tricks.
If you have resetted your iPhone, how can you recover your lost photos without backup? Click this full guide to get the recovery solutions.
Part 2: How to Fix If Contacts Didn't Sync to New iPhone
Fix 1. Your New and Old iPhone Must Have the Same iCloud Account
When you upgrade your iPhone, you must sign in to your iCloud using your old account. This is very critical because both devices should have the same iCloud account. Here is how to check your iCloud account:
Go to Settings on your iPhone.
You'll find your iCloud account and Apple ID. Ensure you use the same account on new and old iPhones.
Choose "Sign in" on the device and enter the Apple ID and passcode.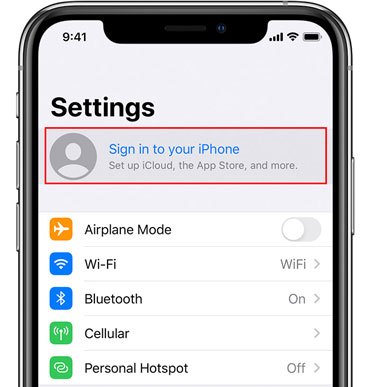 Fix 2. Reset the Network Settings
If your network connection isn't good, your contacts won't transfer to your new iPhone. Therefore, you must ensure the WiFi network is strong on your devices. Here is how to resent your network settings:
On your iPhone, access the Setting app, and go to General.
Tap on Reset > Reset Network Settings.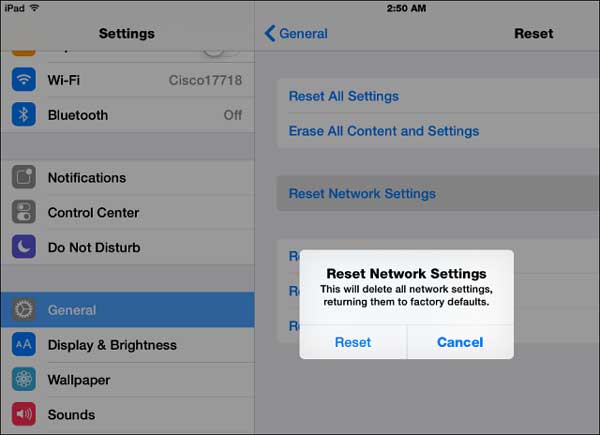 People also read:
You can now directly edit your iPhone contacts on a PC, and manage them with more features.
Maybe you want to remove the activation lock without password on your iPhone? If yes, this article can give you support.
Fix 3. Set iCloud Your Default Account
After transferring your contacts, but not all contacts were transferred to the new iPhone, then the issue may be your data is set to sync with other accounts such as Gmail instead of iCloud. If that's the case, your contacts will be transferred to Gmail instead of iCloud. You can follow the below steps to set iCloud as a default account:
Go to Apps and open the Contacts app, then click on Groups at the top left corner.
Uncheck everything except the All iCloud option.
Click Done.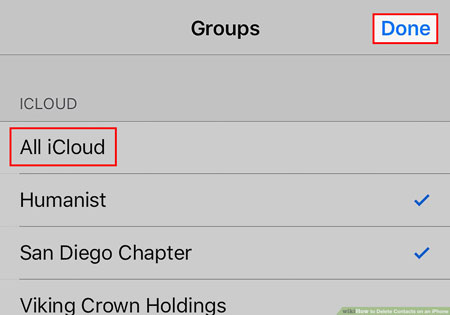 Check it if you need: How to Unlock iPhone Passcode without Computer (Fixed)
Fix 4. Ensure Contacts on iCloud Is Enabled
There is also a chance you did not turn on Contacts on iCloud. So, ensure that you have enabled Contacts on iCloud on your new iPhone. To do this:
Go to the Settings app and click your name.
Then click on iCloud and enable the Contacts option.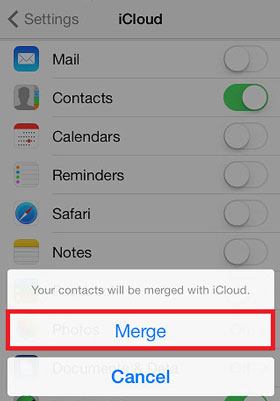 Also read: Are there some deleted data that you want to recover from your iPad? Please check this review about 11 iPad data recovery tools.
Fix 5. Check iCloud Storage
Once you set up iCloud, you get 5GB of storage. But this space can get full and prevent your contacts from transferring to the new iPhone. Follow the below steps to check your iCloud storage on iPhone:
On your iPhone, go to Settings, then tap your name and click on iCloud.
Tap Manage Storage > Back up, and then check iCloud storage.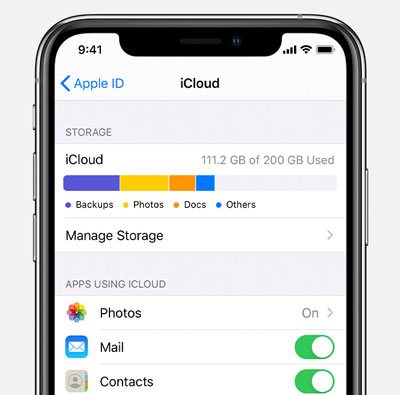 You might need: Accidentally deleted your important contacts on your iPhone? Luckily, you can recover the deleted contacts using these 4 powerful ways.
Fix 6. Use iTunes to Transfer Contacts
If the other ways above can't fix the issue, you may try using iTunes to transfer your contacts to the new iPhone. Before starting the process, make iTunes back up on your old iPhone and restore it to the new iPhone. Below is how to transfer contacts to your new iPhone:
Download then install iTunes on the computer. Next, connect the old iPhone to the computer and run iTunes.
Tap the iPhone icon and Summary option. Then choose This Computer, tap Back Up Now, and wait for the backup to complete.
Disconnect your old iPhone and connect the new iPhone to the computer. Then tap Restore Backup to select the backup that has Contacts, and tap Restore.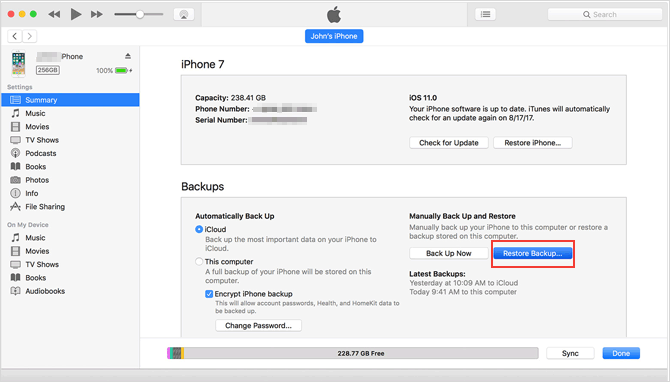 Click it if needed: Sometimes you might need to put an iPhone in DFU mode. This is a informative guide to make it easier.
Fix 7. Transfer Contacts to New iPhone with An Easier Way
If you want the easiest way to transfer contacts to a new iPhone, then Coolmuster Mobile Transfer is the software to do all that for you. This is an ideal program with huge capabilities. With this tool, you won't have the problem of "my contacts did not transfer to my new iPhone."
Besides, it can also transfer your notes, books, bookmarks, and calendars from one iOS device to another. It is also available to copy data from Android to Android, Android to iOS, and vice versa. Undoubtedly, it widely supports most iOS and Android devices. As long as your iOS device runs iOS 5.0 and upper, it can work seamlessly.
Download and install the transfer software.
Learn more: If needed, you can get a full guide to transfer contacts from an iPhone to an Android phone.
Step 1: Choose Mobile Transfer Tab
Launch Coolmuster Mobile Transfer, and choose the Mobile Transfer icon from the top menu.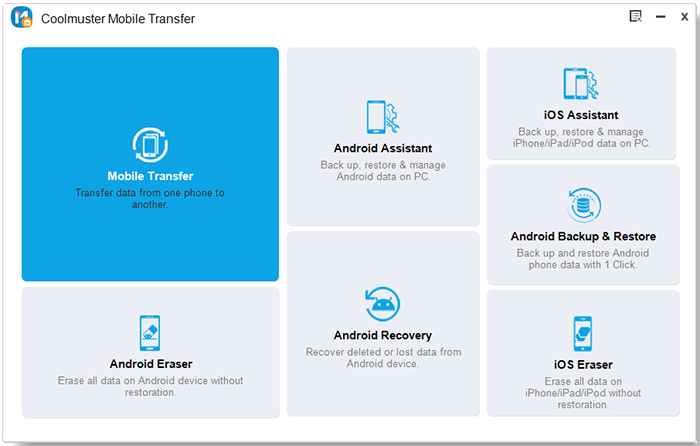 Step 2: Connect iPhones to Computer
Connect your old and new iPhones to your computer via Apple cables. Then click the Trust option on both mobile phones.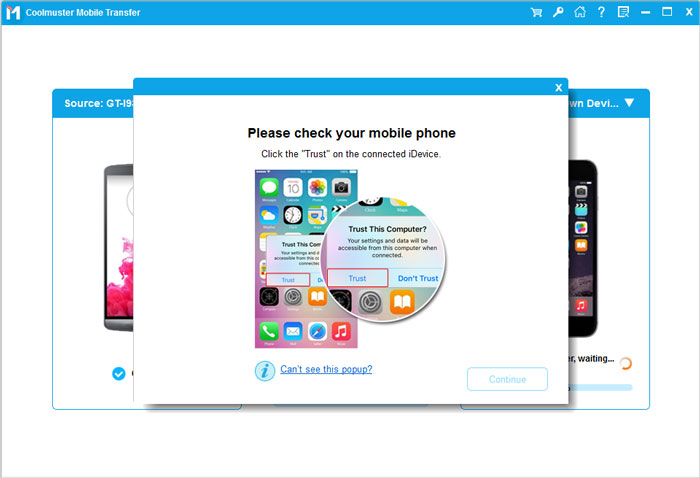 Step 3: Copy Contacts to the New iPhone
Confirm your new iPhone is in the Destination position, or click the Flip icon. Then tick the Contacts option, and click the Start Copy. It will automatically transfer the contacts from the Source device to your target iPhone.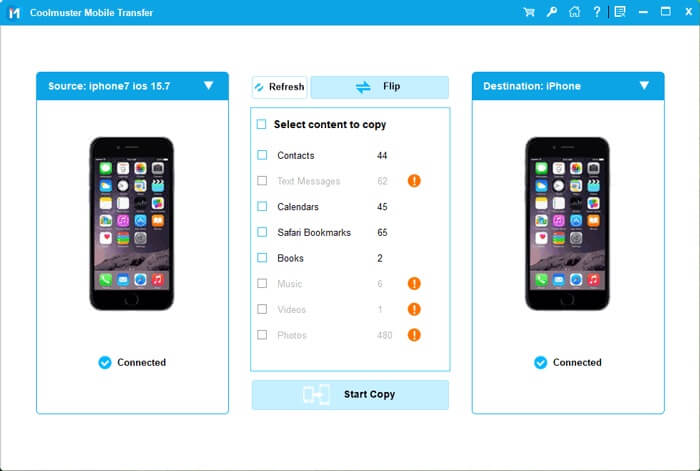 Wrapping Up
The above are essential ways to transfer contacts to the new iPhone. So, if you are facing the "contacts didn't sync to new iPhone" problem, the above are simple yet sure ways to fix the problem. Even though the fixes cannot solve this issue, you can use the contact transfer tool - Coolmuster Mobile Transfer to copy all your contacts to your new iOS device.
Related Articles:
14 Amazing Tricks to Fix iPhone Contacts Missing Names
How to Import Photos from iPhone to HP Laptop Deftly?
How to Do SMS Backup and Restore for iPhone Easily? (Best SMS Backup Apps Included)
10 Methods to Fix iPhone Text Messages Disappeared Issue
iPhone Internal Storage DCIM Folder Is Empty on Windows 11/10? Fix It Here
How to Transfer Videos from Computer to iPhone without iTunes? (5 Proven Approaches)