It doesn't matter how large your iPad's storage space is; it's still ideal to back up your data regularly. Backing up data is a wise move that prevents unexpected data loss. As you know, it's better to be safe than sorry. Apple suggests backing up your iOS data in iCloud or iTunes.
But, these two have various limitations. For instance, you can't access the backed-up data in iTunes. And not to mention that each time you try recovering your data from iTunes, it'll delete all current data on your iPad. Actually, some tools can get past the issue. This post brings you the top iPad backup software you can use. They will help back up your iPad data and manage the device. So, get to know them, and you will indeed find the one which suits you best.
Top 1. Best iPad Backup Software - Coolmuster iOS Assistant
Top 2. FoneLab iOS Data Backup & Restore
Top 3. iMazing
Top 4. Dr.Fone Phone Backup (iOS)
Top 5. iTransor
Top 6. Syncios
Top 7. AnyTrans
Top 8. CopyTrans
Top 9. iExplorer
Top 10. Xilisoft iPhone Magic Platinum
Top 1. Best iPad Backup Software - Coolmuster iOS Assistant
Do you know the most flexible and safer tool that can help back up your iPad data? That's right. The Coolmuster iOS Assistant is an iPad backup program that will selectively backup your data and in a few minutes. This tool has surely won many user awards. Due to that, it's now the most desirable software to backup iPad data with just 1 click.
Main Features:
* Compatible with almost all iOS devices.
* Manage iTunes files on the computer.
* Fast transfer contacts, messages, notes, photos, videos, books, calendars, and more.
* Support Mac OS X 10.9 or later and Windows OS 11, 10, 8, 7.
* Edit contacts, bookmarks, and other data on the computer.
Pros:
No data loss.
* It's easy and fast to use.
* You can edit, delete or add your iPad data directly on the computer.
Cons:
* Does not support Mac OS before X 10.9.
* Registration is needed to use all features.
Download Coolmuster iOS Assistant directly.
How to use this iPad backup software to back up your iPad data:
Step 1: Launch the Coolmuster iOS Assistant
First, you have to download, install then launch this backup software on the computer. Once you open it, you'll see an interface displayed.
Step 2: Connect Your iPad
Use a working USB cable to connect your iPad to the computer, and the software will then detect the device, Tap the Trust option on the device and hit the Continue option to proceed.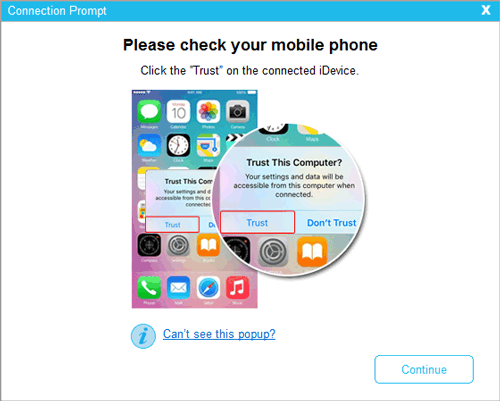 Step 3: Preview and Back Up iPad Data
Tick the types of files you want to back up from the main interface.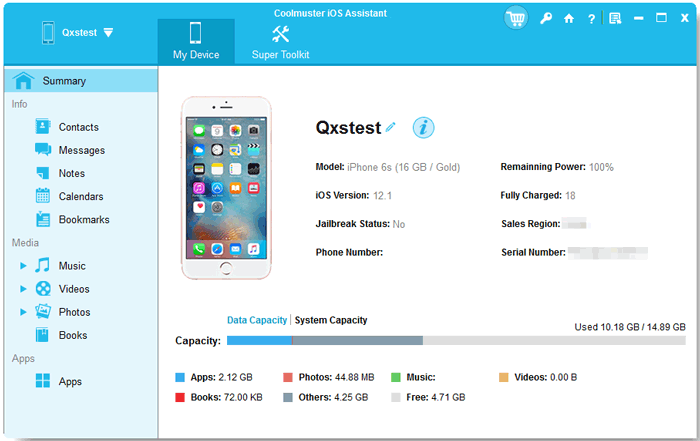 Preview the selected data and click the Export option to move the data to your computer. After that, you will finish the backup for iPad data.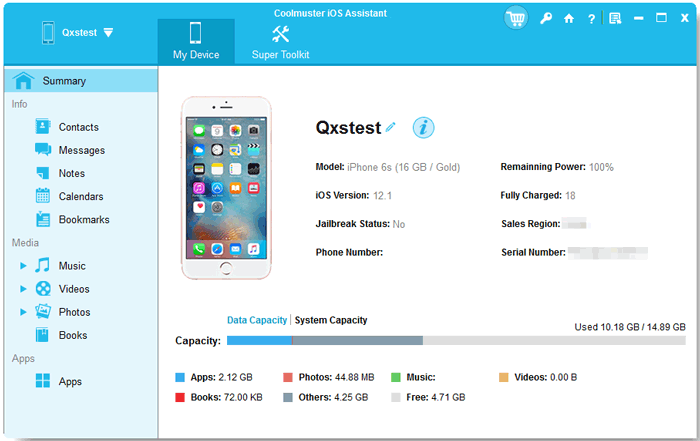 Further reading:
Transfer iBooks from iPad to Computer with or without iTunes
Transfer Photos from iPad to External Hard Drive with or without Computer
Top 2. FoneLab iOS Data Backup & Restore
FoneLab iOS is also one of the best iPad backup software that offers various backup options to achieve each person's needs. It will not overwrite data on your iPad after the restoration.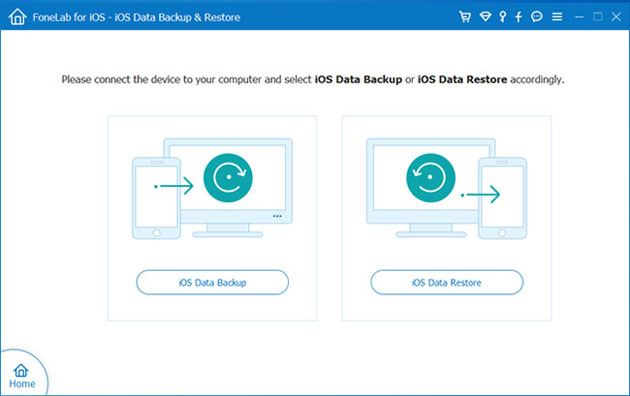 Pros:
* You can preview the backup.
* It helps with backup encryption.
* Not much expensive.
Cons:
* The free trial might not be available.
Pricing:
* Starts at $23.96 per year.
Maybe you like: Want to move videos from Mac to your iPad? This tutorial will tell you the correct steps.
Top 3. iMazing
Besides its superb factor, the iMazing software maintains all the iPad backups well and works flawlessly on many iOS devices conveniently. With its end-to-end encryption, there's no chance for your data to be manipulated. Besides, you can back up your data however you want.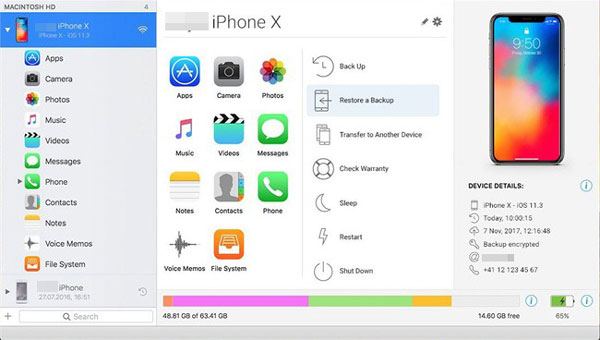 Pros:
* It can back up data automatically and wirelessly.
* It can store many backups without crowding the hard drive.
* You can copy songs from your iPad to PC back and forth.
Cons:
* The interface is unfriendly.
* It transfers data slowly.
* Its free trial offers limited features.
Pricing:
* Costs $39.99 for one license.
Top 4. Dr.Fone Phone Backup (iOS)
This is also another splendid iPad backup software that allows you to do iPad backups on the computer then restore it to iCloud or iTunes. The best thing is that there is no data loss. With just 1 click, you will be able to connect your gadget and begin the backup process. Moreover, it supports call history, photos, voice memos, etc.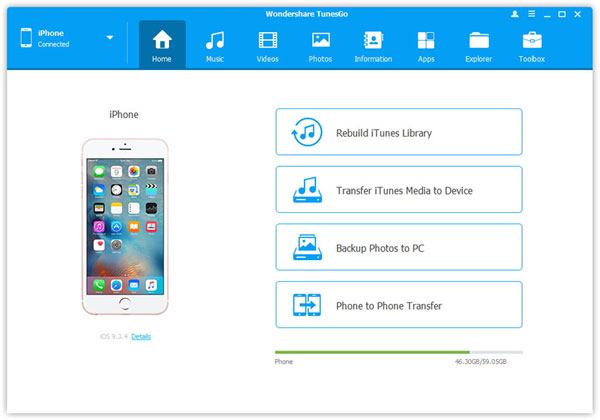 Pros:
* Transfer data with high quality.
* No skill to use.
* It does the process very quickly.
Cons:
* Some of the photos will change their resolutions after restoring.
Pricing:
* It starts at $19.99 per year.
Read more: You can now back up iPhone data to a flash drive without hassle.
Top 5. iTransor
The iTransor allows one to back up, restore, or export data from your iPad while maintaining its quality. Apart from the traditional files, it will also assist in processing WeChat and Whatsapp. After you are done with downloading, you'll get the directions on how you can proceed with backup and restore.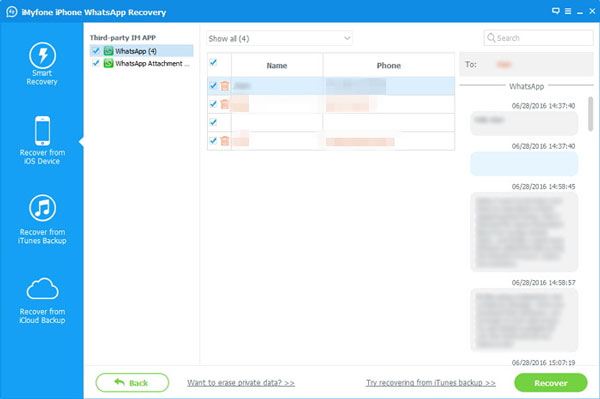 Pros:
* You can back up more data types.
* It enables one to view the data before restoring it.
* It merges data during backup.
Cons:
* It takes a long time to update data on an iPad.
* It is costly to purchase a login code.
Pricing:
* It costs $39.95 every year.
Top 6. Syncios
Syncios is a functional tool that delivers data backup functions and retrieval functions. It works well with Android and iOS devices. Before restoring data using this tool, you will be able to preview the backups. Besides, while restoring, backups from the apps such as WhatsApp may be saved in various formats such as XLS.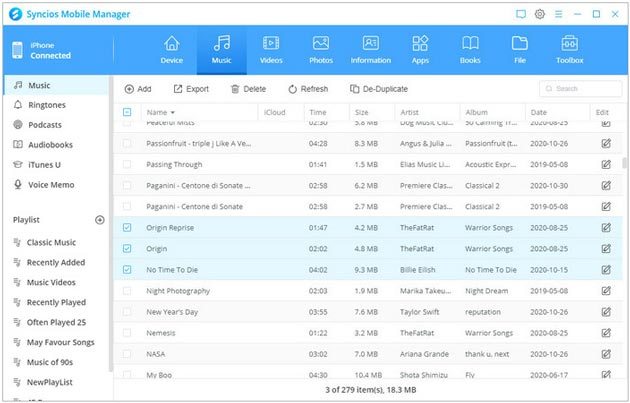 Pros:
* Provide backward compatibility.
* The data backup is seamless.
* No information leakage during the backup.
Cons:
* The trial version provides fewer features.
* Only four types of files may be handled with the 1 click feature.
Pricing:
* Costs $34.95 per year.
Learn more: It is easy to transfer files from a PC to an iPad without iTunes because there are effective methods in this post.
Top 7. AnyTrans
Designed with a high-tech feature of keeping various backups for an iPad, the AnyTrans is that iPad backup software to look for. It monitors and controls the data and saves it to the backup. Furthermore, you may restore your data to the iPad when you want to.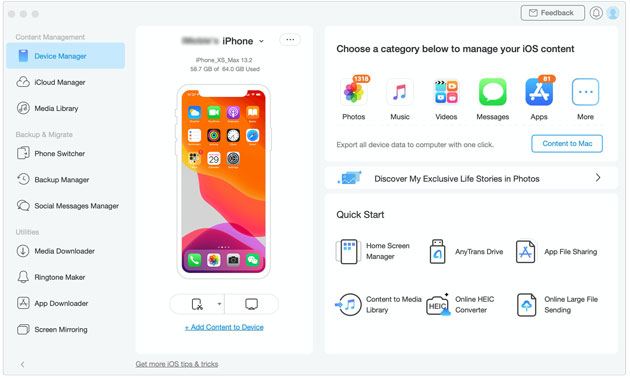 Pros:
* Allow you to view the files you backed up and manage them.
* It has a user-friendly interface.
* Manages the content in your iPad in an organized way.
Cons:
* Quite expensive
Pricing:
* It costs $39.99 per year.
Top 8. CopyTrans
Do you need to back up your iPad data selectively? Then CopyTrans is the suitable iPad backup software specifically for that. This software can manage your data throughout the process. It's very convenient to edit, organize and delete any data you want on your iPad directly from the computer. It helps in backing up and restoring data.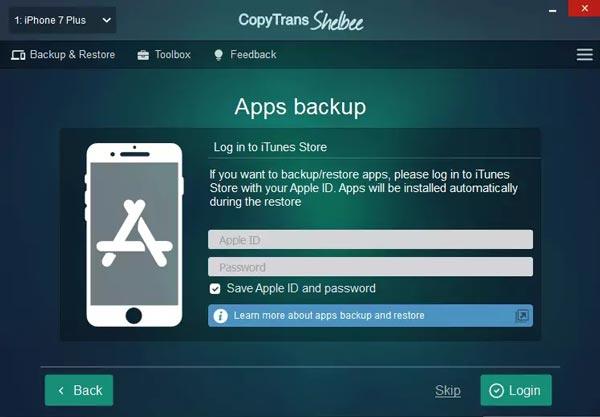 Pros:
* Detects many iPads.
* Back up iPad data without effort.
* Restores data in various file formats.
* Fast connect your iPad to a computer.
Cons:
* It limits only 50 contacts to be copied.
* You can't preview videos or photos.
* It doesn't have a free trial.
Pricing:
* Costs $29.99 per year.
Top 9. iExplorer
Despite the iExplorer having some pop-up ads, it's still a remarkable tool for backing up, providing a full backup solution and many more. The iExplorer does great while transferring varied iPad files to the computer easily.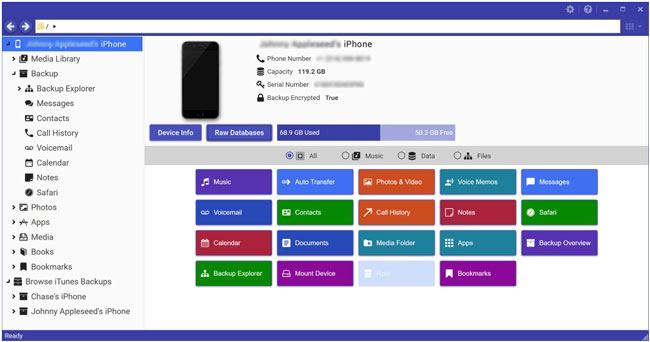 Pros:
* It has a clear interface with an easier backup.
* Enable one to mount iPad as the USB drive.
* It comes with a drag and drops feature.
Cons:
* Crash occasionally.
* High price.
Pricing:
* It starts from $39.99 per year.
Top 10. Xilisoft iPhone Magic Platinum
This is an-all-in one iPad manager which facilitates the transfer of data from iOS gadgets to PC and Mac. Besides, it can convert the videos and audio and transfer them easily to your computer. The best thing about this iPad backup tool is that it can transfer the files between gadgets via the Mac/PC.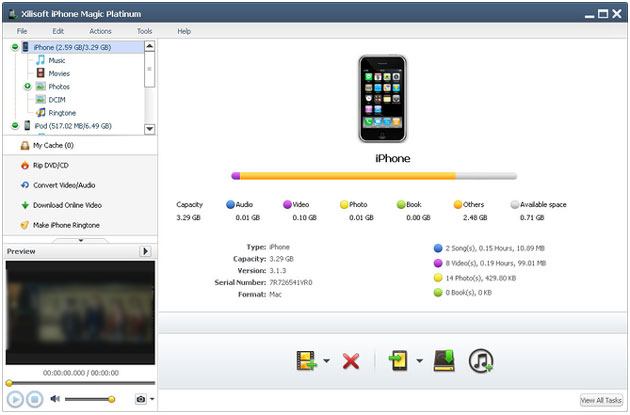 Pros:
* It can transfer data between many files.
* Converts the C/DVD files.
* Transfers all data between iOS devices and computers.
Cons:
* It takes a long time to finish the process.
Pricing:
* A code for registration costs $41.97.
Conclusion
The above are the top 10 iPad backup software you will find out there. Actually, these are reliable and safe to back up iOS data on a computer. But Coolmuster iOS Assistant is the most fulfilling of them all. It allows you to view and select files, and back them up to a computer with original quality. You can easily move data from the iPad to your computer and vice versa.
Related Articles
11 Excellent iPhone Transfer Software
Transfer Movies to iPad without iTunes from Computer or Phone? (7 Optional Ways)
How to Transfer Files from Mac to iPad? 6 Ways for You
6 Methods to Transfer Music from Computer to iPhone without iTunes
Back Up iPhone without Wi-Fi via 3 Useful Methods (Step by Step)