The address book in your iPhone usually becomes disorderly and hard to manage when your contact list exceeds a certain number of the default Contacts app. This tends to cause a mess, and managing it becomes quite cumbersome, making it necessary to have a good iPhone contacts manager.
Currently, there is a wide variety of iPhone contacts manager apps to choose from that will sort all your contacts list and help manage your address book. In this article, we help you pick the best iPhone contacts manager by exploring the top 14 iPhone contacts manager software.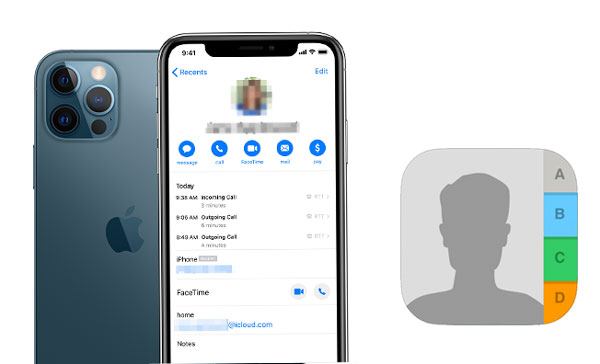 1. Dr.Fone - Phone Manager
2. Coolmuster iOS Assistant
3. FullContact
4. Contacts Optimizer Pro
5. Simpler- Smart Contacts Manager
6. Sync.Me
7. Addappt
8. Contact Mover & Account Sync
9. Covve
10. CircleBack
11. InTouchApp Contacts Manage
12. Tacts
13. My Contacts Backup
14. ABC Groups
1. Dr.Fone - Phone Manager
Dr.Fone is a versatile iPhone contact manager app that not only aids in the management of your videos, apps, photos, and other content but also keeps all your contacts sorted. With Dr.Fone, you can add, edit, merge, and delete any of your contacts in your iPhone on your computer. It also allows you to import the contacts of your iPhone from your PC to your iPhone.
Using this software, you can transfer the backup of your SMS and contacts to your PC. To easily locate and manage these duplicate contacts, you can merge them into a single contact. Moreover, Dr.Fone has additional data management features such as Phone Manager. This enables you to perform any of your iPhone contact operations without necessarily depending on iTunes.
The following are other key features of the Dr.Fone app:
Very convenient to perform contact group management.
Allows the selective transfer of contact without deleting any of your Original iPhone contacts.
Allows the direct transfer of your contacts between Android smartphone, PC, and iPhone.
Allows you to create complete contacts backup on your PC.
Supports both vCard and CSV file formats.
Allows you to erase your contacts in batches.
Allows you to transfer your contacts from iCloud, Outlook, Gmail, and other services from your iPhone to PC.
Further reading:
How to Sync Contacts from iPhone to Mac with Ease
How to Delete All Contacts on iPhone at Once? [Simple Ways]
2. Coolmuster iOS Assistant
Are you worried about protecting the hundreds of messages, contacts, and homemade videos or photos in your iPhone in case of sudden data loss? Then, you should consider getting yourself the Coolmuster iOS Assistant contacts management app. Coolmuster iOS Assistant is our top choice from this list for the best contact manager for iPhone, and with good reason.
This app allows you to freely back up any of your text messages, bookmarks, videos, music, photos, apps, books, and contacts from your iPhone, iPod, iPad to iTunes, or your PC. Additionally, the Coolmuster iOS Assistant app guarantees you no data loss during this transfer process.
It makes sure that all the backed-up iOS data can be edited and viewed on your PC freely. In fact, a single iOS Assistant is the perfect solution for all of your iOS data management and backup problems.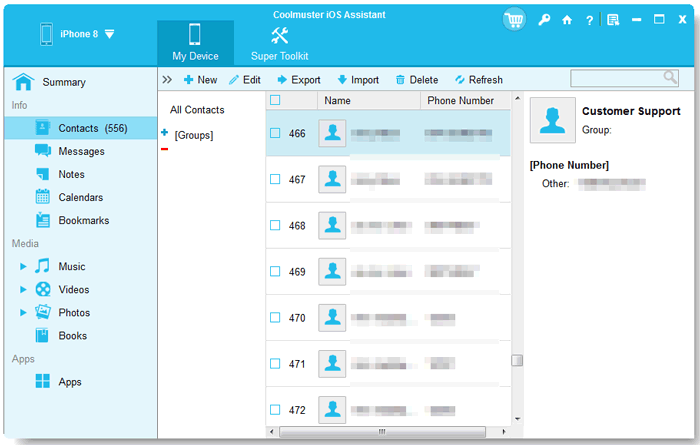 The following are some of the additional key features of the Coolmuster iOS Assistants:
Easily compatible with all versions of iPhone, iPod, and iPad.
Convenient to export and import data on your iPhone, iPod, and iPad.
Auto-scans all the files on your device and displays them on the main interface.
Supports a wide variety of files, such as messages, bookmarks, calendars, contacts, videos, books, photos, music, notes, apps, just to mention a few.
Allows you to export all the files from your iPod, iPad, iPhone to your PC or iTunes as a backup.
Allows you to import any of your contacts, books, bookmarks, calendars, iTunes backups, among others, from your computer to your iPhone.
Download and install this contact manager for Apple below:
See also:
How to Share Contacts on iPhone? [6 Useful Tips]
How to Transfer Contacts from One Apple ID to Another without Trouble
3. FullContact
Among the list of top iPhone contact manager apps, FullContact is a particular favorite. The app allows you to merge any of the contact information from your social media accounts and iPhone. With the customized tags in the FullContact app, you can easily create contact groups that will make searching through your address book less difficult.
Since FullContact is a multi-platform app, it allows you to sync your contacts with Twitter, Office365, Exchange, Gmail, and other accounts and across numerous mobile devices such as iOS, Mac PC, etc.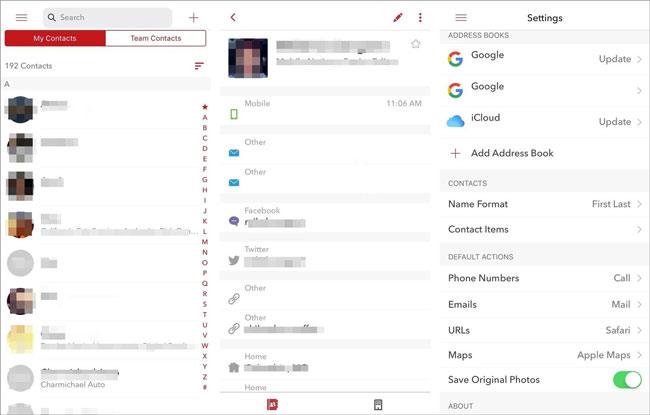 Below are some of the key features of the FullContact app:
Automatically merges your duplicate contacts.
Allows you to take iCloud backup of your contacts.
Allows you to attach notes to the contacts to help you remember important information.
Automatically adds any of your company information, social profiles, and photos to your contacts.
See more:
Can you bypass the iCloud lock on your iOS device? Don't worry. If needed, you can remove the lock with this guide.
Looking for a solution to repair the black screen on your iPhone? Here's the guide you want.
4. Contacts Optimizer Pro
Contacts Optimizer Pro, an app launched by Compleson, is able to fully analyze your phone book and solve any issues or problems present so that your address book and contacts lists function perfectly. Furthermore, this app is capable of deleting a batch of your contacts at a single time and also mass copying them between multiple accounts. The app is also compatible with a wide range of contacts storage such as iCloud, Exchange, Gmail, among others.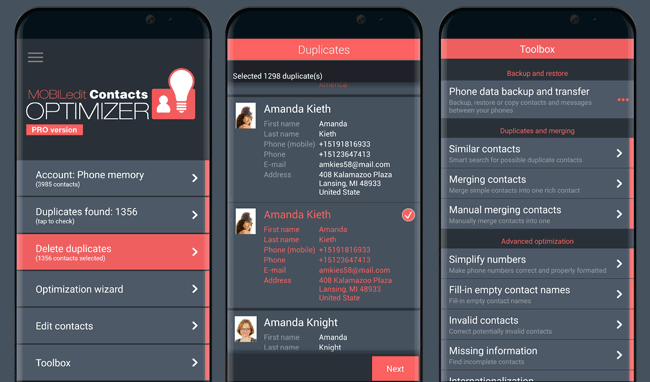 The following are other additional features of the Contacts Optimizer Pro:
Can locate incorrect contacts that cannot be dialed.
Manually and automatically merges contact fragments.
Locates similar contacts and eliminates duplicate ones.
Allows you to copy and move any of your contacts to several accounts.
Allows you to add international prefixes and codes of countries to facilitate calling from overseas.
Check it out:
How to Transfer Photos/Videos from iPhone to Dell PC Windows 11/10/8/7?
I Found an iPhone and How Do I Unlock It? (Effective Solutions)
5. Simpler - Smart Contacts Manager
Simpler - Smart Contacts Manager app was developed by YT Development Limited to help you manage your phone book with much ease. The iOS contact management app comes with an easy-to-use interface and allows you to share any of your contacts with anyone near you. Additionally, this app contains a number of key features that enable you to merge duplicate contacts and do other important functions.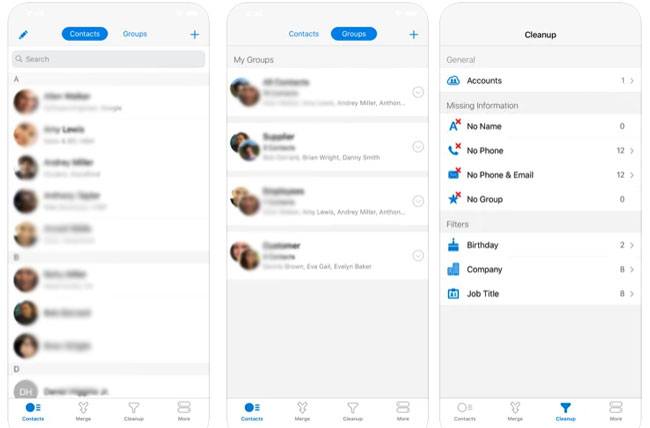 Below are some additional key features of the Simpler- Smart Contacts Manager app:
With just a single click, you can merge all of your duplicate contacts.
The app supports group texts and emails.
Allows you to transfer any of your contacts, files, and images to other devices.
Automatically backups your contacts and saves them on cloud storage. Contacts can be easily restored when needed.
Read more:
10 Ways to Fix the iPhone Migration Not Working Error without Trouble
Repair Your iPhone When It Forces Your to Change Your Passcode
6. Sync.Me
Sync.Me LTD is an ideal iOS contact manager software that allows you to retrieve any contact information from different social networking accounts like Google+, VKontakte, LinkedIn, or Facebook. The app then automatically updates your contact details in these various accounts along with reminders, birthday information, and profile photos. With the Sync.Me app, you can easily identify unknown calls and be able to recognize ant spam calls.

Some additional key features of this app include:
The app is able to search names, photos, and phone numbers of almost all active contacts worldwide.
Allows you to merge duplicate contacts and create a backup file for your contacts.
The app comes with personalized birthday cards that can be sent to your loved ones.
The app has a widget feature that is capable of identifying unknown callers through your iPhone's notification center without necessarily opening the app.
Read also:
Where does your Android phone store your contacts? If you wonder it, please read this article.
Intending to import your contacts from iCloud to your new iPhone? This guide will give you support.
7. Addappt
Addappt is among the iPhone contacts management software developed by Adapt Inc. and is capable of updating all your contact details with ease. The app automatically updates you when any of your friends make any modifications to their profiles.
Moreover, Addappt automatically shares the changes you've made to your contact information with you and your contacts as well. The app comes with additional features such as a customizable notification system that allows you to send short notifications with just a single click.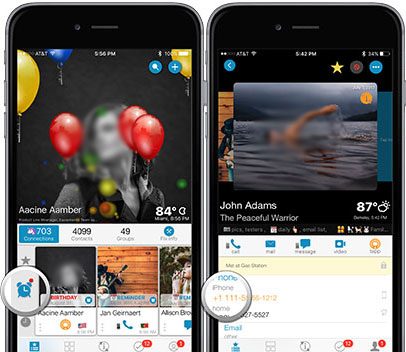 Key features of Addappt:
Has smartwatch support
Supports group messaging
Allows you to create groups based on their job title, company name, or location
Allows you to delete contacts in bulk
Automatically updates your contact information
Shares your updated contact information through text or email to your friends
Learn more:
Click this link, and then you can get useful solutions on iOS messages recovery without a computer.
You can easily transfer photos from an iPhone to a micro SD card with this guide.
8. Contact Mover & Account Sync
The Contact Mover & Account Sync app allows you to move or sync any of your iPhone contact accounts like Outlook, Gmail, iCloud and more.
The app comes with key features that include:
Prevents contacts without email and a phone number from synching.
Allows you to only sync selected groups.
Comes with a two-way sync feature that allows you to merge the changes made in different contact accounts
Allows the option to choose one-way, two-way, and manual sync.
9. Covve
Covve is an iPhone Contacts Manager app that uses proprietary technology to notify you of any changes on your contact information and suggest additional information for your contact list. The app also comes with interactive contact mapping that makes it easier for you to explore your network and keep it up to date.
Additionally, Covve is the perfect app for professionals and business people who want to stay in touch with their clients as it has a custom reminder that reminds you to call them in time.
Key features of Covve:
You can upgrade to the pro version for only $6.99 monthly or $ 58.99 yearly to access additional features and use the app with zero restrictions.
Comes with a contact manager that sends you monthly reports.
The app allows you to record notes against each call and immediately access your call history.
10. CircleBack
Launched by CircleBack Inc., the CircleBack app is the only contact manager software that is capable of intelligently updating your contacts and transforming your email signatures into contacts. The app merges all of your duplicate contacts and allows you to sync your contacts across several devices and platforms. Additionally, the app automatically updates any changes in your contact information as well as that of your contacts.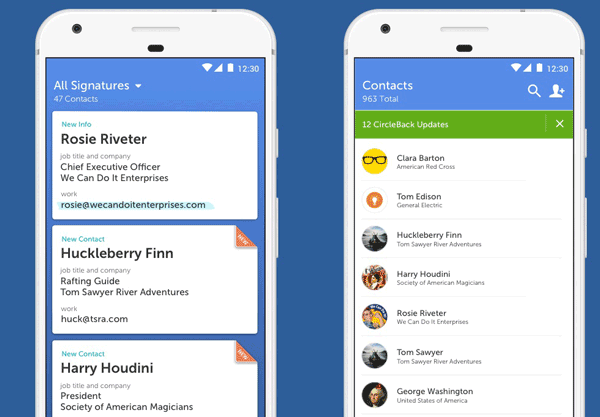 Key features of CircleBack:
Allows you to recover erased contacts in times of emergency.
Automatically manages your contact list and merges any duplicate contacts.
Comes with a unified address book that allows you to import contact information from Facebook, Google apps, LinkedIn, and others.
Intelligently discovers new contacts from email signatures in Office 365 and Gmail.
Automatically groups your contacts based on business card scans and favorites.
11. InTouchApp
Are you looking forward to having a well-managed phonebook or get your desired contact with ease? Then, InTouchApp is the perfect choice for you. This app is capable of converting business cards into contacts and merge duplicate ones.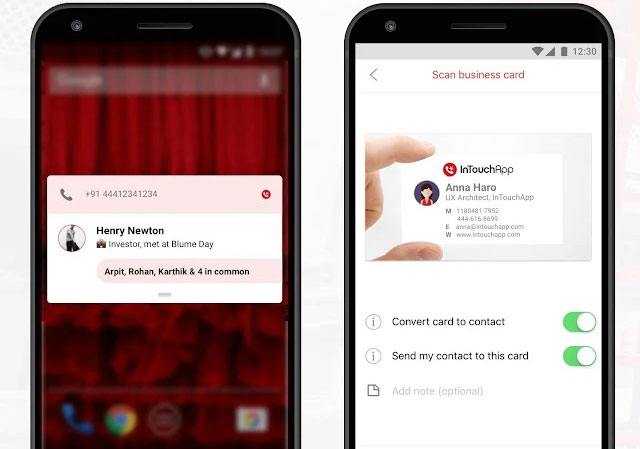 This app comes with other key features that include:
The app can create an updated digital contact card with everyone you have shared it with.
The app allows you to share your contacts through WeChat, SMS, Messenger, WhatsApp, among other means.
The app enables you to create an updated and collective list of common contacts between your family, colleagues, and friends.
12. Tacts
Tacts is an iPhone contact manager app that comes packed with a user-friendly interface with group management functions and other additional useful and amazing features. The app also arranges your contact list based on your favorites.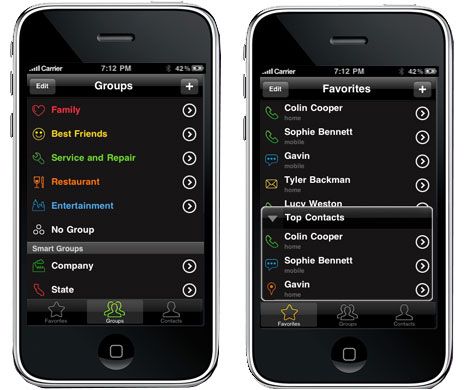 Key features of Tacts:
Allows sending group emails.
Features over 60 icons to customize your groups.
Sorts your contacts into groups based on their state, company, or name.
Facilitates group management of contacts by creating custom groups.
Allows the management of group contacts with user-defined rules.
13. My Contacts Backup
My Contacts Backup is one of the iPhone contacts manager apps that allow you to quickly back up your contacts and restore them from your device without necessarily using any computer or synchronization process.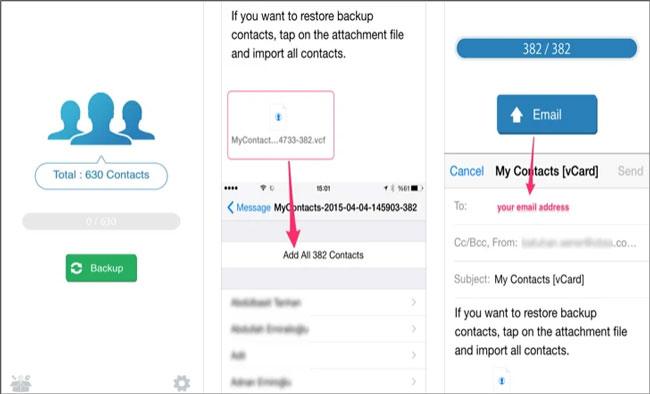 Key features of My Contacts Backup:
Supports numerous languages such as; English, French, Greek, Japanese, Italian, etc.
Allows you to delete your contacts with ease.
The free version of the apps allows you to back up a maximum of 500 contacts, while the premium version can back up unlimited contacts.
14. ABC Groups
The ABC Groups app is an iPhone contacts manager that allows you to keep your contact list and address book well sorted. The app also allows you to transfer your contacts from Facebook and iCloud at one common location, making it easier to retrieve them when necessary. Moreover, ABD Groups allows you to create contact groups and also notify you of any upcoming anniversaries and birthdays.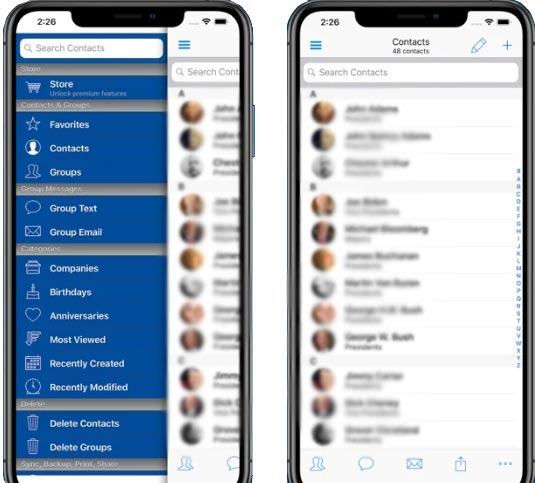 Conclusion
I hope that this guide will help you pick the best contact management app for iPhone for your iPhone, iPad, or any other iOS devices. Make sure to carefully pick the perfect contact manager app for your device to ensure you can easily import and export all of your contacts and manage your hundreds of business and personal contacts without the hassle.
Related Articles:
How to Transfer Contacts from Xperia to iPhone 14/13/12/11/XS/XR/X Effortlessly?
How to Retrieve Deleted Contacts on iPhone without Backup
How to Edit iPhone Contacts on Your PC Easily? A Full Guide for You
How to Transfer Contacts from iPhone to Android [Full Guide]
3 Ways to Transfer Text Messages from iPhone to Computer? [Can't Miss]
How to Retrieve Deleted Text Messages on iPhone with or without Backup