How to View iTunes Backup Files
Summary - Whatever being your purpose to view iTunes backup files, you will find how easy it is after reading this passage.
Data backup is considered to be one of the most essential parts of a computer's overall maintenance, even though it may be high on the list of items ignored. Because the iTunes data can happen in many different ways, it is very important that a viable solution is available to be used. From the physical failure of a devices to accidentally deleting files, users need a backup process that will help with quick recovery. Since the files are located in a central place, they can easily be restored to its initial location without a lot of unnecessary hassle. This is some of the primary reasons why an iTunes backup is needed.
Related: How to Backup iPhone with/without iTunes
When an individual is backing up all of their data, it is not uncommon for them to come across some issues that will need to be fixed or repaired prior to its completion. Some of the more commonly known and notable include files that have been corrupted so they cannot be read or accessed at all. Or, there are problems that will not allow the files to be restored. The user may also have a little difficulty with the files being synced correctly so they may need help from someone who is experienced with completing this process. Now, this passage tells you two easy ways to easily access iTunes backup files.
How to Easily View iTunes Backup Files
Coolmuster Data Recovery for iPhone/iPad/iPod is an ideal solution for iPhone/iPad/iPod users to view iTunes backup files within simple clicks. Moreover, this all-in-one tool is your perfect choice for recovering files, including contacts, messages, videos, photos, apps and many more. Specifically, when the user is dealing with an iPhone, iPod or an iPad.
With this process, the user can complete the recovery in a few clicks. For instance, all the user has to do is;
1) Launch the data recovery feature that represents each of these devices so that it will automatically show all of the back up records.
2) Next step is the highlight the iTunes backup that needs to be viewed or recovered.
3) Click on "Start Scan" option to access iTunes backup files as wanted. If needed, you can also tick out the wanted files and hit the Recover option to recover the files as desired.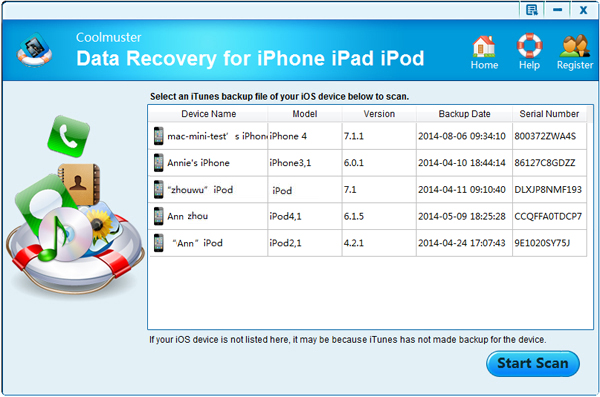 Note: all files are categorized into specific listings (i.e. Title, Location, Description, URL, Start Date Time and more).
Read More:
Recover iPad Files without iCloud Backup
How to Read iPhone Messages on Computer
Alternative Way to Access iTunes Backups
Actually, Coolmuster offers a wide range of very useful and effective programs that have been designed to assist the user with managing their data. For instance, users will have access to the Coolmuster iOS Data Rescuer. This software has a number of different key features that are very effective in retrieving files from iDevices directly without the use of the iTunes backup.
- It has been designed to give the user the capability to view all of the files via thumbnails. The user can also browse the files by category to see which ones that they want to recover first and the ones that they want to exclude from the selection process.
- The user can also expect to see more than one interface that presents the information in a readable format.
- The "Recover" button is also available for use since it allows the user to save the files on their computer with only 1 click.
- Feature is provided that shows a backup list of all of the devices that have already been synced with iTunes on the user's computer.
- Quick scan feature initiates a process that displays all of the files that have been extracted and they are shown in different categories for the user to review.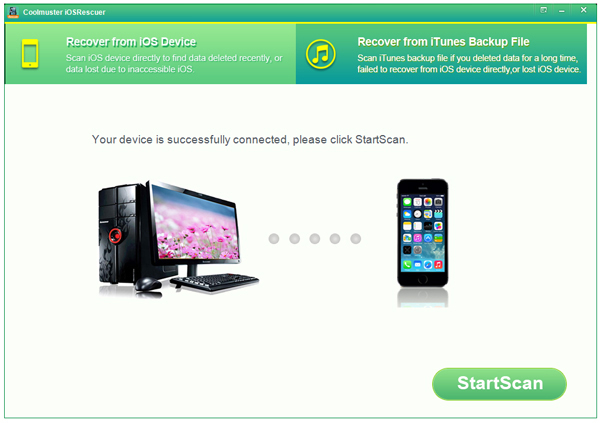 Also, this software is rather easy to operate. All you need to do is open the installed software and link your iOS device to the computer via the USB cord. Then choose the right mode to continue the process. All files will be arranged on the main interface for your reference.
Related Articles: