Have you made up your mind, and you now want to switch to an iPhone device? Know that there are plenty of fascinating products from Apple. The iPhone attracts its fans with creative performance and design. As you enjoy its amazing services, ensure you take care of it too. This entails ensuring it has enough space by backing up data with iTunes, making its operation smooth.
So, what does iTunes backup include? iOS users can either use iCloud or iTunes to back up data. iTunes is an official backup tool Apple designed to enable people to store data in the cloud. To know what iTunes backup includes, continue reading.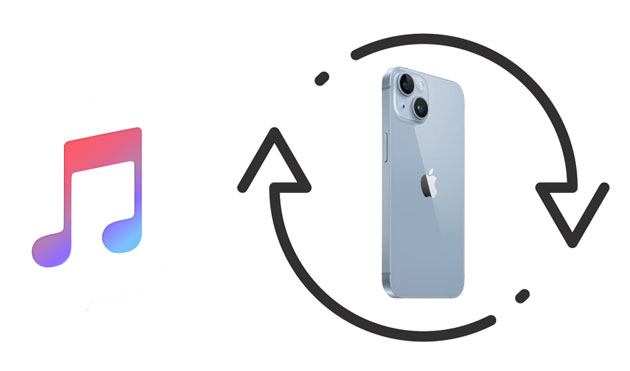 Part 1: What Is iTunes Backup and Why Do You Need It?
iTunes backup implies copying data as well as settings from an iOS device to the computer. A backup is an ideal way of ensuring that information on your phone isn't lost, even when it gets misplaced or corrupted.
When you restore files from your iCloud backup, all apps, audio, publications, and videos you bought will again download from iTunes, iBooks stores, and Apps. But, this will not be the case for music and videos not bought via iTunes and pictures that aren't saved in the local photo stream, call logs, and some data.
In that case, you'll have to use iTunes backup to back up such files. Furthermore, iTunes backup is great if you have a lot of data.
Further reading: Click this link, and get 11 fabulous tools for iPhone transfer.
Part 2: What Does iTunes Backup Include?
Of course, any person would want to know what iTunes backs up, especially users of Apple devices. Are the messages and contacts included? Know that iTunes backup entails almost all your iPhone's storage, like texts, pictures, app folders, and many more. Those files that can easily be obtained from the host won't be included in backup to save space as well as time.
Here are some of the data included in the iTunes backup:
Photos and images: Pictures taken by the camera, screenshots, wallpapers, and any saved images.
Media files: Videos, music, movies, ringtones.
Basic information: Call logs, contacts, SMS, MMS, voice messages, calendar events, memos, etc.
App and Apps data: Apps, App settings, documents, data, preferences, application data, keychain, etc.
Settings: All network settings like VPN settings, Wi-Fi hotspots, network preferences, lock screen settings, and the like.
Other data: offline data, mail cache, browser cache, temp files, etc.
All these files are what iTunes backup entails. Note that iTunes backs up almost all iOS content.
Learn more: Top 10 iTunes Alternatives for Windows [Informative]
Part 3: Where Are iTunes Backup Files Stored?
After backing up your data with iTunes, you might want to know where the files are stored. This will help you know if all the data you backed up was successful or not. iTunes backup files are stored locally on your PC with different paths for Mac and Windows.
On a macOS: Go to "Library" > "Application Support" > "MobileSync" > "Backup". These are where your backup files will be located.
On Windows: You can go to "Users" > "Username" > "App Data" > "Roaming" > "Apple Computer" > "MobileSync" and lastly "Backup".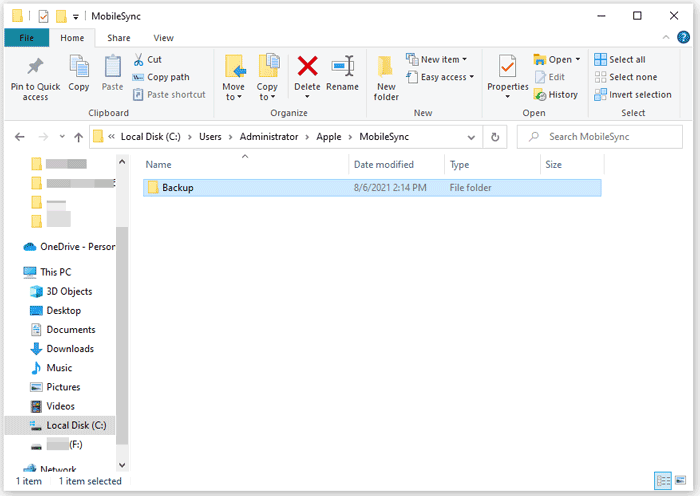 Perhaps you need: How can you effortlessly sync contacts from Mac to an iPhone? Here are 4 ways you can follow.
Part 4: How to Back Up and Restore iOS Data with iTunes?
By backing up your iOS device via iTunes, you can be sure that your files are secure. iTunes usually backs up your device's data automatically when you connect the device to the computer. However, you may also back up manually anytime you feel like it.
Back up iOS data with iTunes:
01Connect the device to the computer with a USB cable or Wi-Fi connection. Use the PC you normally sync your data with. Find the iTunes app on the PC, tap on the button with the device symbol, and then tap on the Summary button.
02Hit the Back Up Now icon just below the backups.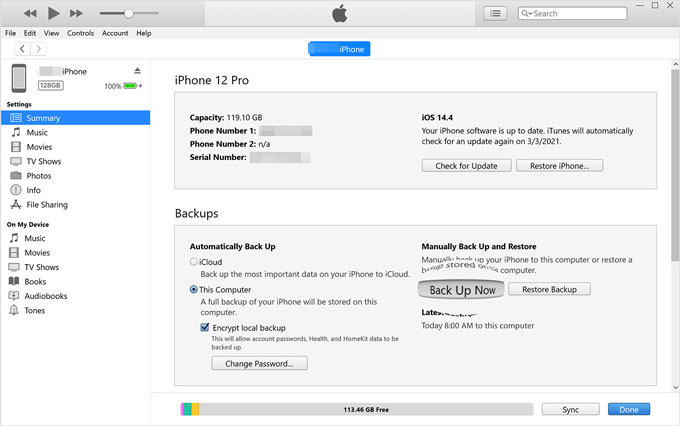 You now have created a backup of your devices with iTunes. No worrying about your data getting lost or what will happen when your phone gets destroyed. When you want to restore the backup, the process is also simple.
Restore your data by doing this:
01Connect your iOS device to the computer, run the iTunes app on your computer, and tap the device icon.
02Tap the Summary and Restore Backup option.
03Tap the Summary and Restore Backup option. That's it! The restoration is finished.
See more: Can you import videos from your iPhone to iMovie? If you have trouble with it, read this tutorial.
Part 5: How to Selectively Back Up iOS Data to Computer? [Easiest]
Do you want to know the easiest and fastest way to back up your iOS data to the computer? Coolmuster iOS Assistant is the tool to look for. Coolmuster iOS Assistant is a useful and simple-to-use tool that can help you back up all data from your iOS device, especially from iPhone, iPad, iPod touch, or any other Apple mobile device.
The software can back up multiple data types, such as photos, videos, messages, contacts, apps, music, and more. The best thing about this tool is its selective data transfer. You can select what data needs to be transferred to the computer as you preview. It's a handy tool for iOS users and compatible with most iOSes, including iOS 16.
Here are some key features it provides:
* Smoothly transfer different files types from iOS to a computer.
* List detailed files on the interface, and allow you to directly select what you want.
* Back up and restore data from your iOS device to the default iTunes backup folder on your computer and vice versa.
* Enable you to delete useless files, edit your contacts, add new notes, etc., on the computer.
* Compatible with most iOS devices, like iPhone 14 Pro/14 Pro Max/14 Plus/14/13/12/11/X/8/7, iPad Pro, iPad mini, iPad Air, and more.
* Support Mac and Windows operating systems.
Download the iOS Assistant program.
How to back up iOS data to a computer easily with Coolmuster iOS Assistant:
01Download and install this software on your computer and connect your iDevice to the computer via a USB cable. Then choose the Trust icon when a pop-up window asks you to trust this PC, and tap Continue to proceed. Once done, your device will be displayed on the interface.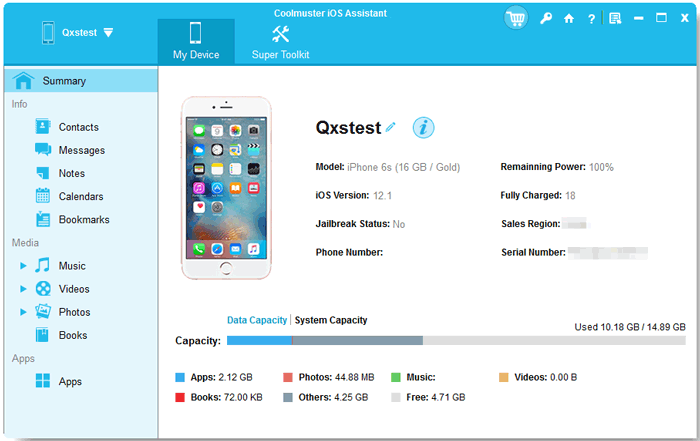 02Choose the data you want to transfer from the left panel. Check the detailed files on the right side, and click on the Export icon to start transferring the data to the computer.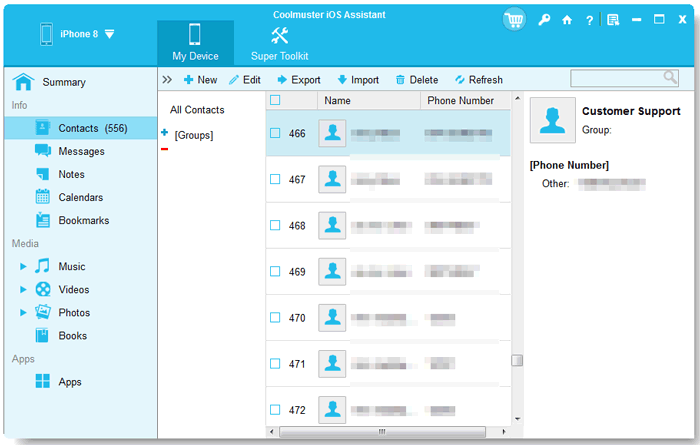 You might need:
7 Quick Ways to Transfer Photos from PC to iPad (With or Without iTunes)
Easy Ways on How to Transfer Photos from iPad to Mac
Part 6: Why Does iTunes Fail to Back Up Data?
iTunes is a simple and efficient way to back up iOS data to the computer. However, it may fail in some cases. But, it's not something to be worked up about.
One of the reasons why this happens is that you are using an outdated version of iTunes. Make sure you have the latest version installed on your computer.
Another reason is insufficient space on the computer. Also, a faulty USB port on your computer may bring such an issue.
Conclusion
You now have an idea of what is included in iTunes backup. iTunes has many features that can help you back up and restore iOS data, but it may not be the most efficient way. You can use Coolmuster iOS Assistant to back up iOS data selectively. Its preview function makes the transfer flexible, and it allows you to manage your iOS files on your computer. Are you interested in it?
Related Articles:
4 Ways to Restore iPhone without Updating iOS Firmware [Trustworthy]
10 Methods to Fix iPhone Text Messages Disappeared Issue
iPad Won't Restore or Update? 7 Solutions to Fix It
9 Best iPhone Repair Software to Fix All iPhone System Problems with Ease (Review)
Ten Tricks for the Issue "Cannot Restore Backup to This iPhone Because the Software Is Too Old"
How to Recover Deleted Videos from iPad with or without Backup? (iOS 16 Supported)