The impressive security system of the iPhone provides an extra layer of protection for its users, with a screen password and Apple ID safeguarding it. Although this is beneficial to many, forgetting a passcode can be troublesome. If you're not careful when entering your passcode for an iPhone or iPad, it can become disabled. When this happens, and the wrong passcodes are entered multiple times, a message will appear on the screen, stating: "iPhone is disabled connect to iTunes".
When your iPhone displays "iPhone is disabled connect to iTunes", you are locked out of using any features on the device. You won't be able to access apps, text messages, or emails except for emergency services. Are you perplexed why your iPhone is disabled and how to unlock it? The answers are here. Continue reading through this article to learn more.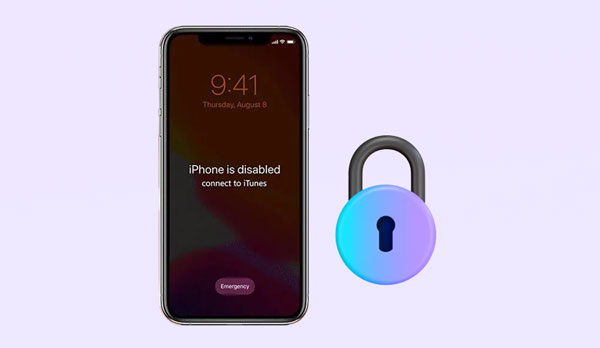 Part 1: Why iPhone Says Disabled Connect to iTunes
Before resolving the "iPhone is disabled, connect to iTunes" error, it's essential to understand what could lead to this issue. Usually, when your iPhone displays "iPhone is disabled, connect to iTunes" on its lock screen, you have entered an incorrect passcode consecutively several times. Apple has implemented this precautionary measure as a security feature so that malicious individuals cannot guess or hack your using a brute force algorithm.
When you reach your iPhone's limit of incorrect passcode attempts (usually ten), your device will display the message "iPhone is disabled, connect to iTunes", indicating that it has been locked for security reasons. This condition also occurs in iOS 15.2 and above but instead displays an "iPhone Unavailable" message. Unlocking requires connecting the phone with iTunes or another approved unlocking method. The "disabled iPhone connect to iTunes" iPhone error occurs in the following scenarios:
1. When You Enter the Wrong Passcode
If you enter the wrong passcode for an iPhone five times, your device will be locked for one minute. However, if you attempt seven incorrect entries consecutively, it will become unavailable for up to five minutes. Attempting eight or nine wrong codes consecutively increases that lockout time even more; 8 tries result in 15 minutes of being barred from using the phone, and 9 attempts mean 60 minutes with no access. Failing to unlock your iPhone 10 times consecutively triggers its self-destruct mode, rendering it completely disabled.
2. When Intruders or Kids Try Unlocking the iPhone
Kids or intruders might try to guess the passcode of your iPhone, and if they enter it wrongly more than ten times, this message will be displayed.
3. When the Phone Is in the Pocket
If you keep your iPhone in your pocket, it can accidentally get minor touches by your pants. Hence, entering the wrong passcode ten times and resulting in the "iPhone is disabled connect to iTunes" message.
4. When You Buy a Second-Hand Device
If you buy a second-hand or pre-owned iPhone, the owner might have previously locked it. In this case, entering an incorrect passcode more than ten times can also lead to an "iPhone is disabled connect to iTunes" message.
Part 2: Fix It When iPhone is Disabled Connect to iTunes
Although the "iPhone is disabled connect to iTunes" message can be daunting, trying out some solutions is essential. Below are a few methods you can use to unlock a disabled iPhone.
Method 1. How to Connect Disabled iPhone to iTunes and Fix the Issue
At first glance, many individuals attempt to repair their devices through the iTunes application as instructed on the iPhone screen. In most cases, connecting your device to iTunes should suffice and result in the restoration of all original data and settings. Struggling to detect your iPhone on iTunes? Ensure you have the latest version of iTunes and learn how to connect to iTunes when iPhone is disabled by following the below steps:
Step 1: Get the latest version of iTunes on your Windows or Mac computer and connect your iPhone to it utilizing a working lightning cable for seamless synchronization.
Step 2: If iTunes recognizes a problem with your iPhone, you'll be presented with this prompt. Press the "Restore" button and wait as it resets everything on the device in no time. If you do not see a prompt, select the iPhone and navigate to the "Summary" tab. While there, tap the "Restore iPhone" button and confirm the action to reset the iPhone.
Step 3: iTunes will swiftly restore your device and bring it back to the usual functioning mode. Once your phone reboots into normal mode, remove it and use it as usual. If, prior to this, you had taken a backup with iTunes, then rest assured that you can easily restore your iPhone's data without struggle.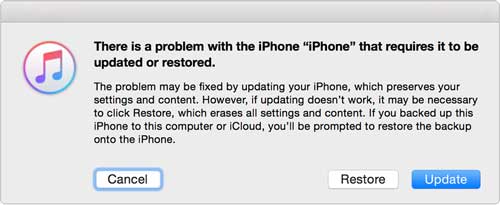 You might need: Want to hack the screen time lock on an iPhone? You can follow this guide.
Method 2. How Solve iPhone Is Disabled Connect to iTunes Problem Using iCloud
iCloud is an Apple product that can be used to store various device data and settings. Sometimes, you can also use this to recover a disabled iPhone. It is an excellent resource for iPhone users who cannot connect to iTunes. Follow the below steps to use iCloud for this purpose:
Step 1: Visit the iCloud web using your PC, and enter your Apple login credentials.
Step 2: Tap on the "All Devices" button at the top of your screen.
Step 3: Choose on the name of the device that you want to fix, and click on the "Erase iPhone" button and confirm the procedure.
Step 4: Authenticate the action by entering your Apple password. After that, your device will be wiped to look like a new device. Set up your device afresh and restore it using your latest iCloud backup.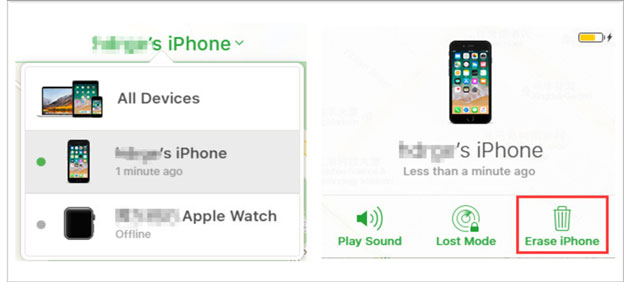 Guess you like: How to Turn Off Find My iPhone/iPad with/without a Password?
Method 3. Use Recovery Mode to Fix iPhone is Disabled Connect to iTunes Problem
If you are looking for another way to fix your disabled iPhone, then putting it in recovery mode with the help of iTunes is a great option. To put your phone into this special mode, all you have to do is press and hold the key combinations specific to your device model. After that's done, connect it to iTunes and reset it. Keep in mind that every model has its own unique Recovery Mode sequence, so make sure you know what yours is before trying this method out. Below is a guide on how you can fix iPhone says disabled connect to iTunes problem:
For iPhone 8 and later:
Step 1: Open iTunes on your PC and connect the iPhone to the PC.
Step 2. Press the "Volume Up" button, release it, and press the "Volume Down" and release it.
Step 3. Lastly, press down firmly on the "Side" button of your device and hold it until the connect-to-iTunes symbol appears on the screen.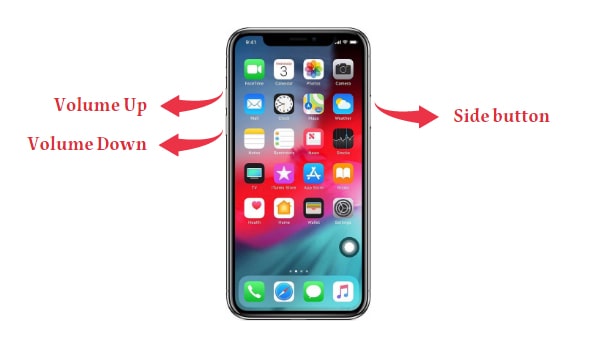 For the iPhone 7 Plus and iPhone 7:
Step 1: Launch iTunes on your PC and connect iPhone 7/7 Plus to the computer.
Step 2: Simultaneously press on the "Volume Down" + "Power" keys.
Step 3: Continue pressing the two keys for at least 5 seconds and release them when you see a connect to iTunes symbol on the screen.
For iPhone 6s and older:
Step 1: Link your iPhone to the PC using a working lighting cable.
Step 2: Open the iTunes application on your PC.
Step 3: Press on the "Home" + "Power" buttons simultaneously. Continue pressing them until the connect to iTunes symbol appears on the screen.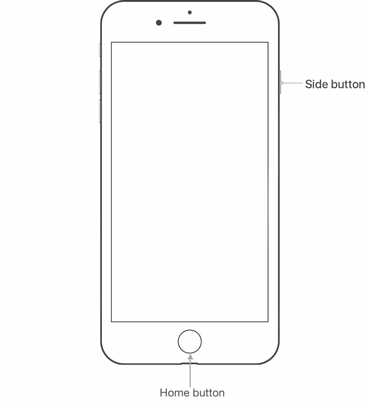 The moment you place your iPhone into recovery mode, iTunes will identify a problem and prompt you to restore it. Accept the message, and then watch as your device automatically restarts. However, all of the data stored on your phone will be lost in this process.
Method 4. How to Fix iPhone Disabled Connect to iTunes Problem via Find My iPhone
If you are looking for an effortless way to unlock your iPhone without the need to learn how to connect disabled iPhone to iTunes, then Find My iPhone is a helpful solution. Not only can it help locate lost or stolen devices remotely, but it also provides features like ringing and erasing data from your iDevices in order to prevent unauthorized access. However, bear in mind that this service needs to be enabled on the device beforehand in order for it to work effectively. Follow the below simple steps to learn how you can fix this problem using the Find my iPhone app:
Step 1: Launch the Find My iPhone application on any iOS device, and use your Apple account login credentials to log into the App.
Step 2: You will see a list of all the iOS devices connected. Now select your preferred iPhone. You will also see information regarding its location and have a few options.
Step 3: Tap the "Action" button and select the "Erase iPhone" option. Confirm the action and wait some minutes for the device to be erased. This process will automatically reset and restart your device in its default settings.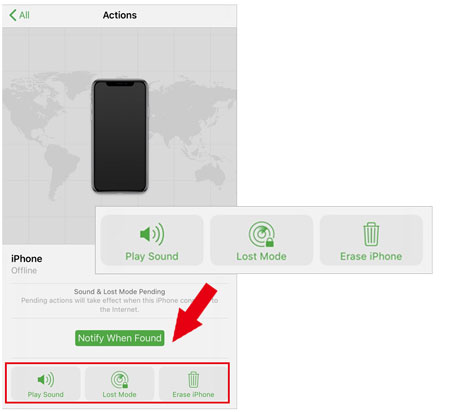 Part 3: Easiest Way to Fix "iPhone is Disabled Connect to iTunes" Error
Many users have had struggles with iTunes in the past. To resolve a disable iPhone, a specialized iPhone unlock tool can be employed and utilized as well. iOS Unlock is a powerful program designed to help you unlock your iPhone without the need for iTunes by simply bypassing the passcode. This software has proven to be a reliable solution due to its high success rates in resolving iPhone-related issues.
Not only can it fix the disabled iPhone without iTunes but also unlock different iOS screen locks with ease, including passcode, touch ID, and face ID. Furthermore, you can use it to remove the iCloud activation lock. With a few simple clicks, anyone can remove the locks from iOS devices.
Key features of this iPhone unlocking tool:
* Solve disabled iPhone or iPad without connecting to iTunes.
* Unlock screen locks on iPad and iPhone with easy steps.
* Remove MDM from iOS without jailbreak.
* No carrier restrictions while unlocking an iDevice.
* Easy to use since it involves only three simple steps.
Download this software to fix a disabled iPhone:
Here's how to unlock the iPhone when it says it is disabled:
01Download and install iOS Unlock on your computer, launch it, and click on "Screen Unlock". Then connect the iPhone to the PC and click on the option named "Unlock iOS Screen".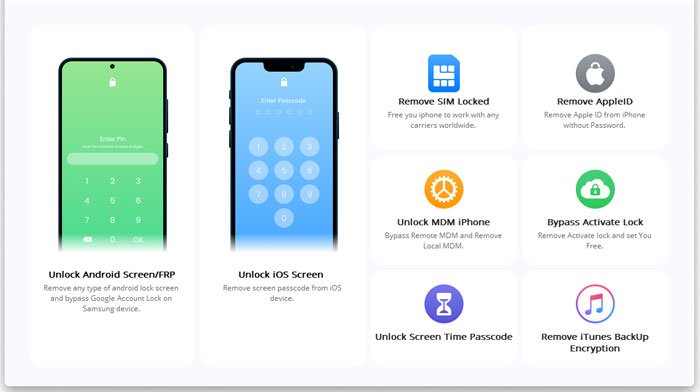 02Follow the instructions provided on your computer screen to boot the device on Recovery Mode. By default, the Recovery mode is suggested for iOS lock screen removal.
03After the iPhone enters the recovery mode, iOS Unlock will display the device information, including "System Version" and "Device Model". In case this information is incorrect, you can pick out the accurate data from the dropdown lists provided. Click on the "Download" button to download the recovery firmware for your device.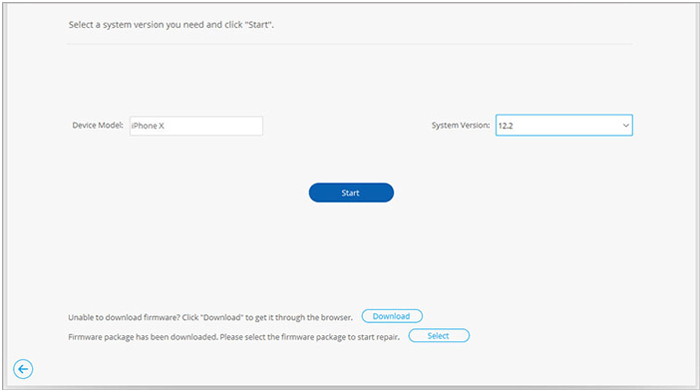 04After downloading the necessary firmware, press "Unlock Now" to initiate your iPhone's unlocking process. At that moment, you can expect a successful unlock with assured results. However, it is important to note that this will wipe all saved data from your device.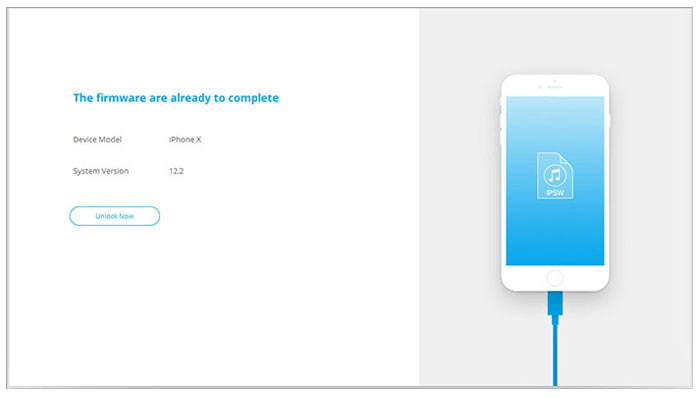 Read more: [SOLVED] How to Sign Out of iCloud without Password Step by Step?
Note: Is it safe to use iOS Unlock?
Yes, it is 100% safe and secure to use iOS Unlock to unlock iPhone devices. The software has been tested thoroughly and certified by McAfee Secure to ensure its safety.
Conclusion
Don't panic if you see the dreaded "iPhone is disabled connect to iTunes" message. Whether it's due to too many passcode attempts, a strange bug, or a malfunction, connecting your phone to iTunes and performing a factory restore should bring it back up in no time. If your iPhone has been disabled and won't link to iTunes, iOS Unlock is the perfect choice for you. With this handy tool, you can unlock a disabled device in no time. So, don't waste any more time. Use iOS Unlock for a swift and secure fix.
Related Articles:
[Solved] How to Remove Screen Lock PIN on Android without Password?
How to Fix the Problem iTunes Could Not Connect to This iPhone? (6 Effective Solutions)
How to Fix iTunes Error 0xE8000015 on iPhone/iPad?
[Solved] How to Unlock Disabled iPad without iTunes | Latest Guide
How to Unlock iPod touch without iTunes Smoothly? (6 Amazing Ways)
How to Connect iPhone to iPad without Effort? (7 Practical Ways)