Social media platforms have turned into a huge part of our life. We find ourselves opening up an app to chat with someone or share photos, status updates, etc. One platform that has been popular is Facebook Messenger, which lets you chat and make video calls with friends and family right from your phone.
Several businesses also use social media platforms such as FaceBook messenger to contact their customers. It's, therefore, crucial you know how to back up Facebook messenger chats. If you do not know how to do Messenger backup, just follow this guide closely. We will go through all the steps in a very clear manner.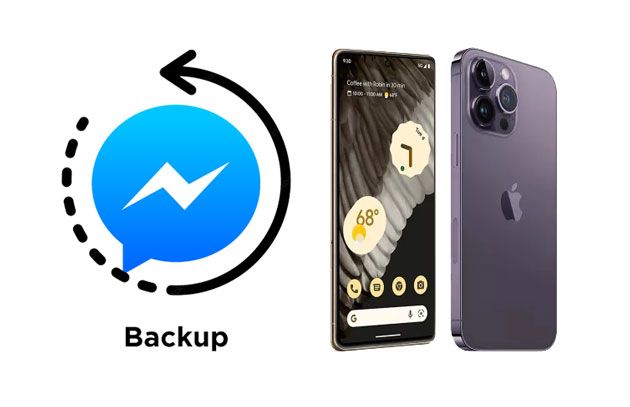 Part 1: How to Back Up Facebook Messenger Chat Via Cloud Storage
Cloud Storage is a platform that stores data over the internet securely. You can use this storage to keep all of your Facebook messenger chats. You don't need to follow any complicated steps, and you can easily do it from your phone. Cloud storage is almost free, reliable, and secure. Some of the Cloud Storage include:
1.1 Google Drive
Google Drive is one of the most popular cloud storage services. You can easily use it to back up Facebook Messenger Chat automatically.
1.2 Dropbox
Another popular cloud storage service, Dropbox, lets you store your files on its cloud servers and allows you to access them anywhere and anytime. This is a more secure way of backing up Facebook Messenger chats, as data will be saved directly on the Dropbox server and will not be stored locally in your phone's memory.
1.3 OneDrive
With Microsoft OneDrive, you can back up Facebook Messenger chats. You have to download OneDrive on your android phone or iPad and follow the below simple steps.
To save your Facebook Messenger Chats Using Cloud Storage, do this:
Step 1: Open your OneDrive (Dropbox or Google Drive).
Step 2: Click on the Upload button. Here, you'll find the place to upload the files.
Step 3: Now tap on the Facebook Messenger HTML file to upload your FaceBook messenger chats.
Step 4: After that, your messages will be uploaded to your preferred cloud storage.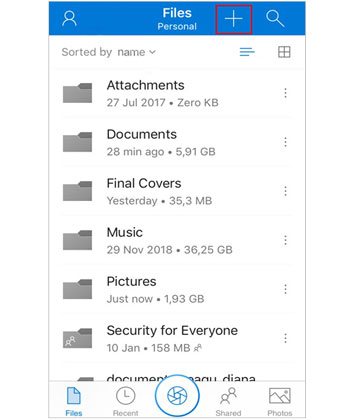 Read more: Want to copy photo albums from your iPhone to a PC in a hassle-free way? Then please don't miss this tutorial.
Part 2: How to Back Up Your Facebook Messenger Manually
You can back up your Facebook Messenger manually on your Android or iPhone. This is the best method if you do not want to back up all your messages. Here is how to back up Facebook messenger manually:
Step 1: Open the Facebook Messenger app by following the link, https://www.facebook.com/messages/t/, and tap on the conversations you wish to back up.
Step 2: Scroll down while highlighting the messages that you want to back up, and click Ctrl + C keys to copy the text that you want.
Step 3: Open your MS word, notepad, or any other text editor, and paste the copied text into your preferred text editor. Finally, save the text file as a word file or pdf file. You can now easily access your backed-up Facebook Messenger chat anywhere and anytime.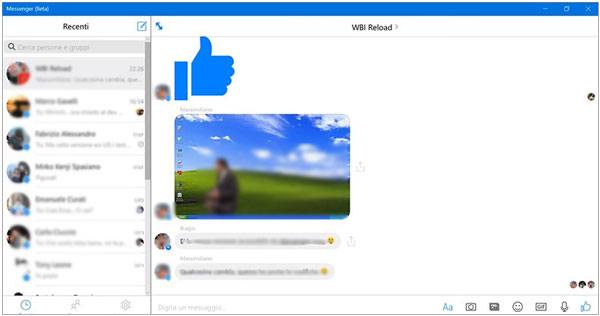 Although this method isn't very fast, it is the best way of backing up specific chats from your Facebook messenger. When using this method, it is also prudent to save bookmarklets if you want to save the entire conversation. Using a bookmarklet will help you avoid the need to scroll to the bottom or top of a conversation.
Learn more: If you want to transfer your iOS SMS to your computer, you can use these practical methods.
Part 3: How to Back Up Facebook Messenger Chats Directly Online
Is it possible to back up your Facebook messenger chats directly online? Yes. This method is a bit easy and will require a simple set of steps. You have to accomplish the steps below:
Step 1: Log into your Facebook Messenger App, and click on the Settings option. This option can be found on the three dots at the top right corner of your conversations screen.
Step 2: Tap on the General option, located on the left menu. Then click on the Download a copy of your Facebook data that will appear on the incoming page.
Step 3: To start the archive, click on the green button found on the new page. Then a pop-up window asking you to re-enter your password will appear.
Step 4: Then click on the Start My Archive button that appears, and click on the Okay button so that an email containing your data will be sent to your inbox.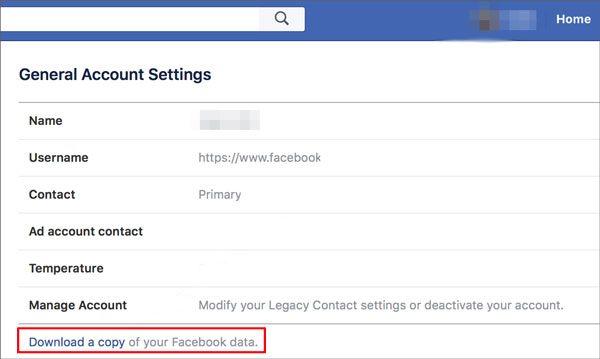 See also: How to Recover Data from iPhone Internal Memory? Top 3 Ways
Part 4: How to Back Up Facebook Messenger on iPhone [Easiest]
This iOS Data Backup & Restore is a reliable application that you can use to back up and restore all your iPhone/iPad data and SMS(text messages) with ease. You can back up your Facebook Messenger chats, voicemail, reminder, Photos, contacts, notes, Voice memos, WhatsApp & attachments, calendar, Safari bookmarks, and more from your iPad or iPhone to your computer with one click.
This software not only backs up your chats and other media files but also allows you to restore all your iOS data quickly and easily. The best thing is that a new backup cannot overwrite the existing one. It is an amazing tool for iPhone/iPad users who wish to keep their chat backups and media files on their computers.
How this iOS Data Backup & Restore software helps:
* Back up Facebook Messenger chat history and attachments on an iPhone or iPad with ease.
* Allow you to view your Facebook messages on the computer after the backup.
* Help you back up WhatsApp chats, Kik, LINE, WeChat, media data, and so on.
* Enable you to restore the backup data to your iOS device without hassle.
* Recover all lost or deleted data from all iOS devices through iCloud/iTunes backups directly.
* Support most generations of iOS, including iOS 16.
* Protect your privacy by encrypting your backup.
Download this backup and restore software below.
Here is a step-by-step guide on how to back up your Facebook Messenger chats on iPhone easily:
01Launch the program on your computer after installing it. Connect your iPhone device.
02Select iOS Backup & Restore from the menu and click on iOS Data Backup. Choose a backup mode, and tap Start. Mark the specific data you want to backup and tap Next.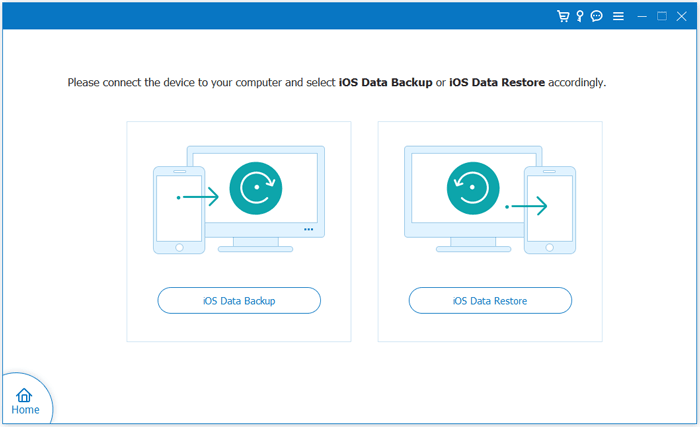 03It's time for you to back up your data. Select the Messenger and Messenger Attachments options, and then click on the Next button to select a backup folder. At last, tap Backup to start the process. After that, your Messenger chats will be stored on your computer.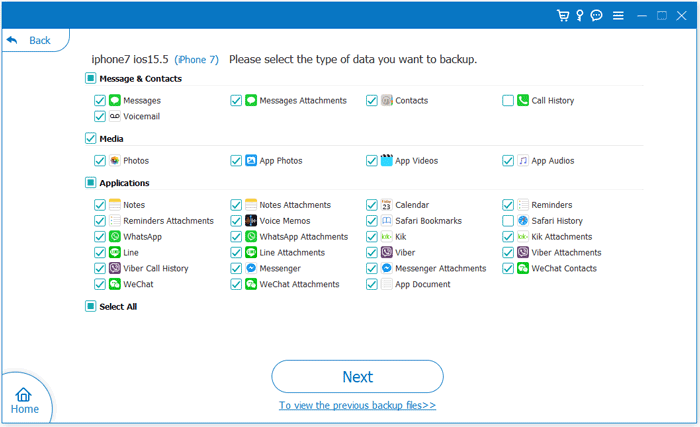 Conclusion
You might have spent a lot of time researching how to back up your Facebook messenger chats. Now you know that there are many methods to back up your Facebook messenger chats. If your mobile device is iOS, you can choose this effective method - iOS Data Backup & Restore. It's a reliable application you can use to back up and restore all your Facebook Messages with ease.
Related Articles:
3 Ways to Transfer Music from iPhone to Computer without iTunes
How to Transfer Contacts from PC to iPhone with/without iTunes - 4 Ways
9 Top-ranking Titanium Backup Alternatives to Back Up Your Android Phone Easily
How to Add Ringtones to iPhone 14 from Computer (Best Ever)
How to Save WeChat Messages from iPhone to Computer [Fixed]
How to Retrieve Deleted Text Messages on iPhone with or without Backup