Working with Apple interfaces offers several advantages. They are known for their top-notch security, efficiency, and design. However, the high level of iOS security can make it challenging to edit and transfer files. iPhone files are primarily compatible with the iTunes management interface, making it difficult to access them from other sources. Consequently, tasks like printing notes from iPhone or iPad become arduous for iOS users. In the following section, discover two effortless methods to print both existing and lost notes from iPhone/iPad with a single click!
Part 1. How to Print Existing Notes from iPhone/iPad
Part 2. How to Print Lost Notes from iPhone/iPad
What's the best iPhone/iPad notes extractor?
The Coolmuster iOS Assistant is a handy third party app which can access iOS files without having to rely on backup data. This means that once the files have been located and transferred directly to a personal computer, there are no limitations on how you can use them. If you want to print out notes and memos from your iOS device to stick on your fridge or cork board at home, you can do it with this tool. With the help of this third party app, you can take all of the notes and memos that you have collected on your iPhone, transfer them to an output file, and print them as easily as you would any other type of document. This is useful for things like shopping lists, notes of new phone numbers, weekly reminders, and prompts to listen to that band that you heard and loved.
It can be used for more than just notes too, because the Coolmuster iPad iPhone iPod to Computer Transfer tool is able to transfer music, photos, calendar data, contact lists and SMS message files directly from an iPhone or iPad to a computer. Once the files have been extracted and moved, you can edit, send, share, and change them in any way that you like. This quick three step guide will show you how to print notes from iPhone or iPad in just a few minutes.
Print Notes on iPad or iPhone 14/13/12/11/X/8 Plus/8/7/6
Step 1. Install and Run iPhone/iPad notes extractor
The first step is always to head over the DOWNLOAD button above, click on it and wait for the program to be installed. Launch it directly and the iPhone iPad to Computer transfer program's window and management interface should appear within seconds of the install finishing.
Tips: The recommended tool here supports all models of iPad and iPhone, including iPhone 14/13/12/11/X/8 Plus/8/7/6, iPad Pro/Air/4/mini/2, iPod touch 8/7/6/5/4/3/2, etc.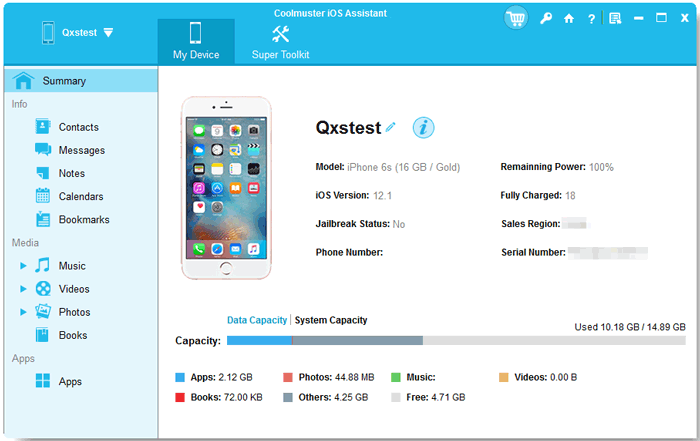 Step 2. Browse and choose the files to prepare for transfer
The transfer window should contain a list of all the iPhone or iPad files which can be transferred across to an output folder. You need to browse through the relevant folders in the right hand panel, and check the ones which you want to move – in this case, you are looking or the NOTES folder.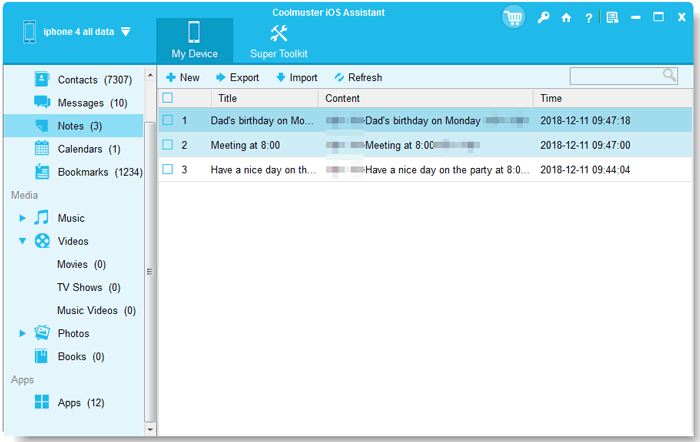 Step 3. Finish the transfer process and print the files
Now, hit the EXPORT function and wait for the transfer to finish. Once it is complete, you should be able to follow the output folder destination to where the files have been duplicated.
At this point, it is as easy as opening the required notes and clicking the PRINT button to print them out via a connected printer, as you would for any other normal document. It really is as easy as installing the app, transferring the files directly from your iDevice, and then hitting print.
Learn More:
* How to Sync iPhone Calendar with iPad
* How to Sync iPhone Notes with MacBook Pro/Air
Part 2. How to Print Lost Notes from iPhone/iPad
Want to print notes from iPhone/iPad but only to find they were lost? Don't worry! You can still print these lost notes from your iPhone or iPad device as long as you have this Coolmuster iPhone Data Recovery software at hand. With it, you can easily print notes from iPhone/iPad even if they are deleted from your iPhone or iPad device, since this professional recovery tool can easily recover the lost notes from your device within simple clicks. Aside from notes, this software can also support other files like contacts, messages, videos, photos, safari bookmarks and many more. Generally speaking, this powerful software totally frees yourself from troubles of permanent data losses.
Simple steps to use it:
> After opening the installed software on the computer, get your iPhone or iPad connected to the computer. This software will detect your device and show you the below interface where two modes are arranged on the main interface.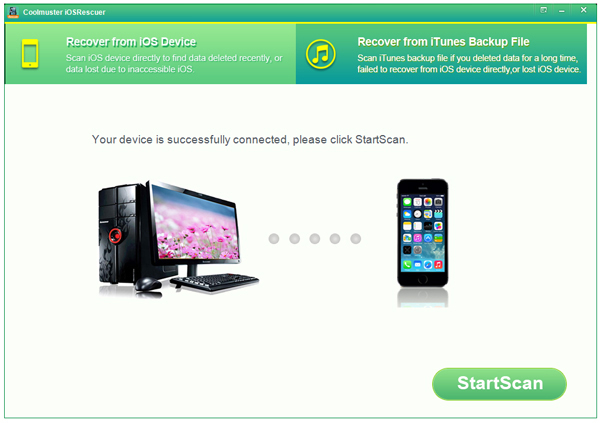 > Choose the right mode and then hit the StartStart option to continue the process. Then all the files folders are arranged on the main interface as pictured in the below.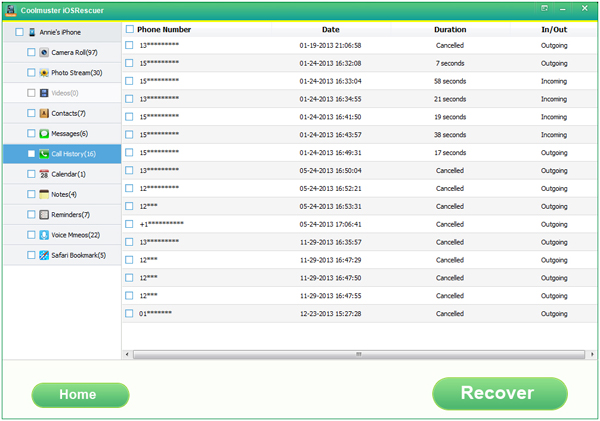 You can now enter the Notes tab to preview more detailed file information. While previewing, select the wanted notes by ticking them out. After that, just hit the Recover option to restore those lost notes to the computer. Then you are free to print these notes out from the computer as needed and wanted!
Related Articles:
Recover Data from iPhone Stuck in Recovery Mode
How to Sync Contacts from Mac to iPhone with 4 Simple Ways
How to Transfer Music from iPhone to Mac? (Top 4 Ways)
How to Transfer Photos from iPhone to Mac (9 Proven Ways)
How to Transfer Photos from Mac to iPhone [Must Read]