An iPhone is a nice smartphone that has the ability to record audio. If you need to capture an important discussion, such as a meeting or interview, your iPhone can help preserve the conversation with its digital audio recording capabilities. Besides, you may wish to keep a memory, and recording it on your iPhone is the perfect way to do it. You can record birthday wishes for loved ones or dub audio files for entertainment. When the audio is too precious, and you don't want to lose it, transferring it from your iPhone to another storage device is best.
So, do you know how to send large audio files from an iPhone to another device or cloud storage? If your recording is of manageable size, texting or emailing it from your iPhone can be the most efficient way to share it. But in case you have a larger file that might exceed the limit for sending and receiving emails, or you don't want to use iTunes, how to transfer large audio files from an iPhone? Well, it's possible, and there are various ways to do that, as mentioned in this article.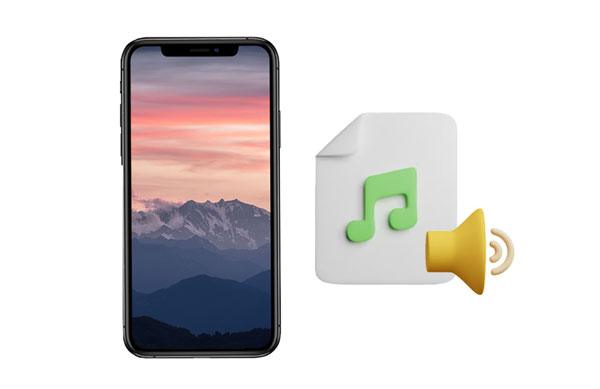 Part 1: How to Send Large Audio Files from iPhone to Computer with Coolmuster iOS Assistant
When it comes to effortlessly moving voice memos from iPhone to PC, Coolmuster iOS Assistant is your optimal tool. This ultimate iOS data transfer and management software makes it easier for anyone to transfer large audio files to a computer in minutes. It can also transfer large videos, music, messages, photos, books, contacts, and more from an iOS device to a computer.
Unlike iCloud or iTunes, this tool lets you preview and choose which audio to transfer from your iPhone to your PC. The good thing is that, there are no data size restrictions, and the transfer process is faster because it does not depend on the network. The audio files will be stored on your PC in WAV format safely.
Key features of this iOS data manager:
* Transfer large audio files from iPhone to PC selectively.
* Transfer your iPhone contacts, SMS, calendars, media files, apps, etc. to your PC/Mac for backup.
* No quality loss on the data transferred.
* Support audio formats like WAV, MP3, M4A, AAC, AIF, and so on.
* Allow 1 click iPhone data backup and restore.
* Compatible with the latest iPhone models and works on Windows computers (11/10/8/7/2003/2000).
Download Coolmuster iOS Assistant.
Here is how to move large audio files from an iPhone to a PC in 1 click:
01Launch the Software and Connect the iPhone
First, download and install Coolmuster iOS Assistant on your PC. Open it to get to the primary interface. Now connect your iPhone to your PC using a lightning cable. Immediately you connect the phone; the program will automatically recognize it.
After a few seconds, you'll see a pop-up window on your PC's screen. Click on "Trust", then press the "Continue" option to go on.
02Choose the Audio Files to Transfer
After the software detects the device, you will see all your iPhone's data on the primary interface. Each file will be in its folder on the left panel for convenience purposes. Please choose the "Music" option. Then you will see your audio files on the interface.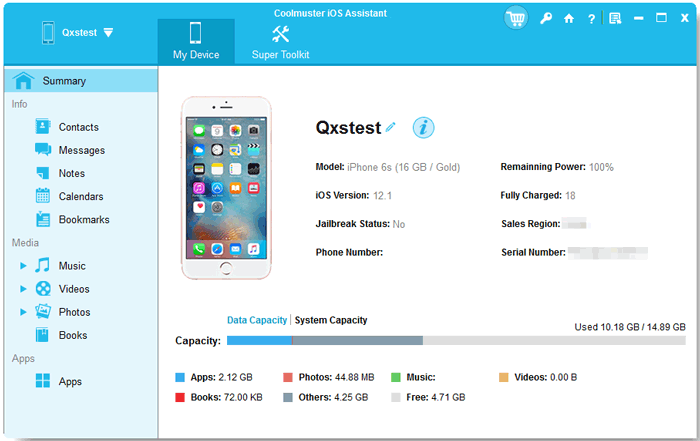 03Export Your Large Audio Files to the Computer
Choose the audios you want to transfer by checking, and click "Export" to save your large audio files from your iPhone to your PC.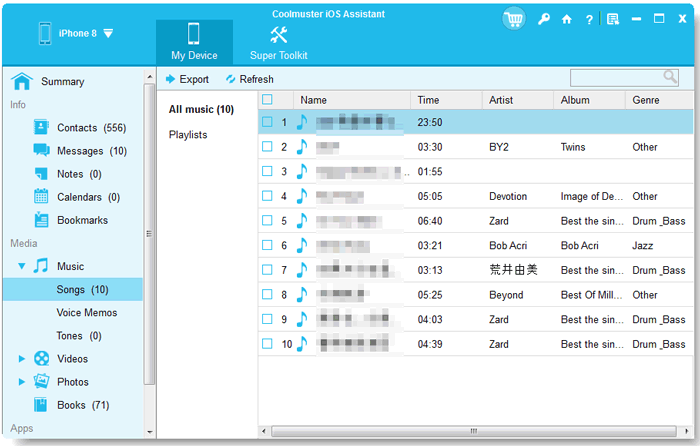 See more: [Hot Guide] How to Transfer Photos from iPhone to Lenovo Laptop?
Part 2: How to Transfer Large Audio Files from iPhone to Android with Coolmuster Mobile Transfer
Want to keep your large audio files after switching from iPhone to Android? Why not choose Coolmuster Mobile Transfer? This software can move music from iOS to Android in 1 click. Thus, no matter how large your audio files are, you can copy them to your target mobile device. Furthermore, it can transfer your videos, books, and photos from iOS to Android without effort.
Also, you can transfer Android contacts and documents to an iPhone or iPad without hassle. This software supports most Android and iOS devices and operating systems, so you can easily copy your data between mobile devices.
Key features of this mobile transfer software:
* Copy large audio files from iOS to Android at once.
* Allow you to transfer contacts, books, bookmarks, calendars, and notes between iOS devices.
* Enable you to move apps and other from Android to Android.
* All the data will be placed in the correct locations on your destination device.
Download Coolmuster Mobile Transfer.
Here is how to transfer large audio files from iPhone to Android:
01Install the Program
Download and launch the software on the PC, and open it to get to the main interface. Choose the "Mobile Transfer" option from the interface.
02Connect Mobile Devices to Computer
With working USB cables, connect both devices to the PC. After successfully connecting, you will see your devices on the "Source" and "Destination" places on the screen. Make sure your iPhone is on the "Source" side.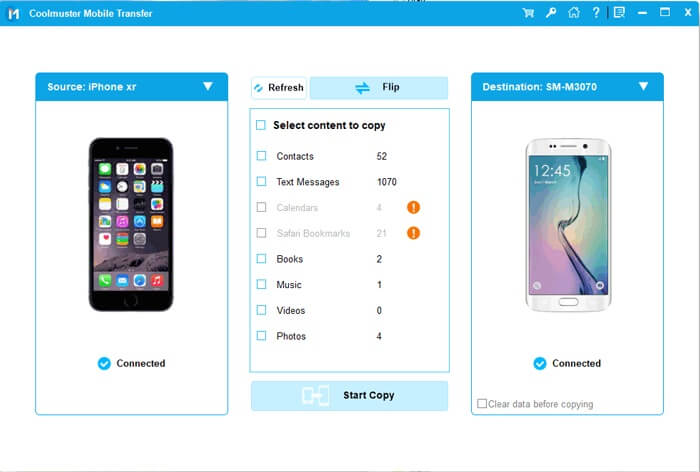 03Transfer Your Large Audio files
To choose all your audio files, select the "Music" category, and click the "Start Copy" button to start the transfer.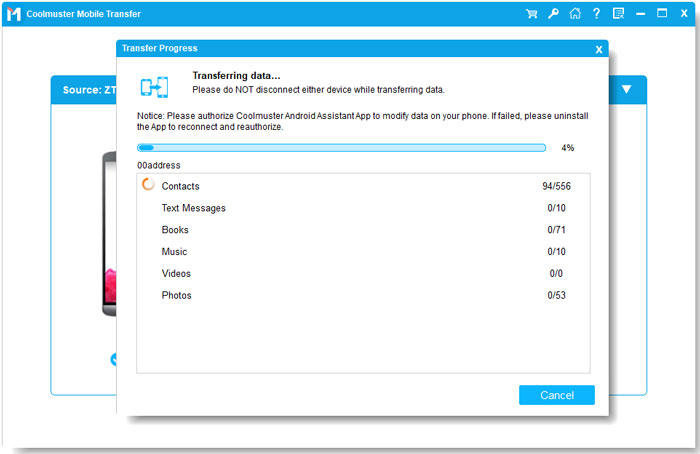 You might need: Best 4 Ways to Transfer Messages from iPhone to Mac. You Don't Want to Miss It!
Part 3: How to Send Large Voice Memos from iPhone without iTunes via AirDrop
Want to send large audio files to someone using an iPhone? AirDrop is the easiest way, right from your phone. It transmits files over Bluetooth. The best part about AirDrop is that it has no file size restrictions. It's an ideal choice for people who need to send large files quickly and easily. If you want to transfer files between your iPhone and iPad, AirDrop is the ideal option; however, it will only work if both devices are closer.
Here is how to send large voice memos from iPhone to another Apple device via AirDrop:
Step 1: Head to "Control Center" and find the "AirDrop" button. Enable it on both devices.
Step 2: Select the option for your device to be seen by everyone nearby.
Step 3: Choose the audio files you wish to send and tap the button to share. Then you will receive your voice memos on the target iPhone/iPad/Mac.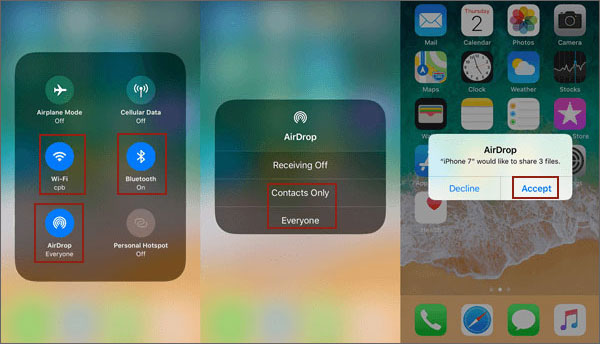 Part 4: How to Transfer Large Audio Files from iPhone to Cloud Storage
When you have a large audio file to send, the first choice you think of is cloud storage. All it takes is creating an account and uploading your video. Once done, you'll provide the download link for anyone who needs access. There are several cloud storage services like Google Drive and Dropbox you can use to transfer your large audio files.
If you have a Gmail account, then Google Drive is already included in your package; no need to sign up for another service. With 15GB of storage space provided free of charge, it's one of the most highly recommended cloud services. Plus, transferring and accessing data has never been easier with its intuitive interface.
Dropbox is also a convenient cloud-based service that allows users to store and share files, videos, audio, and other types of media. It can be used from anywhere in the world with an internet connection. You'll need to create an account to use this app, and after you have done so, you will be able to upload and access your files from anywhere and share them with others.
Here is how to transfer audio files from iPhone with Google Drive:
Step 1: Install the Google Drive application on iPhone. Then sign in to your Google account, and click on the "+" sign in the lower right corner.
Step 2: Click on the "Upload" option from the pop-up menu and select your big audio files from your iPhone. Then the files will be uploaded to Google Drive.
Step 3: After uploading the video, locate it and click on the three-dot menu near it. Click on "Share" from the menu. You can share the files with whomever you want. Plus, as long as you log in to the same account, you can access your audio files on other devices.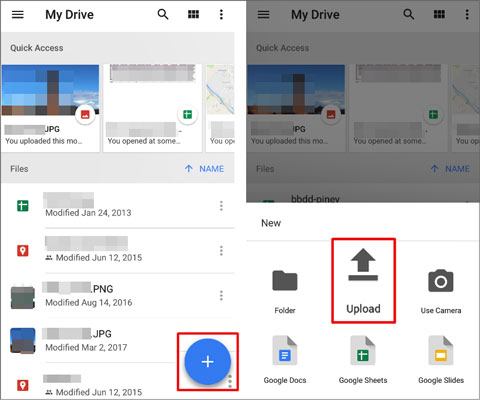 Conclusion
That's all on how to send a large audio file on iPhone. Hopefully, the methods can help you easily share huge audio files with your friends. As seen, you can use Coolmuster iOS Assistant to transfer large audio files from an iOS device to a computer smoothly, and Coolmuster Mobile Transfer will help you move audio data to Android in 1 click. The process is simple and fast. Besides, there is no size limit for the audio files being transferred.
Related Articles:
[Solved] How to Transfer iPhone Photos to SD Card with Original Quality?
How to Transfer Data from iPhone to OPPO Find X3/X2/Reno4 Seamlessly? (4 Tested Methods)
How to Transfer Notes from iPhone to iPhone [5 Easy Ways]
How to Send Large Videos on Android without Hassle
Screen Share on Mac with iPad | Useful Tutorial with 5 Approaches
[SOLVED] How to Import Videos from iPhone to iMovie Breezily?