iTunes store offers a wide range of downloading or purchasing resources for iOS users, the owners of iPhone, iPad and iPod, such as music, podcasts, audio books, videos, iTunes U, games, applications, etc., which brings great pleasure to iOS users. While most downloaded or purchased items from iTunes store are enforced by FailPlay, Apple's DRM protection for their products. Thus, if you purchase files from iTunes store, you can only share them on iOS devices. To be more specific, if you purchased a fantastic movie from iTunes store on your iPad, only iOS devices like iPhone, iPod and another iPad you can share this movie to. (Interested in alternative tool to iTunes? Then go to here to learn more.)
In order to prevent the loss of valued purchases from your iPhone or iPad, you may need to back up your important purchased items to somewhere safe, your computer or iTunes library, for example. You can transfer purchases manually before you sync your iPhone or iPad to iTunes. Below is how to copy purchased items from iPhone 5C/5S/5/4S/4 to iTunes library easily and directly without downloading any third-party software. Before starting the transferring, you need to authorize the computer before connecting the device.
1. Launch iTunes on your computer.
2. Go to the Store menu and choose Authorize Computer from the drop-down list.
3. Check the button of Apple ID in the popped up dialog box.
4. Enter the Apple ID and password you used to purchase the iTunes items and then click the Authorize button.
If you purchased these iTunes items with multiple Apple IDs, it will be a little more complicated because you have to authorize the computer for each account.
Can't Miss:
How to Fix iTunes Backup & Restore Problem
iTunes Backup Corrupted? A Simple Way to Fix Corrupted iTunes Backup & Imcompatible Issue
Steps to Copy/Transfer Purchases from iPhone/iPad to iTunes Library
However, you should know that only up to 5 computers you can authorize with your Apple ID, which means you can only draw support from third-party software if you have authorized 5 computers already. But, as I mentioned above, purchased items from iTunes are protected by DRM. You need to remove the iTunes DRM protection before you start the transference. There are many free DRM removal applications available, such as myFairTunes and QTFairUse. After removing the DRM protection, you can use Coolmuster iOS Assistant to move the iTunes purchases from your iPad and iPhone to Windows PC or Mac.
1. Launch the software and connect your iPhone/iPad to the computer with the USB cable.
2. The software will bring out all the contents in your iPhone/iPad and you can preview and select the purchased items you want to share.
3. Click the "Export" button to save the selected purchases to your computer.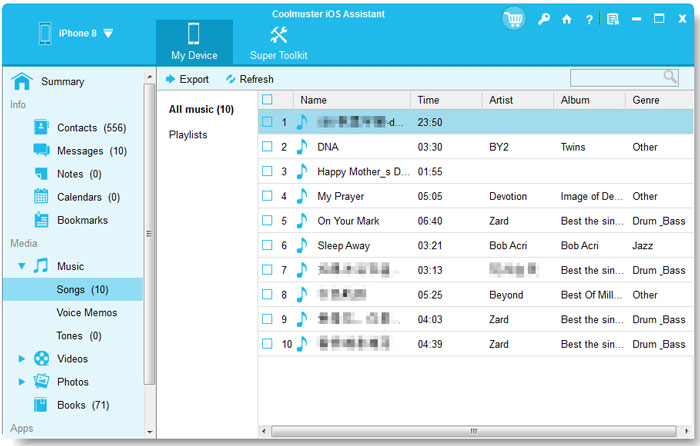 Note: You probably are wondering what is the meaning of the button Erase and Sync. Clicking this button will delete the existing content in your iDevice and replaced with the contents of the iTunes library. If there is no content in the iTunes library your device is connected to, you iDevice will be empty because nothing will be synced to your iDevice.
Related Articles:
How to Transfer/Copy Music from iPad to Computer
How to Transfer Movie from iPad to Computer (Mac/Windows)
5 Ways to Sync Notes from iPhone to Mac in 2023
How to Transfer Music from iPhone to Mac? (Top 4 Ways)
How to Transfer Voice Memos from iPhone to Mac via 1 Click