iPhone and Chromebook are the true definition of tech giant products that often don't work well together due to software compatibility. This is why users encounter all sorts of problems while trying to transfer photos from iPhone to Chromebook. If you are in the same boat and looking for an easier workaround, worry no more. We've handpicked various simple ways to allow you to copy photos from iPhone to Chromebook. Give this guide a read and learn how to transfer photos from iPhone to Chromebook.

Way 1. How to Import Photos from iPhone to Chromebook via Coolmuster iOS Assistant
Don't want to copy all photos on your iPhone but only a few of them to your Chromebook? Our dedicated tool, Coolmuster iOS Assistant, provides a great experience. Its technical aspects make it the best option to export photos from an iPhone to a computer. It makes the experience extremely simple.
The most crucial factor in data transfer is efficiency and effectiveness. Coolmuster iOS Assistant indeed has these traits. What's more, a transfer tool must be very safe, convenient, and easy to use, and this tool has all that. The best part is that you can transfer specific photos if you want. Apart from photos, it supports the transfer of messages, contacts, bookmarks, music, photos, apps, videos, etc.
Furthermore, it allows you to preview as you select the files to transfer. You can also edit data information saved on your iOS from a computer.
Key Features
Allows transfer of files from iOS to computer and vice versa.
Transfers files after preview and selection.
Manages iTunes backup data on the computer.
Freely add, edit, and delete info of data saved on the iOS device on a computer.
How to get photos from iPhone to Chromebook using iOS Assistant:
01Install the program on the Chromebook computer, and after that, launch it. You'll get to its primary interface. From there, plug in your iPhone to the computer with a USB.
02The software will recognize the connected iPhone, and you'll see a popup on the Chromebook. Tap the Trust option, then tap Continue.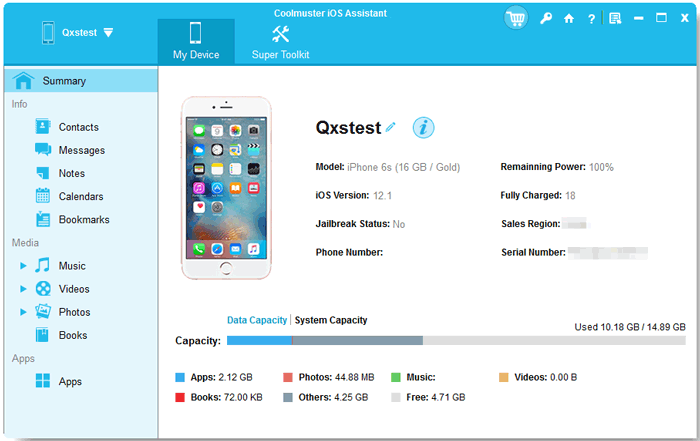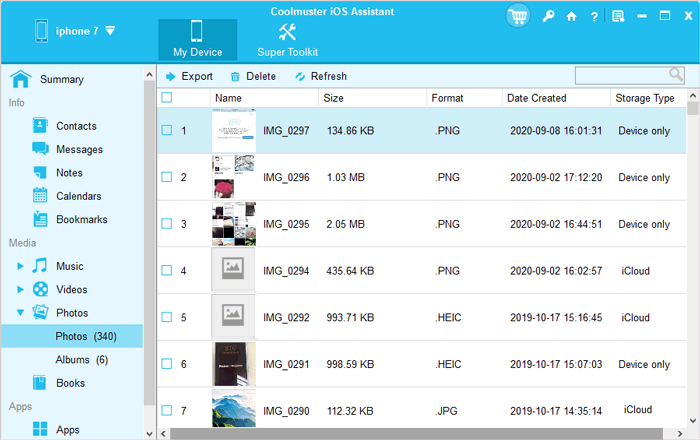 03Click on the Photos folder and preview all the detailed info as you select the photos to transfer. Once done, hit Export to transfer the images from the iPhone to the Chromebook.
Also read:
How to Get Videos Off iPhone to Your Computer? This One Might Help!
2 Methods Show You How to Transfer Photos from iPhone to iPhone
Way 2. How to Upload Photos from iPhone to Chromebook with iCloud
iCloud is an official Apple cloud storage that lets users keep their files in the cloud. You can easily keep your iPhone files in iCloud, including photos, and access and save them on a Chromebook. With iCloud, it'll be quick and easy to copy pictures from your iPhone to a Chromebook, provided you know how it's done.
Below are the steps on how to download pictures from iPhone to Chromebook:
Step 1. Open the Settings app on your iPhone and click on [your name] at the top. Now press on iCloud, then choose Photos. Now, toggle on the iCloud Photos option to sync photos with iCloud.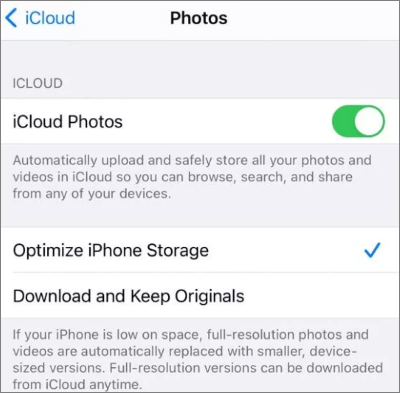 Step 2. On the Chromebook, open a browser and head to the iCloud website. Log into your account using the Apple ID and passcode.
Step 3. You'll see the data stored on iCloud. Choose Photos and tick the items you wish to save to your Chromebook.

Click on the Download button at the upper part.
Note: Both the iPhone and the computer should be connected to the internet before you can successfully use this option. In addition, iCloud offers 5 GB of free storage, and if you feel the iCloud storage space is not enough, you'll have to upgrade and then pay for iCloud storage space.
Way 3. How to Transfer Pictures from iPhone to Chromebook Using Google Photos
Google Photos is an awesome cloud storage and photo-sharing service introduced by Google. This application lets you download, access, and sync photos on all devices linked to the same Gmail account. Through Google Photos, you can access and share the photos on iPhone in full quality on other devices like Chromebook. This way, you can access the backed-up pictures anytime and anywhere, provided you sign in using the same Gmail account. Here are the steps:
Step 1. First, install and then open the Google Photos application on your iPhone. Next, sign up/log into your Gmail account. Afterward, click the profile button, then head to Photos Settings.

Step 2. Enable Back up & sync. You can also choose a folder or all the folders of the pictures you wish to transfer on the Chromebook.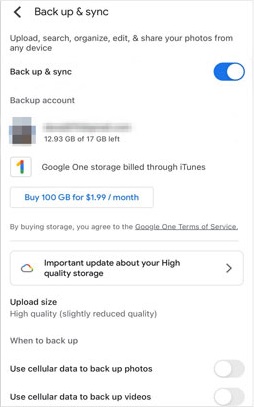 Step 3. Head to a website browser on your Chromebook, then enter Google Photos in the search bar. Log in using the same Gmail account you used to back up your iPhone pictures on the Google Photos site.
Step 4. At last, choose pictures from the iPhone, then open the ellipsis menu. Choose the Download button from the drop-down list and save the photos selected on the Chromebook.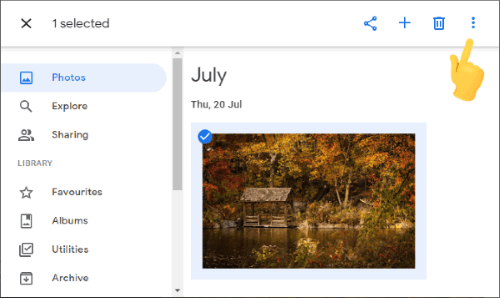 Using Google Photos to transfer iPhone photos is pretty simple and convenient. But Google Photos comes with its fair share of limitations. For instance, there could be interruptions during the download process because it relies on the internet. You cannot selectively back up your photos.
Read more tips:
4 Best Methods You Can Get iPhone Messages on PC [Updated]
Top 6 iPhone File Explorers for iPhone Users [Windows/Mac]
Way 4. How to Transfer Photos from iPhone to Chromebook with USB Cable
Transferring pictures through USB is one of the simplest yet effective ways to copy files between smartphones and computers. It is a traditional way of transferring files that comes in handy when exporting iPhone photos to a Chromebook. Here are the steps to get started:
Step 1. First, plug in the iPhone to the Chromebook with USB. Ensure to click Trust on the iPhone when the notification shows.
Step 2. Next, open the File application on the Chromebook to access the phone. Head to the folder with the pictures you intend to transfer. You can also create a folder on the computer to save photos.
Step 3. Lastly, choose the pictures you wish to transfer and drag and drop them into your created folder.
Way 5. How to Transfer Photos from iPhone to Chromebook Wirelessly via Snapdrop
Snapdrop is another efficient way to transfer photos, documents, media files, and more from iPhone to Chromebook. This app is great for sharing files due to its HTTPS protocol encryption.
The Snapdrop app also enables a wireless transfer where you can transfer your photos from your iPhone to your Chromebook through WiFi.
Here are the steps to use Snapdrop:
Step 1. Open the Chromebook computer and head to the Snapdrop.net website on a Chrome browser. Open your iPhone and visit the Snapdrop website on a browser.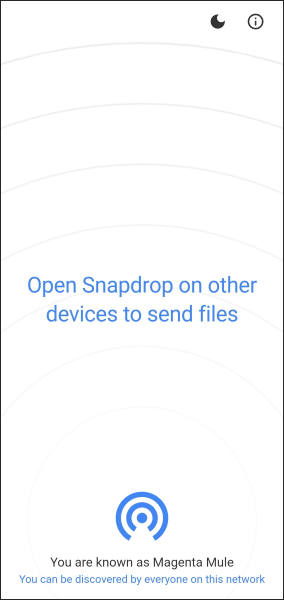 Step 2. You will find the Chromebook name with the icon showing on the iPhone screen. Tap on it, then choose the photos you wish to copy to the Chromebook.
Step 3. Click Download on the Chromebook to transfer all your photos.
That's all for transferring photos wirelessly via Snapdrop to a Chromebook. The best part is that you can do this from both ends.
Conclusion
That's all on how to send photos from iPhone to Chromebook. These are the most efficient ways to copy pictures between an iPhone and a Chromebook. With these options, you will copy data from the iPhone to the Chromebook seamlessly without any problem. Choose the method that suits your needs and is simpler to use.
Overall, Coolmuster iOS Assistant is the highly recommended solution. The app guarantees high rates of success without quality loss.
Related Articles:
Back Up iPhone Contacts to Google? Check the 5 Easy Methods Here!
How to Back Up Contacts on iPhone with Ease [Solved in 5 Ways]
[SOLVED!] 7 Quick Fixes to Apps Didn't Transfer to New iPhone Issue
Back Up Messages to iCloud: Useful Tip & Tricks You Shouldn't Miss
How to Transfer Photos from iPhone to PC Windows 10/11 in Minutes
2023 Update: Top 7 File Managers for iPhone & iPad on Windows