Everyone loves taking those amazing photos with their
iPhone camera
. The great auto focus capability and the ability to shoot videos in 4K, take
HDR photos
and to take
panorama photos
makes iPhones one of the best devices to capture memories in. However, the question is, what do you do to ensure that your memories do not get deleted? Actually, you can consider backup photos to iCloud!
Why need to backup photos saved on iPhone/iPod/iPad or Computer?
Just yesterday, I ended up losing some of my pictures in my gallery as my 5 year old niece unknowingly pressed delete. However, it didn't cost me a dime as I had a complete backup of them on iCloud. Technology is a fickle thing, one wrong click on your iPhone, and you end up losing all your data. Or maybe, some other problem, such as a hard drive crash or a virus caused malfunction.
Whatever may be the reason, the end is result is pretty bad for you. So if you don't want to end up losing years of dear photos and videos, you better do something about it. A good way to begin will be by making a backup of them on iCloud.
Part 1: Backup Photos to iCloud from Computer
Part 2: Backup Photos to iCloud from iPhone/iPad
Part 3: What if iCloud Photo Backup Not Working?
How to Upload Photos to iCloud from Computer
1. Go to iCloud beta site and log in with the right Apple ID and password.
2. Click on the Photos icon to preview more detailed file information.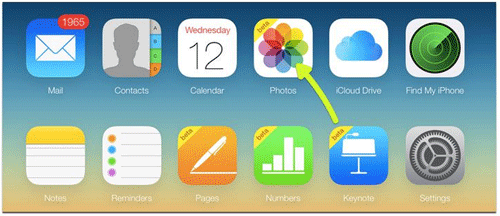 3. Now, choose the Upload option on the top-right corner.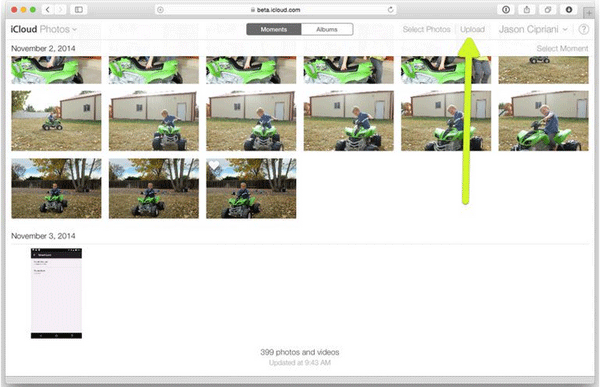 4. At this moment, you can choose the files saved on the computer and hit the OK option on the promo dialogue to continue the process. Finally, just wait patiently for the process to get completed within a little while.
Related: How to Use iCloud Photo Sharing
How to Upload Photos to iCloud from iPhone/iPad
You can easily backup your photos to iCloud by the following steps:
1. Enable a working internet connection by Wi-Fi or Mobile data.
2. Go to settings on your iPhone or iPad or iPod and then click on iCloud.
3. Tap on "Backup", and then the iCloud backup will be turned on.
4. Click on "Backup Now". And then let the backup process finish.
5. Then in setting go to iCloud > Storage > Manage, it will show the details of the backup along with its size.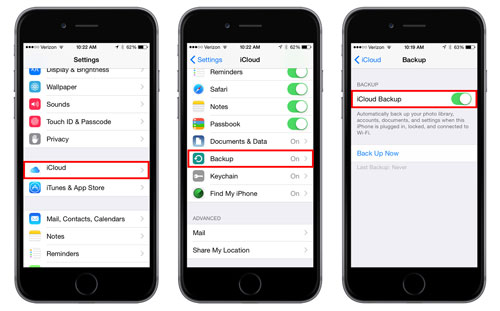 * Related: How to Backup iPhone Contacts to iCloud
Disadvantages with iCloud Backup:
1. iCloud will replace the camera roll in the gallery.
2. It is expensive.
3. You can't choose specific photos you wish to backup.
4. Security issues.
5. Only 5GB of free storage.
Extra Bonus: What if iCloud Photo Backup is Not Working?
With a handful of flaws, we are compelled to find a good and efficient solution to iCloud, and for that, we need not look any further because the Coolmuster iOS Assistant (Windows/Mac) software has left no stones unturned. It will save you from the panic you face after accidentally deleting something on your iOS device because with this you can easily backup all your photos and also, other data onto your computer. It supports Windows as well as MacBook. iPhone photo backup can be pretty easy as long as you have this professional tool at hand!
Here are some of the simple steps that you can use.
1. Download the program and install it.
2. Connect your iPhone to the computer and launch the app. It will detect the device.
3. View the scanned photos and then click on Export.
4. After clicking on Export all the image files will be transferred in to your computer.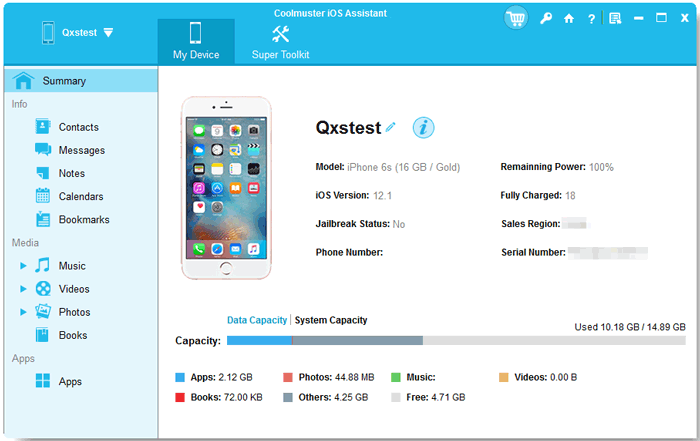 Here you go, this way, you can transfer all your photos to your computer iTunes by using Coolmuster app and that too, in three easy steps. You can ensure that all your memories stay the way you want it to, and it wouldn't matter if your iPhone got stolen or the data got erased - you would have access to all the stuff you need even then!
Related Articles:
Guide on How to Backup iPod without iTunes