VCF, or vCard file, is an electronic file format standard for storing personal information like contact name, title, occupation, email, address, phone number, company, nationality, etc. Nowadays, many people choose to back up phone contacts to iCloud, Gmail, Outlook, or a computer in the VCF format before switching to a new smartphone. When you get a new iPhone 14/13/12/11/XR/XS/X, you will have to import VCF to iPhone.
Suppose you have trouble importing VCF file to iPhone, No worries. This excellent guide will teach you how to do it successfully.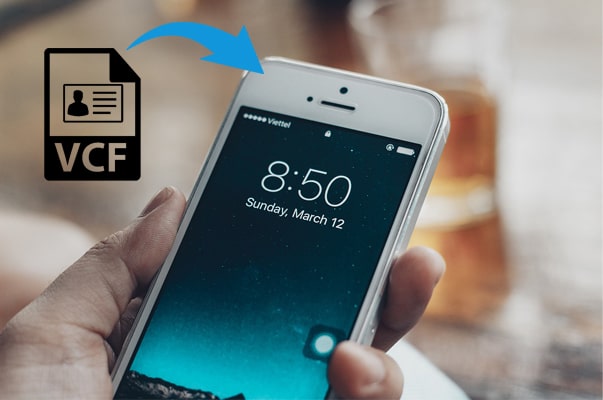 Way 1. How to Import VCF to iPhone Selectively Using iPhone Contact Transfer (Recommended)
Way 2. How to Import vCard to iPhone via iCloud
Way 3. How to Import Contacts to iPhone from VCF via Gmail
Way 4. How to Import VCF File to iPhone 11/12/13/14 via Outlook
Bonus: FAQs about Importing VCF File to iPhone
Way 1. How to Import VCF to iPhone Selectively Using iPhone Contact Transfer (Recommended)
The best solution to import VCF to iPhone 11/X/12/13/14 is to using iPhone Contact Transfer. This professional iOS data transfer software will save you from tedious manual operations and easily read and transfer contacts from Outlook, Windows Address Book, and other contacts stored on this computer to your iPhone in one click.
Also, it helps you manage and sync music, photos, videos, notes, messages, Safari, etc., from an iPhone/iPad/iPod on a computer.
Key features:
* Selectively import vCard to iPhone from a computer or another iOS device.
* Support various iPhone contact formats, like VCF, CSV, Outlook 2010/2013/2016, Windows Address Book, etc.
* Directly remove unwanted contacts, create new contacts, deduplicate contacts, edit the contact info, and create group contacts on this app.
* More than contacts, it can also transfer videos, photos, music, call logs, messages, notes, Safari history, calendars, and other files among iOS devices, computers, and iTunes.
* Work well with all iPhone models running iOS 6 to iOS 16 or higher versions, including iPhone 14/13/12 Pro Max/12 Pro/12/12 mini/11 Pro Max/11 Pro/11/XS/XS Max/XR/X/8/8 Plus/7/SE/6s/6s Plus/6 Plus/6/5s/5c/4S/4, etc.
One-click to transfer contacts from VCF file to iPhone:
Useful tips before you move on:
As iOS 13 and later versions have strengthened the data security system, you will need to enter the iPhone passcode twice during the whole process to confirm the operation.
Besides, suppose you have backed up and encrypted the VCF contacts using iTunes before. In this case, you will need to provide the iTunes encryption password in the program to unlock it and confirm the operation on your iPhone with the iPhone password.
Then, start importing VCF to iPhone with the steps below:
1. Install and launch iPhone Contact Transfer on your computer. Then use the original USB cable to connect your iPhone and the PC.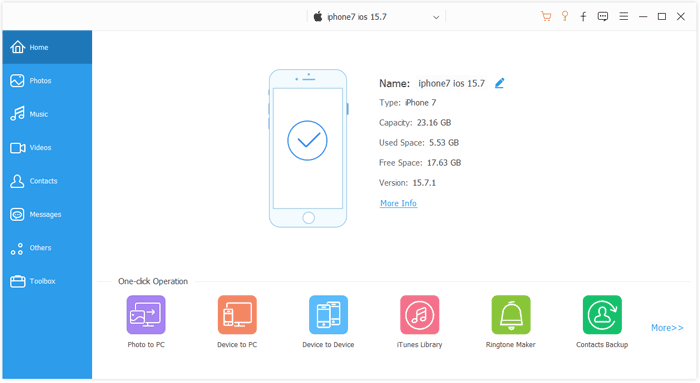 2. Click Contacts from the left panel and choose a contact source after loading successfully. You can select the contact from your local backup, iCloud, and Outlook.
3. Tap the Import button on the top menu, select From vCard File and choose the required file in the pop-up window to save the contacts to your iPhone.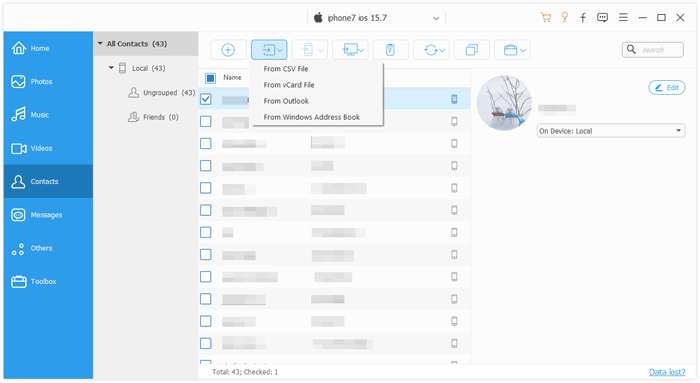 Further reading:
Full Guide to Import CSV Contacts to Android Phone
How to Copy Contacts from iPhone to SIM (4 Feasible Ways)
Way 2. How to Import vCard to iPhone via iCloud
iCloud is a rather convenient way to sync contacts from your iDevice to iCloud storage and import vCard to iPhone using the same Apple ID. If you prefer a wireless way, you can pick this method and get the VCF file from iPhone with the instructions below.
1. Open Settings on your iPhone > click your name > iCloud > ensure that the Contacts option is enabled. Next, click Merge in the pop-up screen to merge the contacts with iCloud.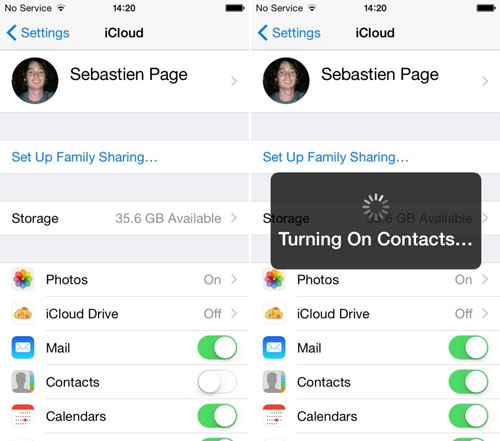 2. Visit iCloud.com from a computer browser, sign in with your credential information, and choose Contacts from the interface.
3. Click the gear icon at the lower-left corner > select Import vCard... > choose the vCard file from your computer > hit Open to upload the VCF file to iCloud.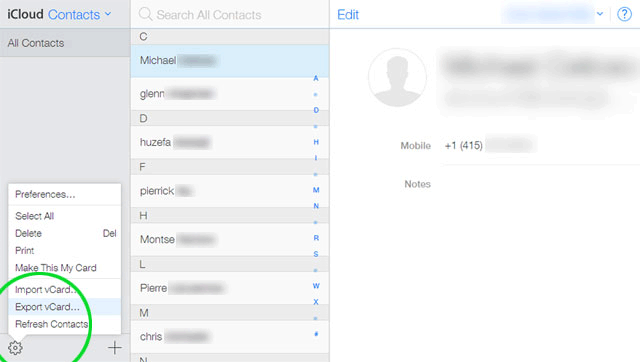 4. Turn to your iPhone, navigate to Settings > press your name > select iCloud > toggle on Contacts. You will find the imported contacts in the Contacts app after syncing.
Note: This way requires enough iCloud storage and a stable network connection, and it only works when iCloud is disabled on your iPhone.
Way 3. How to Import Contacts to iPhone from VCF via Gmail
You can also import multiple VCF files to iPhone using Gmail. Before you start the process, make sure that you have an activated Google account and the latest version of iTunes on your computer. Later, you can begin with the subsequent steps.
Let's check how to import VCF contacts from Gmail to iPhone.
1. On your computer, open mail.google.com and enter a Gmail username and password to log in.
2. Sync the VCF file to Gmail. Click Contacts > More from the drop-down list > Import > Choose file. Afterward, choose the storage path where the VCF file stores and press Import again to upload the VCF file to your Gmail account.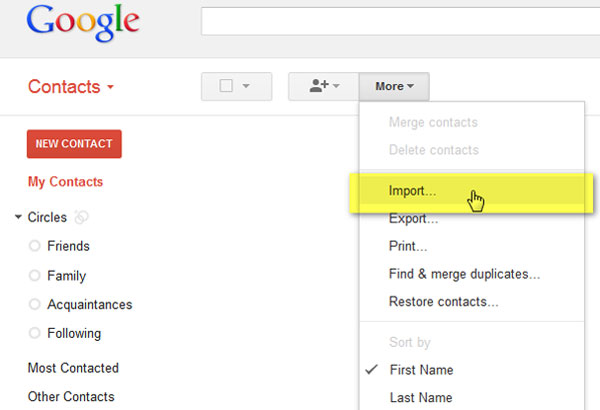 3. Import VCF to iPhone using iTunes. Run iTunes on your computer and plug your iPhone into the PC with a USB cable. Then, tap the iPhone icon at the top-left corner > Info > check Sync Contacts with > pick Google Contacts from the options > press Apply or Sync and wait until the syncing process is complete.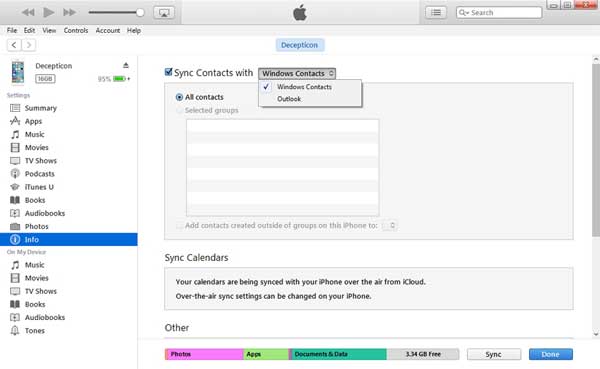 Way 4. How to Import VCF File to iPhone 11/12 via Outlook
Microsoft Outlook, an email provider like Gmail, is another choice for you to import VCF to iPhone. If you are using a Microsoft Outlook account, it will be easy for you to get the thing done.
How do I import contacts to iPhone via Microsoft Outlook?
1. Set up your Outlook account with Exchange. On your iPhone, tap Settings > Mail, Contacts, Calendars > Accounts > Add Account > Exchange.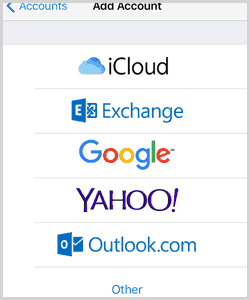 2. Input your Outlook account and password to sign in and hit Next to move further.
3. Your iPhone will contact the Exchange Server. Wait and enter the Exchange Server address in the relevant field.
4. Switch Contacts on and press Save. It will then automatically sync the Outlook contacts to your iPhone.
Bonus: FAQs about Importing VCF File to iPhone
Here we list some frequently asked questions regarding syncing VCF file to iPhone. If you have the same concern, read the following information to find a satisfying answer.
1. How to produce a VCF file?
You can export contacts from your iPhone to a computer using iPhone Contact Transfer, Gmail, or iCloud. To find more details, you can check the guide on how to export contacts from iPhone.
2. How to open a VCF file directly?
To read the VCF file on a Windows computer, you can open it with Windows Contacts, the pre-installed program on all Windows PC. You can also use VCF Viewer, Open Freely, Open Contacts, Handy Address Book, or Microsoft Outlook to view the VCF file.
If you use a Mac, you can open the vCard file using Apple Contacts, Address Book, or vCard Explorer.
For iPhone or iPad users, you can load the VCF file into the Contacts app from an email and then read it through the Contacts app.
3. How to Change a VCF file from version 2.0 to 3.1?
To solve this problem, you can put the VCF file onto your computer and open it with Notepad on Windows PC or TextEdit on Mac. Then manually change the version.
4. How to convert the VCF file to another format?
You can open the VCF file on your device and save it to another format when exporting. Below is an example.
Step 1. On your Windows PC, go to C:\Users\Username\Contacts and copy the VCF file here.
Step 2. Tap the Export button and choose CSV or another format to save it onto your computer.
Wrapping Up
As the above tutorial shows, there are various ways to import VCF to iPhone. If you need an easy and quick solution to get it done, you must try iPhone Contact Transfer. By comparison, it is much more effortless and reliable than any other method. Also, it does not limit the size and amount of the VCF file. You can give it a try.
If you need our technical support during the syncing process, please tell us in the comments.
Related Articles:
11 Ways to Import Contacts to iPhone [Full Guide]
How to Sync Contacts from Mac to iPhone with 4 Simple Ways? (Must-read)
How to Export Android Contacts to Excel Format? (CSV or XLS)
How to Transfer Contacts from LG to iPhone - 5 Fast Ways You Cannot Miss
[Solved] How to Copy Contacts from Android Phone to SIM? (Simple & Effective)
How to Transfer Contacts from PC to iPhone with/without iTunes - 4 Ways